You can never have too many Christmas Cookies, especially when they're as good as these! Jelly Thumbprint Cookies are packed with peanuts and a sweet jelly center. They're so delicious you're going to want to keep them all to yourself!
These Jam Thumbprint Cookies are thin and soft and melt in your mouth like a shortbread cookie! Try both thumbprints and let me know what you think!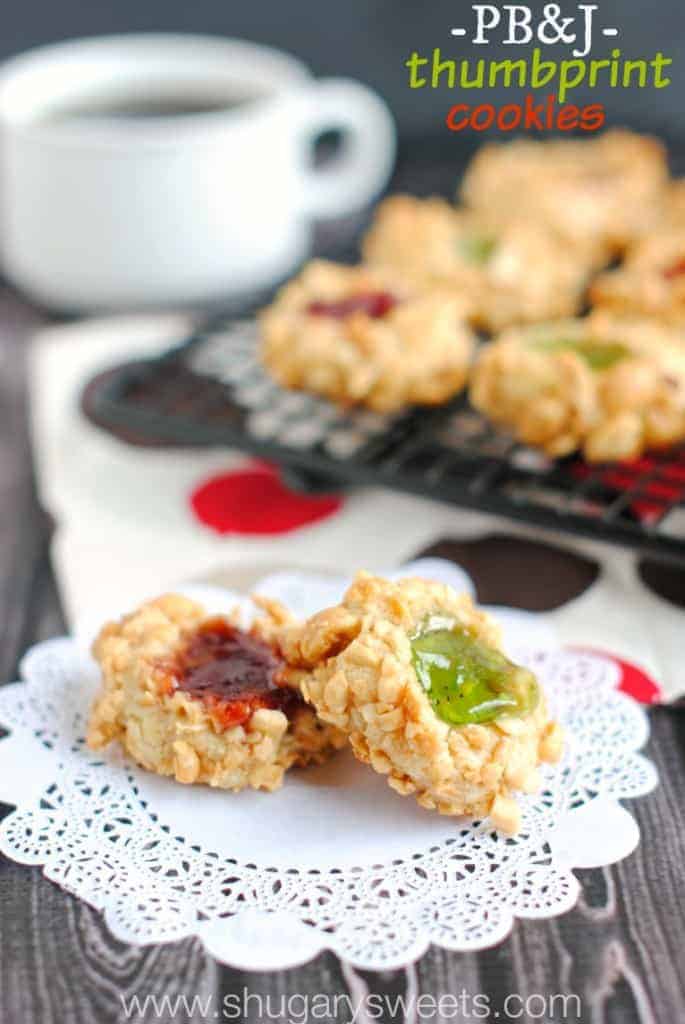 Why this Recipe is Best
Thumbprint Cookies make their way to our family Christmas dessert table every year. Either my aunt or grandma will bake a batch, usually with a combination of green and red jelly.
And truth be told, I've never eaten them. Not once. In all the years growing up, they were there, taunting me with their gooey jelly centers.
And I always chose these peppermint puffs. Or chocolate peanut butter fudge. Or Sugar Cookies. Never once choosing the thumbprint Christmas cookie.
For whatever reason, the odd looking cookies never grabbed my attention.
Until now. A month or two ago as I was unpacking some of my cookbooks and recipe cards and I came across our family recipe for Jelly Thumbprint Cookies.
Clearly it was a sign that I needed to make them myself and finally taste the cookies I'd seen every Christmas for all those years.
So I did. And you know what?
THEY ARE FREAKING DELICIOUS.
I'm sorry I yelled. But I'm truly wondering: why have I avoided these cookies all these years? As I child, sure, it's understandable I'd choose something chocolate filled instead.
But as an adult? Well, there is no excuse.
How to make Thumbprint Cookies
STEP 1. Make dough balls
Blend butter with an egg yolk, sugar, flour and almond extract. Then, form the dough into 1 inch balls using your hands.
STEP 2. Add nuts
In a small bowl, whisk egg white until frothy. Dip each cookie dough ball into the egg white, then roll in the chopped peanuts. You may need to press down gently so the nuts stick to the dough.
STEP 3. Thumbprints
Here comes to thumb print part!Place the cookies on a parchment paper lined baking sheet. Using your thumb, gently press the center of each cookie to make an indent.
Place about a teaspoon of jelly into each indent. I did half the cookies with green jelly and half with red.
Bake in a 350 degree oven for 12-14 minutes, until nuts begin to brown. Cool completely.
What Jelly to Use
This time I used strawberry jelly and green grape jelly so I'd have Christmas colors, but the kind of jelly you use in these cookies is up to you.
Purple grape jelly would be pretty in these cookies and give them a classic "PB&J" taste. Raspberry and orange are other great flavors to use in your thumbprint cookies. Our homemade strawberry jam would be perfect.
Jam and other preserves are good in thumbprint cookies if you prefer, but I find the jelly gives them an extra sparkly appearance!
Storage
Once cooled, transfer the thumbprint cookies to an airtight container. They'll keep well at room temperature for about 5 days.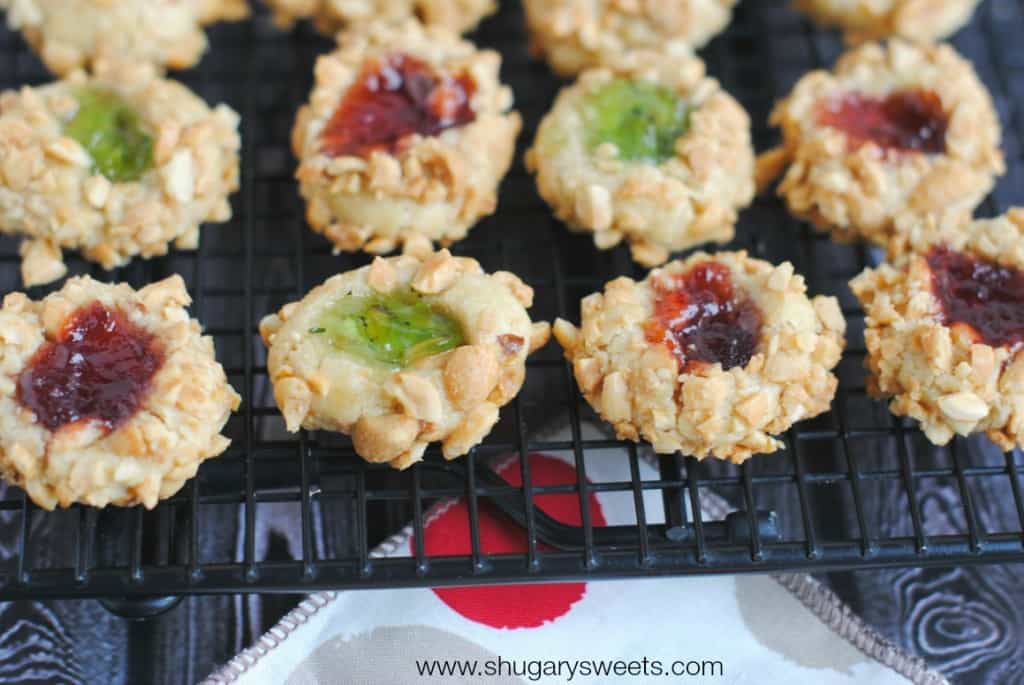 Lots of you like to make cookies ahead of time and stash them in your freezer, so I'll answer this in advance: YES, thumbprint cookies can be frozen. I'd recommend placing a layer of wax paper over the cookies then putting them in a freezer safe bag.
You can also make the dough ahead of time to freeze for whenever you want some freshly baked thumbprint cookies. Freeze them in balls, then just thaw, press, fill with jelly and bake.
Tips & Tricks
When it comes to jelly, less is more in this recipe. One teaspoon may not sound like a lot, but I promise you it's plenty for each cookie. Too much jelly will spill out and burn as the cookies bake.
To make evenly shaped cookies, use a tablespoon to evenly measure the dough into one inch balls. You can also use a food scale, if you have one.
These are such fun Christmas cookies for the kids to help with! They will love making the thumbprints and spooning in the jam.
Love this classic flavor? Try our Peanut Butter and Jelly Fudge or our Peanut Butter and Jelly Brownies next!
So learn from my mistakes and don't go half your life without trying Jelly Thumbprint Cookies! Make a batch of these cookies with the kids tonight. Just don't forget to save some for Santa!