Try these Vanilla Bean Shortbread Cookies for a fun and flavorful twist on classic shortbread. Fragrant vanilla bean paste and a sprinkle topping make these melt-in-your-mouth cookies totally irresistible!
Shortbread cookies never go out of style! Add these Easy Whipped Shortbread Cookies to your dessert menu next.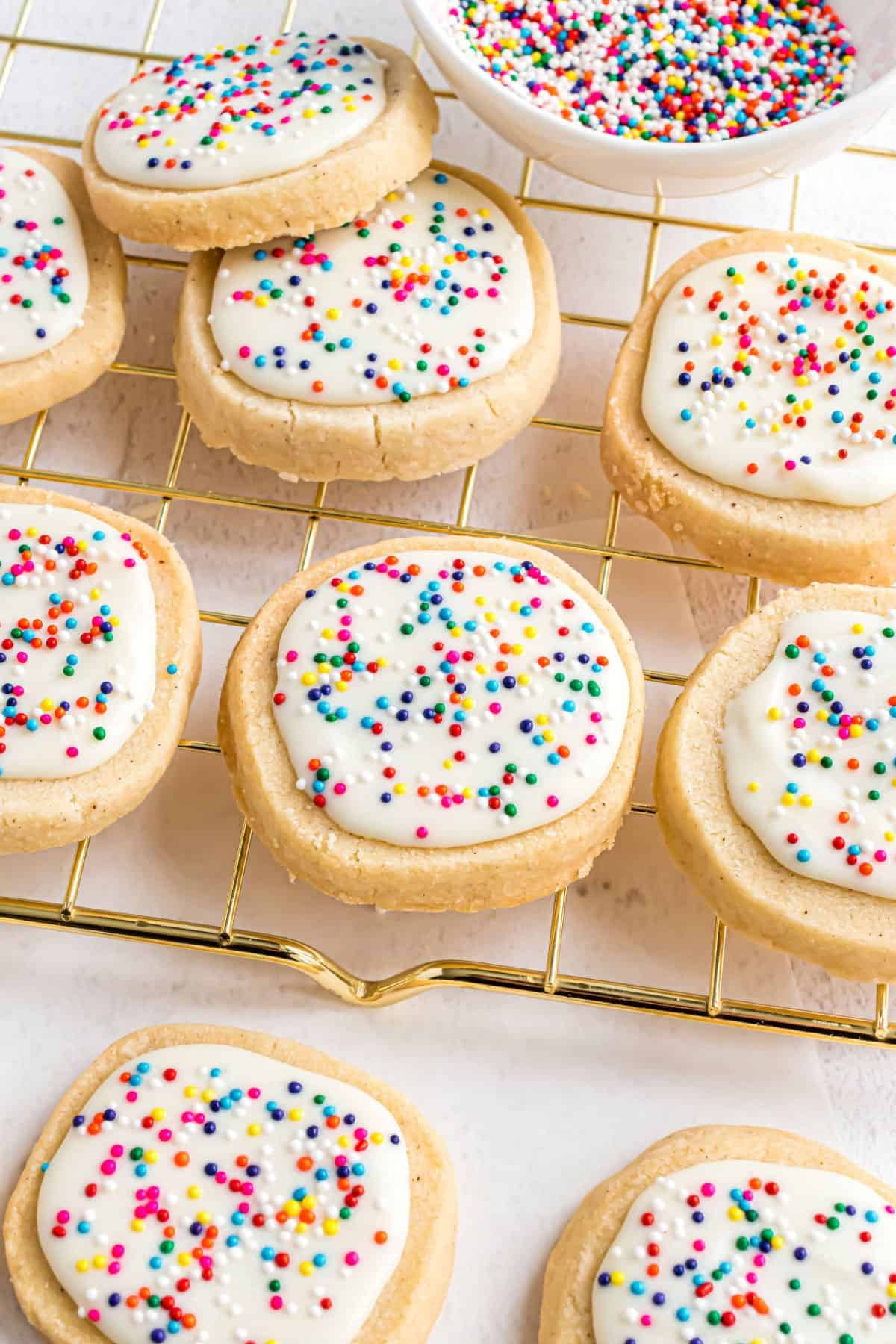 Why These Cookies are Best
You'll love the simple buttery sweet vanilla taste of these shortbread cookies–and how easy they are to make!
Love easy slice and bake cookies? Try our cinnamon roll cookies next!
Ingredient Notes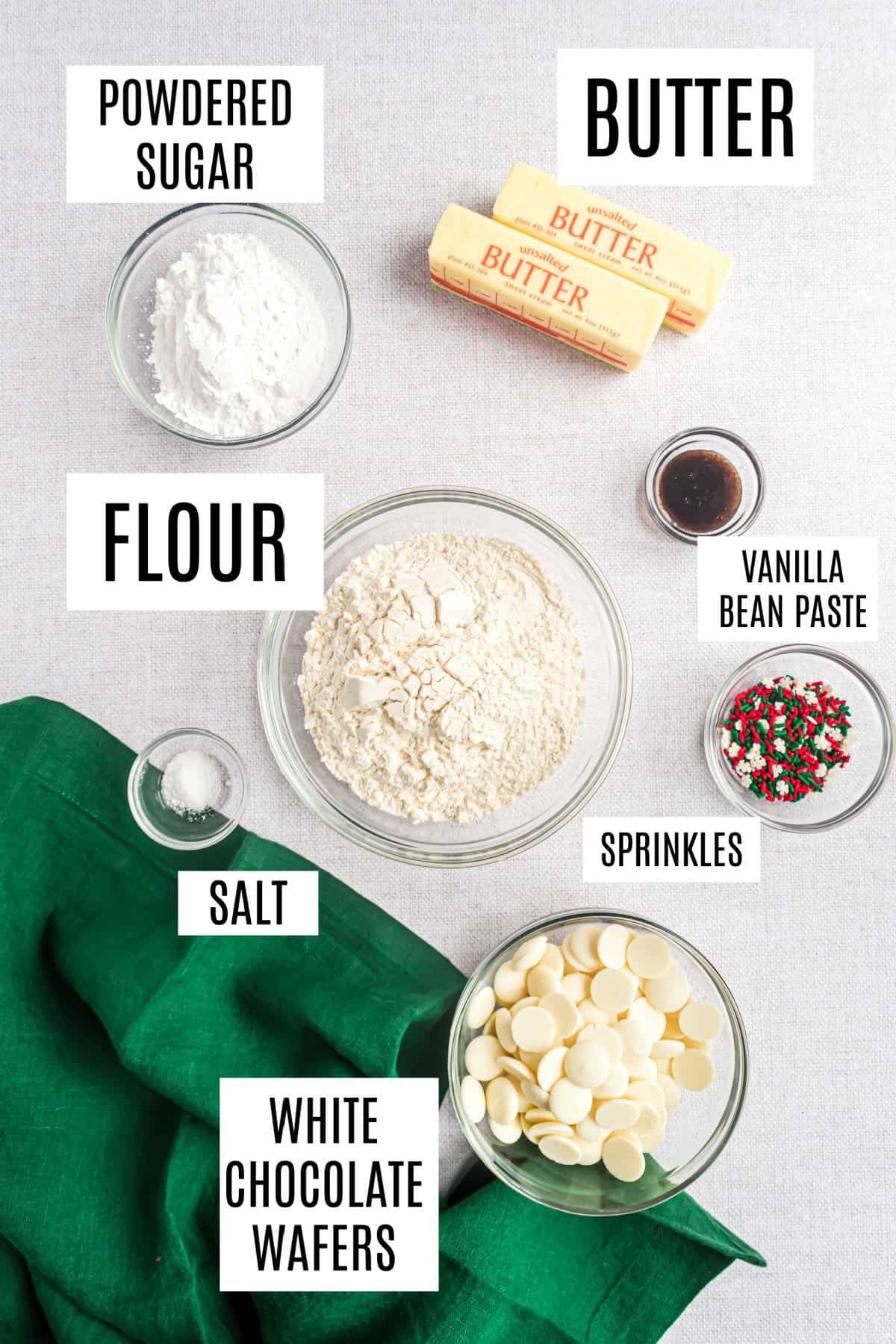 Easy Instructions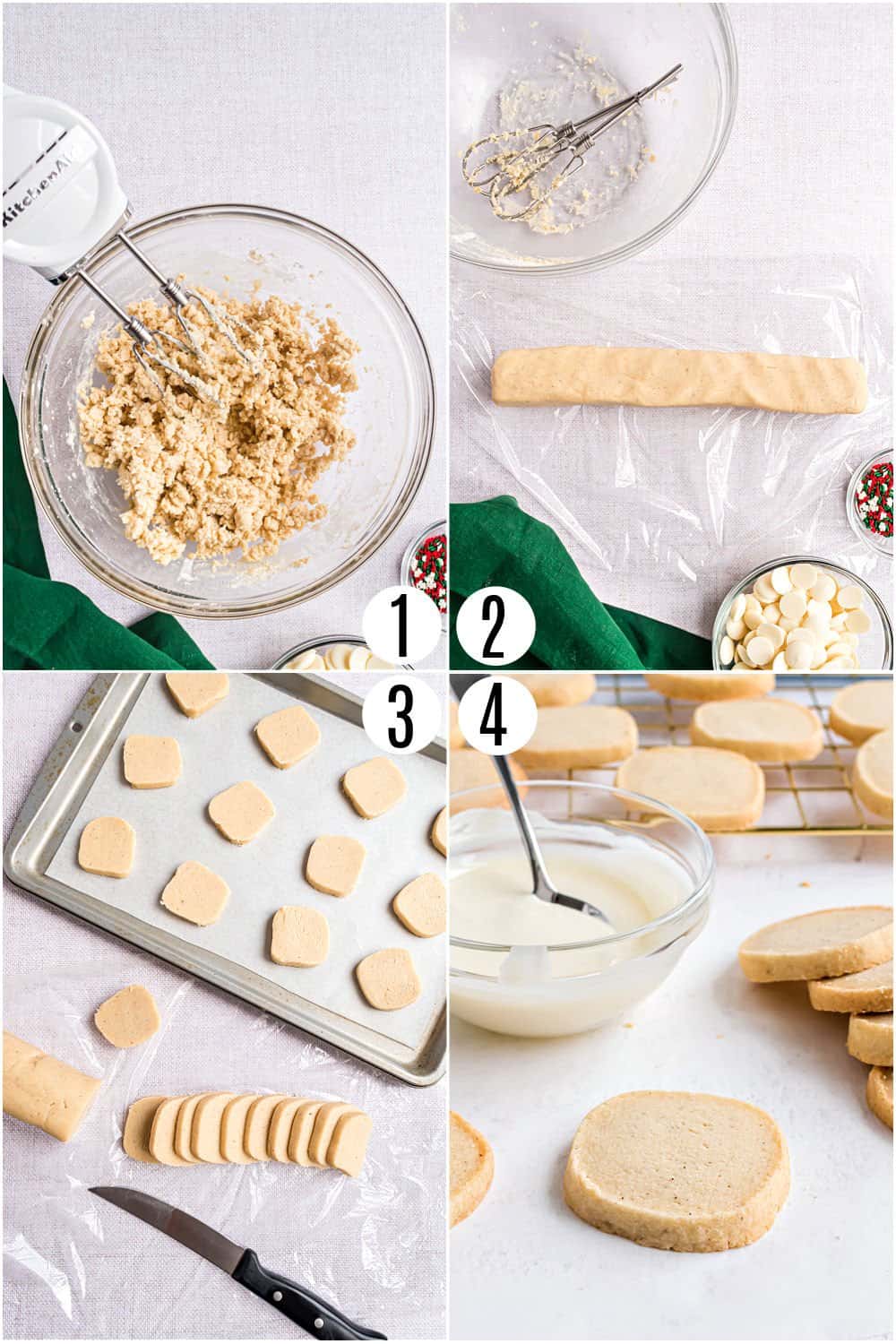 Make the shortbread dough: The dough may be crumbly. That's totally normal. Just use your hands to work the dough until it starts to stick together.
Roll and chill: Continue using your hands to roll the dough into a foot-long log. Wrap the dough in plastic wrap and chill it in the refrigerator for at least 30 minutes.
Slice and bake: Use a sharp knife to cut the dough into individual slices. Bake until the cookies begin to brown on the edges.
Decorate: Once the cookies have cooled, melt the white chocolate (or vanilla bark). Spread a small amount onto each vanilla bean shortbread cookie then immediately add a few sprinkles.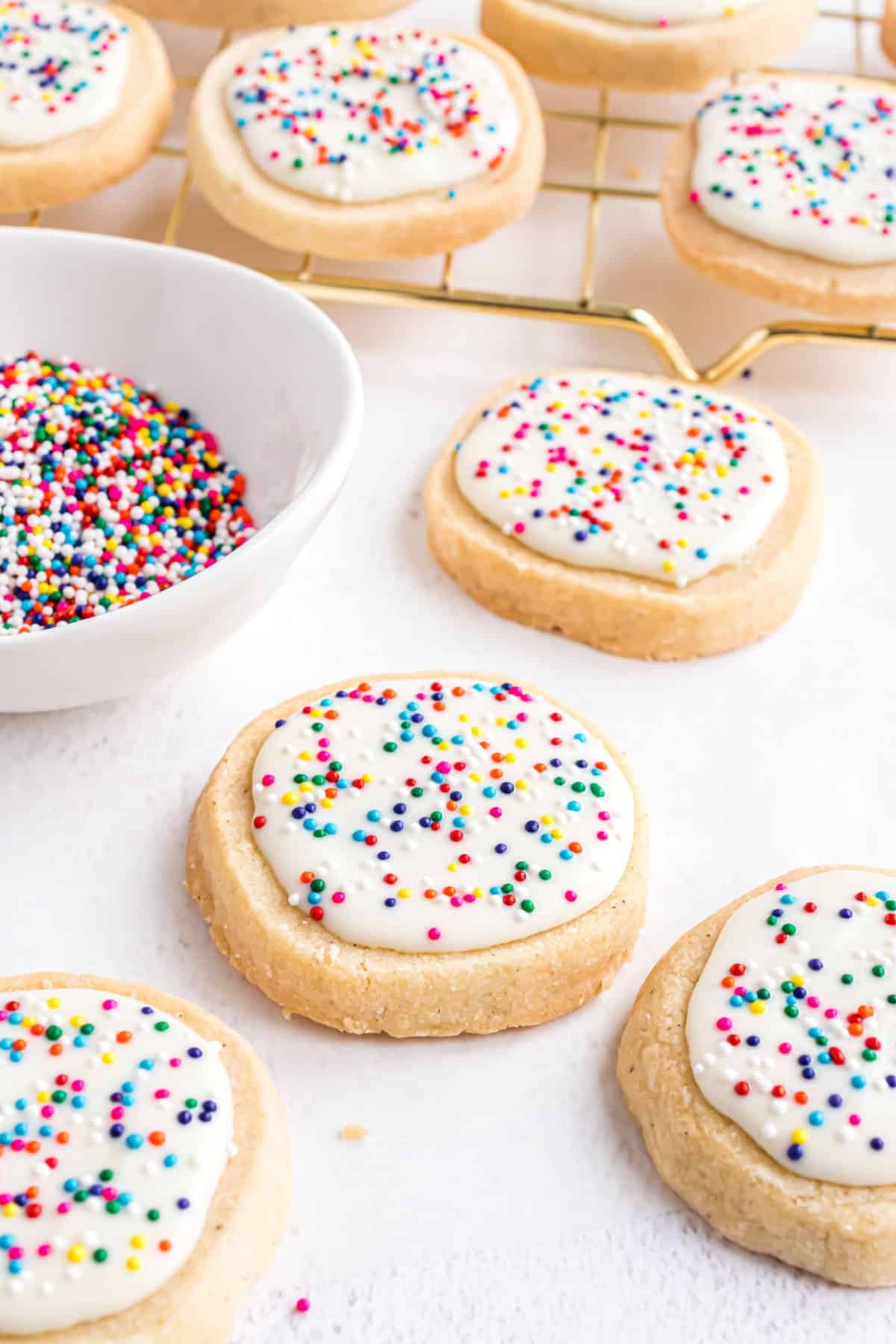 Tips and Tricks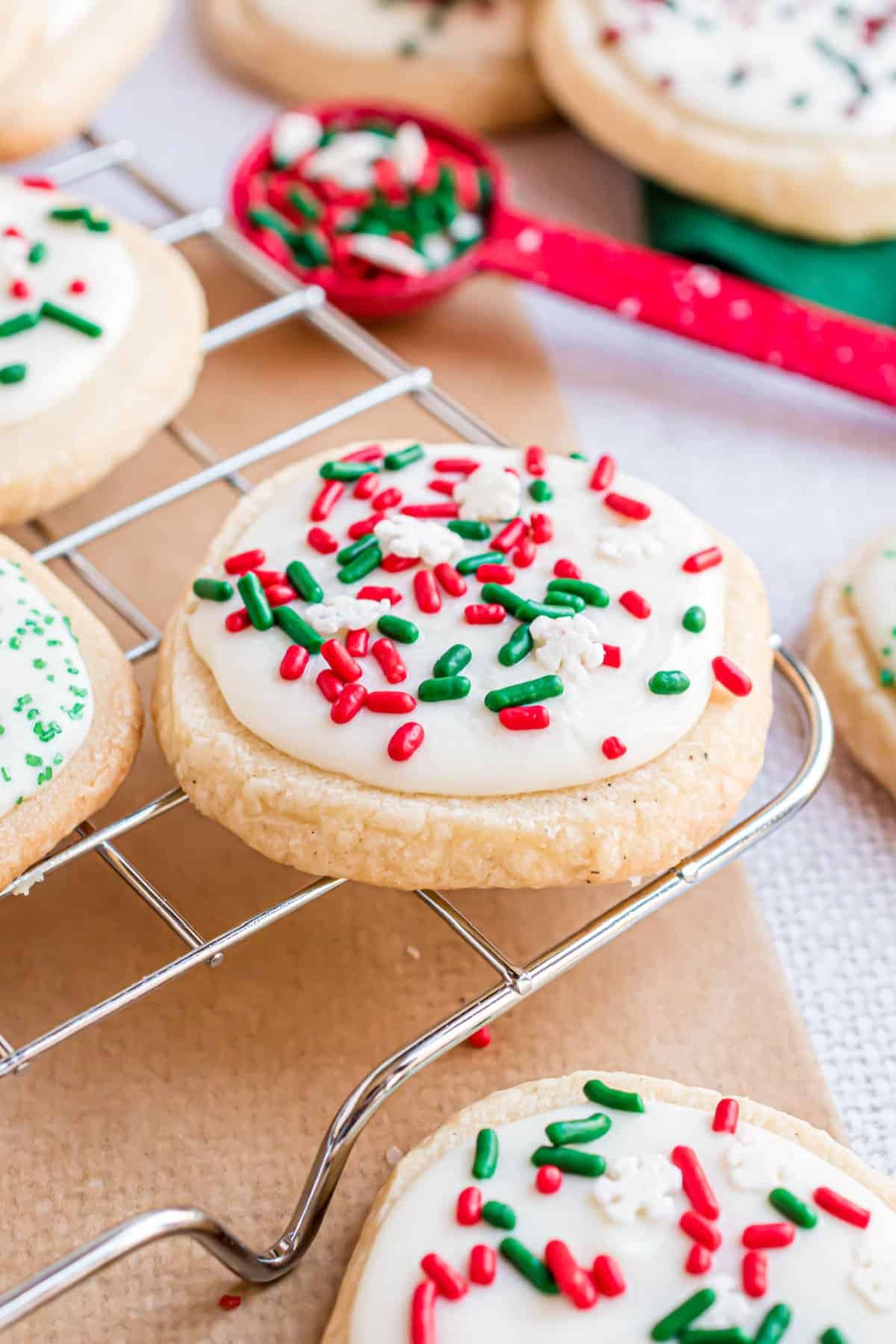 Recipe FAQs
How do you slice raw cookie dough?
To slice raw cookie dough, use a sharp (not serrated) knife. Rotate the log of dough a few inches after each slice to help keep the dough smooth.
Why is my shortbread dough crumbly?
Shortbread dough often gets crumbly because, unlike most cookies, it has no egg to bind the ingredients together. If it's too crumbly to shape, knead the dough a few times to soften the butter and help the dough become more cohesive. It may take a couple of minutes but eventually you should be able to form it in a smooth log.
What can I substitute for vanilla paste?
If you don't have vanilla paste available, I recommend using a whole vanilla bean. Scrape out the seeds and add them to the dough for a wonderful strong vanilla flavor!
Can I freeze them?
Yes, vanilla shortbread cookies are freezer friendly! Store the baked cookies in the freezer for up to three months. Thaw the cookies cookies before adding melted white chocolate and sprinkles to the top.
Vanilla isn't a background player in these Vanilla Bean Shortbread Cookies. It's the star!