Jamaican Jerk Pulled Pork Tostadas
Jamaican Jerk Pulled Pork Tostadas are not only delicious, but easy to make thanks to your CrockPot! I also baked my corn tortillas to make this dish a little on the healthier side. Top your tostadas with Sharp LIGHT Cheddar Cabot Cheese for a creamy cheese topping that is half the fat!
I have been enjoying sharing a dinner recipe with all of you each week! I hope this is something YOU, my readers, are enjoying as well.
And, of course, I once again bring you a slow cooker meal. As I've said before, my slow cooker is used the majority of week nights in our house. And pork tenderloins are perfect to put in your slow cooker. This recipe can be ready in 6 hours…or keep it in your slow cooker for up to 10 hours. No harm done (as long as you don't release the lid seal, that keeps the moisture in your slow cooker). Which is perfect for those of you who want to put it in first thing in the morning and leave it alone all day while at work!
When you are ready to eat, bake your tortillas (only 10 minutes in the oven) and assemble. I like to bake my tortillas, it makes them crunchy and healthy. Plus it's less messy. But if you want, feel free to fry them in a skillet of oil. We also topped ours with Cabot Sharp Light Cheddar Cheese, it's so smooth and melts very nicely for a light cheese!
Love these dinner recipe ideas? Find more delicious recipes by following me on Pinterest:
Don't miss another mouthwatering recipe from Shugary Sweets! Be sure to follow me:
 Facebook | Twitter | Google+ | Pinterest | Bloglovin'
Want more Pork Tenderloin recipes? As long as you don't judge these old photos, here are some great recipes….
 Slow Cooker Chipotle Pork with Mango Slaw: spicy chipotle peppers add a deep delicious flavor to this pork and the slaw helps to cut some of the heat. Perfect when served on a corn muffin. You need to try this pairing!
Slow Cooker Pork Carnitas: another wonderful meal with pork tenderloin, oranges, and cumin. Makes delicious tacos!
Balsamic Glazed Pork Tenderloins: seriously one of the best dinners ever. You will love the sweet glaze on this pork!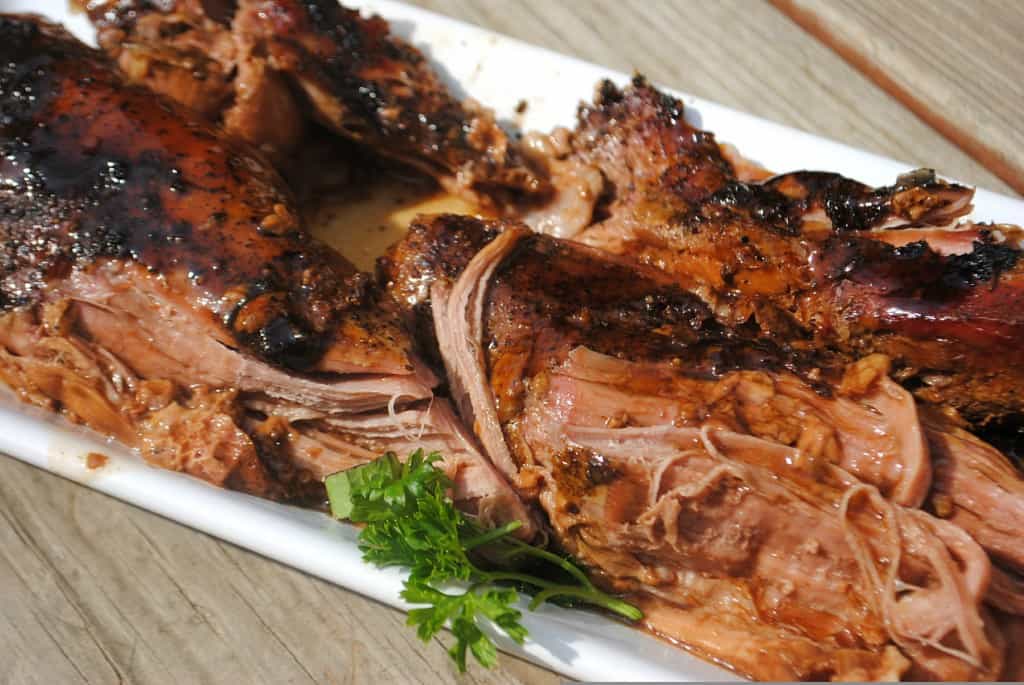 Jamaican Jerk Pulled Pork Tostadas
Ingredients
2 pork tenderloins (about 2.5lb total)
1 orange, juiced
2 cup beef broth
3 Tbsp Jamaican Jerk seasoning
10 corn tortillas
8oz cheese, shredded (we used Cabot Sharp Light Cheddar)
lettuce, tomato, guacamole, sour cream, etc for topping
Instructions
In a large slow cooker combine broth with orange juice and jerk seasoning. Add pork. Cover and cook on low for 6-10 hours (we usually do 8 hours). When ready, shred pork with two forks on a cutting board and return to juices.
In a 425 degree oven, bake corn tortillas on a baking sheet for about 10 minutes, until crispy. Remove.
To assemble, top tostada with pork (allow some of juice to strain off), shredded cheese and desired toppings. Eat immediately!
http://www.shugarysweets.com/2013/03/jamaican-jerk-pulled-pork-tostada
Copyright Shugary Sweets 2011-2016
Linked To: Trick or Treat   Talent Show