Mini Cherry Cheesecakes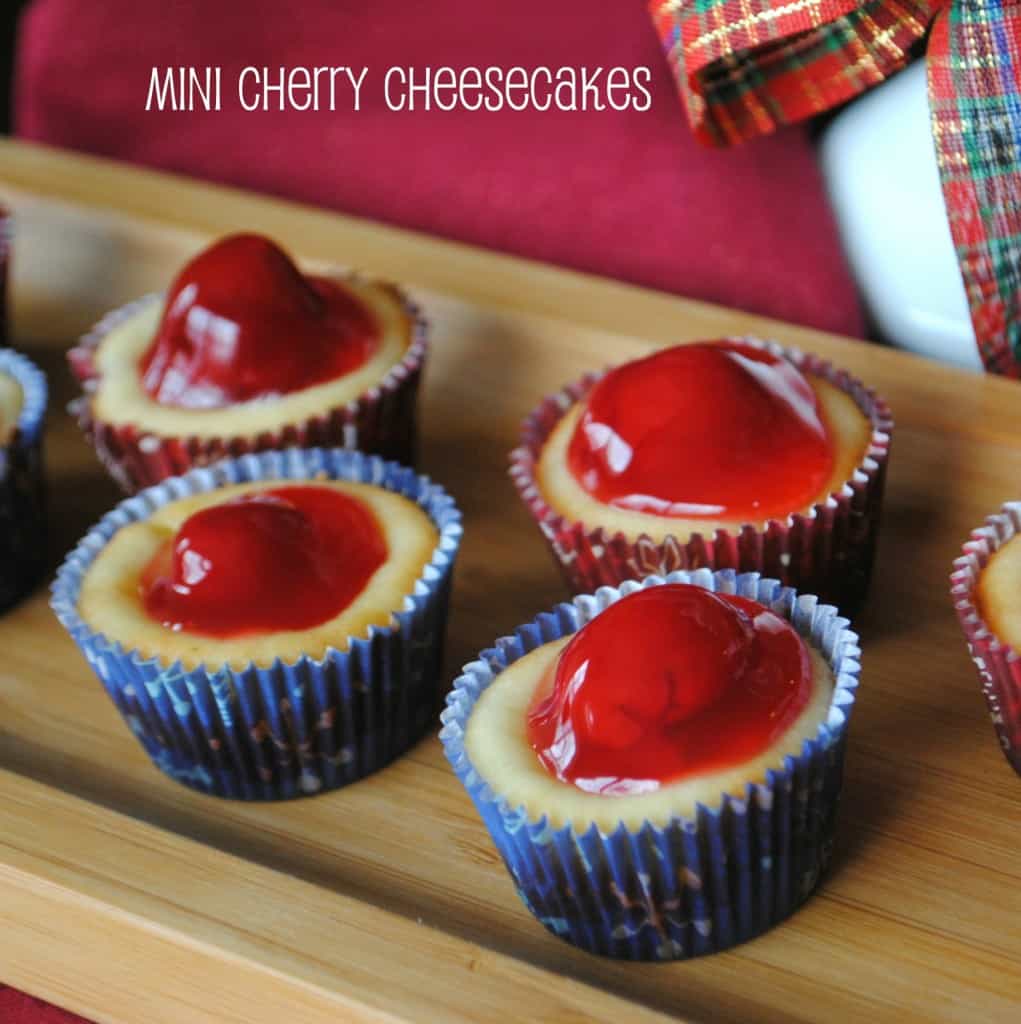 Bite sized cherry cheesecakes. Easy to make, delicious to eat, and makes nearly 7 dozen treats. That's a lot of bites. Although, trust me when I say how easy it is to just polish off a good 3 or 4 (or 12) in one sitting.
This is one of my husband's favorite desserts. I think it may be one of the reasons why he stuck around at my crazy family holiday gatherings (no offense family). He knew my mom would pull out a big batch of these. At least it gave him something to compliment my mom on food-wise (no offense mom, but we know how picky he is).  Funny though. For a man who hates "goopy" and condiments, and cream cheese, and sour cream, and mayonnaise…he LOVES these.
Don't worry, I won't complain. I enjoy when the rest of the family likes what I make. At least then I'm not the only one wearing stretchy pants. Oh, wait, I'm sorry…"yoga pants."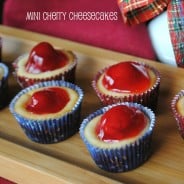 Mini Cherry Cheesecakes
Ingredients:
1/2 cup unsalted butter
1 1/4 cup graham cracker crumbs
1 1/4 cup sugar, divided
2 eggs
2- 8oz cream cheese
1 tsp vanilla
21oz can of cherry pie filling
Directions:
Make graham cracker crust by melting butter and using a fork mix in the graham crumbs and 1/4 cup sugar. Set aside.
Mix 1 cup sugar, eggs, cream cheese and vanilla until well blended. Press 1 tsp crust in a paper lined mini muffin pan. Fill 1/2 full with cream cheese filling.
Bake in a 350 degree oven for about 17-20 minutes. Makes about 7 dozen mini cherry cheesecakes. Store tightly covered in refrigerator.
To serve, top each cheesecake with a teaspoon of cherry pie filling (try to get one cherry on each pie). Enjoy cold!
MAKING THIS RECIPE? Share it with me on Instagram using the hashtag #ShugarySweets so I can see what you're cooking up in the kitchen!