These Glazed Apple Hand Pies are the perfect fall treat. And in about 30 minutes, you'll have one of these delicious baked treats in your hands!
Love easy apple desserts? Try our mini apple pies for another on-the-go treat idea! Or give our apple fritters a try next. The vanilla glaze on top is so good!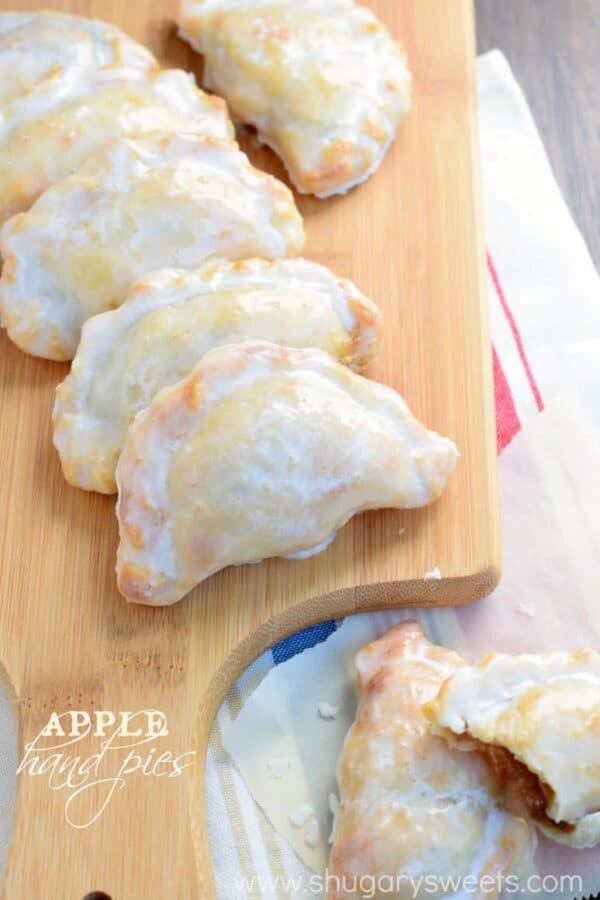 Why this Recipe is Best
One of my favorite fall activities is going to the pumpkin patch and the apple orchard. There is something about this that screams "welcome fall" to me!
And by "something" I totally mean the food.
From hot chili in a bread bowl to apple cider donuts, I love the food at these places. Unfortunately, we don't go more than once or twice a season, so I've got to make these treats at home instead.
It's a rough life, having to recreate my favorite desserts at home (like this Apple Crumble Recipe). I mean, the taste testing, the trial and error. Kidding. The perks of my job are pretty amazing.
I decided instead of baking up a whole Apple Pie, why not make something a little bit smaller- and portable!
However, after making a batch of these Apple Hand Pies, I realized why it's probably a good thing to only have these once or twice a season. Or at least my waist has good reasons. I could eat this entire batch by myself.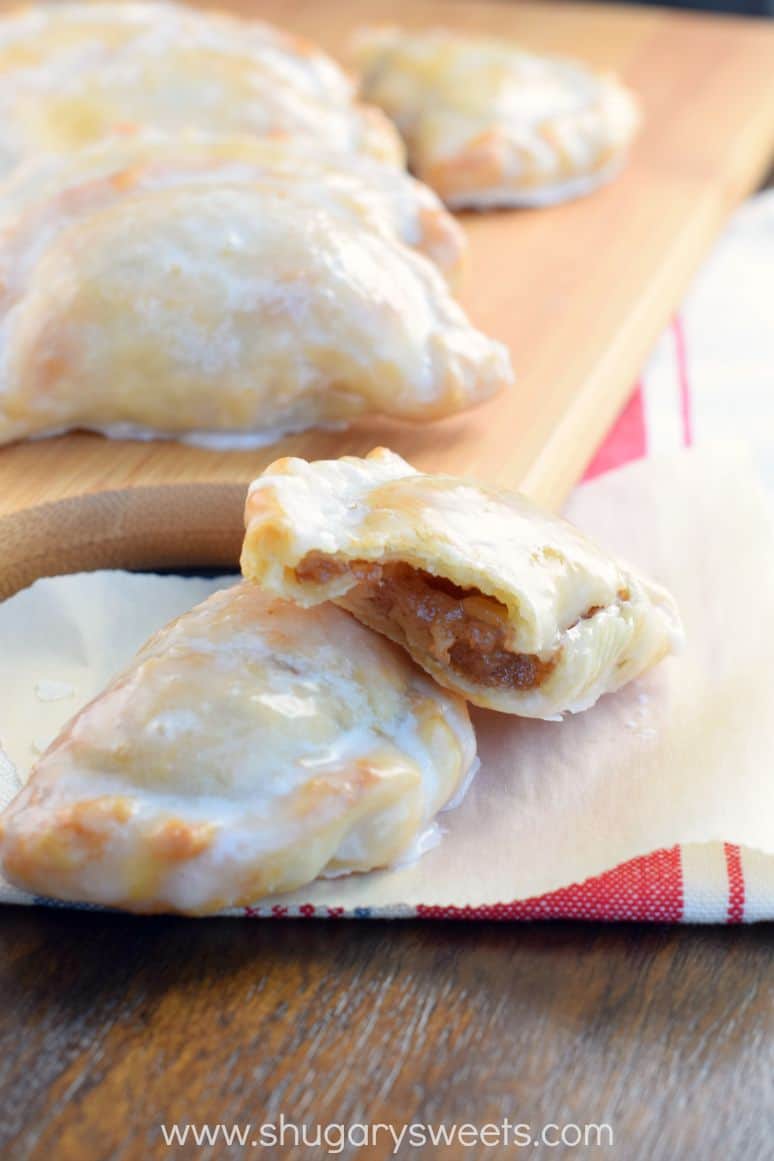 What type of Apples to Use
For today's recipe I used my favorite Apples. I like to buy already sliced apples for convenience, but Gala, Granny Smith, Golden Delicious, or Honeycrisp are my favorite for hand pies. You'll need about two large apples.
To make this I cheated and used refrigerated pie crust. I find that the flavor is great and the convenience is even better.
However, if you prefer to make your own pie crust from scratch, you can use my favorite (EASY) pie crust recipe! You'll need to make TWO. Or, use both pie crusts from the box, haha!!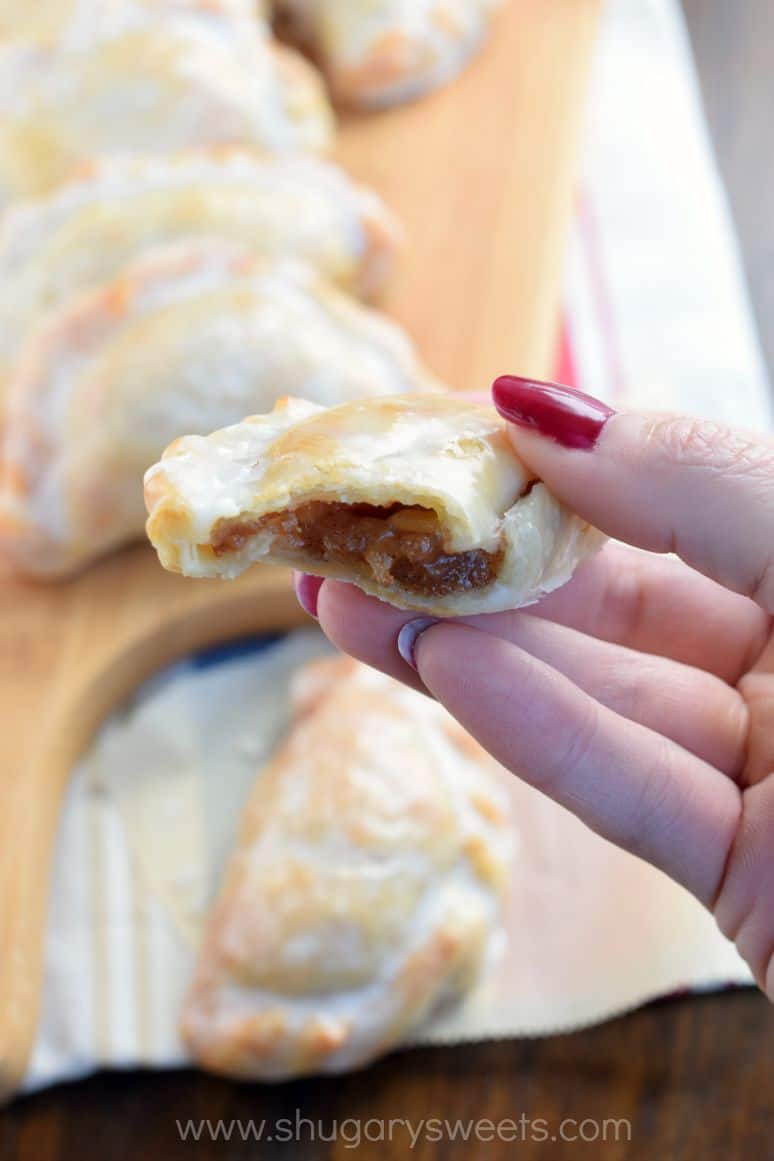 How to Make Apple Hand Pies
While the refrigerated pie crust is coming to room temperature on the counter, peel and dice your apple slices!
You're going to toss those in a skillet with some melted butter, kosher salt, brown sugar, nutmeg and cinnamon.
On medium heat, while stirring, cook them until soft, about 5-10 minutes. I diced mine fairly small (thumbnail size) so they only took about 5 minutes (you don't want them mushy).
Sprinkle in your flour and heat an additional minute while the mixture thickens as you stir. Set aside.
PRO TIP: You could also use our fried apple recipe for the filling!
I used a 4 inch circle biscuit cutter to get my hand pies perfect. Each pie crust gave me 5, and then I took the scraps and rolled them out to get 1-2 more. This gave me a total of 12-14 hand pies!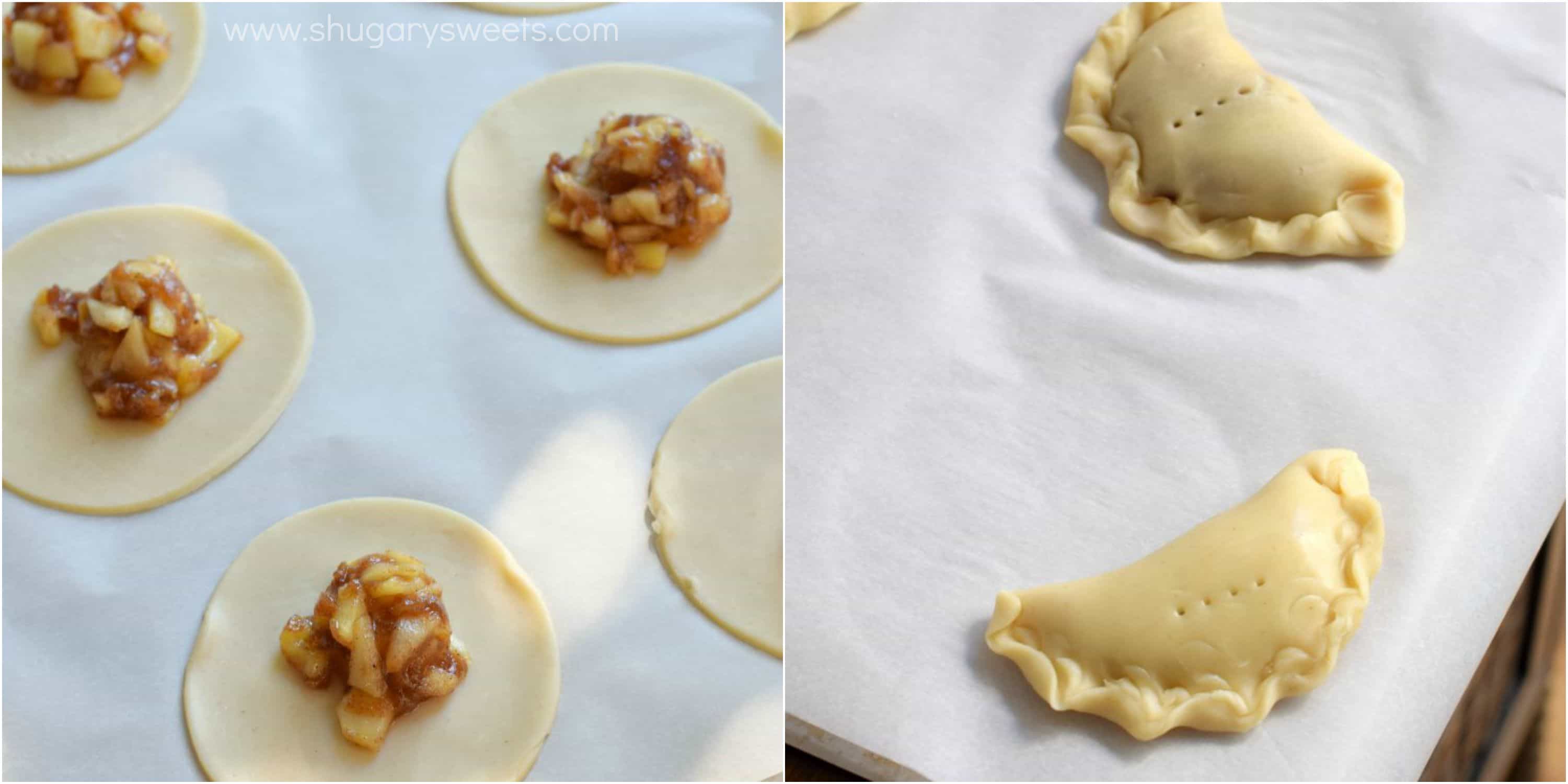 Tips and Tricks
To scoop an even amount of filling into each crust, I used a 1 TBSP cookie scoop to drop the perfect dollop.
You'll need to fold the dough in half around the filling and really PINCH those edges tight (use a fingertip dab of water to keep them sticking together).
I then folded the edges over and twisted a little. But you can fold them over and use fork tongs to pinch again. Before heading into the oven, make sure you prick them on top with a fork, once or twice so they don't explode.
I originally had planned on frying them up, but since my kitchen was clean, I didn't feel like having grease splatter. So I baked them. And I'm so glad I did. They still had a delicious flaky texture, without all the fat.
Once they've baked up (making sure you used parchment paper to keep them from sticking), drop each warm hand pie into your glaze.
Place it back onto the parchment paper and allow to set up. Takes about 10-15 minutes for the glaze to harden. Enjoy these warm or cold!
Don't forget to try these Peach Hand Pies for a twist! Or give our warm blueberry crumble recipe a try next.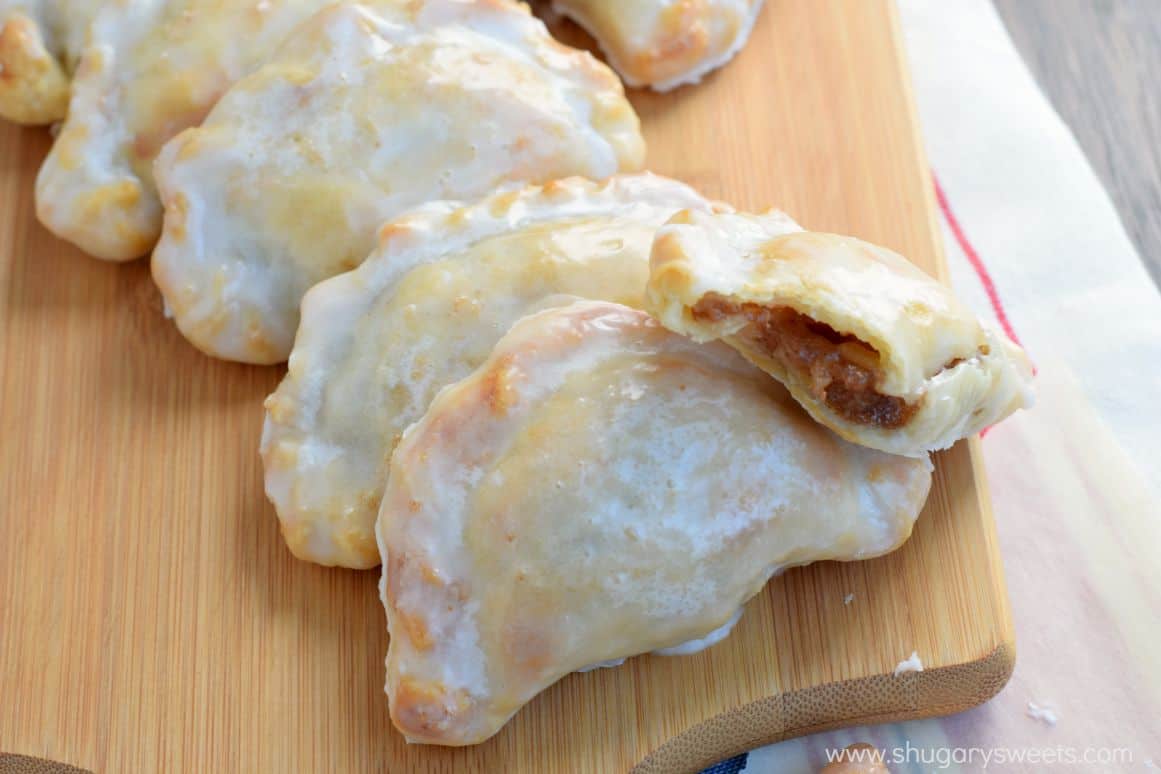 More Hand Pies