I interrupt your busy life to bring you this delicious, easy Bacon Cheeseburger Braid. Dinner in 30 minutes, you're welcome!
Be sure to sign up for my email…new recipes in your inbox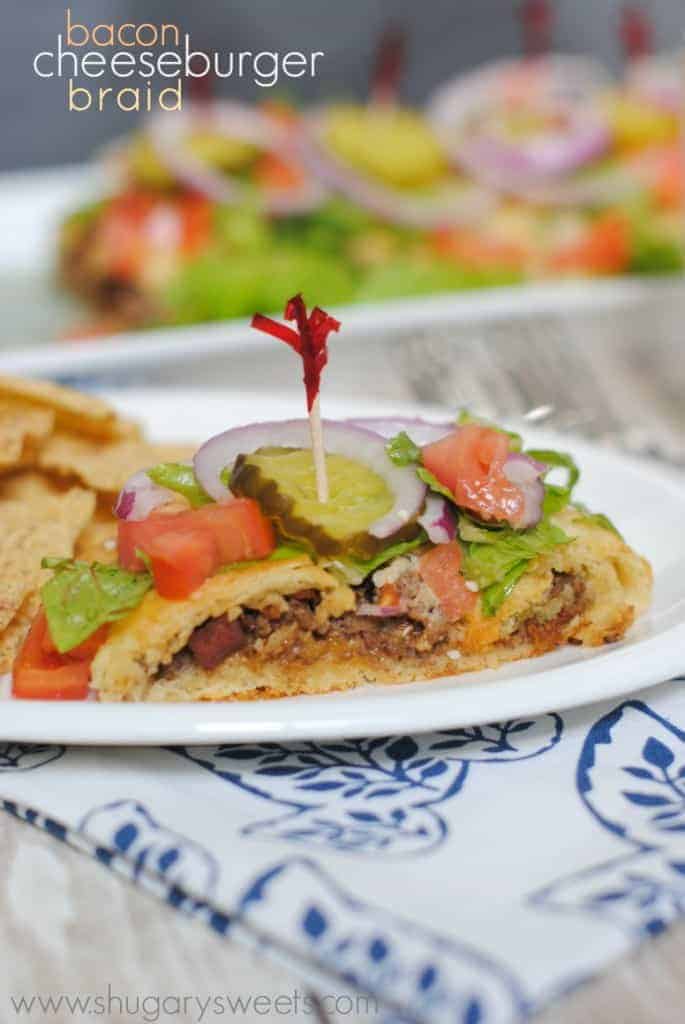 I forget sometimes that I work.
The other day I was laying in bed. My husband's alarm went off. Typical weekday morning at 6am.
Only this morning it suddenly dawned on me. I have a job. I have deadlines. And contracts. And invoices.
This little hobby of mine that I started almost 4 years ago…is a job now.
Don't get me wrong. I'm pretty sure my job is more awesome than most. Seriously, I can work in my pajamas. I drink coffee…for a living. I eat, bake, and repeat every day!
But, it has also occurred to me, that maybe we (yes YOU my reader) have not discussed this before. And you may be noticing more "sponsored posts" here on my little blog. So let's chat quick before getting to the recipe. (unless you don't care….then scroll on down my friend!!!)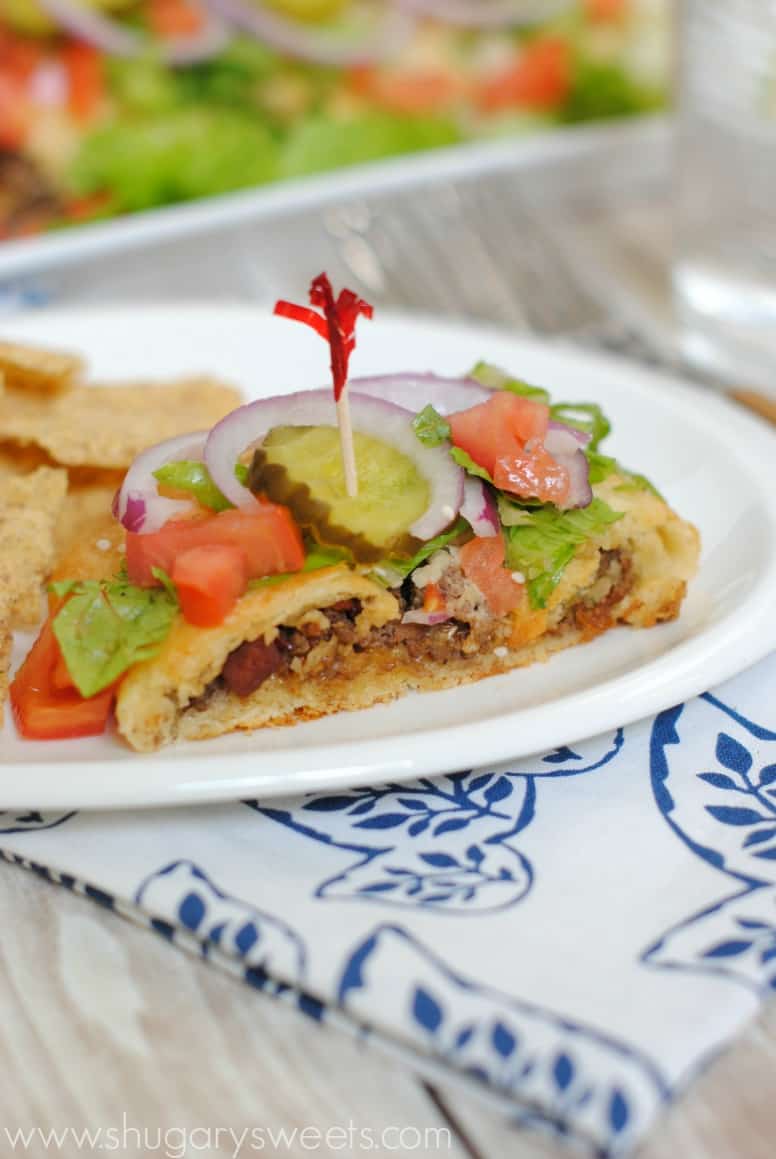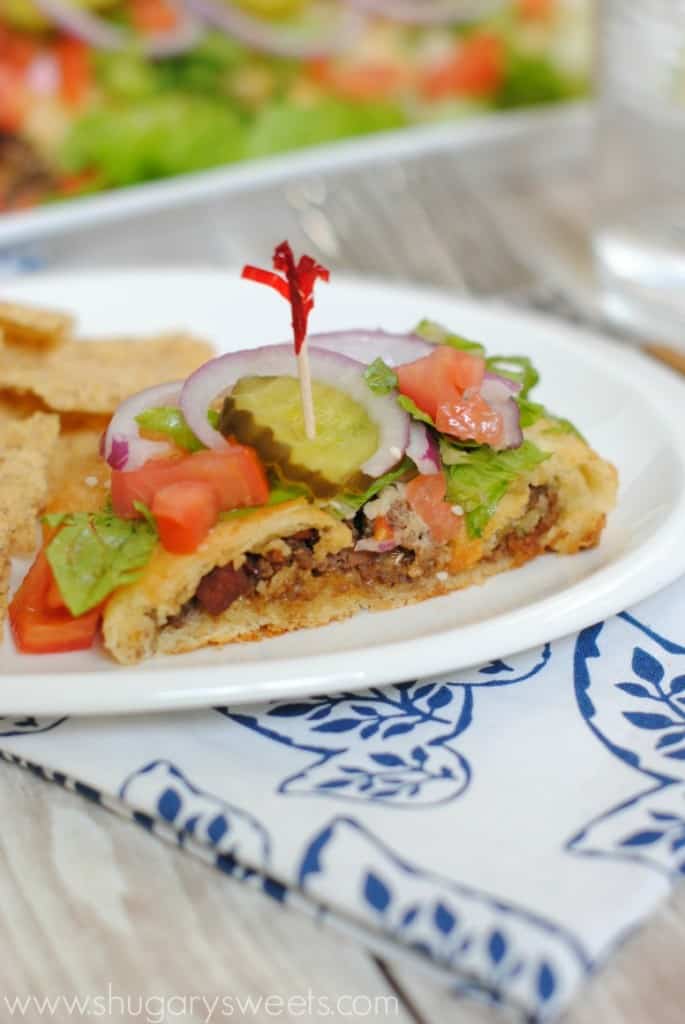 I'll be honest with you guys. I've done a few things wrong through the years. Early on, I would occasionally use products and share them with you…and not reveal that it was paid. Or that I received the products for free. I had no idea I was supposed to do that.
I've learned since then. And here's my promise to you.
You will always know either at the beginning of a post or at the end (or both!) if a certain recipe is paid. That's my pledge to you.
But, in doing so, you will also know and should be comforted by the fact that I only work with brands I love and trust and use regardless of being paid. No joke peeps.
So, where is this all coming from?
Well, first from the realization the other morning that this blog is my job. And while I am passionate about creating delicious recipes, I also need to disclose to you that I don't do it for free. The ads on my side bar, the affiliate links and the sponsored posts all  help my family pay bills and enjoy life. (It also helps support this blog, because much of that money goes to hosting fees and other costs associated with food blogging).
Second, I received an email about a month ago from someone who was upset that I was working with a certain brand (that shall not be named). And how I was "selling out." So to revisit my second pledge…I only work with brands I love and trust. It may not be a brand YOU like. That's okay. I don't like lima beans, but I'm not going to send my favorite food blogger hate mail when she uses lima beans in a recipe. I'll just skip along to the next one.
If you have ANY questions about what I do, why I do it, how I do it, feel free to comment below or send me an email. In the meantime, enjoy my work!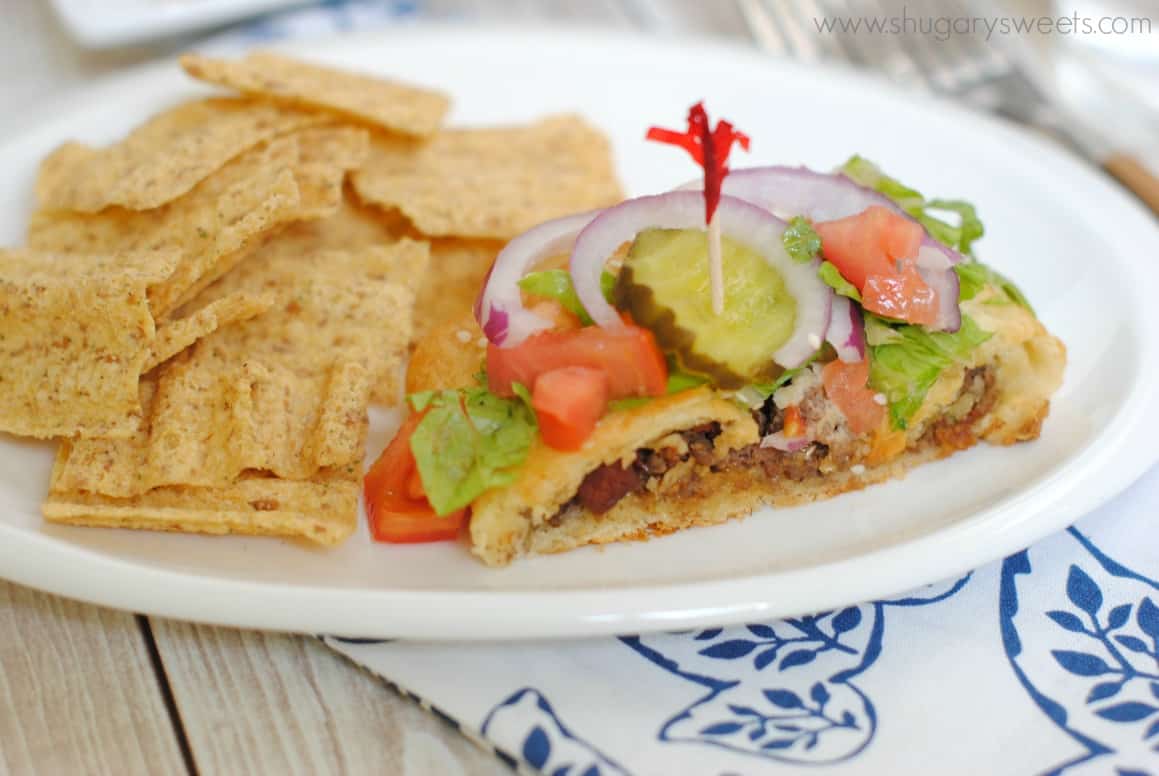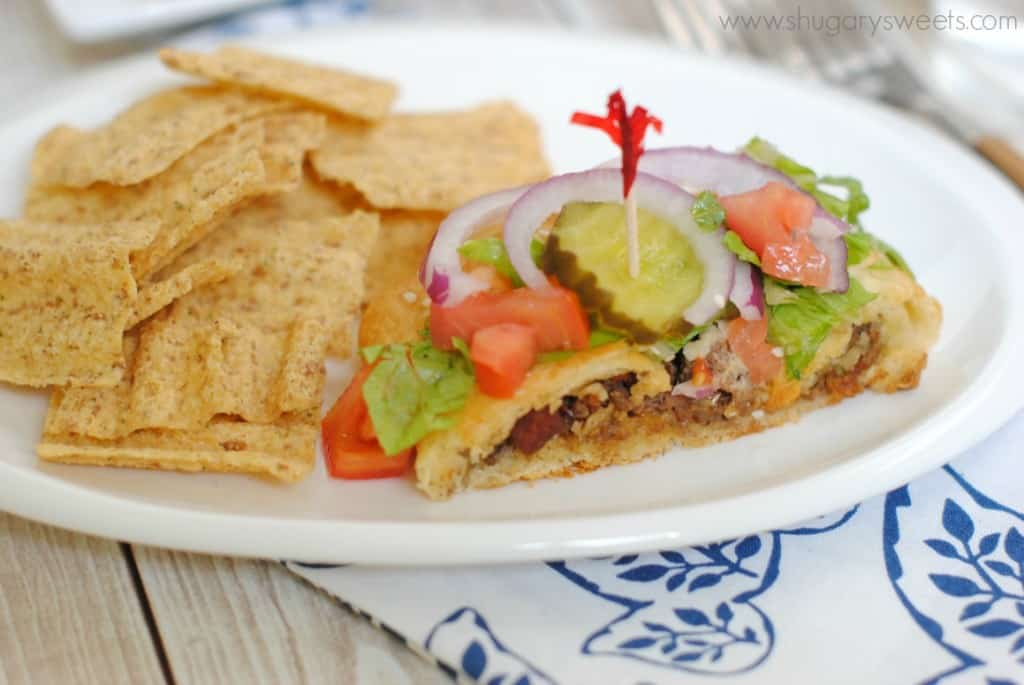 If you made it this far! Thank you! I'm pretty sure you are going to LOVE this dinner idea. I've been a bit obsessed with bacon cheeseburgers. So why not enjoy one that serves a crowd. It's like one BIG cheeseburger.
Just like I did with this Bacon Cheeseburger soup, I cooked my meat and added ketchup, mustard and pickles. You guys. Don't frown your face. My condiment loving husband has NO idea I did this. Well, he does now. Sorry honey, but just remember…YOU LOVED THIS.
Anyways, cook up your meat, add the condiments. Unroll a package of crescent rolls, pinching together the seams (it will be a long rectangle). add your filling to the middle, along with the cheese and bacon. You can either fold up the sides. Or…cut one inch strips and twist the sides together over the top of the filling (like a braid). Sprinkle some sesame seeds on top (because yes…sesame seed buns are the best) and bake!
When ready to serve, add your lettuce, tomato, pickles and onions! ENJOY!!
Yield: 3-4 servings
Bacon Cheeseburger Braid
Ingredients
1 package refrigerated crescent rolls
1/2 lb ground beef
1 Tbsp ketchup
2 tsp yellow mustard
2 dill pickle spears, diced
4 slices american cheese (or cheddar)
1/4 cup bacon, cooked and crumbled
1 Tbsp sesame seeds
lettuce, tomato, red onion and pickles for garnish
Instructions
In a large skillet, cook ground beef. Drain fat. Add ketchup, mustard and diced pickles.
On a large baking sheet, lay out crescent rolls into a rectangle, pinching seams together.
Spread filling down middle of crescents...lengthwise.
Top with cheese and bacon.
To close braid, cut one inch strips on sides of crescent. Pull up and twist over top. Sprinkle with sesame seeds. Bake in a 375 degree oven for about 20 minutes.
Remove from oven and top with lettuce, diced tomato, red onion and pickles. ENJOY!


Love Bacon and Cheese? Well so do I!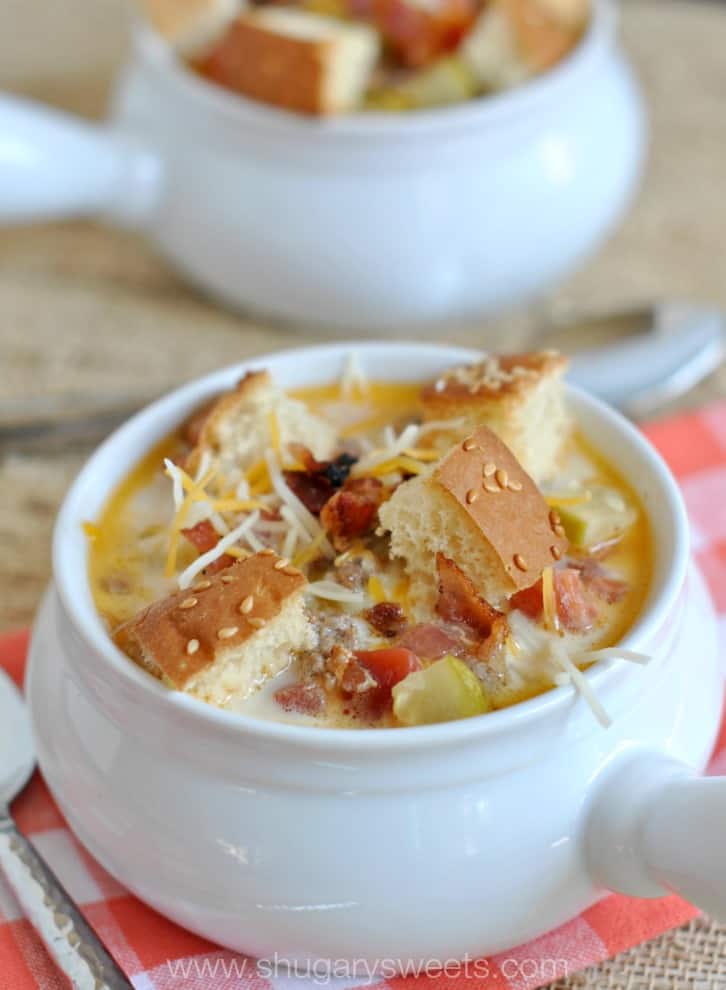 Bacon Cheeseburger Soup: it's comfort food in a bowl!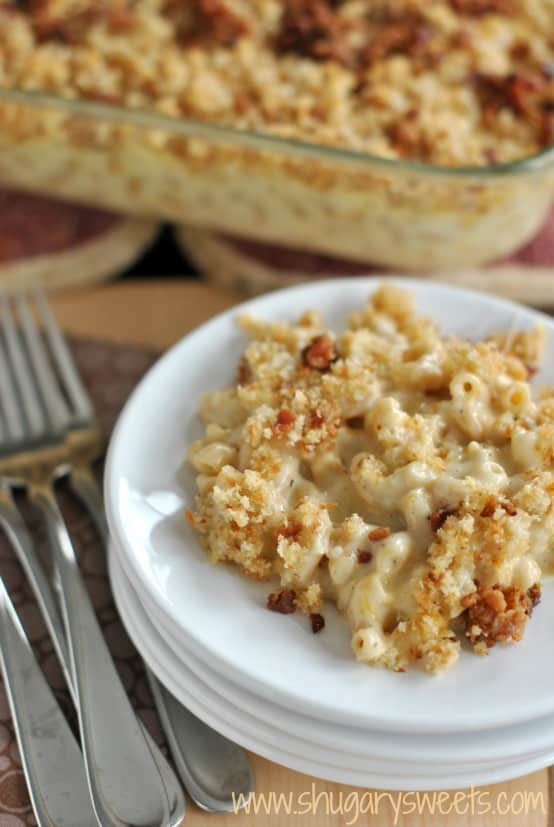 Gouda Bacon Mac and Cheese: seriously combines everything I love in one dish!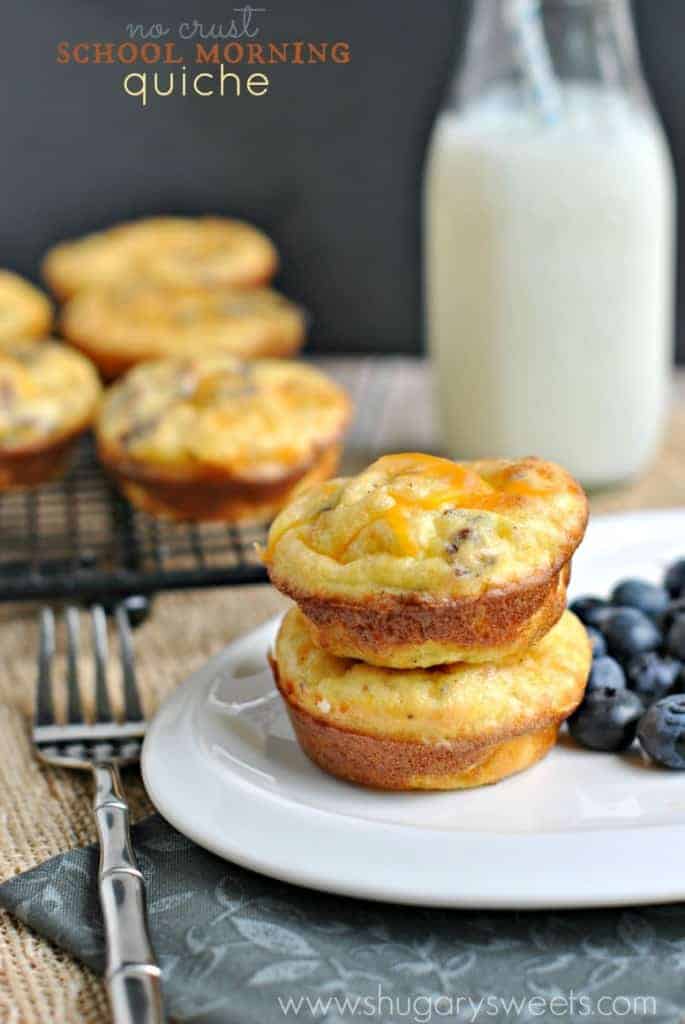 School morning quiche: make these bacon, egg and cheese muffins, freeze for later, and enjoy in minutes!