Easy Bacon Cheeseburger Braid gets dinner on the table in 30 minutes! Ground beef and your favorite burger fixings get wrapped in crescent roll dough and baked. A delicious party food or weeknight meal!
Everyone needs a few 30 minute meal ideas in the rotation. You'll also love this Chicken Pesto Pasta and these tasty Instant Pot Hamburgers.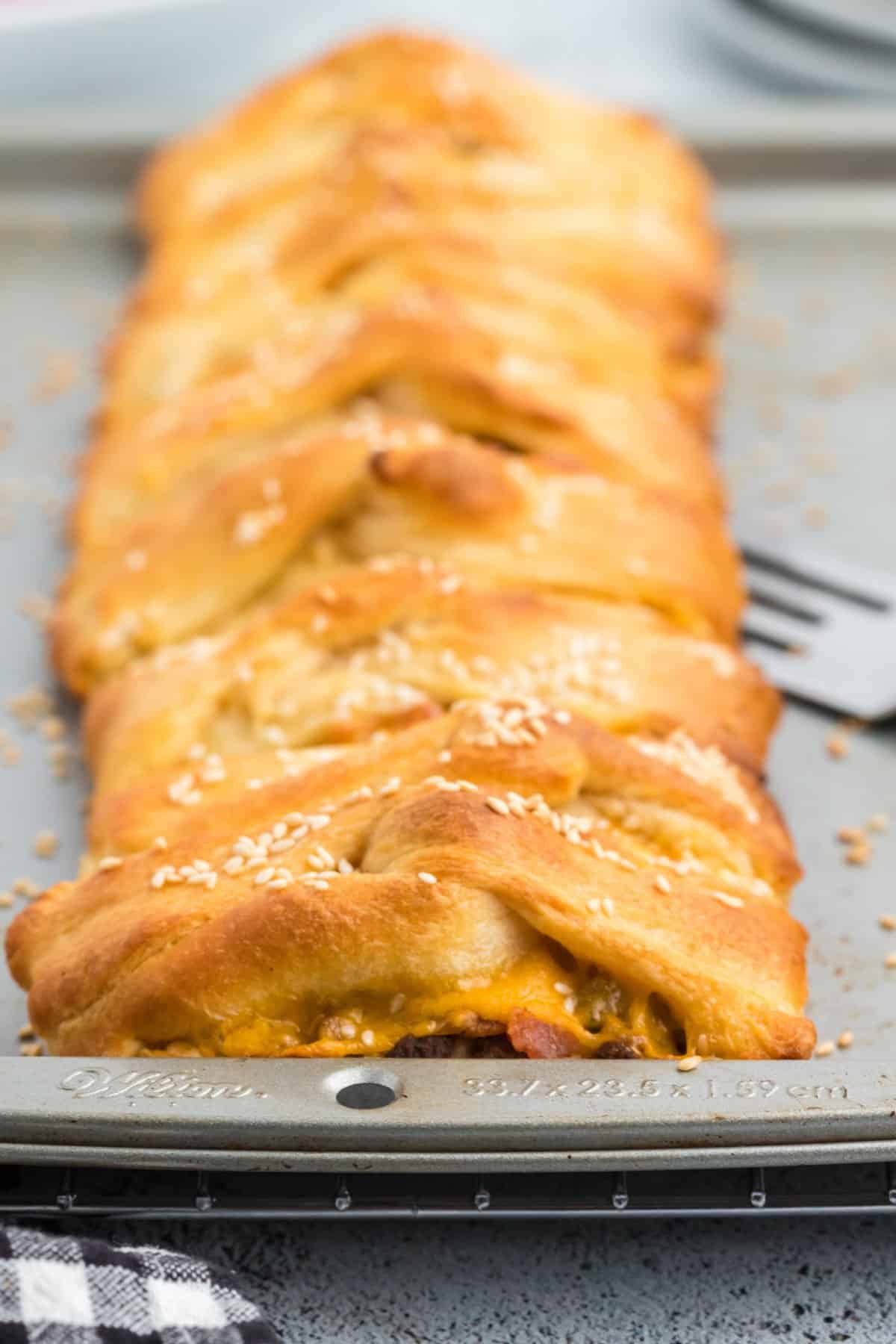 Why this Recipe Works
This Bacon Cheeseburger Braid is a family favorite. I've served this numerous times for dinner but it's also perfect as a party food! You'll love how easy it is to slice and share with a crowd.
Cheeseburgers made easier. No need to flip individual burger patties.
Crispy bacon crumbles. The smoky bacon makes this cheeseburger braid amazingly flavorful.
Crescent roll dough. Just unroll, wrap and bake.
Add your own toppings. Let everyone add onion, lettuce and tomato to their serving just the way they like it.
Family friendly. Even picky eaters will ask for seconds!
30 minute recipe. That's all it takes to get a delicious meal on the table!
Ingredient Notes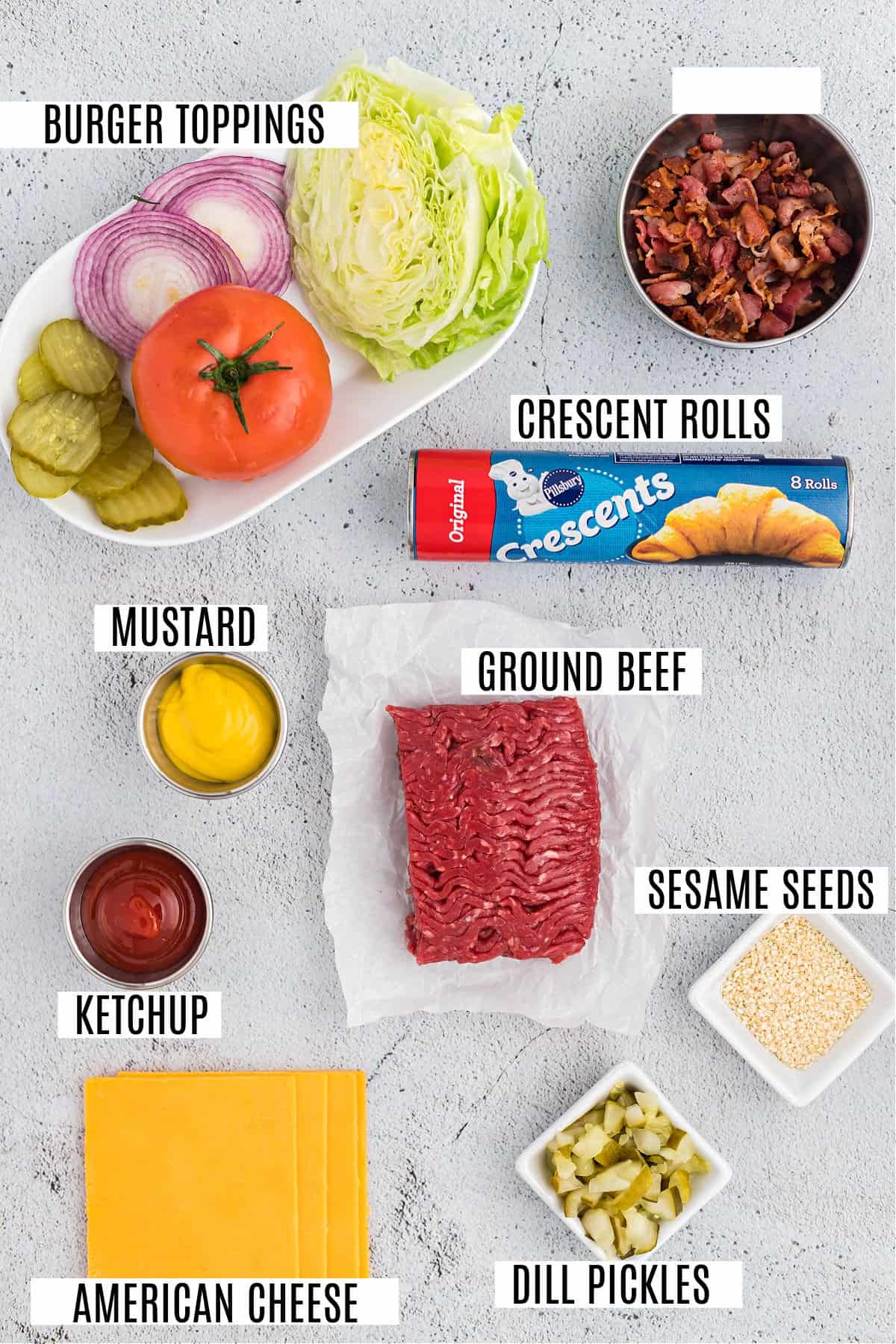 Refrigerated crescent rolls. If you can find the crescent roll dough sheets, use those. You can also use the unbaked rolls. Just make sure to pinch the seams together.
Ground beef. Ground turkey works perfectly here too!
Ketchup, mustard, pickles. These get added to the cooked beef to create a delicious filling!
Burger garnishes. Tomato slices, lettuce, red onion and anything else you love on your bacon cheeseburgers.
Easy Instructions
Cook up your meat. Brown the ground beef in a skillet. Add the condiments and diced dill pickle spears.
Wrap in crescent rolls. Unroll a package of crescent rolls, pinching together the seams (it will be a long rectangle). Add your filling to the middle, along with the cheese and bacon.
Braid. Cut one inch strips and twist the sides together over the top of the filling (like a braid).
Bake. Sprinkle some sesame seeds on top (because yes…sesame seed buns are the best) and bake!
When ready to serve the Bacon Cheeseburger Braid, add your lettuce, tomato, pickles and onions. Slice into sections and enjoy!
Tips & Tricks
Change up the cheese. American, cheddar, colby jack, and swiss cheese are all delicious in Bacon Cheeseburger Braids.
Ground beef substitute. Swap the beef for ground turkey or a vegetarian ground beef substitute for a lighter burger braid.
Let everyone add their own toppings. If your family members all have different preferences for their burger fixings, serve the garnishes on the side. That way everyone can enjoy the bacon cheeseburger braid just the way they like it.
Dipping sauces. Feel free to serve the burger braid with a side of ketchup, mustard or mayo for dipping!
Make it a ring! Want to double the recipe? Just make the shape a ring, like we did with this buffalo chicken ring, and our Italian beef ring.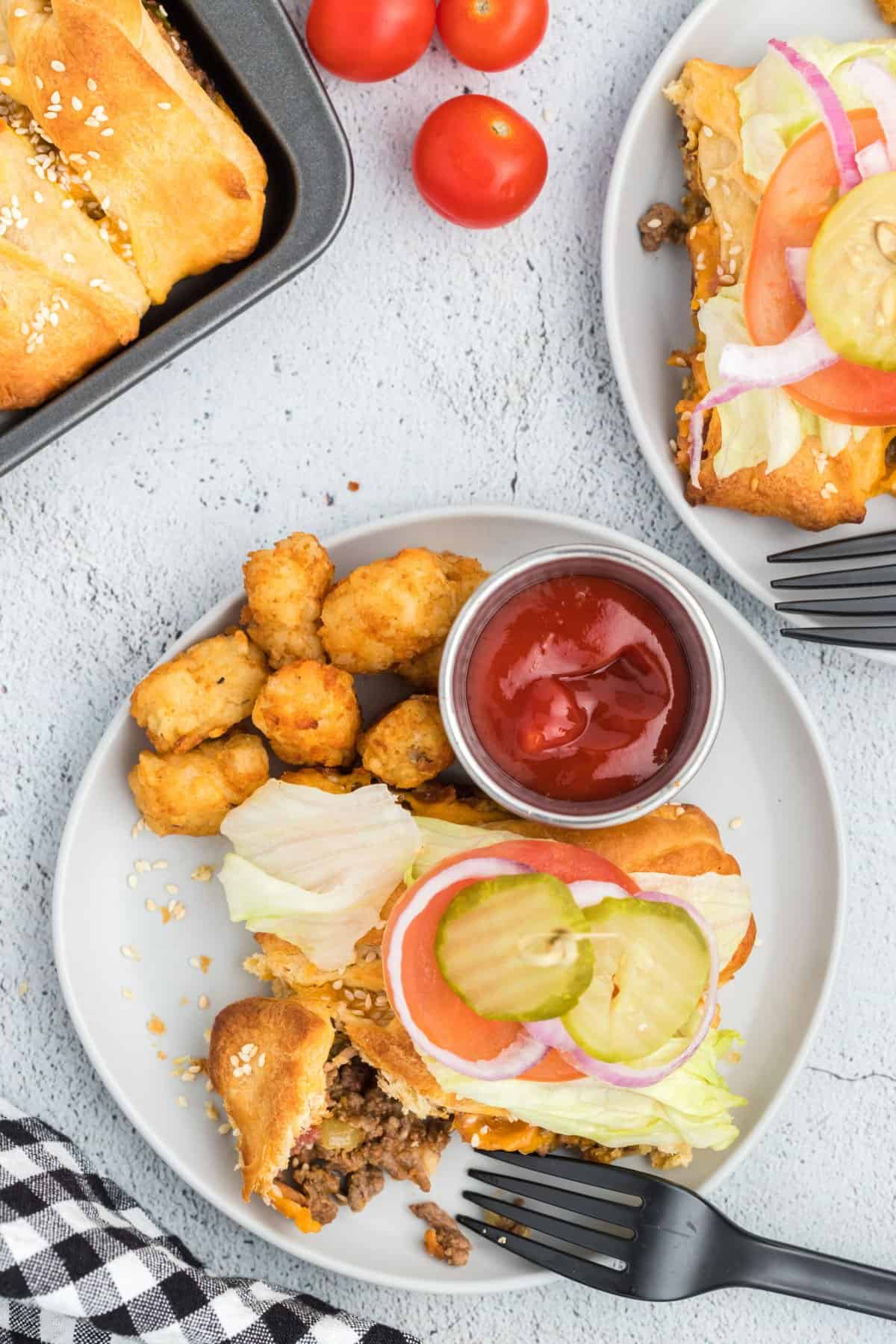 Serving Suggestions
Need some ideas for delicious side dishes to serve with this Bacon Cheeseburger Braid?
It's perfect with a Classic Potato Salad or this Loaded Potato Salad. Macaroni Salad and Sweet Potato Fries would also be amazing with this.
Lighten this up with cucumber tomato salad or broccoli salad on the side!
And how about a tray of M&M's Brownies for dessert? Your family might declare this the best dinner ever!
Recipe FAQs
What can I substitute for the crescent rolls?
If you live somewhere you can't get crescent roll dough, you can make this Bacon Cheeseburger Braid with refrigerated pizza dough. You'll need about 8 ounces of dough.
Can I make the Bacon Cheeseburger Braid recipe ahead of time?
This burger braid tastes best served warm. I recommend making it just before serving for best results.
Can I use shredded cheese instead of cheese slices in this recipe?
Yes, shredded cheese works well in a Pillsbury Cheeseburger Braid too. Sprinkle it over the beef before braiding the dough.
The BEST Bacon Cheeseburger Braid with crescent roll dough comes together in just 30 minutes! If you love cheeseburgers, this easy meal is guaranteed to impress.