The search for the best ever Cherry Fudge recipe is over! Nothing says "I love you" like giving someone a plate of homemade fudge, especially when it's packed with real cherries and topped with silky dark chocolate.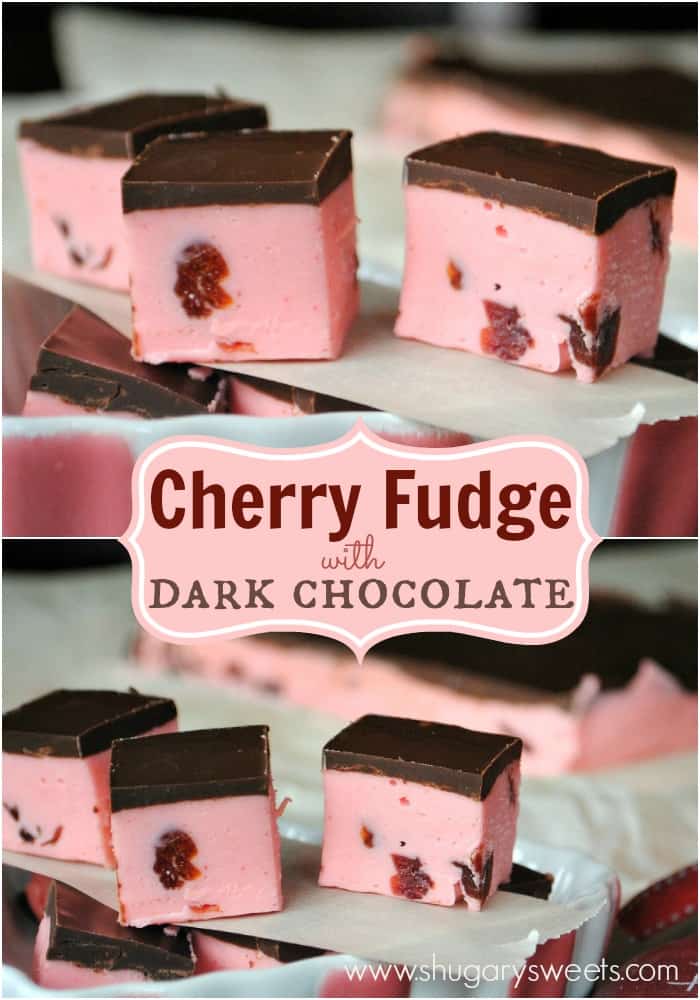 You can make anything better by dipping it in chocolate, right? When it comes to Valentine's Day, I can't think of anything I'd rather get than a box full of chocolate covered cherries. . . except maybe this chocolate covered cherry inspired FUDGE!
You can whip up a batch of this just in time for Valentine's Day, or anytime you need to tell someone how much you love them. Even if that someone person is yourself. We could all use a little bit more self care, particularly if it comes in the form of delicious rich cherry fudge.
Cherry Fudge
The smooth cherry fudge with chunks of dried cherries and topped with dark chocolate is so addictive that I DO need to give some of it away lest I eat it all in one sitting. Talk about the perfect bite AND the perfect gift.
You don't need to buy any fancy cherry liqueurs to make cherry fudge. I used my trusty one step trick for adding instant flavor to any treat–JELL-O mix.
Fudge with JELL-O
Don't start thinking your homemade fudge is going to come out with the texture of JELL-O squares. All it does is imbibe each bite of fudge with fruity cherry flavor. The gelatin also gives the fudge a soft texture that's firm enough to hold up when sliced but velvety enough to melt in your mouth.
Yum.
You could easily mix up the flavor of this fudge by using another JELL-O flavor, but the cherry fudge is my absolute favorite topped with a layer of rich dark chocolate.
I wanted a bit of texture and real cherry goodness in my fudge too, so I folded in dried cherries as well. Extra delicious!
How to Make Cherry Fudge
Contrary to what some people believe, you don't need any special equipment or even a candy thermometer to make cherry fudge at home.
Here's how I make this fudge recipe:
Melt butter with heavy cream, sugar and salt. Once it's boiling, add the cherry JELL-O powder and let it cook for 5 minutes over heat.
Next, add a jar of marshmallow fluff and white chocolate to a bowl. Pour the boiled gelatin mixture in and stir. Use a strong whisk to beat everything together until the chocolate is melted and the mixture is smooth and creamy.
Now, fold in the dried cherries. Pour the cherry fudge mixture into a pan lined with parchment paper, then top with melted dark chocolate. Use a rubber spatula to help spread the chocolate evenly over the fudge.
Chill: Let the whole pan sit in the refrigerator for at least 4 hours until firm. If I have time, I like to keep it in the fridge overnight to set.
Cut it into squares, serve and enjoy!
Tips for Cherry Fudge
Storage: You can keep this fudge in the fridge covered or in an airtight container at room temperature, as long as your house isn't too warm.
Cutting fudge: I find that slicing the fudge into squares just before serving helps ensure it maintains optimal texture. If you aren't giving the fudge as a gift, cut just the number of squares you plan to eat right away. Use a sharp knife to get a smooth and even edge!
Freezing: Like many of my homemade fudge recipes, your cherry fudge will also keep beautifully in the freezer. Freeze before or after cutting and then let the fudge thaw out at room temperature before eating.
Mixing fudge: A strong whisk works well to beat together the fudge ingredients, but I have also been known to save a little bit of time and energy by using my stand mixer! Electric beaters are another great option for ensuring the white chocolate, marshmallow and butter mixture get well incorporated.
Variations
As I mentioned earlier, Fudge made with JELL-O is SO easy to adapt into different flavors! Strawberry flavored gelatin powder would be quite tasty in this recipe. Substitute dried strawberries for the cherries and you'll have Chocolate Covered Strawberry fudge for Valentine's Day, too!
The more fudge the better, so why not just make one batch of each?
More tips for making fudge
New to making homemade fudge from scratch?
Learn how to make fudge with my extensive guide, full of tips and tricks for making my favorite candy. I promise you that crafting your own perfect fudge at home is more than possible; it's downright easy.
Make a batch of this extra special candy for someone extra special in your life.
Or just eat it all yourself. I wouldn't blame you.
 Homemade Cherry Fudge covered with dark chocolate is simply irresistible!