Craving comfort food? These Chicken Pillows are a family favorite! Crescent roll, chicken and plenty of warm gravy make this a meal that kids and adults can agree on!
Easy comfort food is what my own family loves. From Chicken and Dumplings made in the Instant Pot to a pan of Turkey Tetrazzini. You're sure to enjoy a plate of dinner tonight!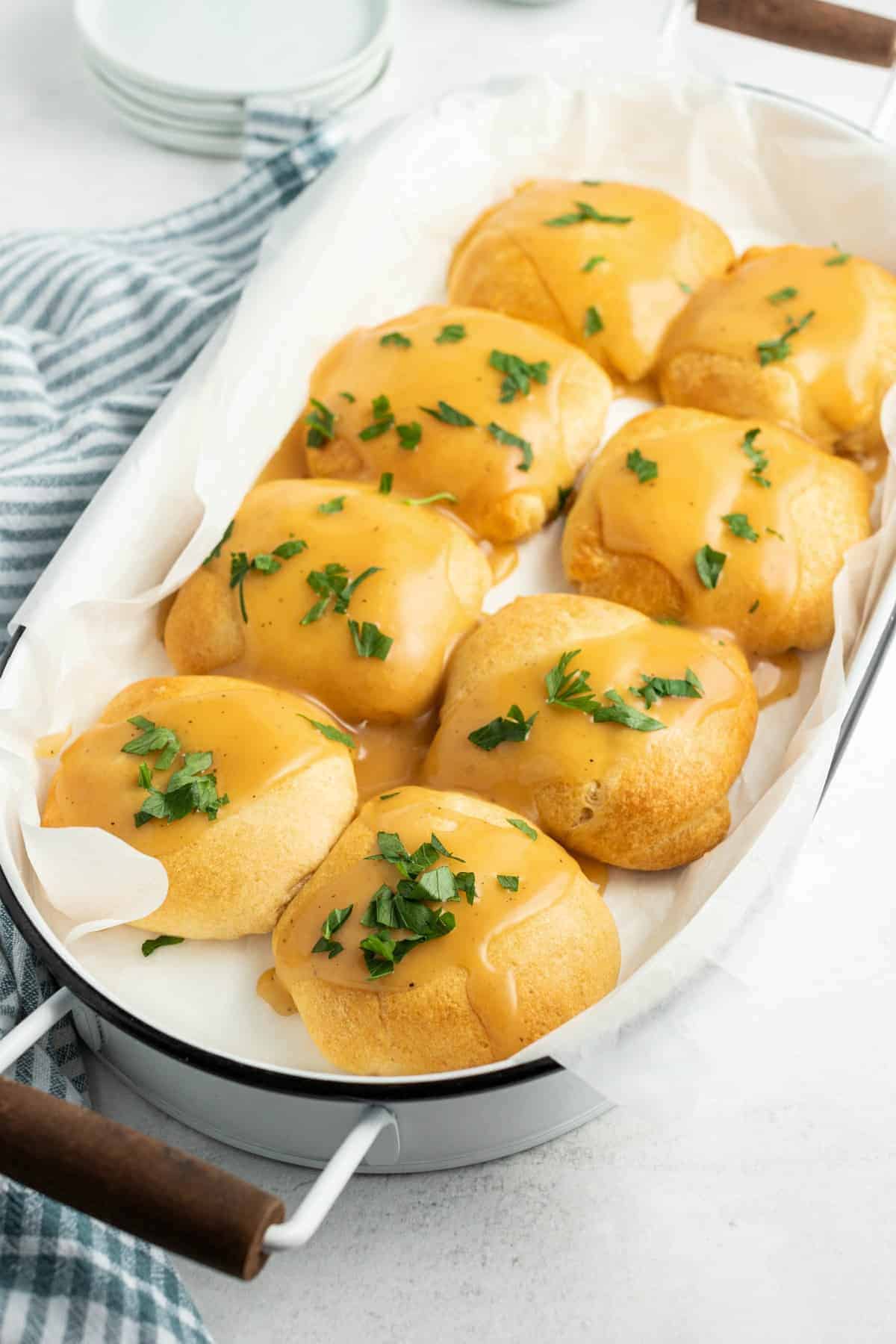 What are Chicken Pillows?
We call these "Chicken Kisses" in our family which I think is pretty adorable. Others call these Chicken Pillows or Chicken Pockets.
Whatever you call them, they are one of my all time favorite chicken dinners!
It's so perfect on a chilly fall evening. Very filling, warming and downright comforting.
If you like pork chops, chicken pot pie, or any food you eat smothered in gravy you're going to love Chicken Pillows.
I have to give credit to my Aunt Sandy for sharing this recipe with me many many years ago! I don't think I have changed it much but I've made it so many times over the years that I stopped even looking at the original recipe she gave me.
Using refrigerated crescent roll dough and ready made gravy, there's hardly any fuss and it comes out wonderfully every time.
It's so satisfying to take a bite of a piping hot chicken pocket and taste the buttery crescent roll crust mixed with savory gravy and creamy chicken stuffing. 
These Chicken Kisses are a great use for that leftover roasted chicken you have in the fridge but to make it even easier you could use store bought rotisserie chicken! Then just dice it up and add it to the recipe. Huge time saver!
How to Make Chicken Pillows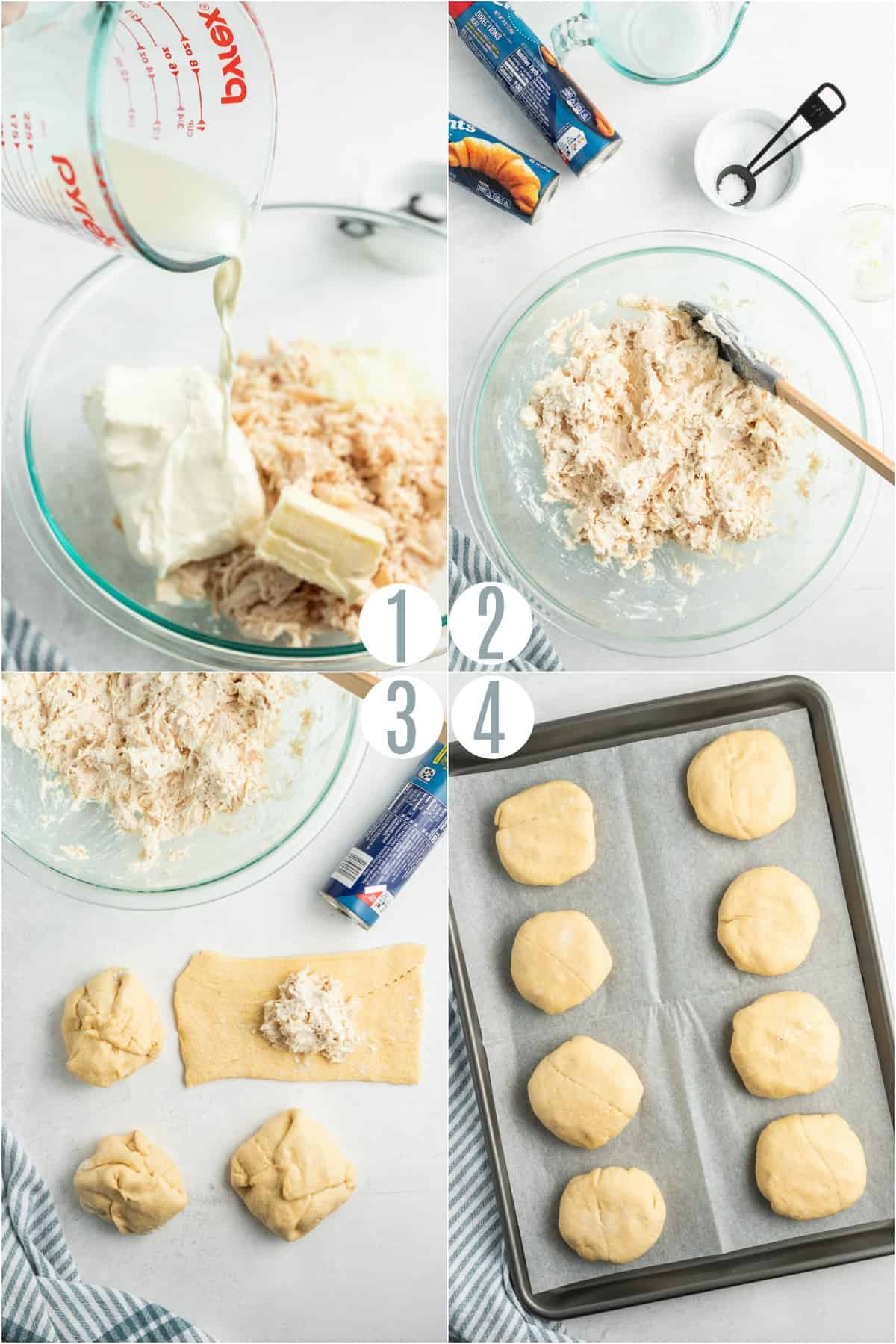 Here's what you need:
Cooked diced chicken – From a rotisserie chicken or cooked yourself. Use leftover turkey works great too!
Pillsbury crescent roll dough
Chicken gravy – I used Heinz brand. Feel free to use homemade gravy if you like instead! 
Cream cheese – Full fat or reduced fat both taste great. 
Butter
Salt 
Pepper
Milk
STEP 1. Mix chicken, cream cheese, butter, spices, milk and onion in bowl. This is your stuffing.
STEP 2. Unroll crescents and fill two crescent rolls at a time with the chicken stuffing. Pinch up the corners to create a pocket.
STEP 3. Bake in a casserole dish or baking pan at 375 for about 15-20 minutes. Serve with warmed gravy! Enjoy!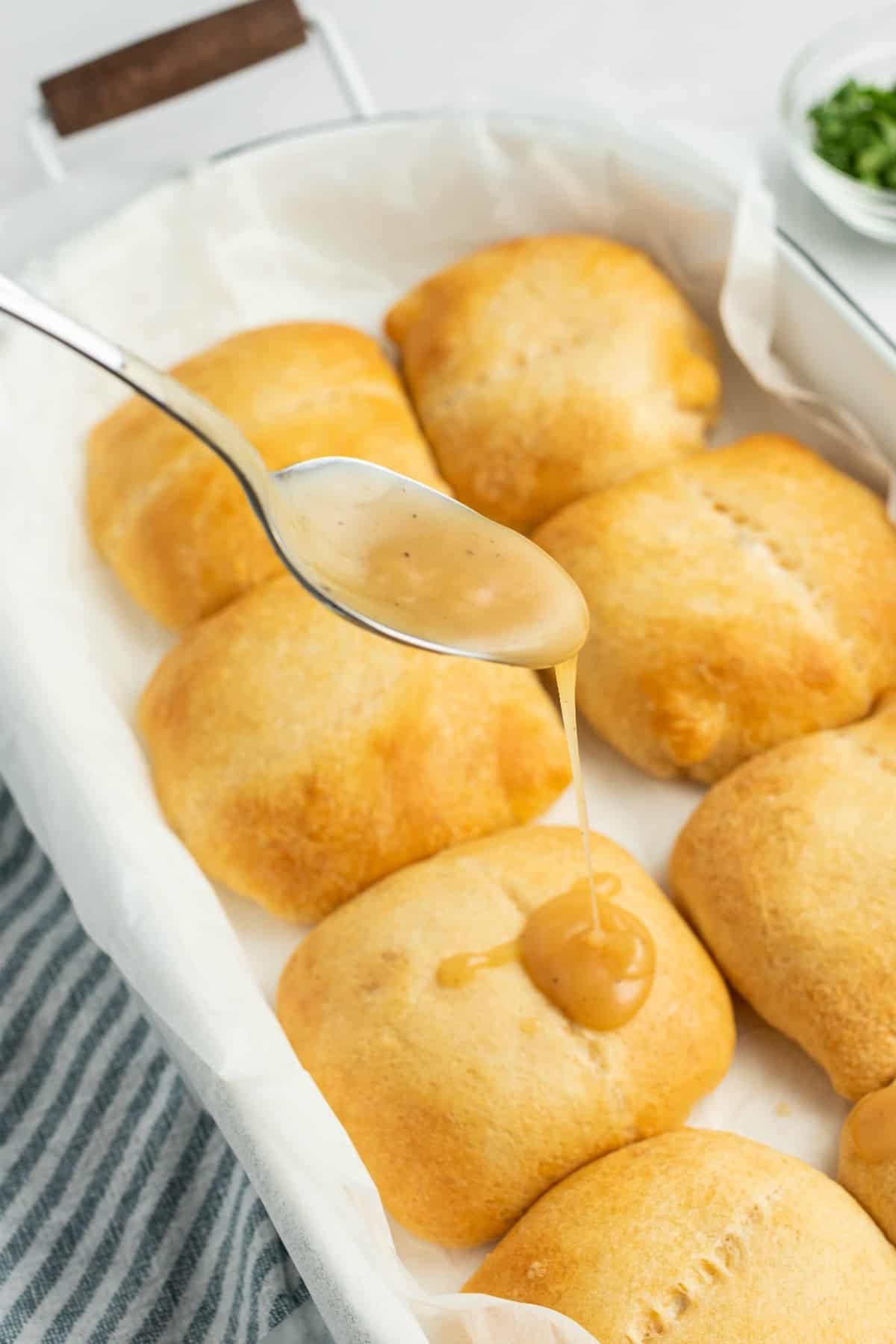 Tips and Tricks
If you have leftover chicken, that'll do wonderfully here. You can also whip up shredded chicken breast on the stove or instant pot to use for this recipe. Often, I'll grab a whole cooked chicken from the grocery store if I forgot to cook chicken in advance!
Not a fan of creaminess? My husband doesn't love a ton of creamy texture in his food so sometimes I'll make this meal without as much cream cheese. For those looking for a lighter version or just not into so much cheese, feel free to reduce the cream cheese by as much as half.
Chicken pillows are best served right away! Don't forget to heat up the gravy on the stove top. You can either pour the gravy right on top of the chicken pockets before serving or put a boat of gravy on the table so everyone can add as much or as little as they like.
Delicious with leftover turkey too! And top them with some turkey gravy.
Serving Suggestions
I like to round out a comfort food dinner of crescent roll chicken with a side of Cornbread and a caesar salad. It's also delicious with some Roasted Broccoli on the side.
If you want to go super rich and hearty, make some Mashed Potatoes to soak up that extra gravy. A perfect satisfying dinner for a cold night, don't you think?
I love that these Chicken Pockets made with crescent rolls and cream cheese are easy to make but impressive enough to serve to company! Make this for dinner this week–I know you'll thank me.