Soft and chewy Chocolate Oatmeal Cream Pies! You'll love this easy lunchbox treat that's similar to the classic, but CHOCOLATE flavored!
My family is obsessed with dessert. Including this easy Cream Puff Cake recipe, as we like to drizzle it with chocolate fudge! This No Bake Oreo Cheesecake is also easy, and perfect for dessert tonight!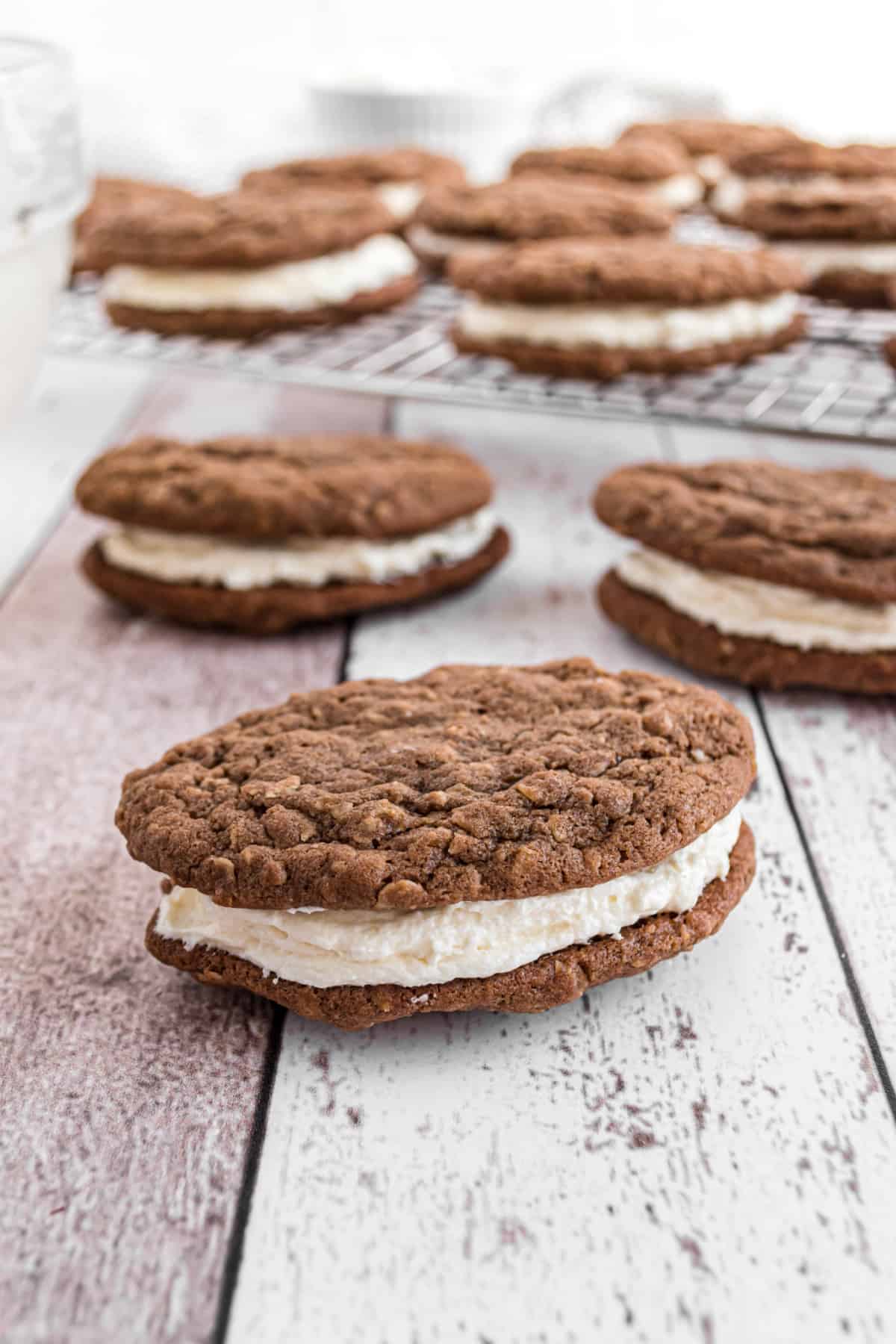 What are Whoopie Pies?
You all may remember that I made oatmeal cream pies?
They tasted just like Little Debbie's version. Now I'm back with a chocolate version on that successful copycat oatmeal cream pie recipe.
I mean, did you really expect me to find a cookie recipe I loved and NOT figure out a way to add chocolate?
Using chocolate oatmeal cookies, these treats are similar to Whoopie Pies and surprisingly easy to make. They're ideal for popping into a lunch box or packing for a road trip treat!
In case you've never tasted one before, a whoopie pie is a handheld treat that's like a cross between a cake and a cookie. It has filling very similar to traditional oatmeal cream pies but sandwiched between cakey chocolate cookies instead of oatmeal ones.
This Chocolate Oatmeal Cream Pie recipe puts the best of both desserts together! Even though Little Debbie herself never made a chocolate version of her cream pies, if she did I imagine it would taste a lot like these.
There's something so satisfying about taking two cookies and stuffing some homemade marshmallow filling between them for a cookie sandwich. I love this chocolate-y version of an oatmeal cream pie and I have a good feeling you will, too!
Just note, they are not as chocolatey as a Little Debbie Fudge Round, but in my opinion, they're even better!
Ingredients needed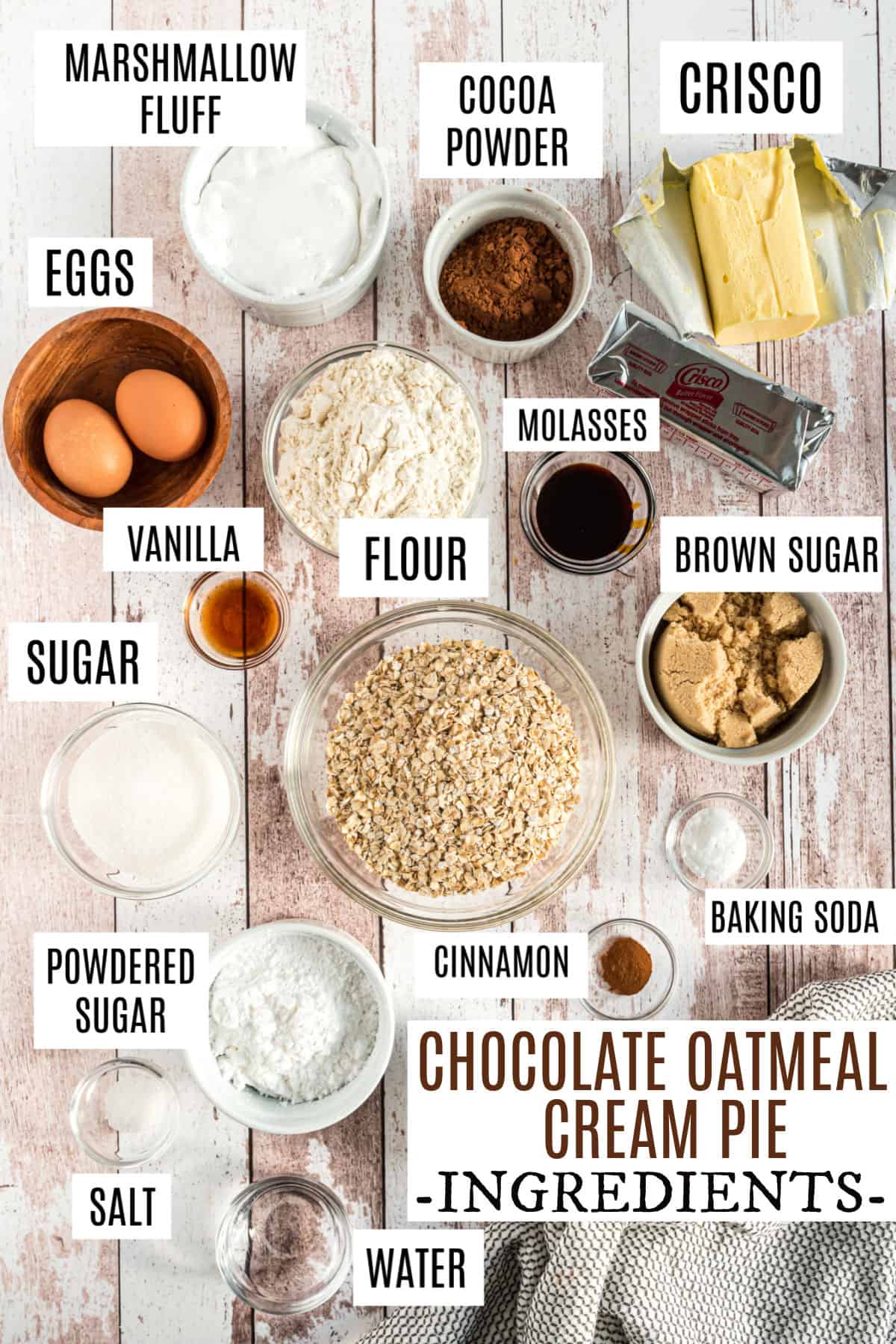 These chocolate cream pies, start with a chewy chocolate oatmeal cookie recipe.
Here's what you need for the chocolate oatmeal cookies:
Margarine or butter flavored shortening – Do not substitute butter!
Brown sugar
Granulated sugar
Molasses – The molasses gives color to the cookies along with that signature rich flavor you want in an oatmeal cream pie.
Vanilla Extract- try my homemade vanilla extract recipe!
Eggs
Cinnamon
Baking powder
Baking soda
Cocoa powder – Unsweetened and preferably Dutch processed
Quick oats – Do not substitute whole rolled or steel cut oats
Easy Instructions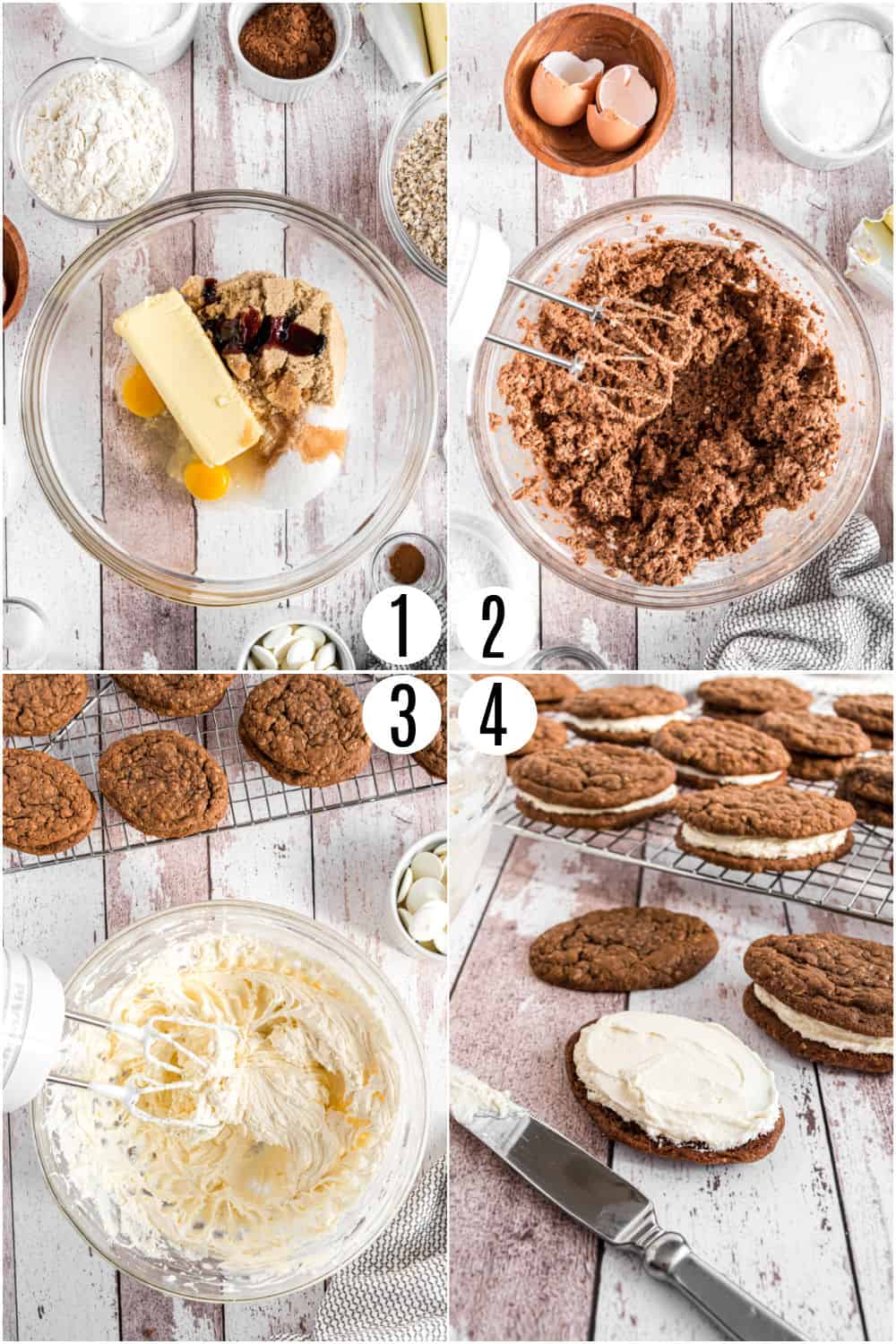 STEP 1. In large bowl, beat Crisco, brown sugar, granulated sugar, molasses, vanilla and eggs.
Add flour, salt, baking soda, cocoa and cinnamon. Mix in the oats.
STEP 2. Drop by ONE tablespoon onto a parchment lined cookie sheet. Bake 7-8 minutes in a 350 degree oven, until just starting to brown around the edges. They'll still look a little underdone, but they'll continue firming up as they cool.
For the Filling
To turn these regular chocolate oatmeal cookies into perfect oatmeal cream pies, you make a fluffy marshmallow filling!
Here's what you need:
Hot water – I bring it to boiling then remove it from heat
Marshmallow fluff
Butter flavored Crisco
Salt
Powdered sugar
Vanilla Extract
How to make the Whoopie Pie filling:
After cookies have cooled, combine hot water with salt and mix until salt is dissolved. In large bowl, beat marshmallow fluff with Crisco, powdered sugar and vanilla. Beat on high until fluffy.
Add in the salt water and mix until well combined. Spread filling on one cooled cookie and press second cookie on top.
This recipe makes enough for about 14 oatmeal cream pies. Be sure to divide the filling equally between the cookies so everyone gets their fair share!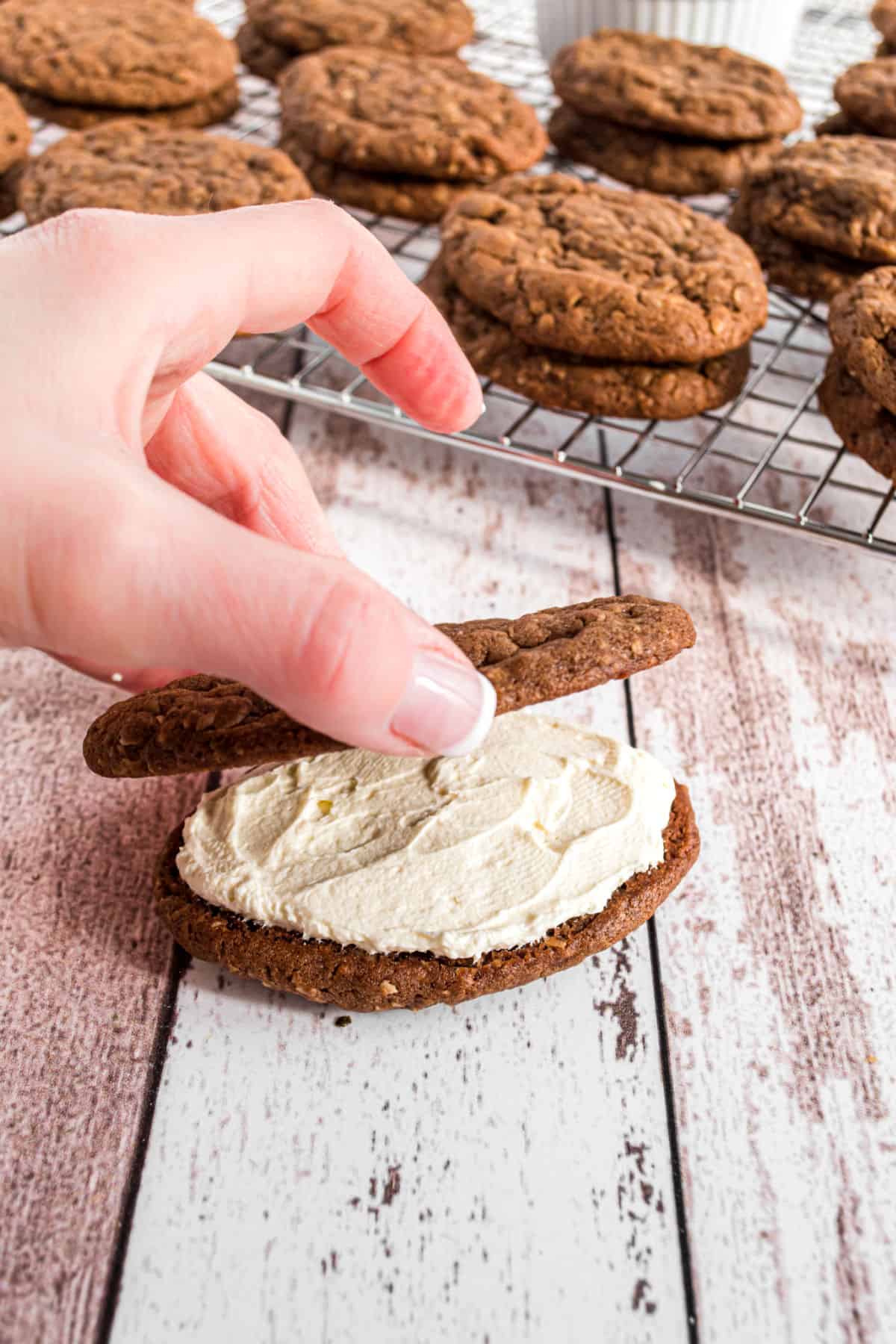 Tips & Tricks
Do not over bake the chocolate oatmeal cookies! They'll look soft and doughy and barely browned at the edges so you might be tempted to leave them in the oven longer. Trust me on this–they cool to a perfect chewy texture.
How long do oatmeal cream pies keep? Store these in an airtight container at room temperature for up to a week.
Can you substitute butter for the margarine or Crisco? No. For the cookies, the margarine (or shortening) helps achieve the chewy texture. Butter will make the cookies thinner and crispier so they won't have that authentic oatmeal cream pie texture and flavor.
How much filling to use in cream pies: I put about an inch of the marshmallow fluff filling between the cookies. You can use more or less depending on your preferences, just make sure to make them even!
Have leftover filling? I had just enough filling to fill my whoopie pies. If you end up using less filling and having leftovers, don't throw it out! It's delicious spread on graham crackers and fruit slices, too. Or you can eat it with a spoon. . . I won't tell.
Lunch Box snacks
For those who grew up eagerly anticipating sitting down in the cafeteria and ripping the plastic off a Little Debbie treat at lunchtime, these Oatmeal Cream Pies are about as good as it gets.
And if you're new to the world of Oatmeal Cream Pies? Welcome. Your journey has only just begun!
Be sure to check out my favorite FOOTBALL version of these cookies!
With chewy oatmeal chocolate cookies and fluffy Marshmallow filling, these whoopie pies are a family favorite!