These Cocktail Meatballs (or Grape Jelly Meatballs) are exactly what your party needs, and they're super easy to make! Homemade Meatballs with an easy, two ingredient sauce.
Love easy snacks? This 7 Layer Dip is a hit at every family gathering and game day party! Or whip up some Hanky Panky's. My family is obsessed with these crispy bites of sausage and cheese!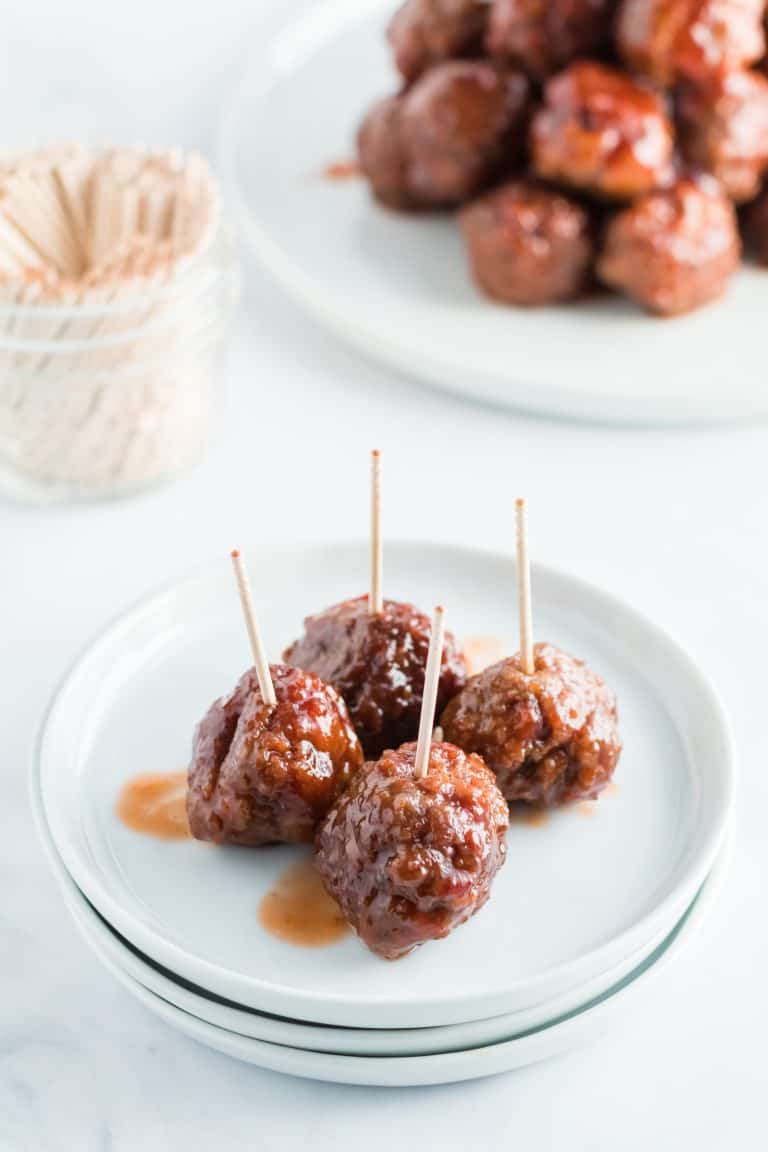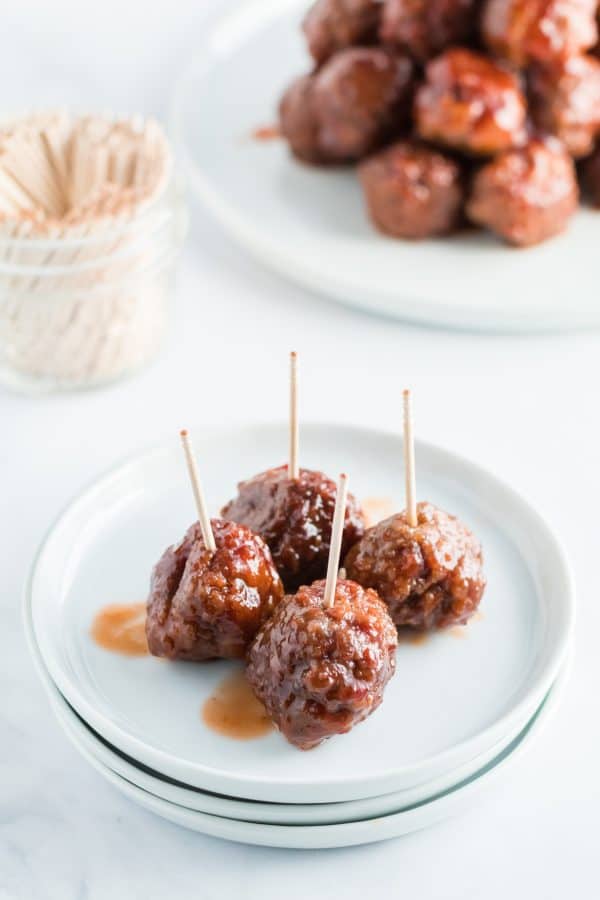 Why this Recipe Works
Whether you are headed to a party, or just craving an easy snack, these Cocktail Meatballs are the perfect answer.
Tender, juicy meatballs in an easy sweet and sour sauce!
You'll love the versatility of this meatball recipe. Whether you whip up a batch of homemade meatballs with the recipe below, or use turkey meatballs, or buy a bag of frozen meatballs, this recipe couldn't get any easier!
Ingredient Notes
Meatballs. I usually make a double batch and freeze half for future use. You can also use store bought frozen meatballs for a quick time saver.
Grape Jelly
Chili Sauce – found in the ketchup aisle
That's it. Whether you call these cocktail meatballs or grape jelly meatballs, one thing is for certain, they won't last long!
Easy Instructions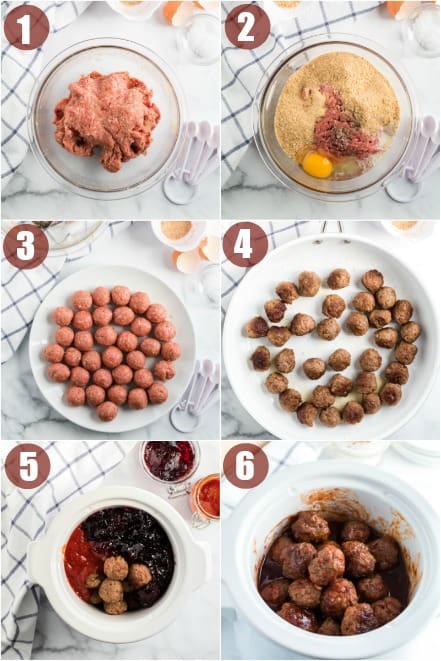 STEP 1: Start by making the meatballs. In a bowl, combine ground beef with egg, bread crumbs, garlic, salt, pepper and milk. Use your hands to mix thoroughly.
STEP 2: Shape beef mixture into small bite size balls. I use a 1 Tbsp scoop for this, as we prefer our appetizer meatballs to be smaller. You can totally make them bigger if you prefer. Arrange meatballs in a hot skillet over medium high heat, turning often until completely cooked.
PRO TIP: You can freeze cooled, cooked meatballs in a freezer safe airtight container for up to 3 months. So go ahead and double that recipe!
STEP 3: In the bottom of a crockpot or slow cooker, add equal parts of grape jelly and chili sauce. I use about 1 cup of each, but if you like them a little juicier or serving over rice, feel free to double that amount.
Whisk the jelly and chili sauce until combined. Add cooked meatballs (or frozen meatballs) to the crockpot. Turn on low for about 3 hours. Serve warm and enjoy!
Storage: You can also prepare the grape jelly and chili sauce with the meatballs and refrigerate together for up to 24 hours. Then heat and serve.
Freezing the meatballs with the jelly and chili sauce is also an option. Whether you prepare it in advance or want to freeze leftovers, store in airtight container for up to one month.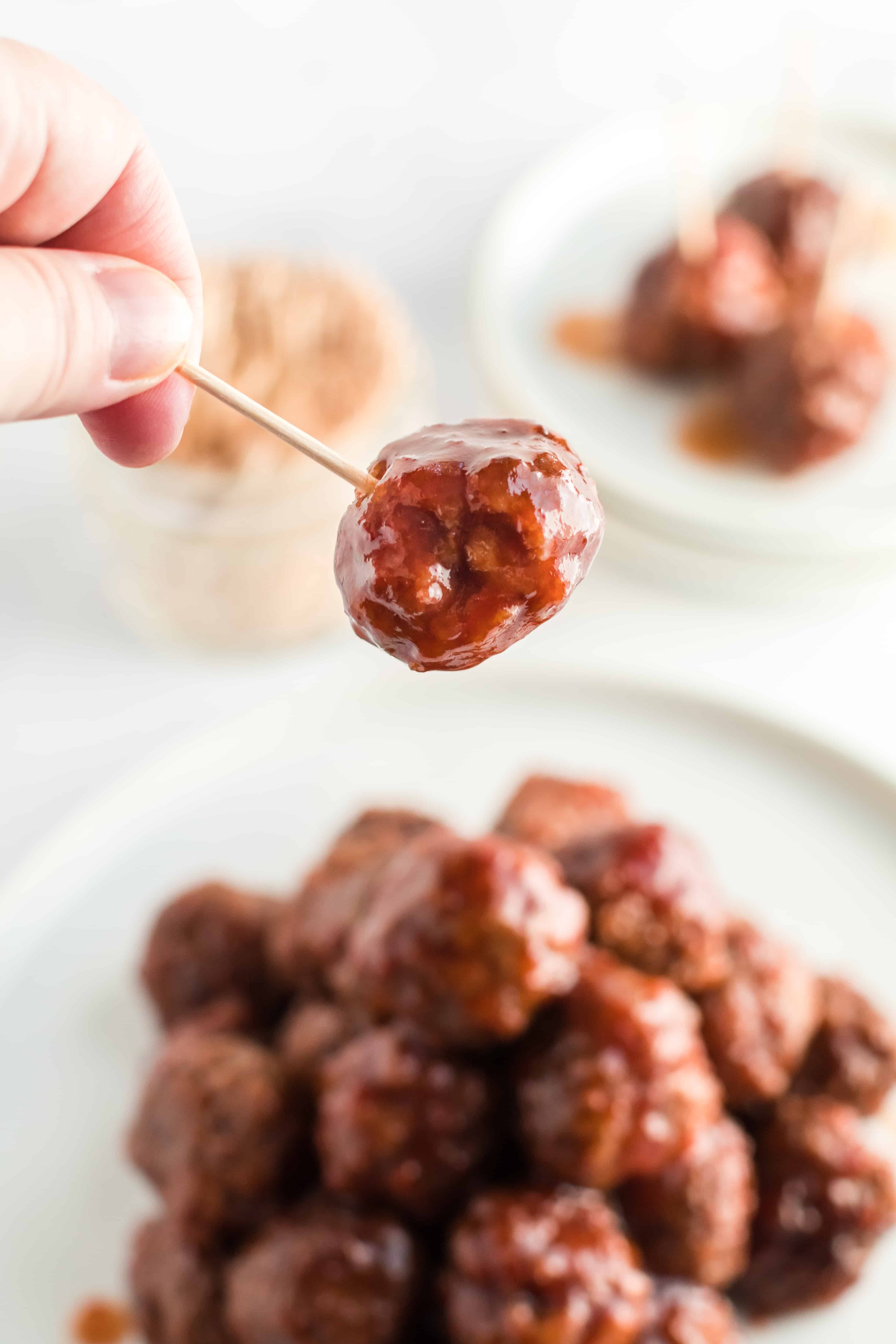 Variations
Our family loves the standard grape jelly with chili sauce for these meatballs. But if you're looking for a little variety, or your pantry is lacking in an ingredient, there are some tried and true substitutions you may like:
Sweet and Sour Meatballs: Pineapple preserves with BBQ Sauce
Ketchup and Grape Jelly
Cranberry Sauce (either the whole berry or jellied) with BBQ Sauce
Recipe FAQs
Can I use frozen meatballs in grape jelly meatballs?
Yes! Fresh or frozen meatballs can be used in this cocktail meatball recipe. No need to thaw.
Can I make Cocktail Meatballs ahead of time?
You can make and freee your meatballs without sauce for up to three months. Or refrigerate for 2 days in advance.
Can I make grape jelly meatballs in oven?
In a large baking dish, combine the cooked meatballs with jelly and chili sauce. Cover with foil and bake in a 350 degree F oven for about 40 minutes, or until bubbly hot. Stir and serve.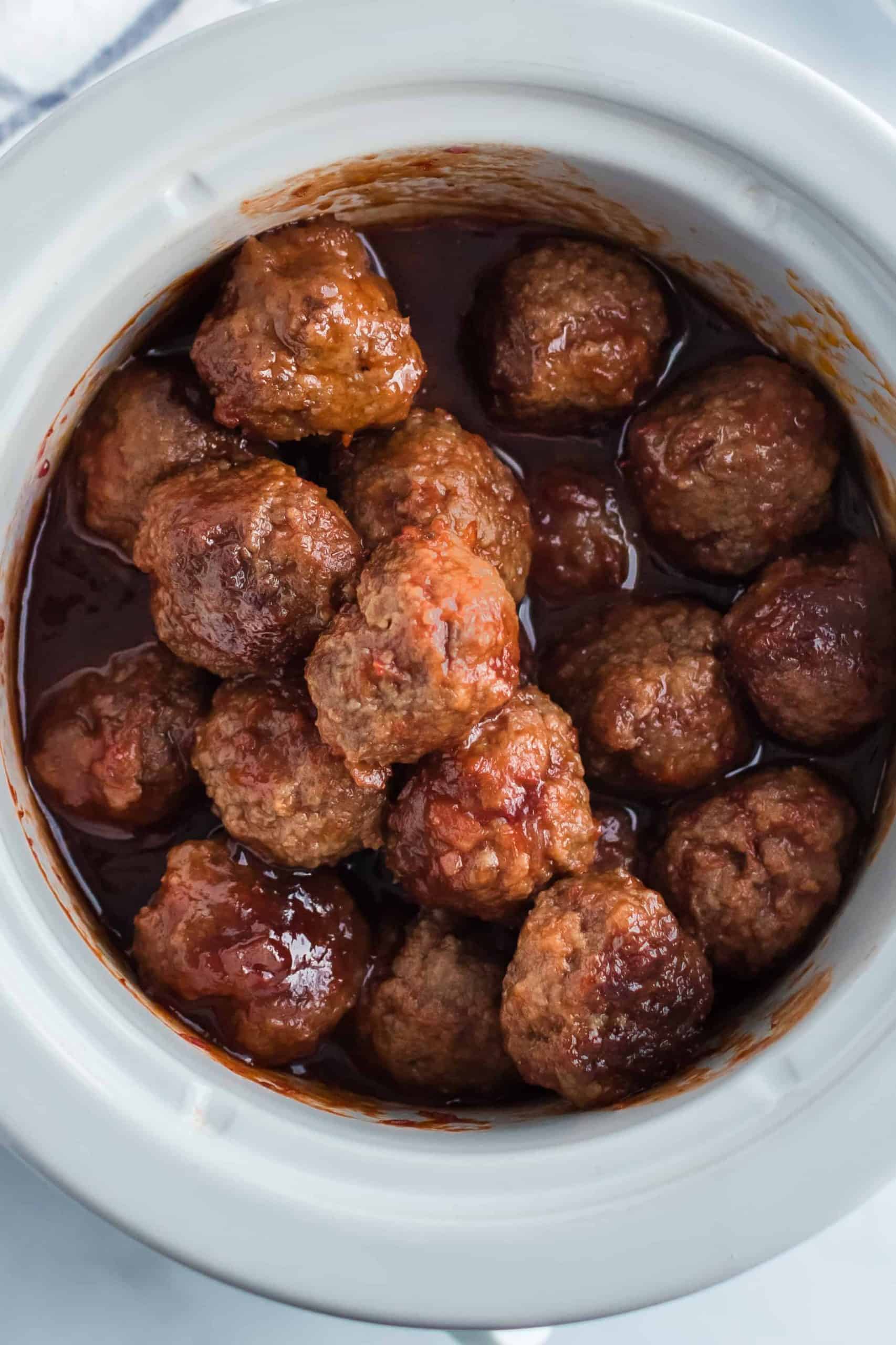 Can Grape Jelly Meatballs be a meal?
Of course! Serve your grape jelly meatballs with a side of rice or a big green salad on the side.
Pair your crockpot meatballs with some baked mashed potatoes or hashbrown casserole for a filling dish!
Tips and Tricks
Mix the chili sauce and grape jelly together in the bottom of the slow cooker BEFORE adding the meatballs. This helps create an even distribution of sauce.
Double the sauce recipe if you're looking to have a little extra on each meatball.
This is also a GREAT sauce (the grape jelly with chili sauce) to cook with cocktail weenies (little smokies)!
Serve your grape jelly meatballs right out of the slow cooker or plate them with party toothpicks!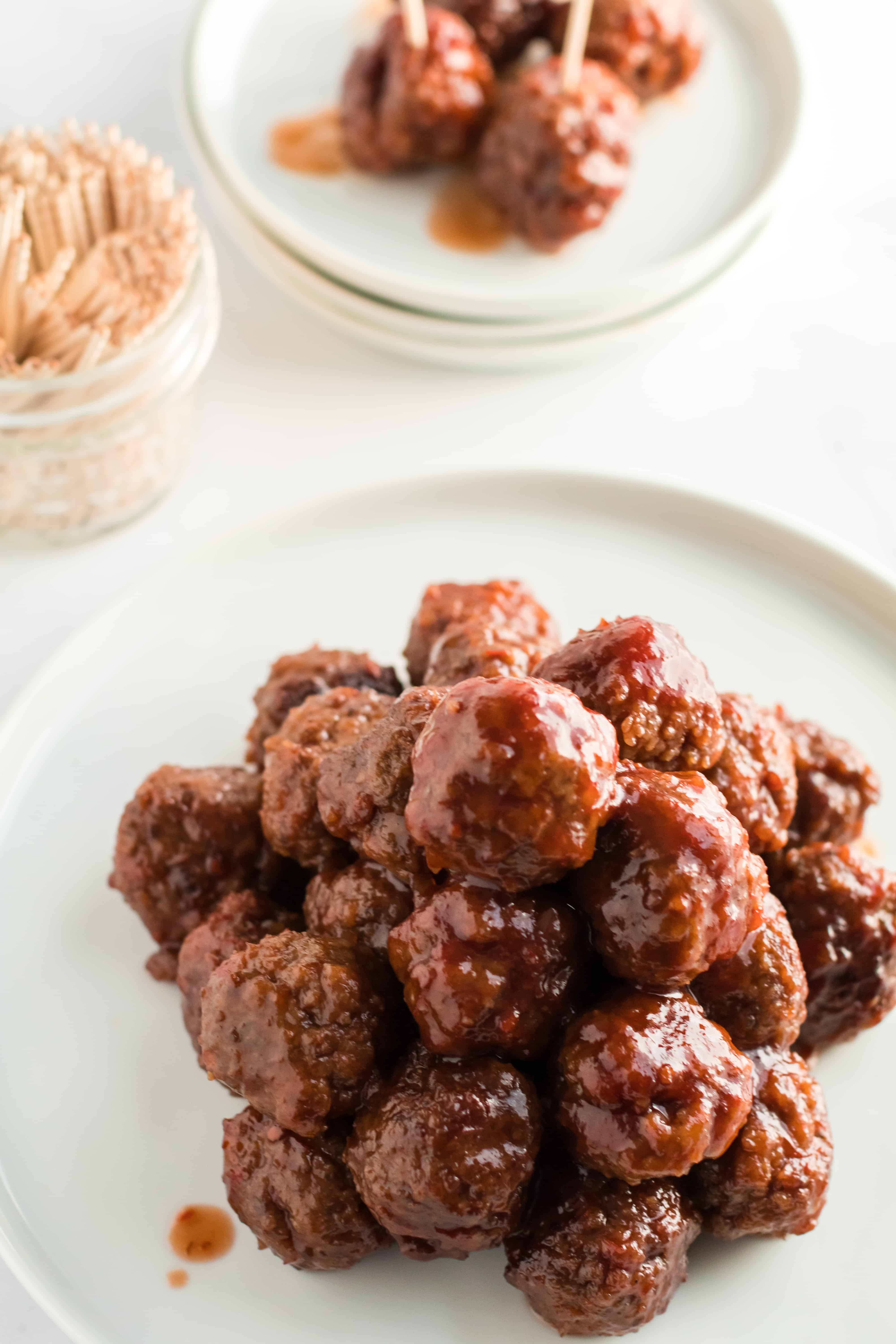 More Meatball Recipes
Grape Jelly Meatballs are the easiest game day appetizer, served in the crockpot with a delicious sweet and sour sauce!