Layered Eggnog Cheesecake bars with a gingersnap crust, creamy cheesecake filling and snickerdoodle cookie topping! This is the ultimate dessert recipe, and it's easy enough to make!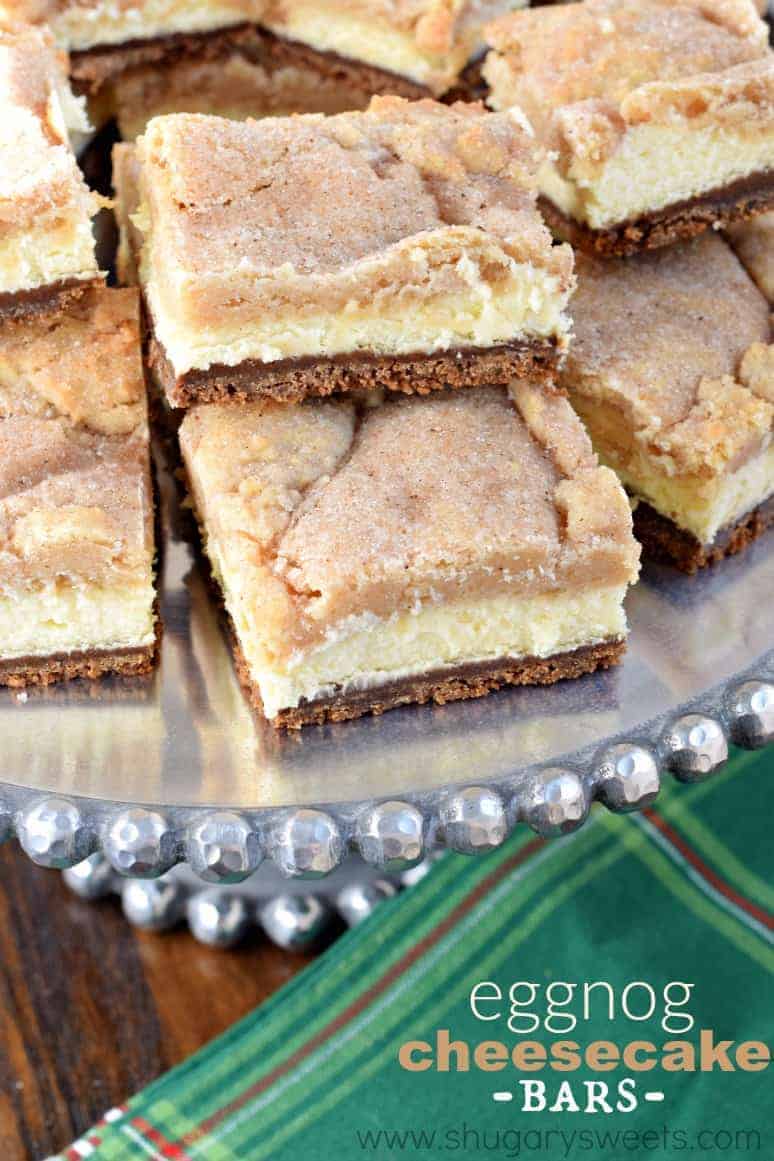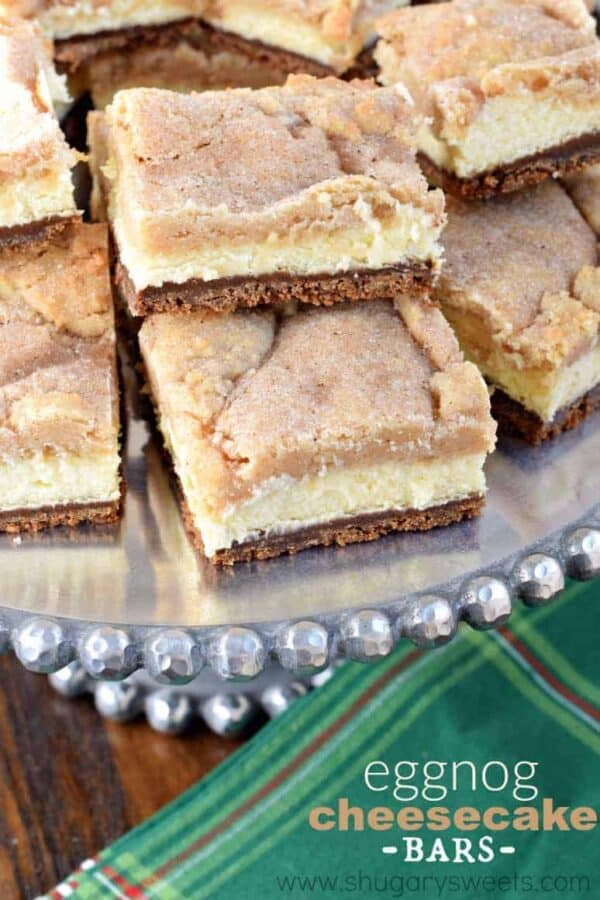 I'm so thankful for all of you who stop by and read my blog. And take the time to leave me a comment or send me an email. I love hearing when you have tried a recipe, so please continue to do those things!
In the meantime, I will continue to "cheesecake" all the things. I sure hope you're not sick of cheesecake bars. Because I've got more flavors running through my mind.
Starting with today's Egg Nog Cheesecake Bar.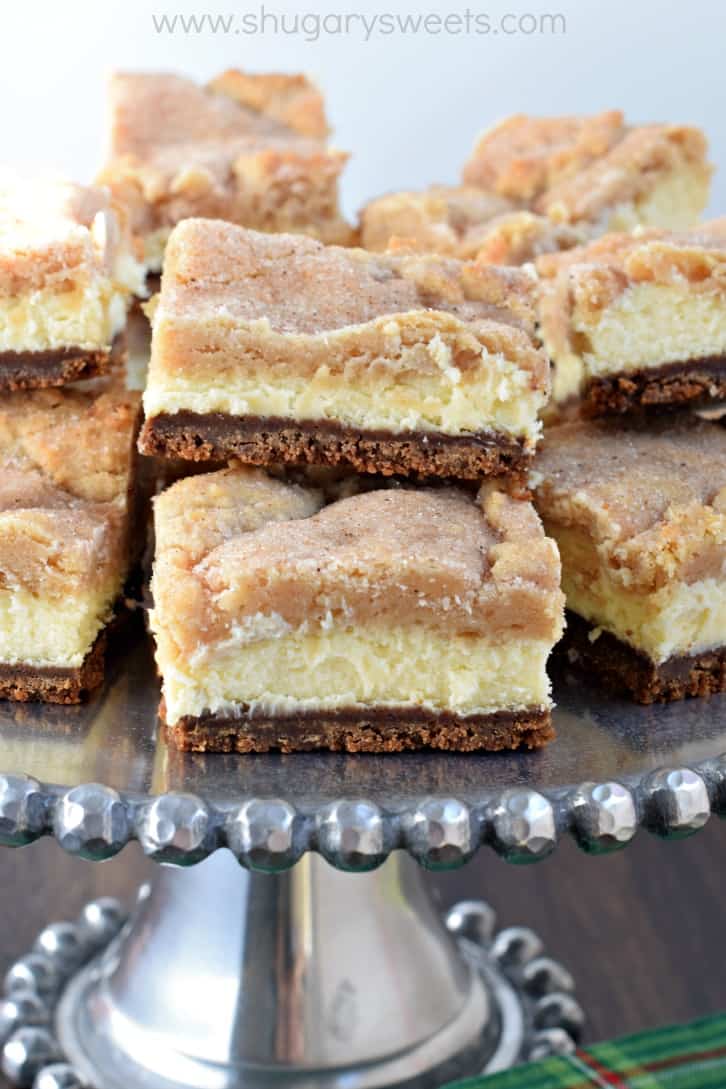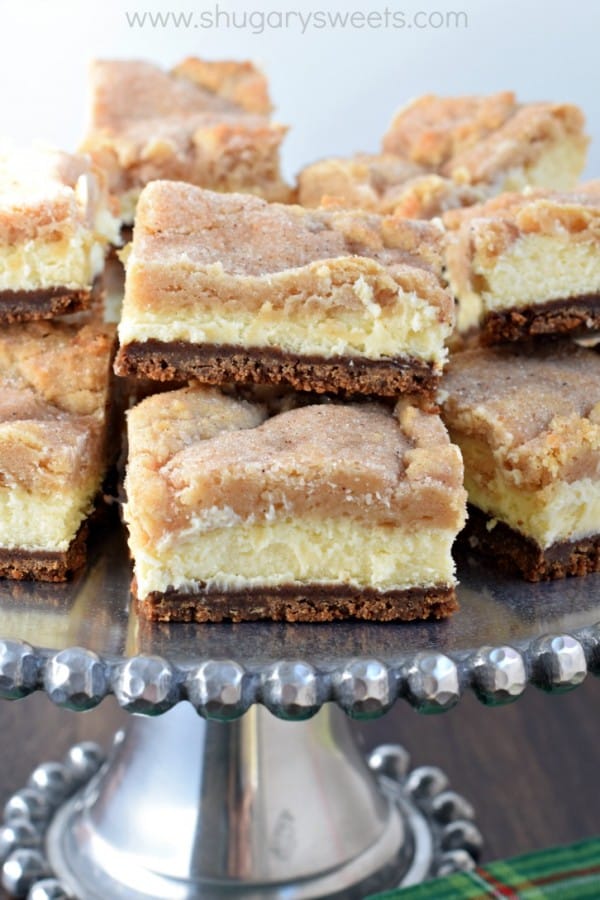 Easy Instructions
The crust. I used a whole bag of crushed gingersnaps for this gorgeous, flavorful crust. You can always substitute graham crackers or nilla wafers if you prefer, but I love the tanginess the gingersnap cookies give these bars.
The cheesecake. No actual eggnog is used in this cheesecake. Instead a combination of rum extract and nutmeg gives the illusion that the creamy center is an eggnog infused delight!
The cookie topping. Much like a snickerdoodle cookie, this version has 1/4 tsp nutmeg for extra holiday cheer. Oh, it's also topped with a sugar, cinnamon and nutmeg crust.
Yeah. It doesn't get much better than this for dessert. HOWEVER, as a reminder, this needs time to "set up." After baking these bars they need to chill for at least 4 hours. I usually make them the day before so that they can be refrigerated overnight.
Once chilled, you can cut them and enjoy.
More Eggnog Recipes
Frozen Eggnog Whipped Cream. Make these delicious whipped cream discs and store in freezer until ready to enjoy on a hot cup of coffee or cocoa!
Eggnog Cheesecake Cake: a delicious layer cake that's sure to impress. From scratch, spice cake with a cheesecake center and eggnog buttercream frosting!
Eggnog Muffins: little, bite size donut muffins that are perfect for Christmas morning!
PS. If you try this recipe, please leave a STAR rating in the recipe card below. I love your feedback! Connect with me on social media by following me on Instagram, Facebook, or Pinterest.