Layered Eggnog Cheesecake bars with a gingersnap crust, creamy cheesecake filling and snickerdoodle cookie topping! This is the ultimate dessert recipe for eggnog lovers and it's a cinch to make.
Love eggnog? Our Instant Pot Eggnog cheesecake is creamy and delicious! Or give our eggnog truffles a try this year!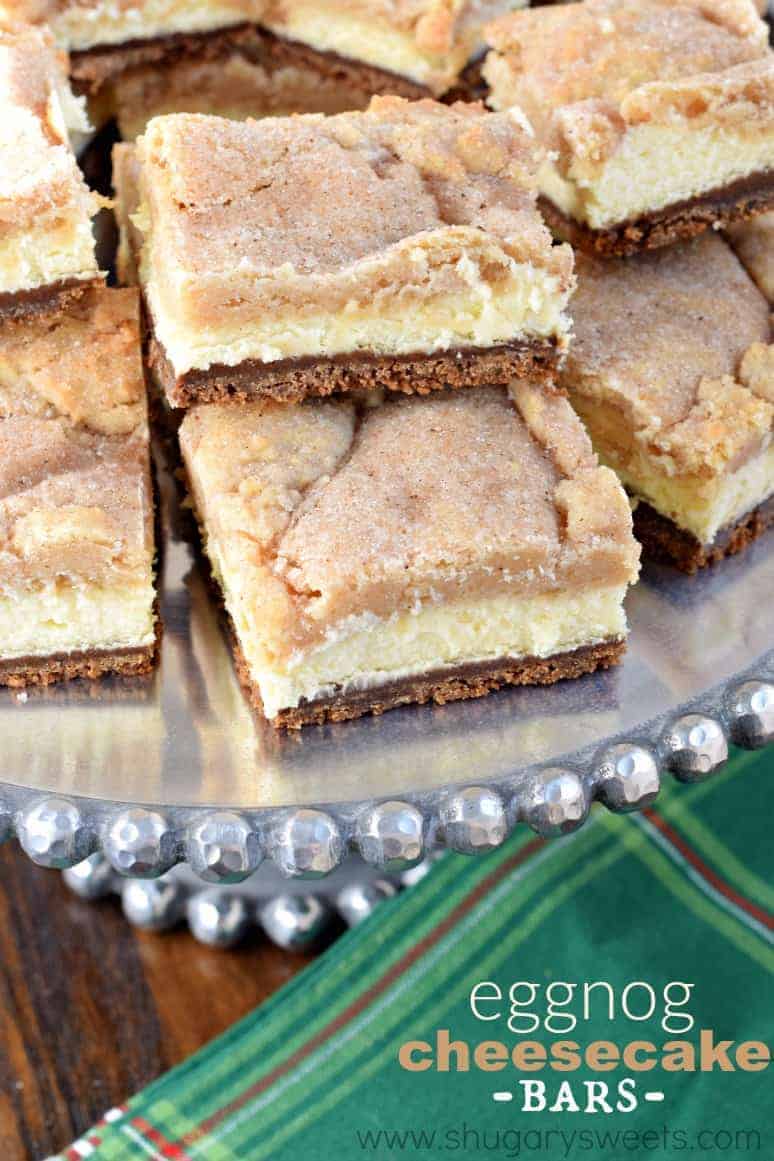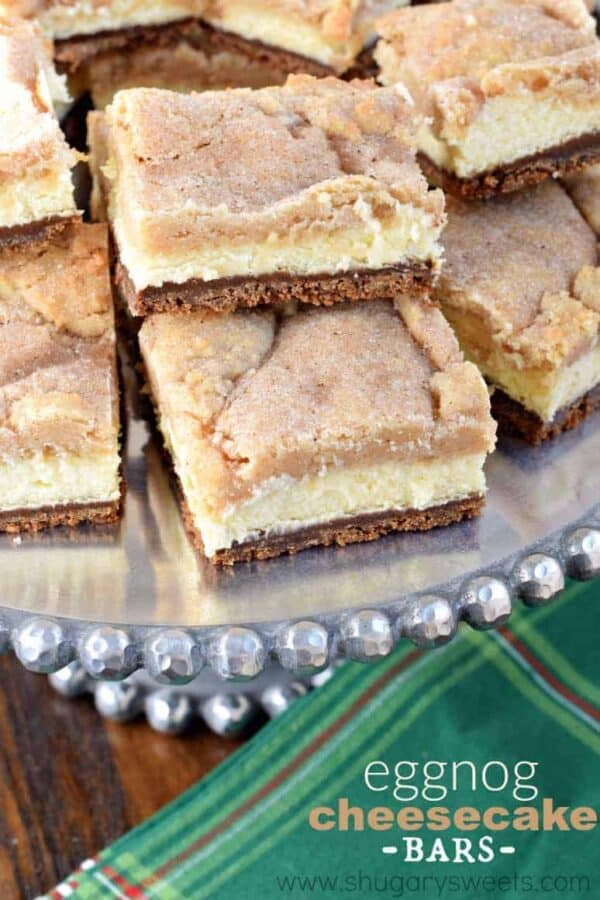 Why this Recipe Works
You can't have the holiday season without eggnog. And you can't have it without cheesecake. Why not put them together in one rich and creamy dessert that's easy to slice up and share?
An easy crust made out of gingersnaps makes these Eggnog Cheesecake Bars out-of-this-world delicious, adding a tart and spicy touch. I couldn't resist throwing on a dreamy topping of sugar and spice (and everything nice). I used the cinnamon sugar blend I love on Snickerdoodles but added some nutmeg too–this is an eggnog dessert after all!
With a creamy filling and a crispy crust, cheesecake bars make everyone at the dessert table oh so happy!
Ingredient Notes
Gingersnap cookies – Don't have these (or don't like them)? Graham crackers or nilla wafers will work just fine as a substitute in the crust.
Cream cheese – Use full fat cream cheese for best flavor and creamy consistency. Don't forget to let it soften on the counter for a few minutes so it's easier to work with.
Rum extract – Along with nutmeg, this flavoring gives the cheesecake that rich eggnog taste you crave, no eggnog or rum needed!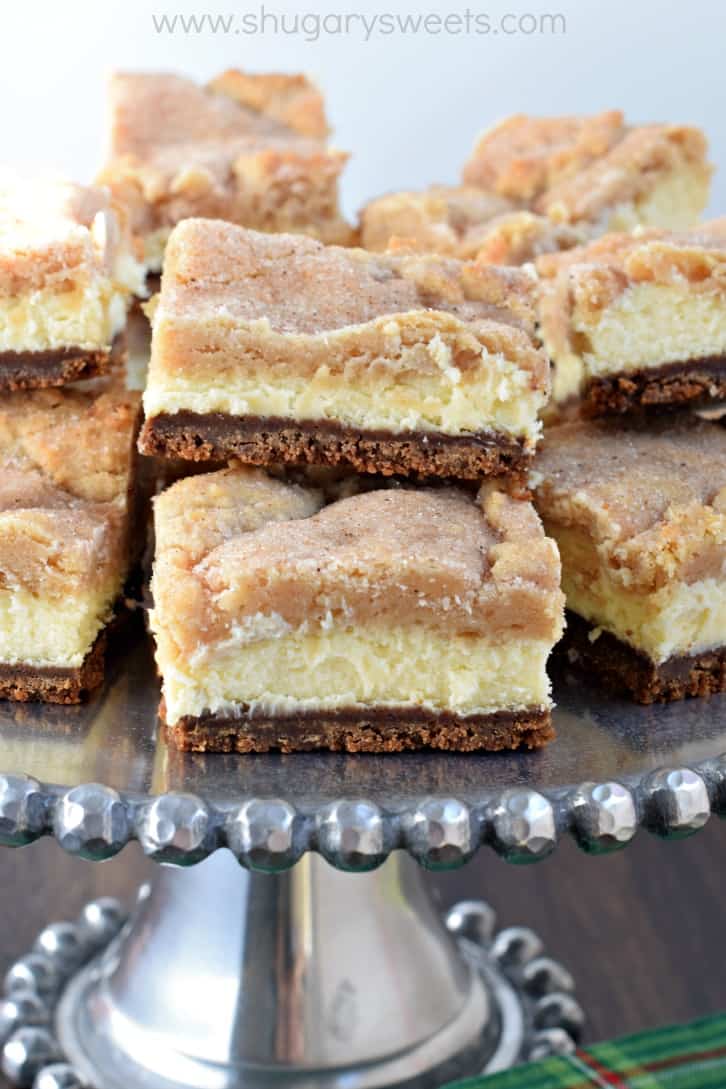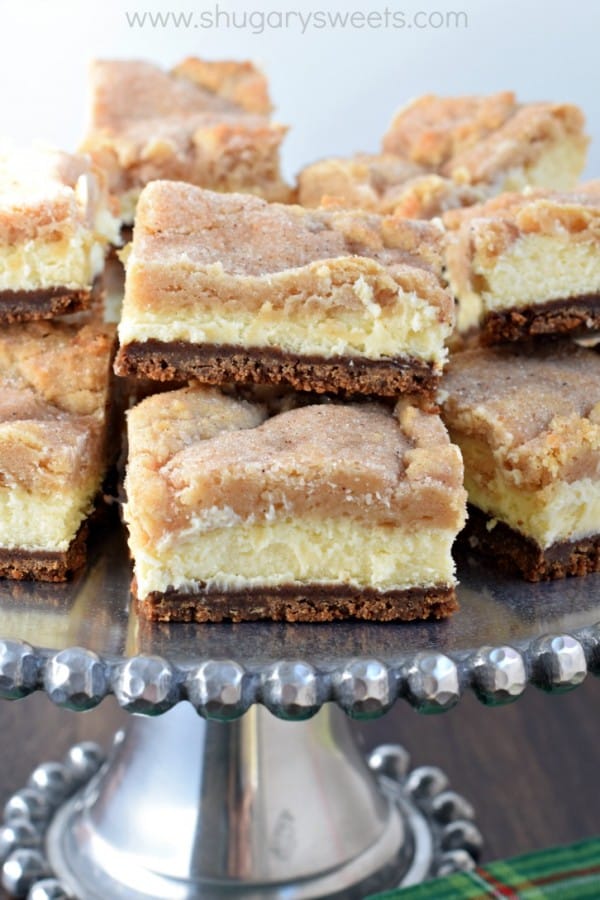 Easy Instructions
The crust. I used a whole bag of crushed gingersnaps for this gorgeous, flavorful crust. You can always substitute graham crackers or nilla wafers if you prefer, but I love the tanginess the gingersnap cookies give these bars.
The cheesecake. No actual eggnog is used in this cheesecake. Instead a combination of rum extract and nutmeg gives the illusion that the creamy center is an eggnog infused delight!
The cookie topping. Much like a snickerdoodle cookie, this version has 1/4 tsp nutmeg for extra holiday cheer. Oh, it's also topped with a sugar, cinnamon and nutmeg crust.
Yeah. It doesn't get much better than this for dessert. HOWEVER, as a reminder, this needs time to "set up." After baking these bars they need to chill for at least 4 hours. I usually make them the day before so that they can be refrigerated overnight.
Once chilled, you can cut them and enjoy.
Recipe FAQs
Do these need to be kept in the fridge?
Yes, you should store these in the refrigerator for freshness and best taste. I love them chilled straight from the fridge!
Can you make this without the rum extract?
If you omit the extract you won't get the name eggnog flavor. Rum extract is worth the purchase! After you make cheesecake bars, use it in Eggnog Fudge, Butter Rum Fudge and Homemade Eggnog.
How can I tell when the cheesecake is done baking?
The cheesecake bars are ready to come out of the oven when the cookie crust is lightly browned. The center of the cheesecake may be slightly jiggly but it will continue to firm as it cools (and when it's chilled).
Now you can have your eggnog and eat it too with this simple Eggnog Cheesecake Bars recipe! With the perfect hint of eggnog flavor, these easy bars are a hit every holiday season.
More Eggnog Recipes
Eggnog Cheesecake Cake: a delicious layer cake that's sure to impress. From scratch, spice cake with a cheesecake center and eggnog buttercream frosting!
Eggnog Muffins: little, bite size donut muffins that are perfect for Christmas morning!