My obsession with making biscotti continues with this gorgeous Lemon Biscotti recipe! It's so easy and so pretty, maybe you should make it for Mother's Day?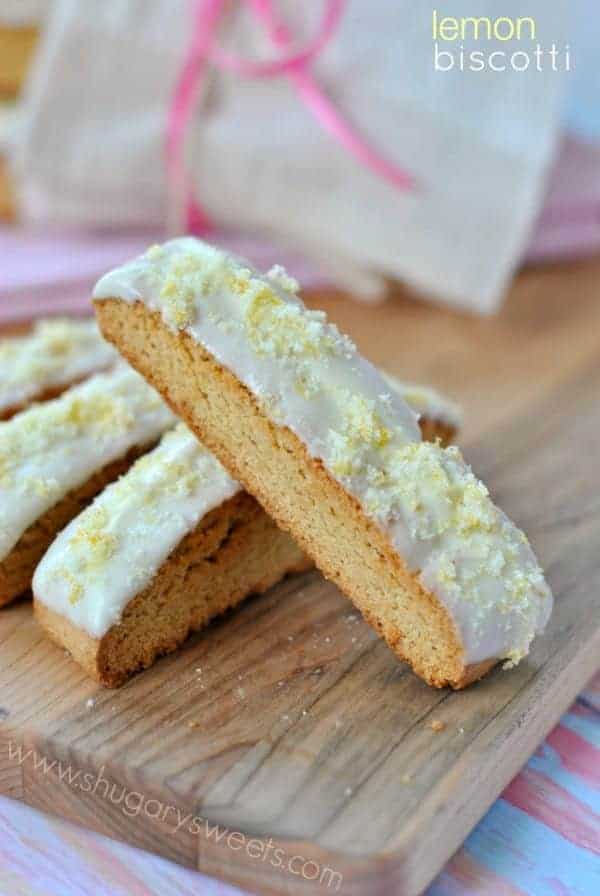 Last week my hubby and I escaped for a few hours. For dinner. We ate some of the most delicious seafood at Bonefish Grill. Have you been there? I'm totally obsessed right now with their Bang Bang Shrimp (that recipe must be recreated here soon)!
Anyways, after dinner we were chatting about coffee (surprised?). And he mentioned that every time I post a picture of my coffee (and cup) on instagram there is always ONE person asking where I buy my cups from. I'm a bit obsessed with coffee mugs. (Ironically, that evening I got an email from someone wanting to know where I purchased the mug from this blog post. TJ Maxx. Always.)
No really, I am.
I've already started packing my kitchen a little (remember, I'm moving sometime this summer), and I've packed two boxes of mugs and donated another full box of mugs. And my cabinet STILL has numerous mugs remaining.
I choose my mug each morning based on my mood, haha!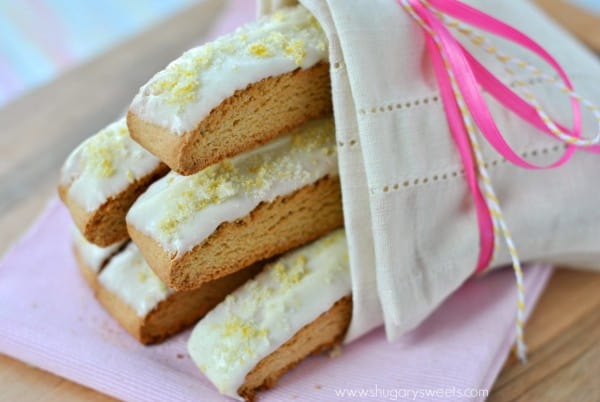 So after dinner, I convinced him to run over to TJ Maxx with me, to purchase a new mug. It had been almost a month (maybe two) since my last purchase. Crazy right? Haha! I have to give my readers what they want, and they clearly want me to have new mugs!
I almost always get my mugs from the Maxx, and I was openly disappointed that they had NO mugs. None. It was like someone knocked over the whole shelf and the mugs were gone.
So now I'm on the hunt for a new mug. Because biscotti must be eaten with a hot cup of coffee. And adorable biscotti like today's version should be paired with an adorable mug.
Am I right?
I've said this countless times before, don't be afraid of biscotti. It's SO easy to make, and the flavors are limitless. If you can bake a cookie, you can bake biscotti. This lemon version might just be my favorite one yet! Don't worry, if you prefer chocolate over citrus, I've got another one ready for you next month!! Can you wait that long?
MORE Lemon Desserts
Yield: 12-14 biscotti
Lemon Biscotti
Ingredients
For the biscotti:
6 Tbsp unsalted butter, softened
3/4 cup granulated sugar
2 large eggs
1/2 tsp lemon extract
1 lemon, zested
2 cup all-purpose flour
1 tsp baking powder
For the garnish:
3/4 cup Vanilla Candiquik, melted
1 lemon, zested
2 Tbsp granulated sugar
Instructions
In a large mixing bowl, beat butter and sugar for two minutes until well blended. Add in eggs, lemon extract and lemon zest. Add flour and baking powder, mixing until combined, and dough comes together.
Line a large baking sheet with parchment paper or silpat. Place dough on baking sheet and press (using floured hands) into a 12inch x 4inch rectangle.
Bake for 25 minutes in a 350 degree oven. Remove and cool 10 minutes.
Slice in 3/4-1inch slices. Turn each slice carefully onto it's side. Return to oven and bake 8 minutes.
Flip to opposite side and bake an additional 8 minutes. Remove and cool completely.
In a small bowl combine lemon zest and granulated sugar. Mix with a fork until combined.
Dip tops of each cooled biscotti into melted candiquik and immediately sprinkle with lemon sugar. Allow to set (about 10 minutes) and enjoy.
Store in an airtight container or ziploc bag for up to 10 days. ENJOY.
LOVE Biscotti as much as I do? Probably not, but just in case, here are a few of MY favorites….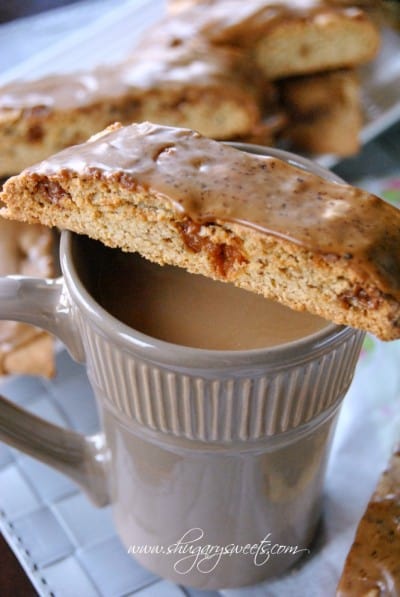 My love of coffee and biscotti unite in this Caramel Macchiato Biscotti recipe!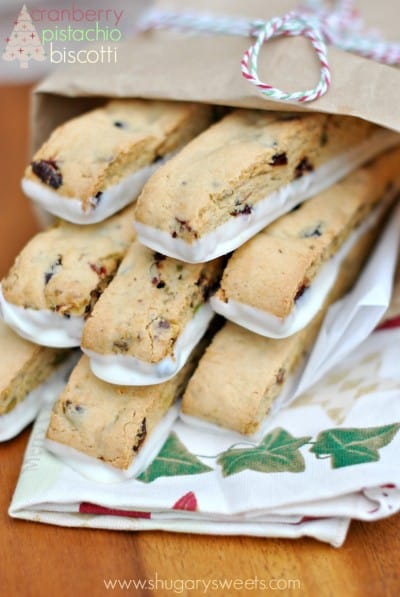 Cranberry Pistachio Biscotti isn't just for the holidays. Enjoy it year round!!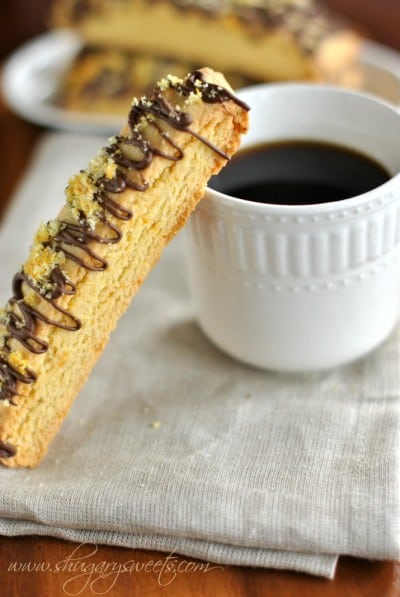 This Chocolate Orange Biscotti is so full of flavor, I think you will LOVE it!