Maple Bacon Doughnut
I know what you're thinking. I was thinking the same thing too as I ate three of these. It went straight to my hips. From mouth to hips. Immediately. It may have something to do with the fact that not only did I eat 3 of these, but I have also eaten 3 of all the flavors I fried up. Plus the additional 1/2 lb bacon while it was cooling. I may have licked the spoon too after frosting these. Maybe.
My friend Amy told me about this flavor combo, and I'm so glad she did. It tastes like pancakes and bacon with syrup. This will be happening again soon at our house. It was sooooo good.
Hope you enjoyed doughnut week, see you all on the other side of the weekend!
Ingredients
1 batch of basic yeast doughnuts, prepared
1/3 cup milk
1/4 cup maple syrup
1 tsp maple flavoring
3 cup powdered sugar
1 cup bacon, cooked and crumbled
Instructions
Prepare doughnuts according to basic yeast donut recipe (see recipe index).
For the topping, in mixer, blend milk with maple syrup. Add in maple flavoring. Beat in powdered sugar until smooth and desired consistency.
Dip each doughnut into the maple frosting and then sprinkle with bacon crumbles. For extra maple flavoring, use a maple bacon variety. Enjoy!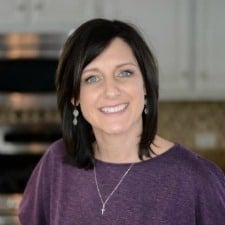 Aimee is a dessert lover (specifically rice krispie treats), workout enthusiast, self-taught foodie, and recipe creator. Her recipes have been featured in over 15 magazines, and her passion is to share her love of cooking with the everyday home cook! Learn more about Aimee.