Melt in your mouth, Raspberry Shortbread Bars with a delicious crumble on top! These perfect shortbread cookies have a sweet layer of preserves through the middle and create a delicious textured bar.
Whether you make this sweet bar for the holidays or any time of year, be sure to also try these easy Almond Bars! Or try a batch of these raspberry filled Jam Thumbprint Cookies!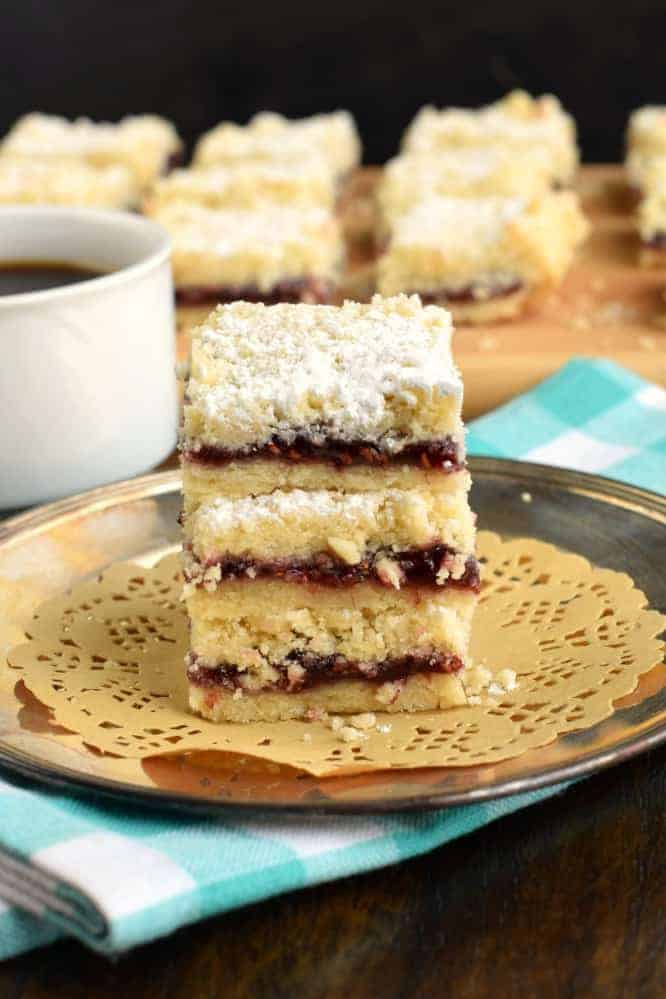 Why this Recipe is Best
These Raspberry Shortbread Bars have been front and center in my life since before Christmas.
My good friend and workout partner, Kelly (Hi girl), brought these to a cookie exchange party at my house, and I immediately begged for the recipe.
I've since made them half a dozen times before finally hiding them so that I could get some photos taken.
If you're looking for your next, tried and true, dessert recipe, you need to try baking up a batch of these Raspberry Bars!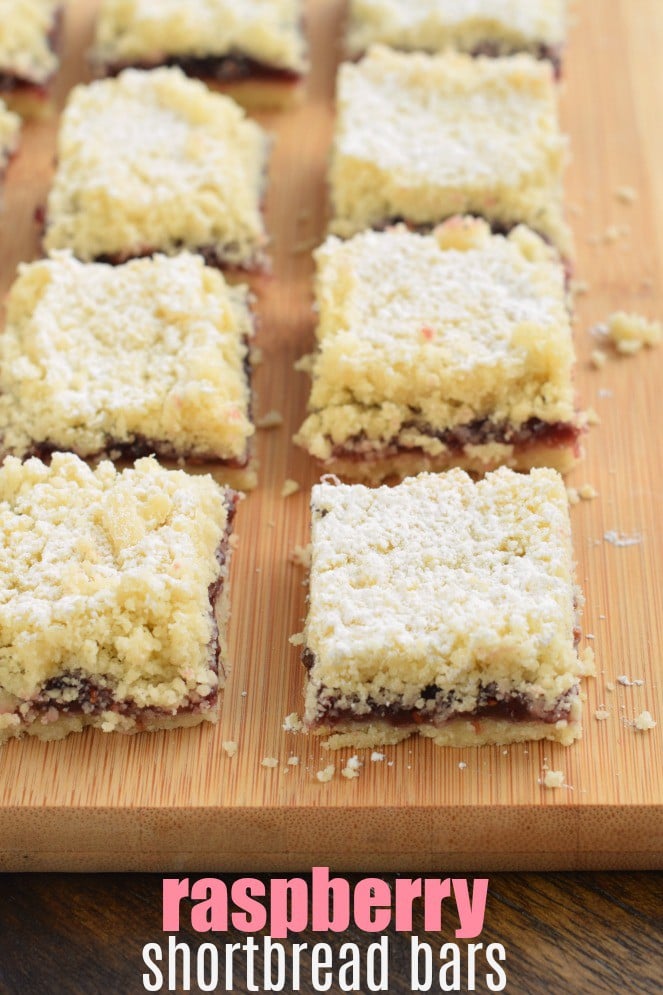 How to make Raspberry Crumble Bars
Soften your butter.
Typically 30 minutes at room temperature does the trick, unless your house is freezing like mine, go for an hour!
To speed things up, you could put hot water in a large tumbler, then dump it out, and put the tumbler over the sticks of butter. This works really well!
Once your butter is softened it's time to make the shortbread cookie crust and crumble. Yes, with this recipe there's no separate "crumble" or streusel topping. You just divide the dough in half.
Let's get started!
Preheat your oven to 350 degrees F. Line a 13×9 baking dish with parchment paper. Set aside.
Make the crumble.
In a large mixing bowl, combine softened butter with vanilla extract and granulated sugar. Beat until creamy and combined. Add in flour and mix until the flour has incorporated into the butter mixture. It will resemble CRUMBS at this point.
To check if you've mixed it enough, grab a pinchful of the dough and press it in your fingers. If it stick together, you're good. If it's still flour-y and crumbly, keep mixing.
Pour half of the crumbs (cookie dough) into the baking dish. Using the bottom of your measuring cup (or the palm of your hand) press the dough firmly into the dish. Just when you think you're done, press it all again. This is what creates your cookie crust!
Layers.
Next, spread the raspberry preserves even over this layer. The best way to do this is to drop the jam by tablespoonful onto various parts of the dough. Then use an offset spatula to gently spread the raspberry preserves all over the top of the cookie dough.
Finally, sprinkle your remaining crumb mixture over the top of the preserves until done.
Bake in a preheated oven for 31-33 minutes, until lightly browned. Remove and cool completely. Top generously with powdered sugar when cool. Cut and enjoy!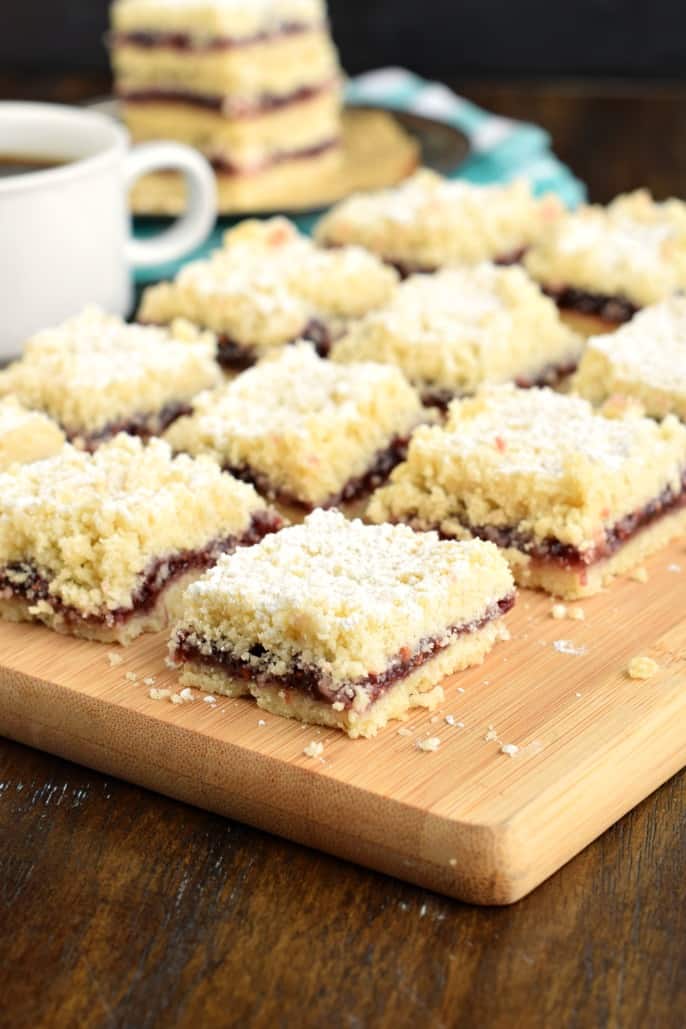 Tips and Tricks
First, when adding your second layer of crumbs to the cookie bars, do NOT press these crumbs into the bar. ONLY press the first layer of cookie dough. I accidentally pressed the second layer when I made these bars for the first time. While it tasted just fine, they looked super weird. No crumble on top.
Also speaking of crumbs and crumbles…you're going to think it's missing liquid. If you've ever made shortbread bars you know it's not a typical cookie dough. It's more like a bowl of crumbs.
But be sure to test that you have combined your butter into your flour by pressing a fingerful of dough together. It should press together and stick, that's how you know it's ready!
Also, when choosing raspberry preserves, try to find the chunkiest brand possible. I loved having those thick chunks in my cookie bars!
Finally, if you want beautiful cut cookie bars, your best results will happen if you refrigerate the bars FIRST. Once they have cooled, cover the bars with plastic wrap and refrigerate. Once chilled, they cut so much easier. You can then top them with powdered sugar!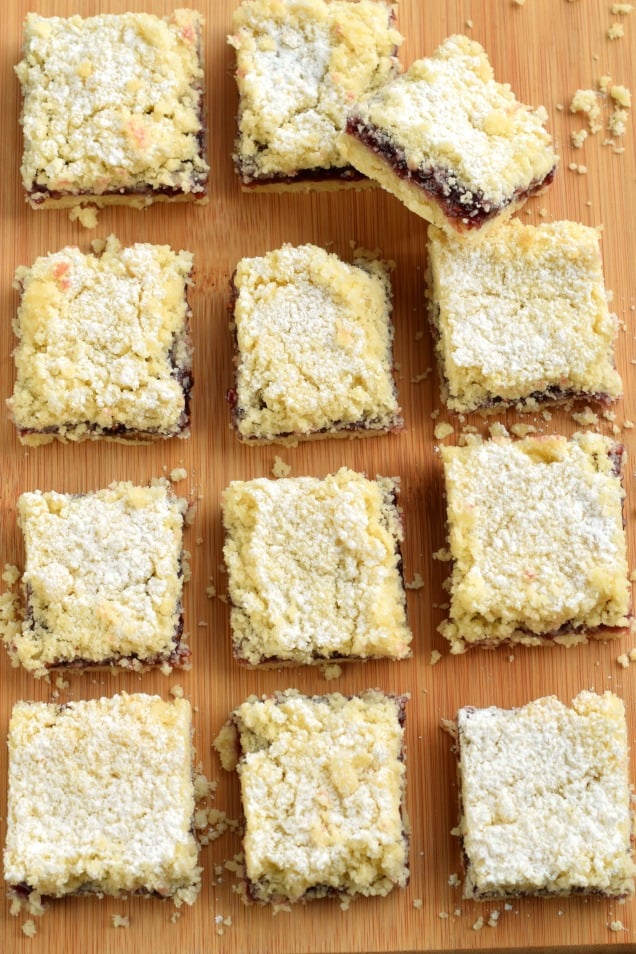 Delicious, buttery Chocolate Chip Toffee Shortbread Cookies recipe. Perfect to bake and share, or freeze for later!
Jingles Cookies: sweet shortbread cookies with anise extract.
This Homemade Twix Bars recipe brings your favorite candy bar home to your kitchen. A buttery shortbread cookie base with caramel and chocolate, better than the original!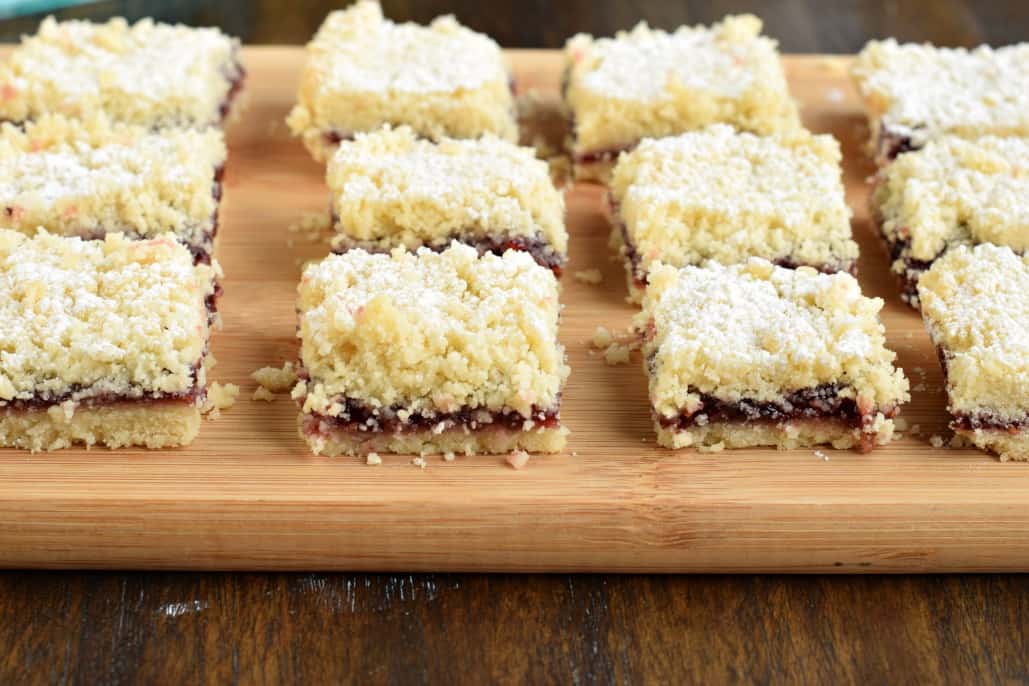 Buttery and delicious, these Dark Chocolate Peanut Butter Shortbread Cookies are the perfect dessert. Add a sprinkle of sea salt and your taste buds will thank you!
Homemade pastry made easy! Juicy strawberry preserves and marmalade layered into a shortbread crust make these Strawberry Streusel Bars one of the tastiest treats to come out of my kitchen.