S'more Truffles with a marshmallow filling, chocolate shell, and graham crackers. No fire needed for this no bake homemade candy!
Love s'mores, hate fire? These easy Indoor S'mores are a hit with kids AND adults. Our readers are obsessed with this decadent S'mores Cheesecake recipe!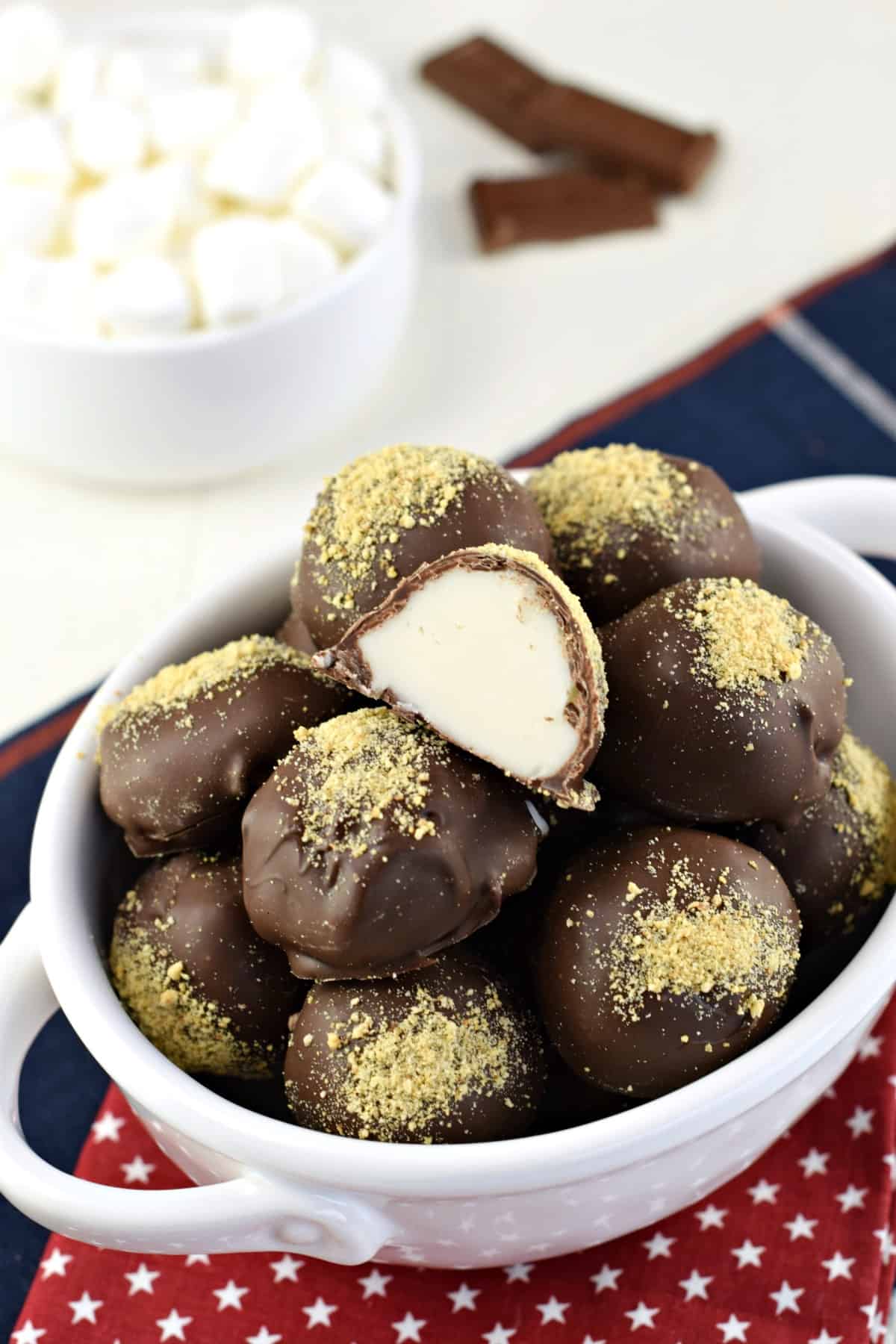 S'more Truffles
If you've been following my blog, or know me in person, you would know I hate messes. Especially sticky messes. My children went to preschool so they can paint, play with playdoh and do all the messy things you do in preschool.
When I make homemade candy, you can bet I focus on ways to make the process as mess free as possible. That's no easy feat when you're working with sugar and melted chocolate, but a girl's gotta try.
You'll love making S'mores without a campfire from now on!
Sticky hands and open flames aside, I love s'mores. The perfect balance of crunchy marshmallow, toasty warm marshmallows and chocolate.
These would be a great addition to a tray of treats around the holidays or any dessert table. Whenever I make them, I can hardly resist sneaking back into the kitchen for "just one more." They're so delicious cold straight from the fridge!
Oh, and if you're new to making homemade candy these truffles are the perfect place to start! Y
You don't need a candy thermometer or any special ingredients.
No Bake S'mores Truffles bring sweet chocolate, fluffy marshmallow and crunchy graham crackers together with little fuss and mess!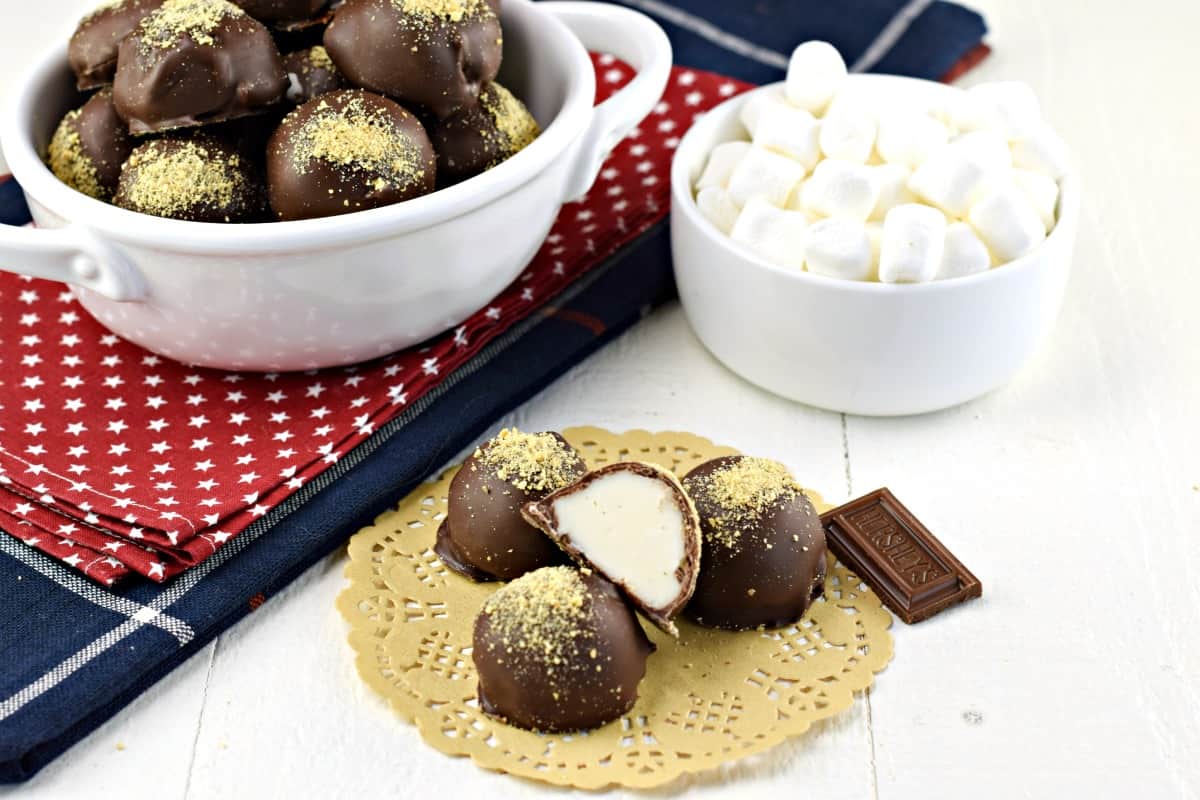 Ingredient Notes
To make this homemade candy you need:
Marshmallow fluff
Butter – Let it soften on the counter before you use it.
Chocolate candy coating
Crushed Graham crackers – I crush the crackers mess free by putting them in a ziplog bag and running over it a few times with a rolling pin.
Salt
Vanilla Extract – learn how to make vanilla extract at home!
Powdered sugar
How to Make S'mores Truffles
STEP 1. Combine marshmallow, butter, vanilla, salt and powdered sugar in a stand mixer until creamy. Refrigerate about 1 hour until stiffened.
STEP 2. Scoop and roll the marshmallow mixture into 1 inch balls. Place on a cookie sheet lined with parchment paper and freeze for 30 minutes.
STEP 3. Melt the chocolate candy coating according to package directions. Using a toothpick, dip each marshmallow bite into chocolate, shaking off the excess. Place on cookie sheet and immediately sprinkle with crushed graham crackers. Allow to harden (in fridge). Enjoy cold!
Tips and Tricks
Storing the truffles: Once the smores truffles harden, transfer them to an airtight container and keep in the fridge until you're ready to eat!
Melting candy: I use my microwave for melting the candy coating. However, if you don't have one or prefer not to use it, you can also use a double boiler. Follow the directions on the package for the brand you are using for best results.
Scooping: Use a rounded tablespoon to measure the marshmallow fluff mixture into even, perfectly round balls. You can make these bigger if you prefer, but I enjoy them bite sized.
Crushing Graham crackers: To keep mess to a minimum, put the Graham crackers inside a plastic bag before crushing with a rolling pin. You can also pulse them in your food processor a few times instead. I like them best when they 're a little bigger than typical Graham cracker crumbs for texture.
I love finding ways to enjoy s'mores without having to build a fire, make messes or even go outside. A cold s'mores truffle is the perfect treat for a warm summer night!
If you like these truffles, you'll also want to give my Copycat Starbucks S'mores Frappucino a try.