Why not make a pan of these easy Strawberry Pie Bars? From the delicious crust to the cream cheese glaze these fruit filled bars are a crowd pleaser! If you love strawberry desserts, this recipe is a must-try.
Easy as pie? These bars definitely fit that description. You should try our peach pie bars next for a tasty treat. Or give our easy strawberry hand pies a try.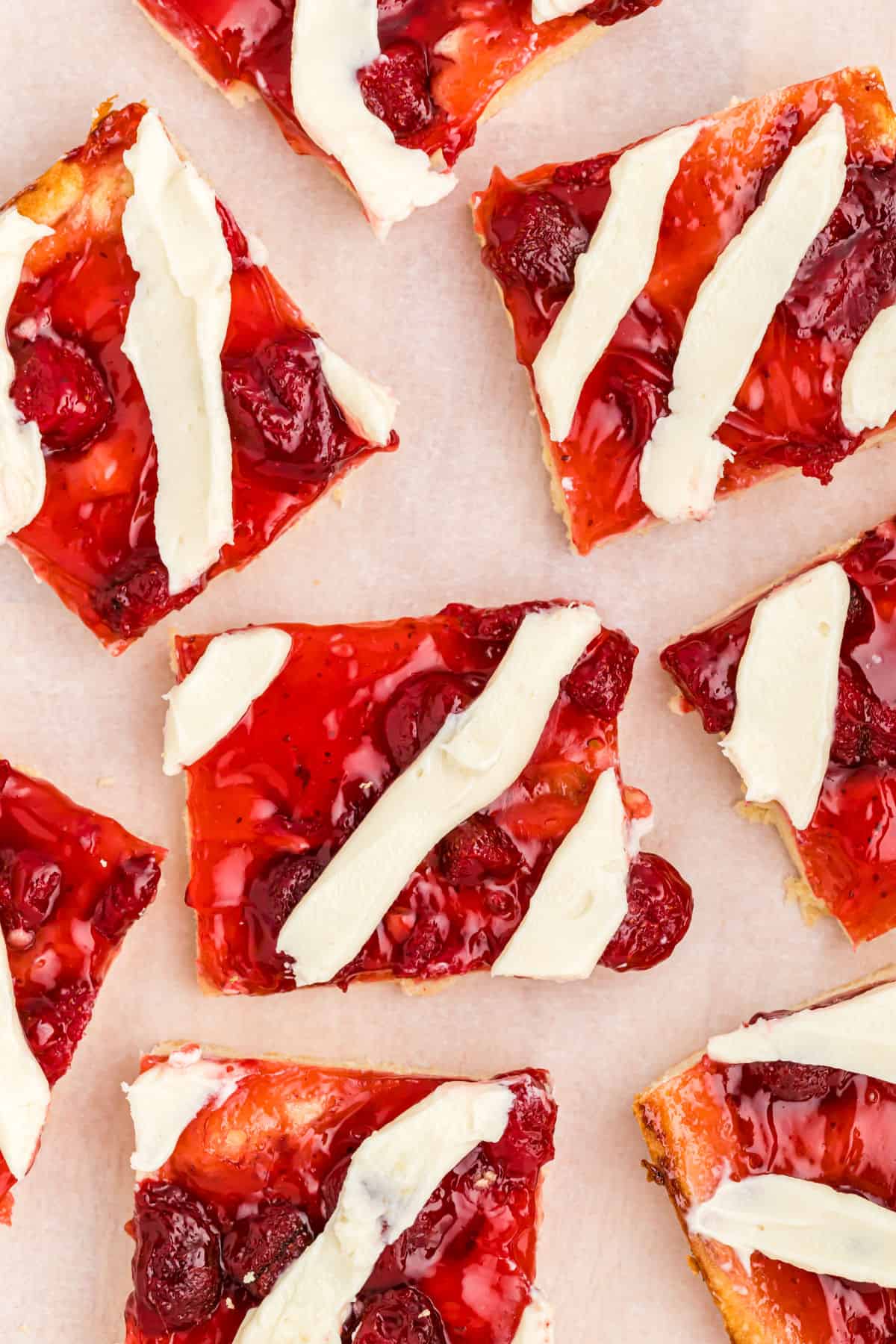 Why This Recipe Works
Have you ever made strawberry pie? It's delicious but can be time consuming while you wait for it to chill, and tricky to serve to a crowd. You need a pie plate, a pie cutter and everyone needs plates and utensils.
When you make Pie Bars instead, you've got a handheld dessert that's so easy to cut up and share!
For these Strawberry Pie Bars, I made a pie crust layer with flour, sugar and butter then topped it with canned Strawberry Pie filling. A cream cheese glaze on top adds the perfect touch!
Today's pie bars are a cross between a sweet slice of strawberry pie and a sugar cookie.
Serve chilled for best flavor.
Chewy crust (sweet like a sugar cookie, firm like a pie crust).
Choose any topping, we love strawberry pie filling.
Try our blueberry slab pie next for a delicious treat to serve a crowd. Of course, our cherry slab pie has the same easy assembly, with a cherry filling!
Ingredient Notes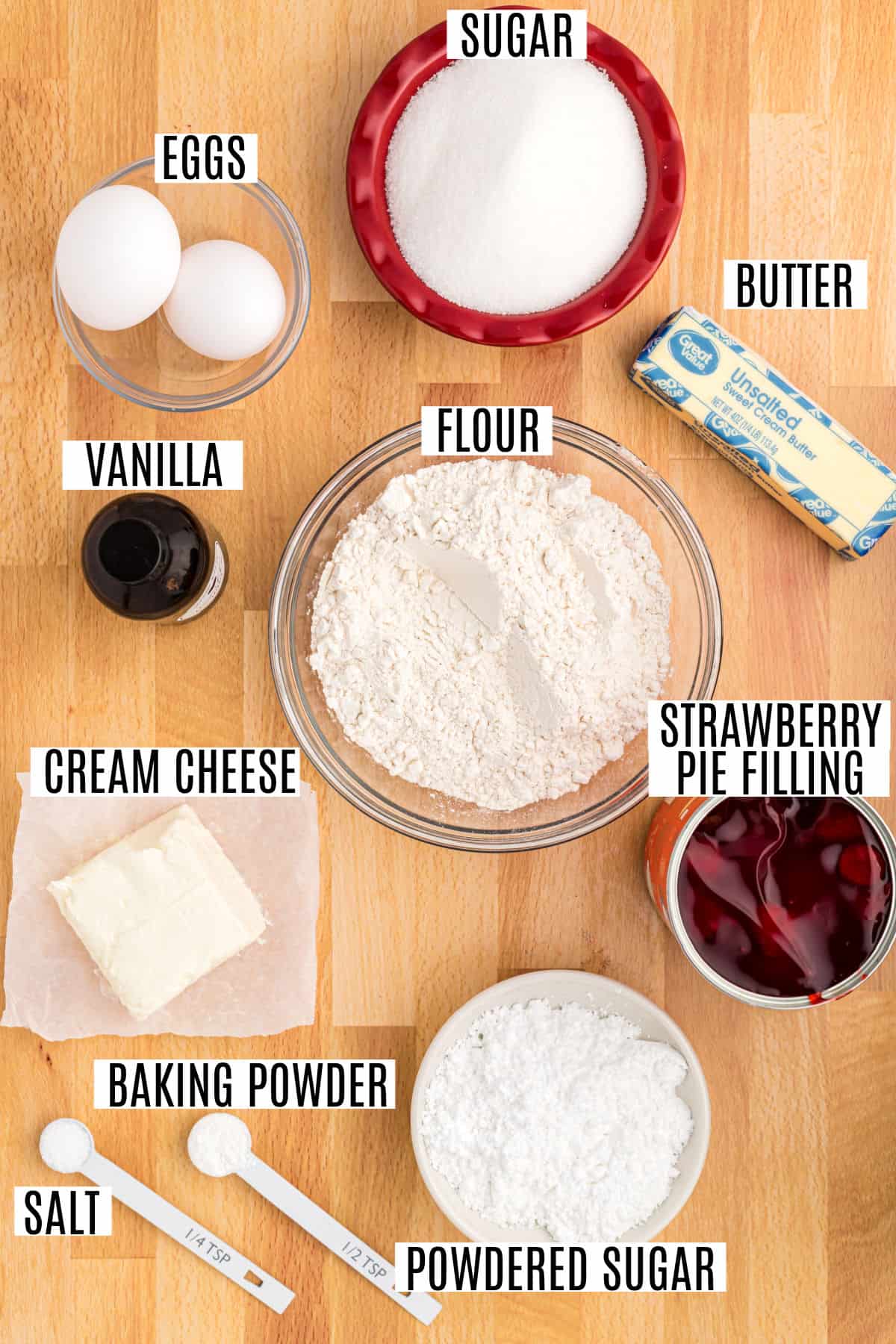 Strawberry Pie Filling – Use canned filling for ease and convenience or swap with your favorite homemade strawberry pie filling.
Butter – I prefer unsalted butter so I can control the saltiness of the bars. Make sure to let the butter soften at room temperature for at least a few minutes so it's easier to work into the flour.
Cream Cheese – Full fat cream cheese has the best flavor for the glaze. Like the butter, it should be softened on the counter before using in the recipe.
Step by Step Instructions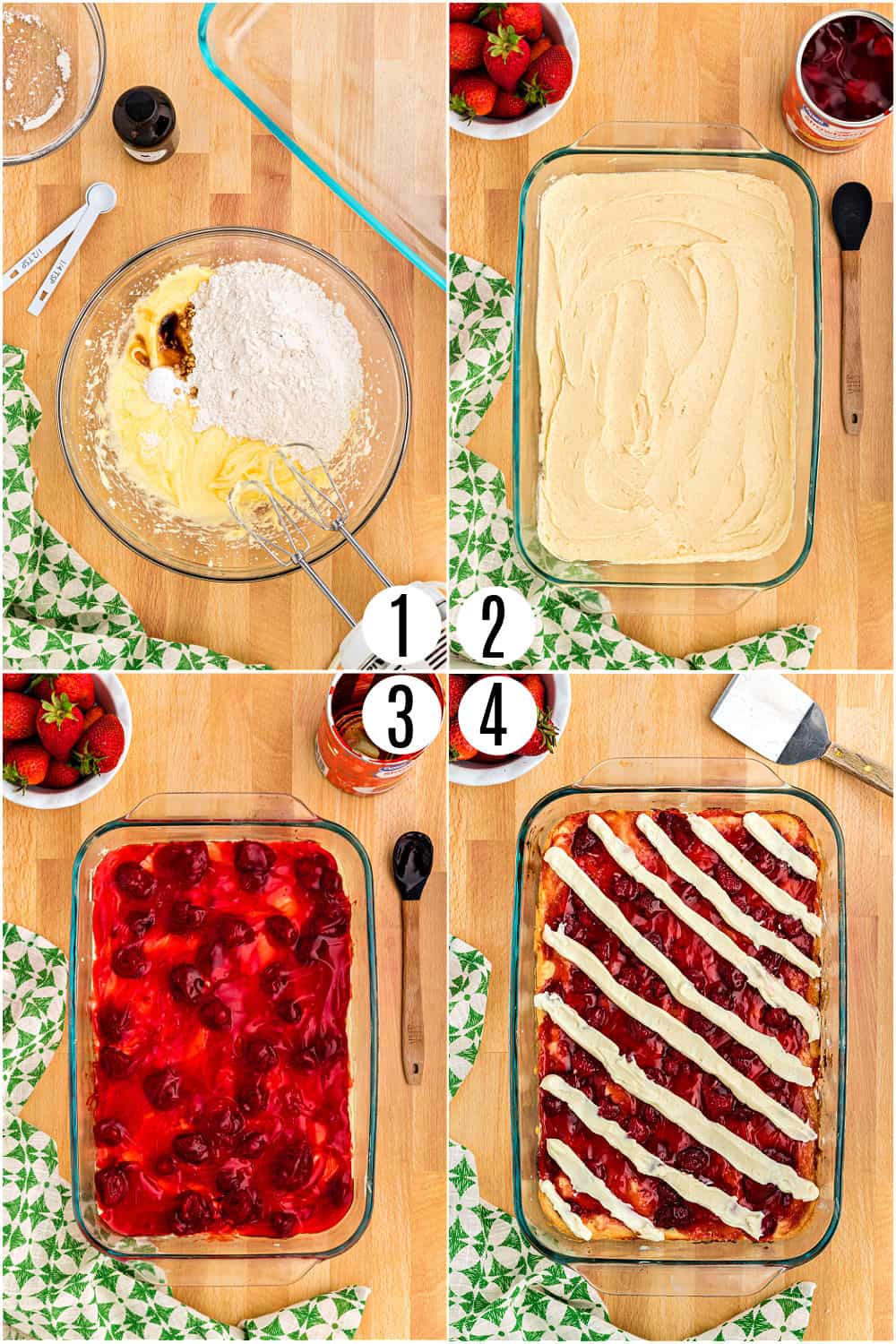 Pie crust layer. Beat butter and sugar together, then add eggs, flour, vanilla extract and kosher salt. Pour into a prepared pan.
Strawberry filling. Feel free to use any flavor pie filling. Our blueberry pie filling is delicious! BAKE!
Glaze- Beat together the ingredients for the glaze, then transfer to a ziploc bag. Snip off the corner of the bag and pipe the glaze over the cooled bars in a diagonal pattern.
Homemade Strawberry Pie Bars taste delicious warm or chilled!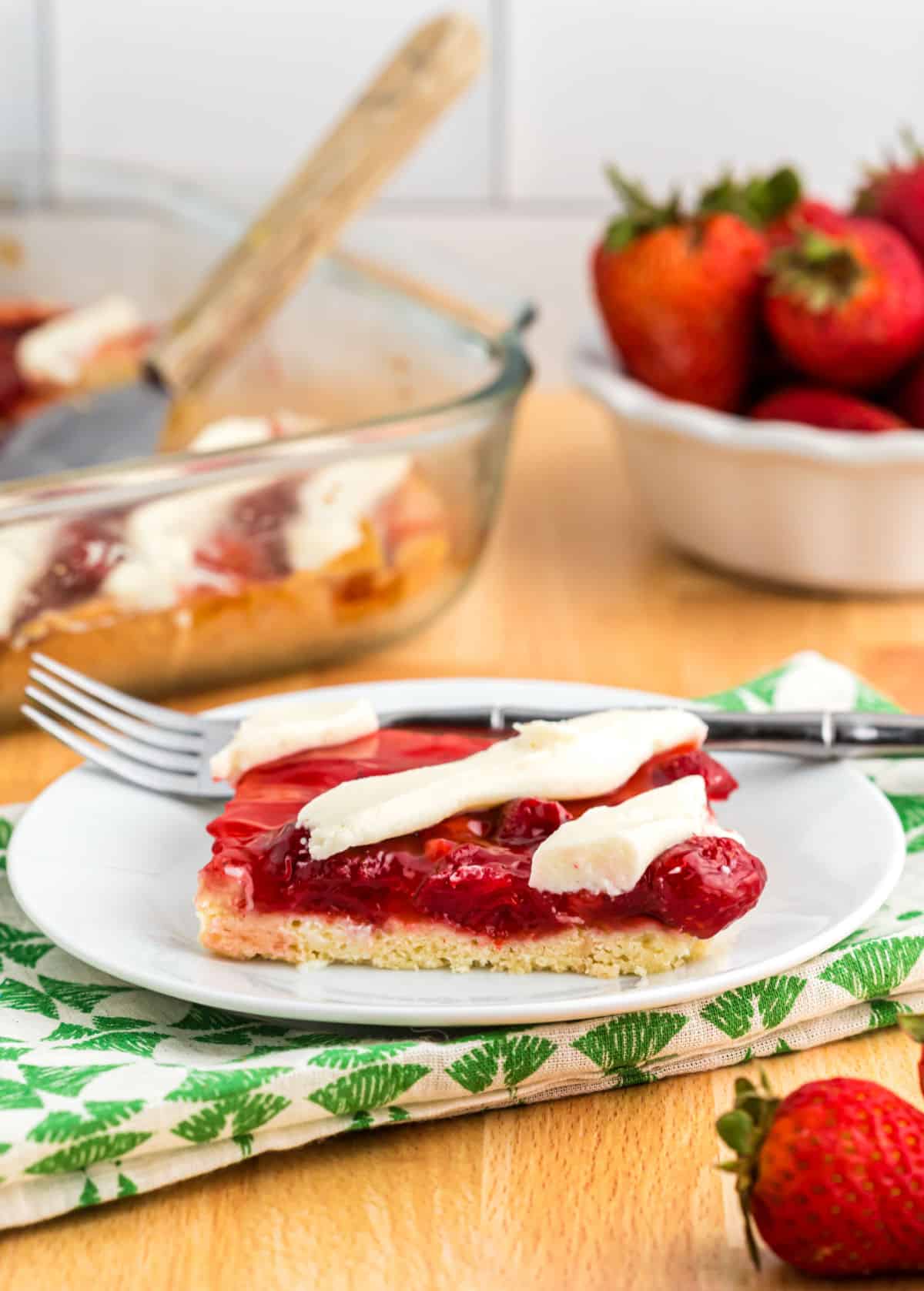 Recipe FAQs
How do you store these bars?
Leftover bars should be stored covered in the refrigerator. I love the way they taste cold straight from the fridge! If you prefer, let them come to room temperature before serving.
Can you substitute different pie filling instead of strawberry?
Of course. This recipe would be delicious with canned cherry, peach or blueberry pie filling!
What kind of pan works best for this recipe?
I used a 9 x 13 glass baking dish for this recipe. A square or smaller pan would work too but the thickness of the bars will be different and you may need to adjust the baking time.
More Easy Dessert Recipes
Strawberry Pie Bars–A dessert bar that's easy as pie. . . except even easier! Topped with cream cheese glaze, it just doesn't get any better.