Looking for a refreshing dessert this holiday season? Make a batch of these White Chocolate Cranberry Poke Cupcakes. And don't forget the sugared cranberries on top!!
I hope it's not too soon to start sharing holiday desserts? This one is so good, you can't wait to share it!
I've made many poke cakes in the past here on Shugary Sweets! I love the combination of cake, JELL-O and COOL WHIP. It's a refreshing dessert that everyone enjoys!
I mean really, as the saying goes, there's always room for JELL-O.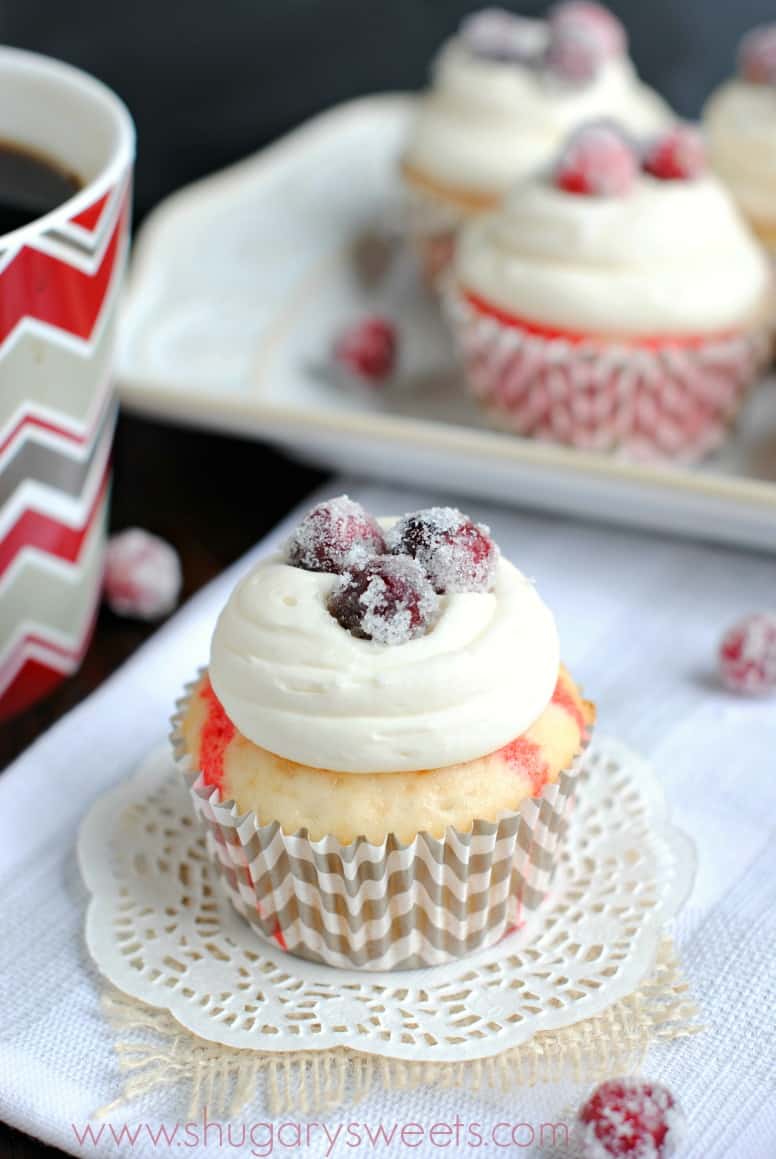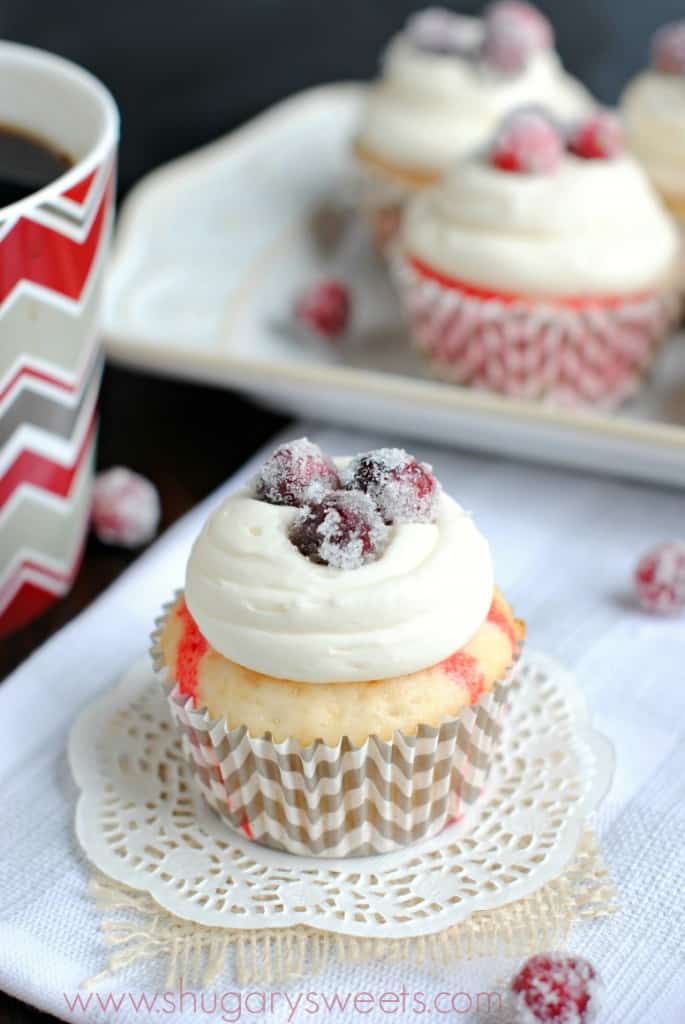 Before you get started on the cupcakes, you have got to make the sugared cranberries. The tart cranberry with the sugar coating is a perfect treat. I love the crunch and burst of flavor in my mouth. When you put it on top of one of these sweet cupcakes, you'll understand why these are a must! (The original recipe calls for dried cranberries, but I think you'll love this slight adaptation!)
I only put three cranberries on each cupcake. Which meant I had a whole bowl of sugared cranberries leftover. They were perfect little snacks every time I opened the refrigerator. If you're making a fruit platter this holiday, I suggest making these sugared cranberries to sprinkle around the platter. Not only are they festive, but oh my gosh they are delicious too!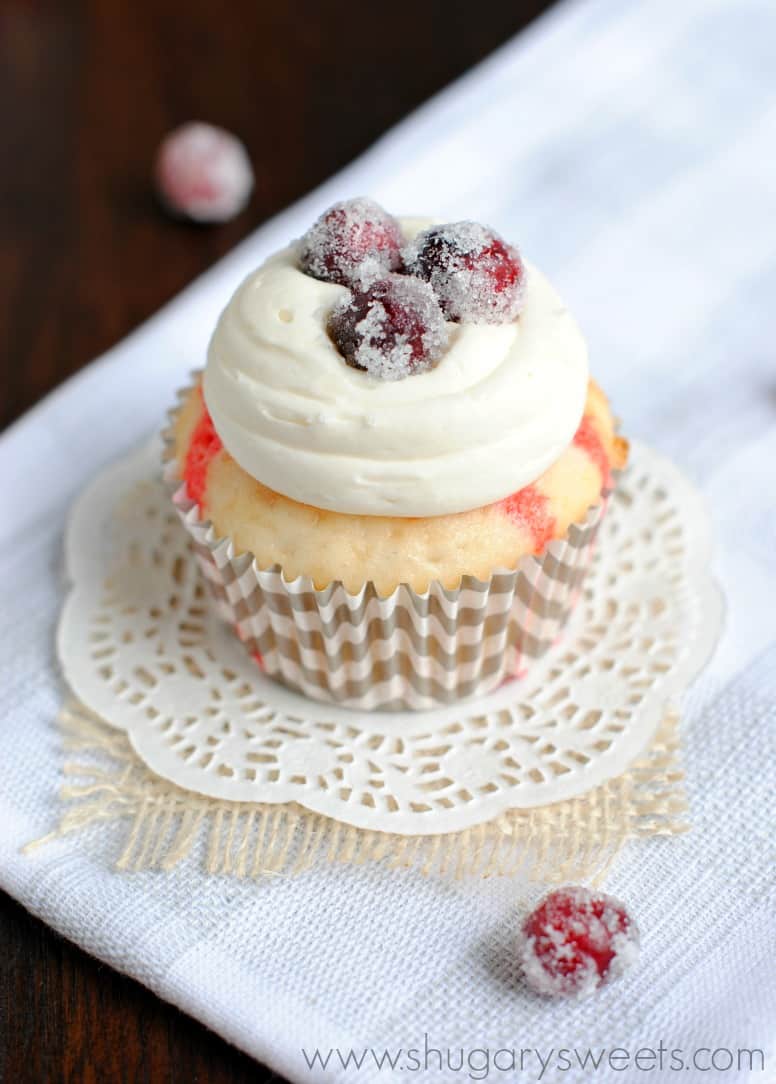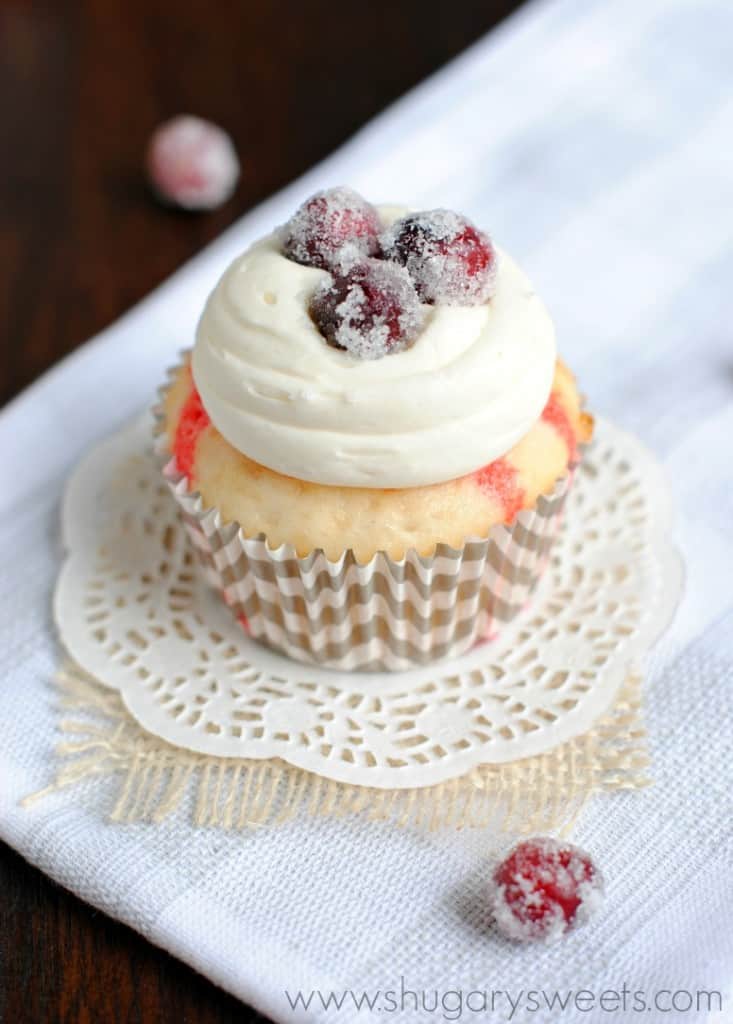 Now that we have moved back home to family, we are trying to coordinate some Sunday night suppers. A few weekends ago we had a chili cook off at my mom's house. My brother's and their families were all attending! After eating the varieties of chili, these sweet cupcakes were the perfect finish after dinner! The melted white chocolate in the cream cheese frosting adds a delicious flair to this cupcake.
Be sure to read the recipe ahead of time, as there is some prep and refrigerator time in advance! But, here's a quick overview if you've never made poke cakes before:
For the cranberries, you're going to let them sit overnight in a sugar water syrup. When you combine the sugar and water in the saucepan over low heat, stir just until the sugar is dissolved. The syrup won't be very hot (don't let it get too hot)! If you do, let it cool before pouring it over the cranberries (otherwise your cranberries will pop open…not the goal.
Once the syrup has soaked into the cranberries overnight, drain off the syrup completely. Let them sit for about 15 minutes before adding the sugar. The best way to do this for me, was to put the sugar in a large gallon sized ziploc bag. Shake the cranberries in the sugar gently. Lay a piece of foil on the counter with a wire cookie rack over it. Pour the sugar and cranberries onto the rack. The excess sugar will fall through the wire rack. Let sit until the sugar hardens (about an hour).
For the cupcakes, bake according to your white cake package directions (for 24 cupcakes). Immediately after baking, poke fork holes all over the top (going about 3/4 of the way deep).
Combine JELL-O Gelatin and boiling water. Mix with a spoon until completely dissolved. I used a spoon to pour over each cupcake. Press the spoon gently into the top of the cupcake, allowing the Gelatin to pour into the fork holes.
I made my cupcakes at the same time as the sugared cranberries. Then refrigerated both overnight. Technically the cupcakes only need about an hour in the fridge, but if you want to make them the night before, it works great!
For the frosting, be sure to beat the butter and cream cheese until fluffy before adding the melted white chocolate. Once you've piped your frosting onto each cupcake, top them with your prepared sugared cranberries for a sweet garnish. You'll have plenty of extra cranberries to put in a bowl and enjoy as a snack too!
Keep your frosted cupcakes in the refrigerator until ready to serve. The frosting may harden slightly, but it will taste amazing!
So there you go! As you start preparing for the holidays, keep these sweet treats in mind. They are perfect for classroom parties, potlucks or weeknight desserts! ENJOY!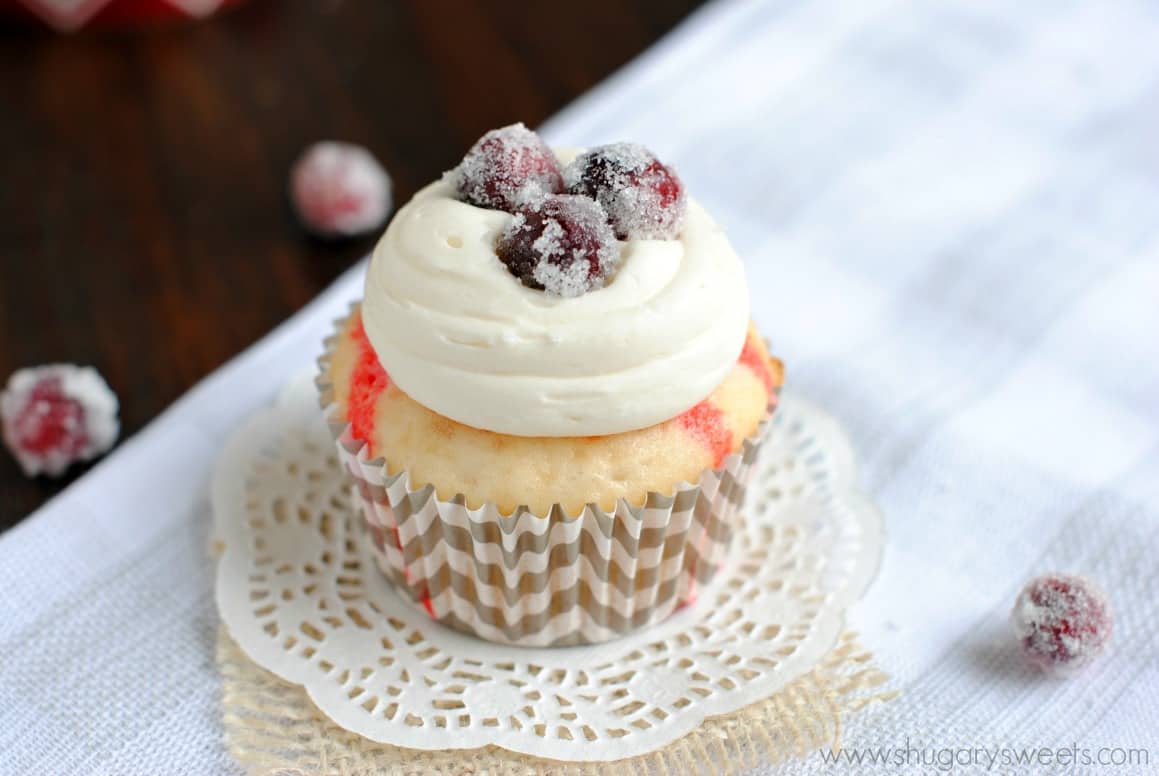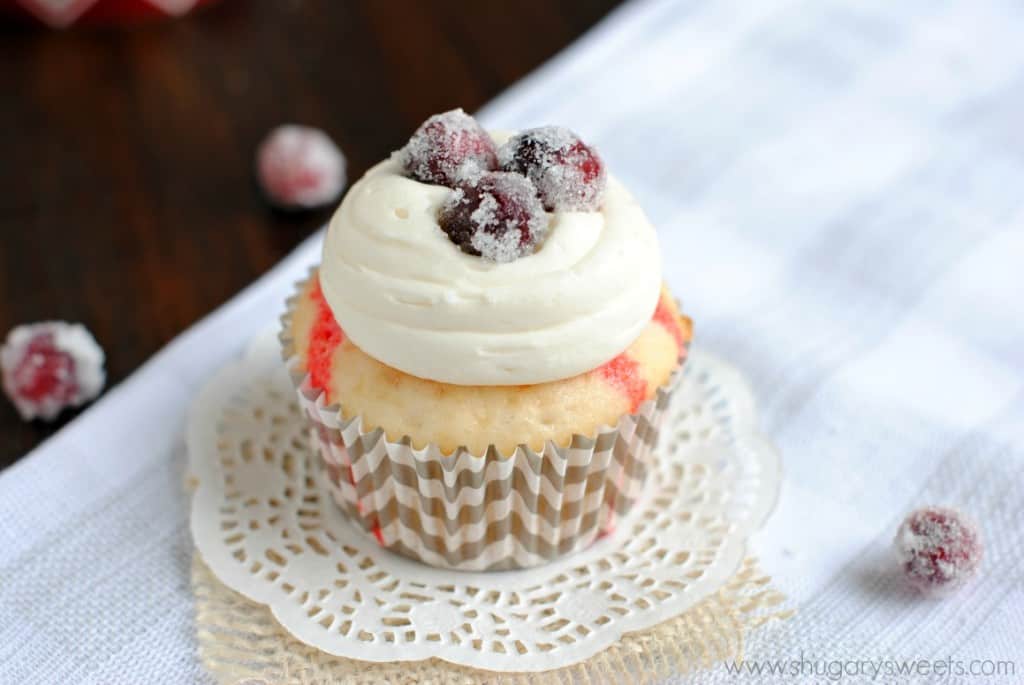 Yield: 24 cupcakes
White Chocolate Cranberry Poke Cupcakes
Ingredients
For the cupcake:
1 package (2 layer cake size) white cake mix
1 cup boiling water
1 package (3oz) JELL-O Cranberry Flavor Gelatin
For the frosting:
1 1/2 package (6oz total) Baker's White Chocolate bars
1 package (8oz) PHILADELPHIA Cream Cheese, softened
1/4 cup unsalted butter, softened
1 tsp vanilla extract
3 cup powdered sugar
For the cranberries:
3 cup granulated sugar, divided
2 cup water
2 cup fresh cranberries
Instructions
For the cranberries, combine 2 cup of the sugar with water in a small saucepan. Heat over low heat, and stir until sugar dissolves. Do not bring to a boil. Remove from heat as soon as sugar is dissolved. In a large bowl, add cranberries. Top with sugar syrup and refrigerate 8 hours or overnight.
After it has soaked for at least 8 hours, drain off syrup completely and allow to sit in strainer for at least 15 minutes. Pour remaining 1 cup sugar in a large ziploc bag, add cranberries and shake. Empty contents of bag onto a wire rack (with foil underneath to catch the mess). Let cranberries dry for at least an hour. Store in refrigerator until ready to garnish cupcakes.
For the cupcakes, bake cake mix according to package for 24 cupcakes. Pierce tops of cupcakes immediately after cooking.
Combine boiling water with JELL-O gelatin, stir until dissolved. Spoon gently over cupcakes, allowing to sink into fork holes. Refrigerate at least 2 hours or overnight.
For the frosting, melt chocolate according to package directions. Beat cream cheese and butter in a large mixing bowl for about 4-5 minutes, until fluffy. Add melted chocolate, vanilla, and powdered sugar. Beat for another 2-3 minutes until fluffy.
Pipe onto cupcakes and garnish with sugared cranberries. ENJOY!