Look no further, these thick, fudgy Homemade Bakery Style Brownies are the perfect one bowl brownie recipe you'll ever need! Crisp edges, crackle top, fudgy center, and a decadent chocolate flavor, these are going to be your go-to recipe from now on!
When you're looking for classic recipes, be sure to add this perfect Chocolate Chip Cookie recipe to your list! Soft and chewy. While you're at it, don't forget our favorite Peanut Butter Cookie recipe too!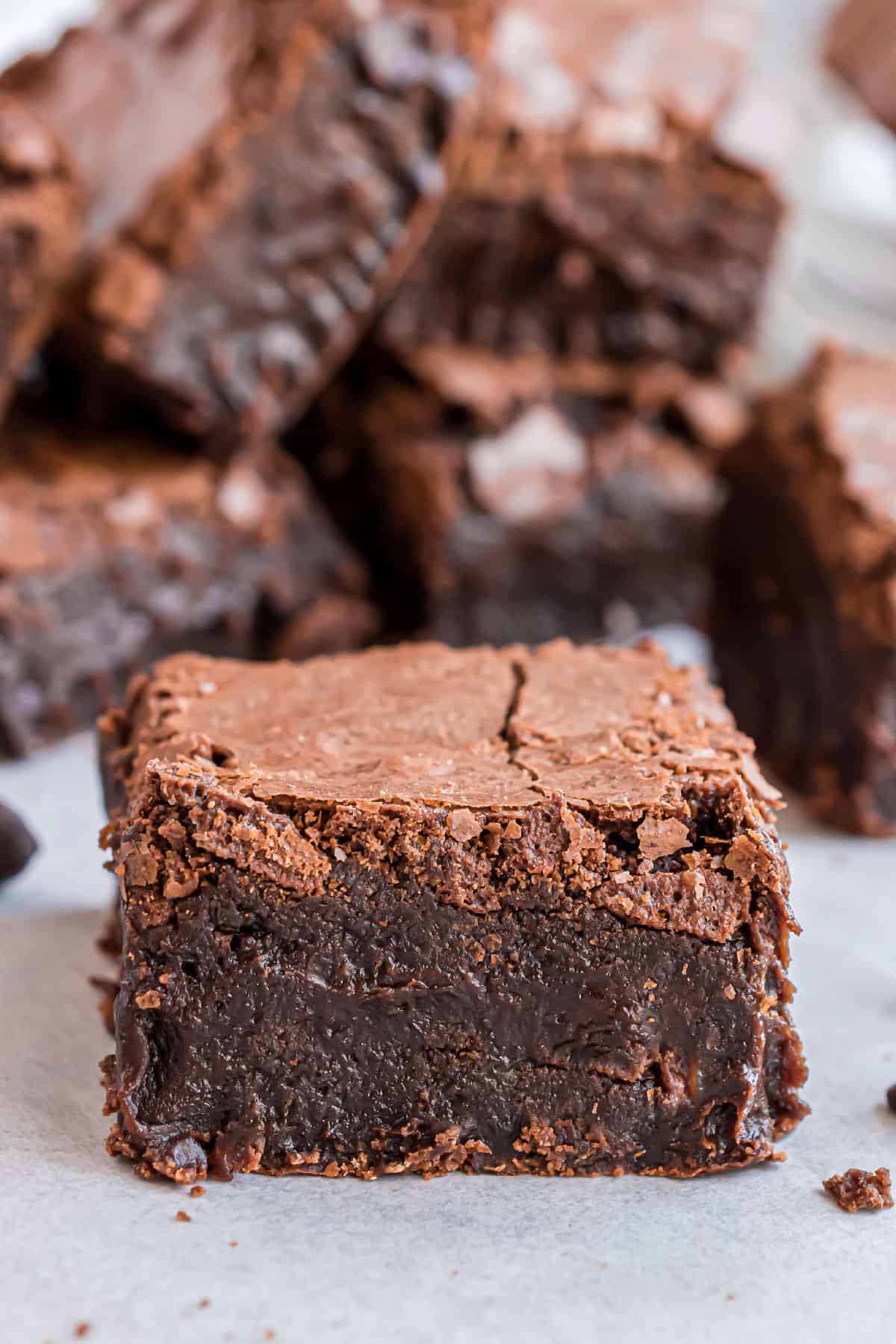 Why this Recipe Works
I'm always on the hunt for the perfect brownie. But, there's a flaw in that plan. The "perfect brownie" really depends on my mood.
Sometimes I'm in the mood for a fudgy brownie with powdered sugar on top. Sometimes these buttermilk brownies are the answer to my chocolate cravings!
Today though, I was on a quest to create a THICK brownie. But it couldn't be cakey.
Because I'm sorry, I am NEVER in the mood for a cake-like brownie. I'd rather just have chocolate cake.
These Bakery Style Brownies are exactly what you'd expect a good bakery to crank out, yet you can make them at home, anytime!
One bowl. Or in this case, you'll mix everything (by hand) in a large saucepan. Easy clean up!
Serious chocolate flavor. By using chocolate chips melted in the batter AND cocoa powder, you'll achieve the perfect fudgy old-fashioned brownie flavor!
Crackle top. The signature sign of a perfect brownie.
Don't forget to add the cream cheese swirls. Try our cheesecake brownie recipe next! Or whip up a batch of chocolate chip brownies for an extra rich and fudgy treat.
Ingredients Needed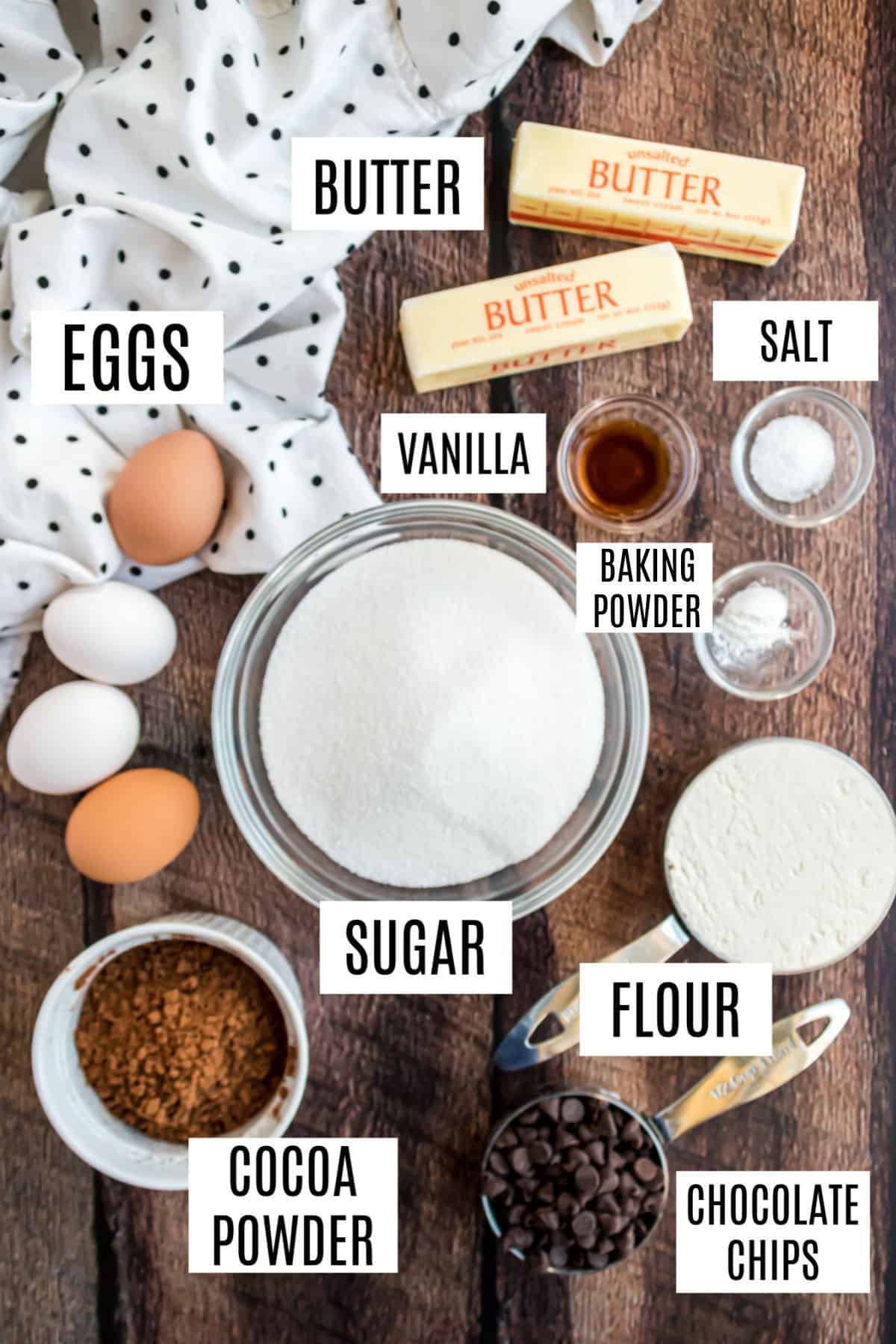 Looking for a recipe that is better than a boxed mix? Here's what you'll need.
Butter. I use unsalted butter so that I can control the salt in my baking. No need to soften this butter because we're going to melt it!
Chocolate. You'll need semi-sweet chocolate chips AND unsweetened cocoa powder for this brownie recipe.
PRO TIP: The better quality of chocolate you use, the better the taste. I usually opt for Ghirardelli.
Eggs. This recipe calls for FOUR eggs. THAT is how you achieve gooey brownies with a chewy center and crispy crust. And they puff up to a thick, chewy treat.
Vanilla Extract. Use PURE vanilla extract to amp up the flavor.
Flour. Salt. Baking Powder. As you add in your dry ingredients, you will mix them in by hand JUST until combined.
How to make Brownies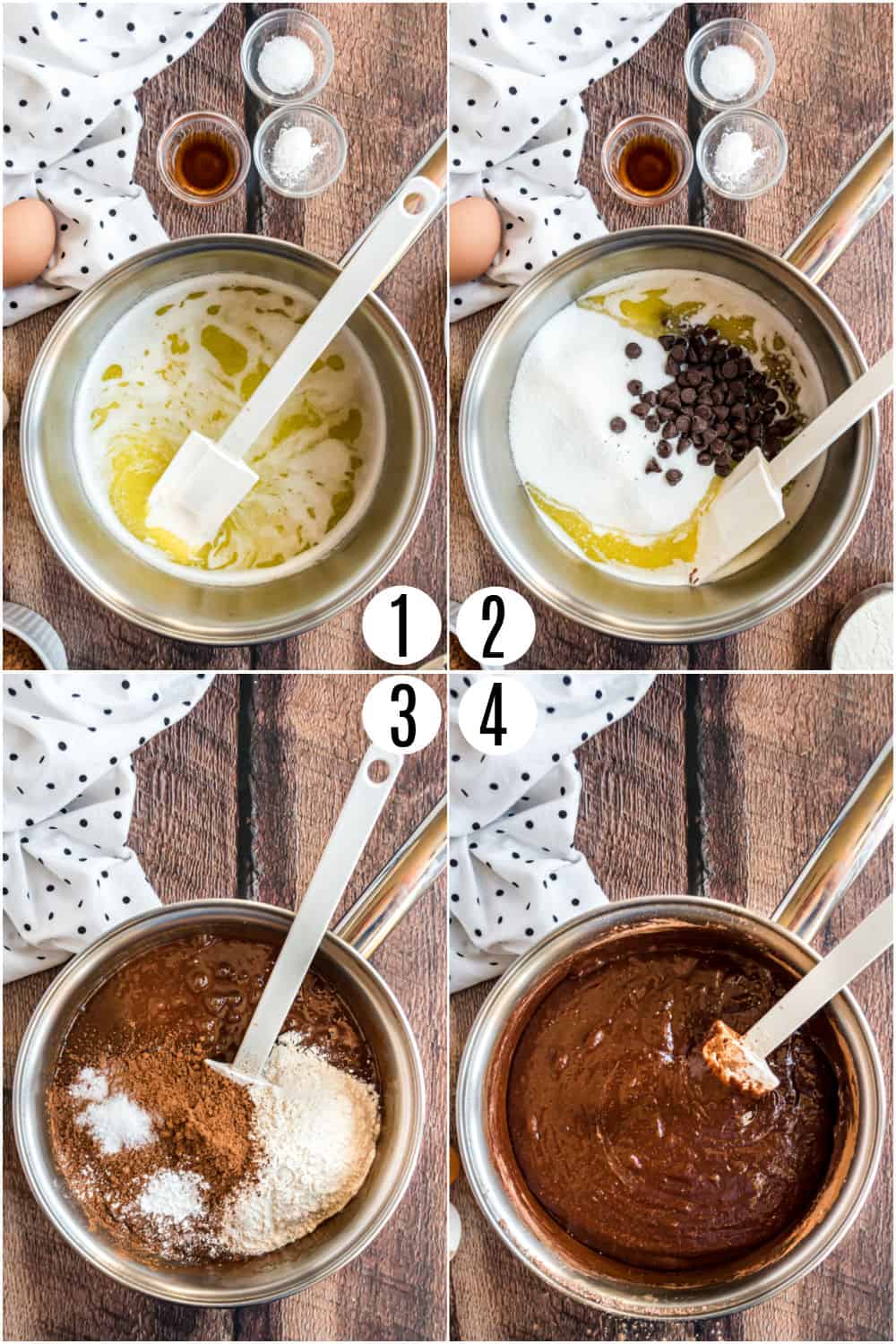 Achieving the perfect, better than a box, brownie is easy. And since you most likely have all the ingredients on hand, you can do this any day of the week!
Melt Butter. In a medium sized saucepan, melt butter. Remove from heat.
Add Chocolate Chips and Sugar. Add in the chocolate chips and sugar and stir until sugar is blended and all the chocolate has melted.
Add Dry Ingredients. Mix in the dry ingredients JUST until blended. Use as few strokes as possible. If adding extra chocolate chips or nuts, fold them into the batter now.
Bake. Pour batter in a 9-inch square baking dish lined with parchment paper. Bake. Cool. Cut. Enjoy.
PRO TIP: For a fudgy center, don't overbake these brownies. And be sure to let them cool completely before cutting!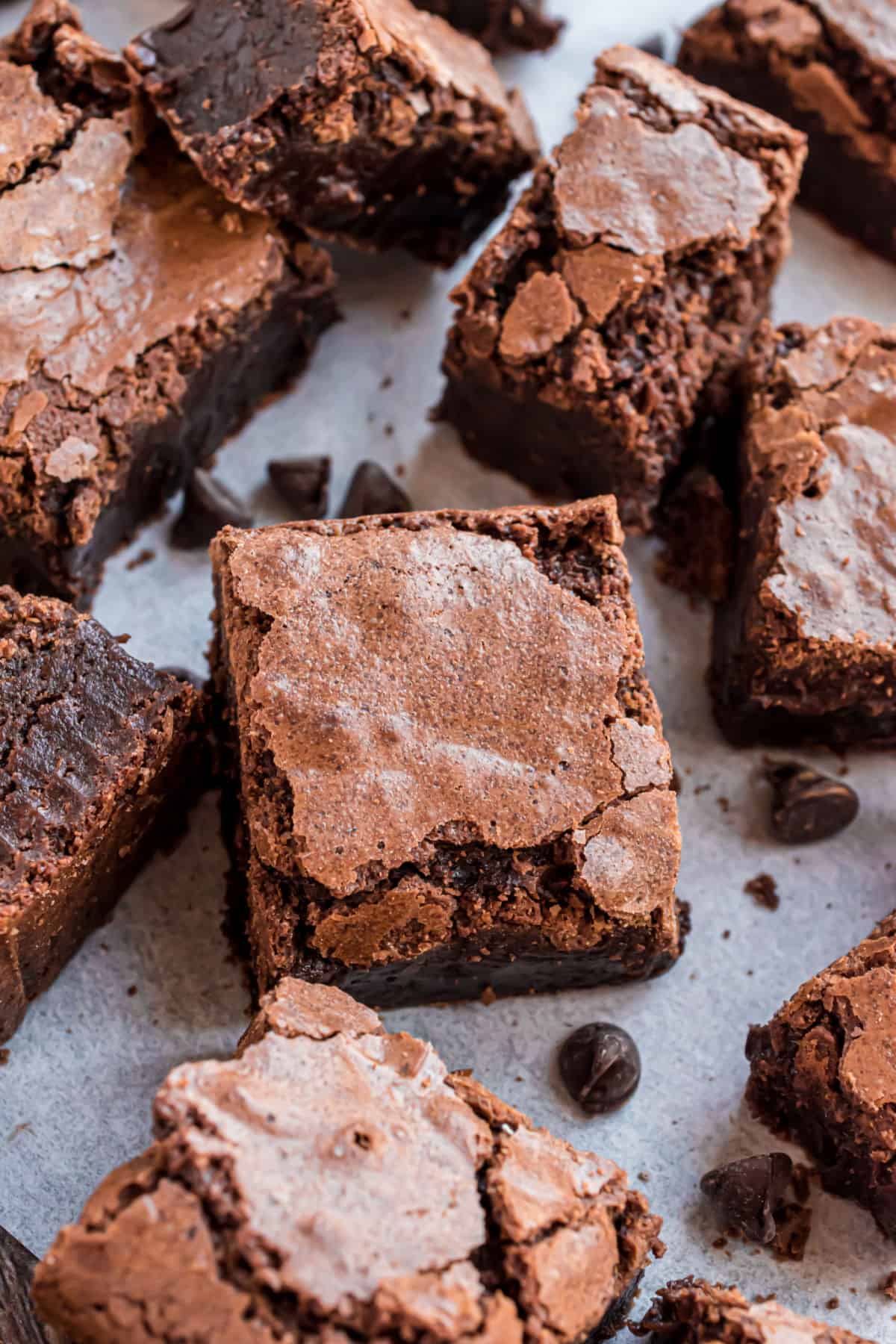 Tips and Tricks
These easy brownies can be made in ONE bowl. Whether you use a medium sized saucepan, or microwave safe large bowl…clean up is a breeze!
I use semi-sweet or dark chocolate chips in my fudgy brownies, use what you have on hand! You can even toss some in at the end to make them chocolate chip brownies! Or toss in some walnuts for some nutty brownies!
LINE your baking dish with parchment paper (or foil). Not only does it make clean up easier, but you can just lift your fudgy brownies out of the pan and cut them!
DO NOT OVER STIR. When you add in the dry ingredients, use slow but big stirs to incorporate the dry into the wet. Just when you see no more dry, STOP STIRRING!
Want to eat them sooner? Chill them in the refrigerator so they are easier to cut. Want to make a brownie ice cream sundae? Eat them warm!
Serve with ice cream. Don't forget the vanilla ice cream (or use our easy no churn ice cream recipe)!
If dipping them in chocolate and adding topping, you'll definitely want to wait until they have cooled COMPLETELY. Then cut them in 9 large squares, and cut those squares diagonally so you'll be left with 18 triangles. I use this melting chocolate for perfect results!
PRO TIP: For perfect cutting, use a cheap, disposable plastic knife after the brownies have cooled. WORKS LIKE A CHARM.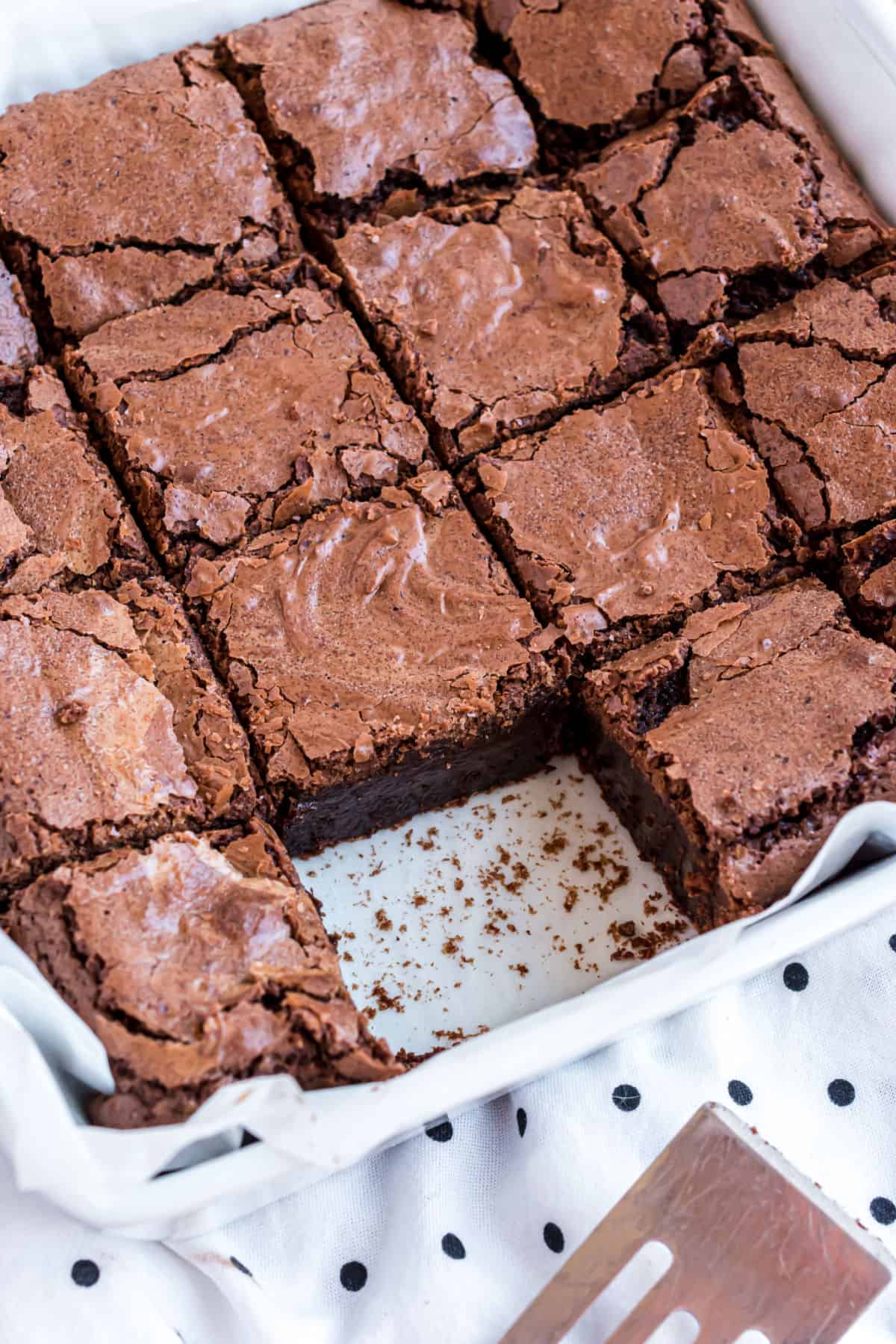 Recipe FAQs
What makes fudgy brownies?
To achieve fudgy brownies, not cakey brownies, you'll need a high fat to flour ratio, like in my recipe.
How do you store baked brownies?
Store brownies in an airtight container at room temperature. These chewy fudgy brownies can be stored for up to one week.
Can you freeze brownies?
Freezing brownies is so easy. Once baked and cooled completely, you can either slide the whole pan of brownies into an airtight freezer container. Or, cut into squares and freeze bite size servings. Thaw in container at room temperature overnight.
Variations
Today's easy brownie recipe is the perfect base for all of your mix-ins and flavors. I use my recipe regularly to make a variety of flavors!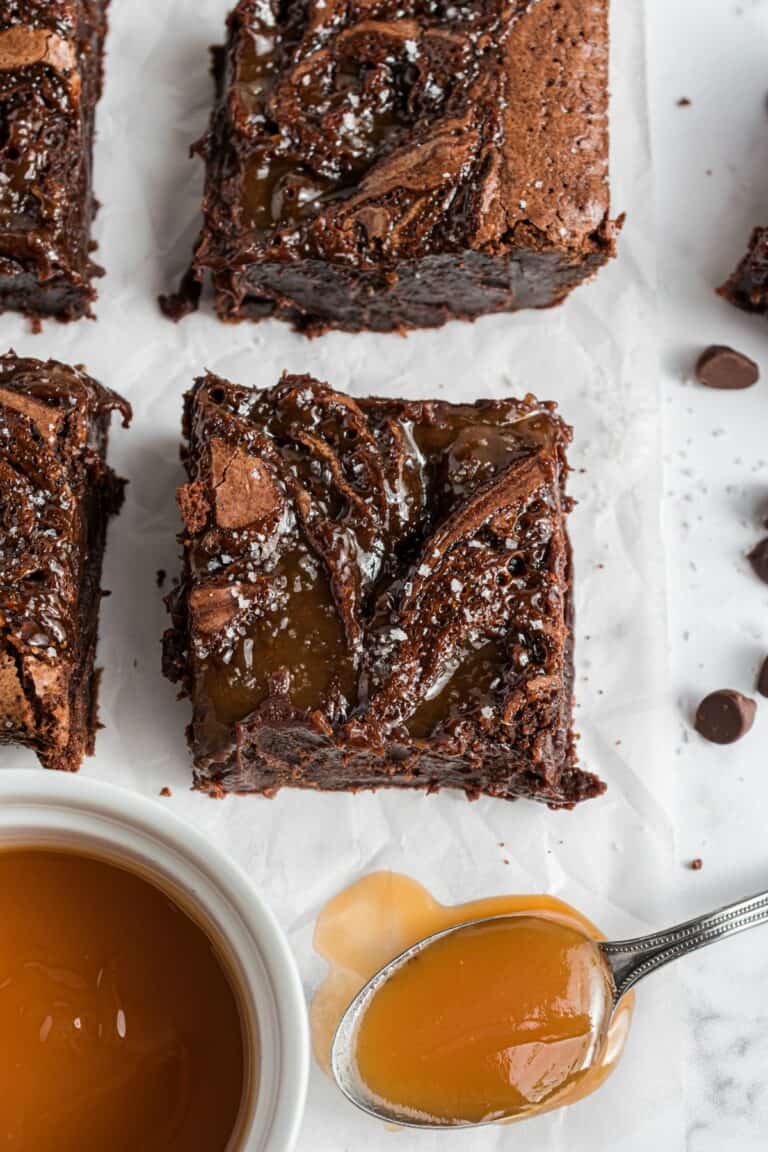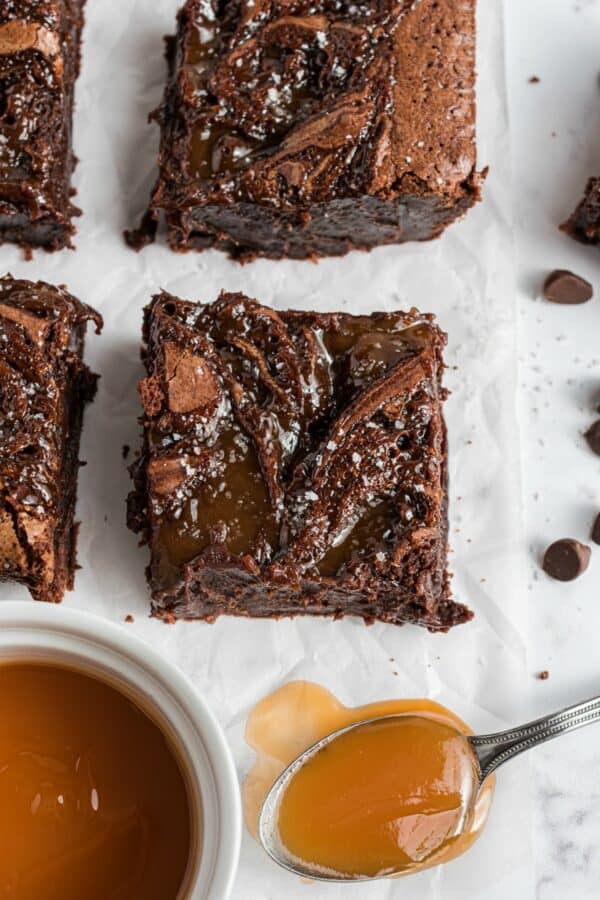 Look no further, these thick, fudgy Bakery Style Brownies are the perfect, one bowl brownie recipe you'll ever need! They also make a great bake sale treat!