Fresh from the oven Banana Nut Scones are made even more tempting with Cream Cheese Frosting. The sweet banana flavor, crunchy nuts and smooth icing are to die for!
Homemade scones are easier to make than you might believe! Check out these Easy Lemon Poppy Seed Scones and Blueberry Lemon Scones Recipe too!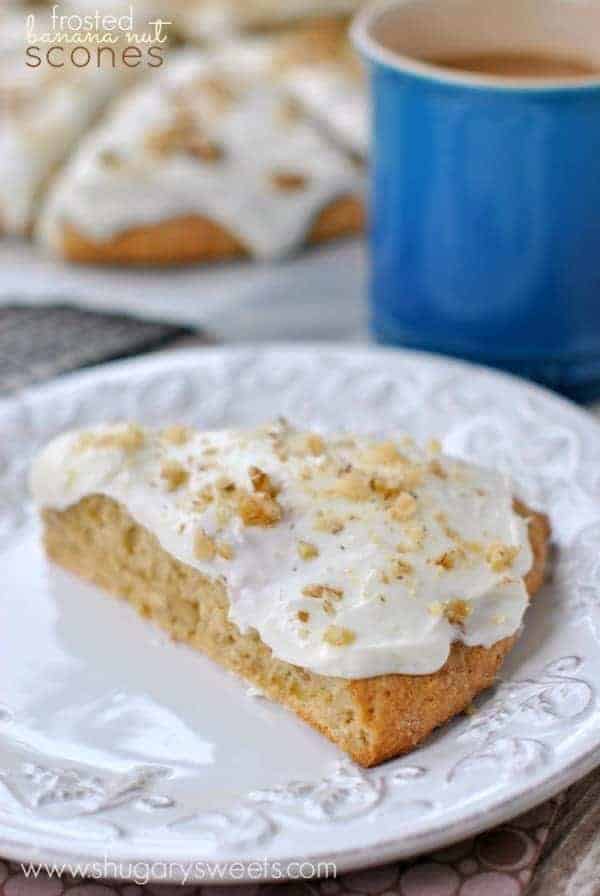 The Best Scone Recipe
Does that sound like an exaggeration? It won't when you taste these scones for yourself!
We've turned out delicious banana nut muffins into a scone recipe!
These Banana Nut Scones take just 10 minutes of prep time to be ready to bake and eat.
Made with buttermilk, these scones won't dry out, even the next day.
Cover them with easy cream cheese frosting and a handful of chopped nuts for a bakery quality finish!
Bananas and frosting go very well together. Our banana cake is a perfect example!
Ingredient Notes
Buttermilk. You can use store bought buttermilk or mix up a batch of my foolproof Buttermilk Substitute.
Bananas. The amount of bananas you need depends on their size. I typically mash up 2 large bananas for this scone recipe.
Cream cheese. Use full fat unflavored cream cheese in the frosting recipe for best results. Let it soften on the counter for a few minutes so it's easier to blend.
Walnuts. These scones would taste delicious with chopped pecans too! Use our guide on how to toast walnuts.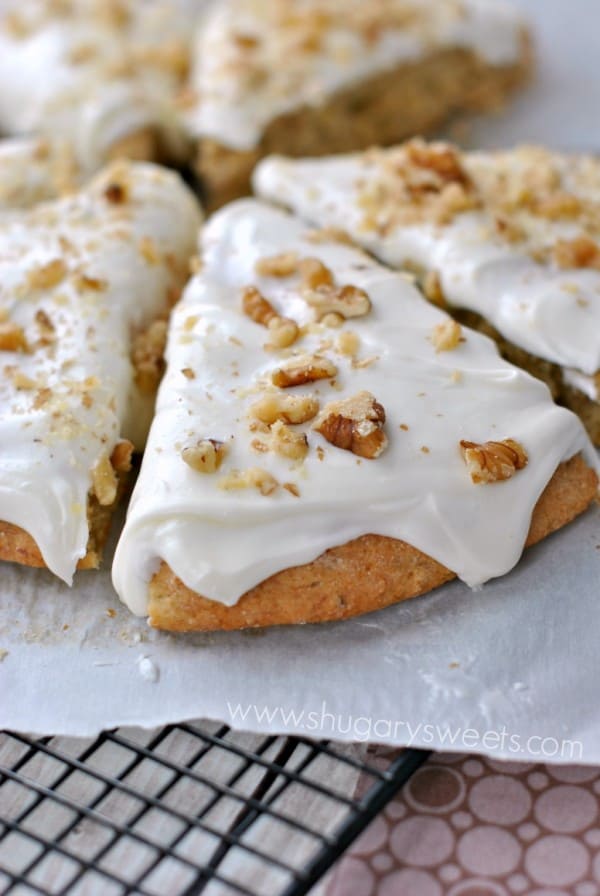 Easy Instructions
Make the dough for the scones:
Combine dry ingredients in a large mixing bowl. Beat in the butter until coarse crumbs form.
Now add the mashed banana, eggs and buttermilk to form a dough. Fold in chopped nuts.
Shape and cut:
Pat the dough into a large circle. Slice the dough into 8 to 10 large rectangles. They should still be slightly connected to each other.
Bake:
Bake the scones for 25 minutes. Then, separate the scones completely and continue baking for another 10 minutes.
Cream cheese frosting:
While the scones are cooling, beat together the ingredients for the frosting. Spread over cooled scones, sprinkle with more chopped walnuts and enjoy!
Tips & Tricks
Storing: Keep leftovers scones covered in the refrigerator for up to 3 days. These are delicious served cold or room temperature!
Frosting: If you prefer a more glaze-like frosting, drizzle in a little more heavy cream or milk until the desired consistency is reached.
Use a pizza cutter. Slicing the scones with a pizza cutter is the easiest way to get clean, even cuts. If you don't have a pizza cutter, a sharp knife works well too.
Recipe FAQs
Can you freeze these banana nut scones with the cream cheese frosting?
Yes, these scones can be frozen either before or after adding the frosting. Let them thaw in the refrigerator overnight and they'll be ready to enjoy for breakfast the next day!
Can I make this banana scone recipe without the nuts?
You sure can make these without nuts! While I love the nutty crunch, leaving them out makes the scones more allergen friendly (perfect for a school lunch box).
Do you have to mash the banana before adding it to the dough?
When you mash the banana is up to you. If you're mixing this by hand, I definitely recommend mashing the banana in a separate bowl before combining it with the other ingredients.
If you make this recipe with an electric mixer, it's usually strong enough to mash the banana as it's mixing the dough together. Either way works!
Can I make this recipe in a mini scone pan?
Of course you can make this recipe in your mini scone pan.The scones will need less baking time due to their smaller size, so keep a close eye on them to avoid burnt scones!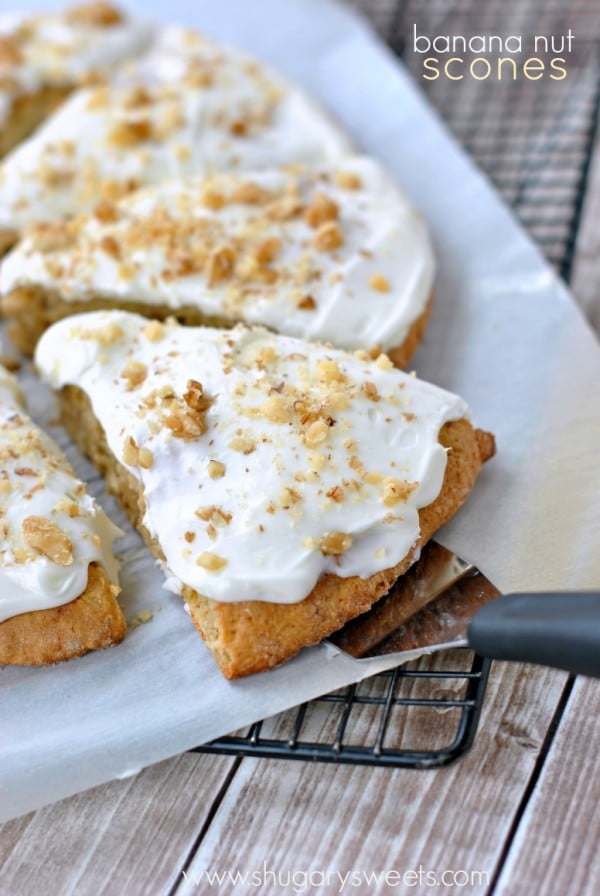 More Breakfast Recipes
No more dry, bland scones! These homemade Cream Cheese Frosted Scones are moist, sweet and packed with bananas and walnuts.