Three ingredient Cream Cheese Fruit Dip takes your favorite fruit and makes it even sweeter! This easy to make dip is a long time favorite of mine and I know you'll love it too.
Love cream cheese? Our cheesecake cookies are delicious, so soft and moist. Or give our cream cheese mints a try next!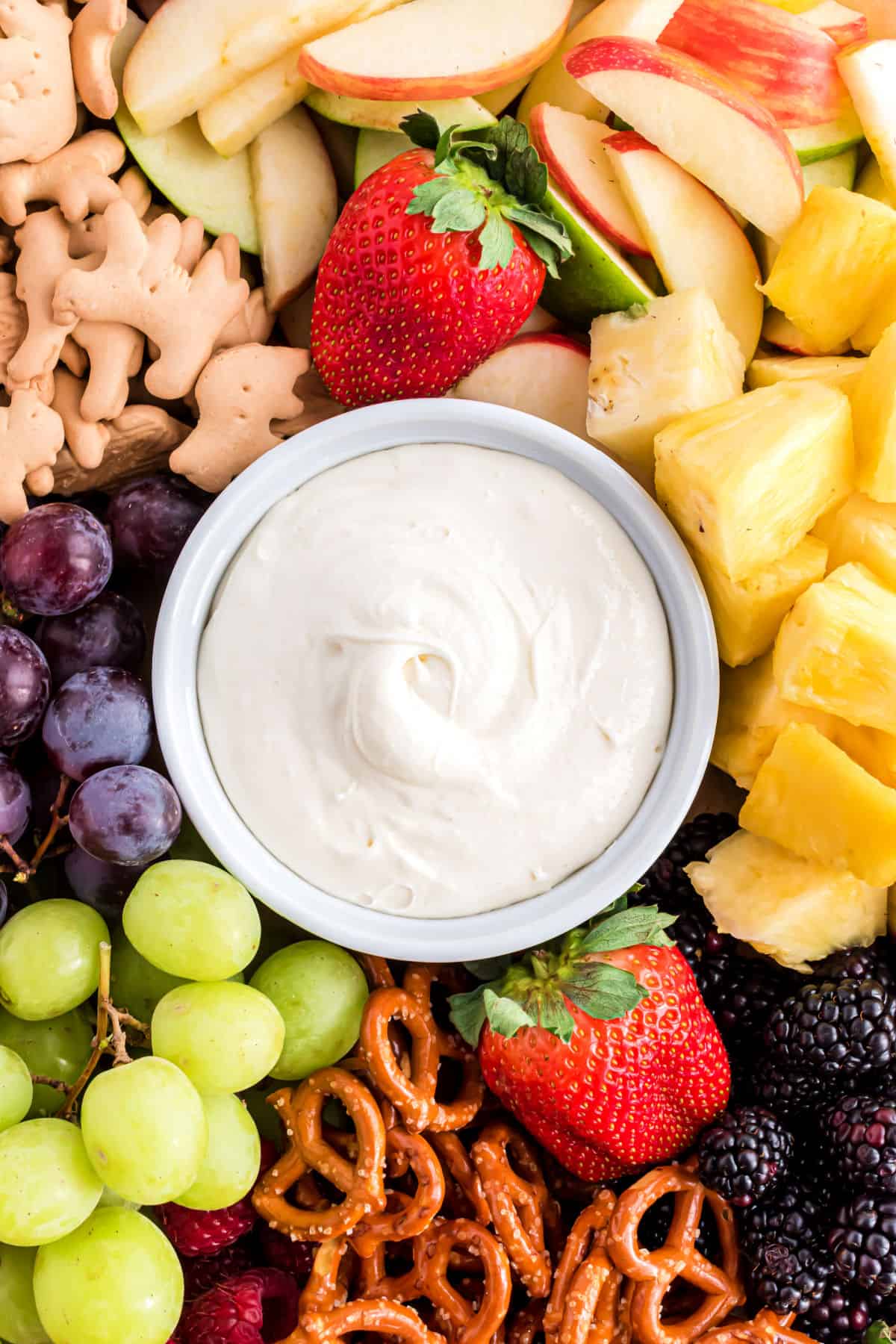 Why this Fruit Dip is Best
This fruit dip and I go way back. I tried it the first time when I was working as a nurse back in 1996. One of my co-workers brought this amazing, sweet, creamy dip to the break room with a bowl full of strawberries to share.
I was about 6 months pregnant and craving fruit constantly, so I was thrilled. ( I also craved gyros, cheese fries and root beer floats…but for now, this story is about strawberries.)
One bite of a strawberry covered in cream cheese dip and I was hooked for life. I spent more time in the break room that day, than ever, because I couldn't get enough of this dip!
It reminded me of the fruit dip you find in the refrigerated section of the grocery store produce aisle. Then, my co-worker told me it was homemade with just THREE ingredients. I knew I'd be making it again and again and again.
And I did. This dip has served me well over the years. You can make it at a moments notice and instantly transform an ordinary party platter into something extraordinary!
Ingredient Notes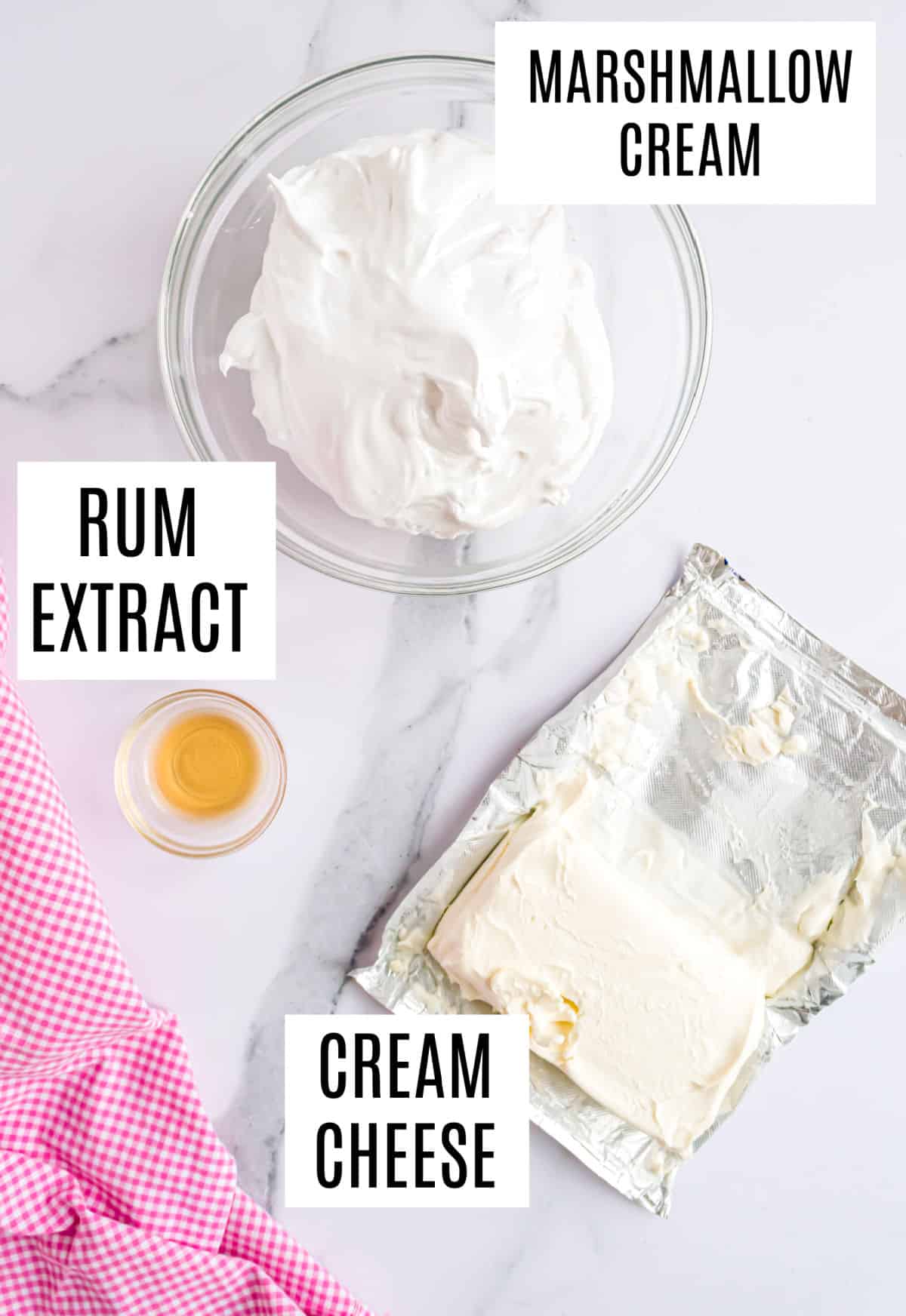 Here's all you need:
Cream cheese – Use a whole 8 ounce package and let it soften on the counter first.
Marshmallow cream- Also called marshmallow "fluff" this sweetens the dip and makes it extra smooth! Our homemade marshmallow fluff would work great here!
Rum – The secret ingredient to making the BEST fruit dip! If you want, you can substitute rum flavoring; it is just as tasty!
To make the dip, just beat all the ingredients together and serve immediately or chill until you're ready to eat!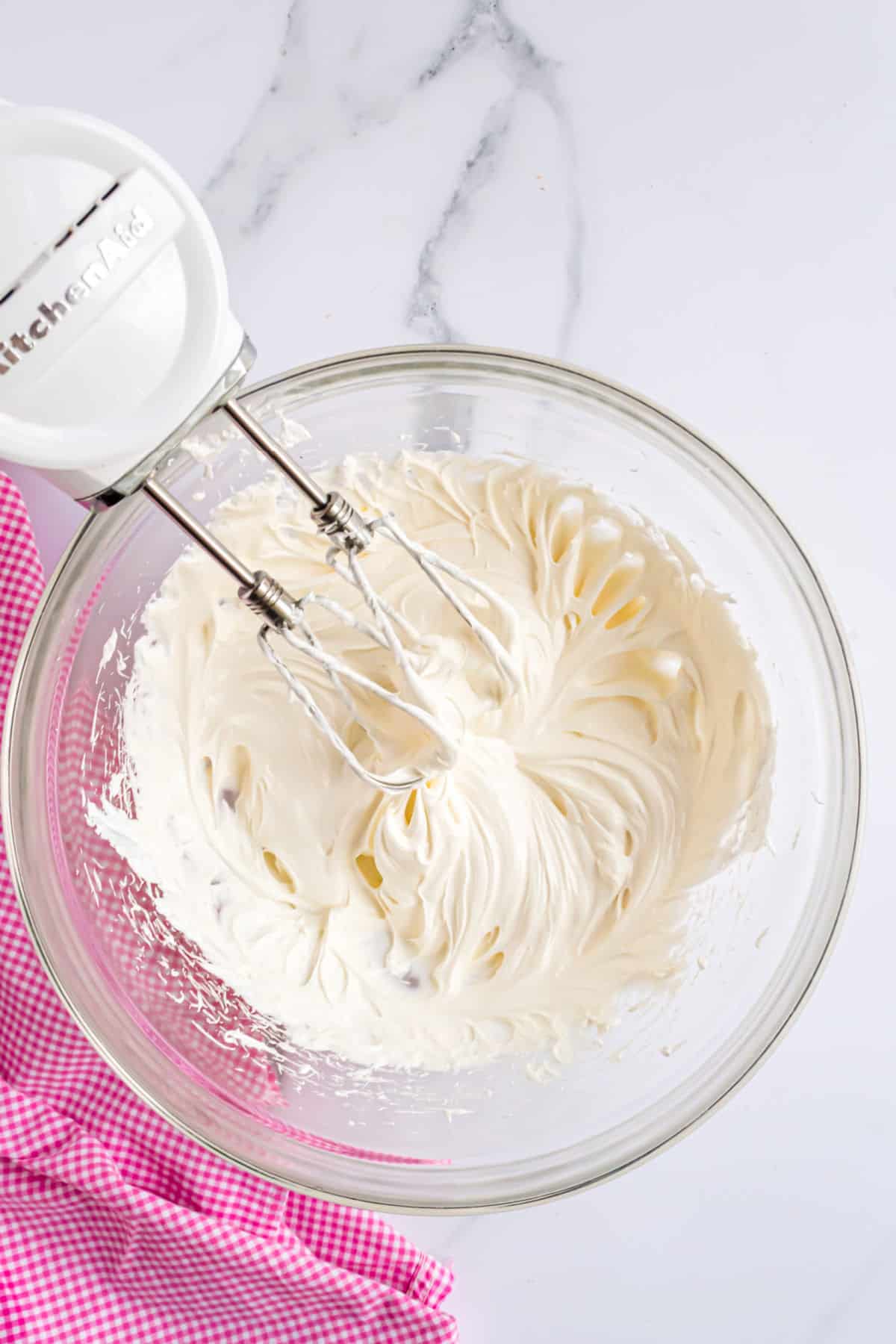 Tips and Tricks
I use a stand mixer or electric beaters to beat the ingredients together until light and creamy. You can also mix this with a whisk but will need a bit of elbow grease and a few more minutes of time!
How to store: Keep this covered and refrigerated until you're ready to serve it. I usually just store it right in my serving bowl covered in cling wrap, but a tupperware container works too. t's SO good cold straight out of the fridge.
This is a great option if you're asked to bring the veggie tray or fruit salad to a gathering! It's easy but makes a simple platter of fruit so much more impressive.
Where do you buy rum extract? How else can I use it? I find mine online. You can also sometimes find it in specialty grocery stores and markets. After that search, you'll be happy to know there are tons of ways to use that little bottle of rum extract beyond delicious fruit dip. You can us it to make Butter Rum Fudge, add it to your batch of Eggnog Truffles!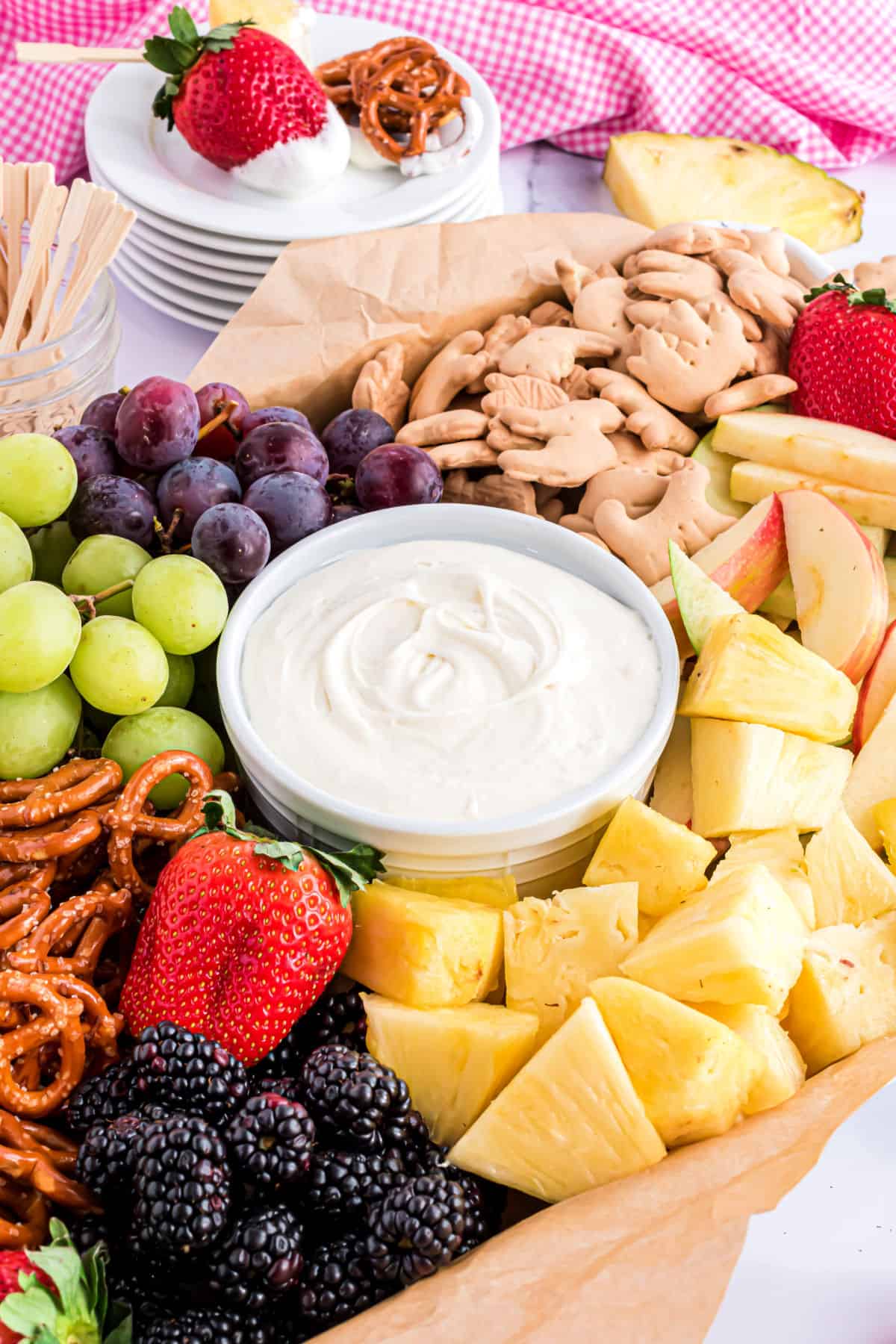 Recipe FAQs
What can you serve with Cream Cheese Fruit Dip?
Berries, apple slices, bananas, kiwi, pineapple wedges, pear slices grapes. . . there are countless options! Graham crackers, pretzels and cookies are also delicious with this dip.
Does this fruit dip taste like rum?
There is only a tablespoon full of rum in the whole batch of dip so it definitely doesn't taste like shot of rum! You will notice a subtle rum flavor that brings out the sweetness of the marshmallow and balances the tangy cream cheese. It's essential for adding the dimension to this dip.
How long does this fruit dip keep?
Cream Cheese Fruit Dip should be enjoyed within 3 days for best flavor. Mine never makes it that long because I can't stop scooping it up with whatever fruit is available.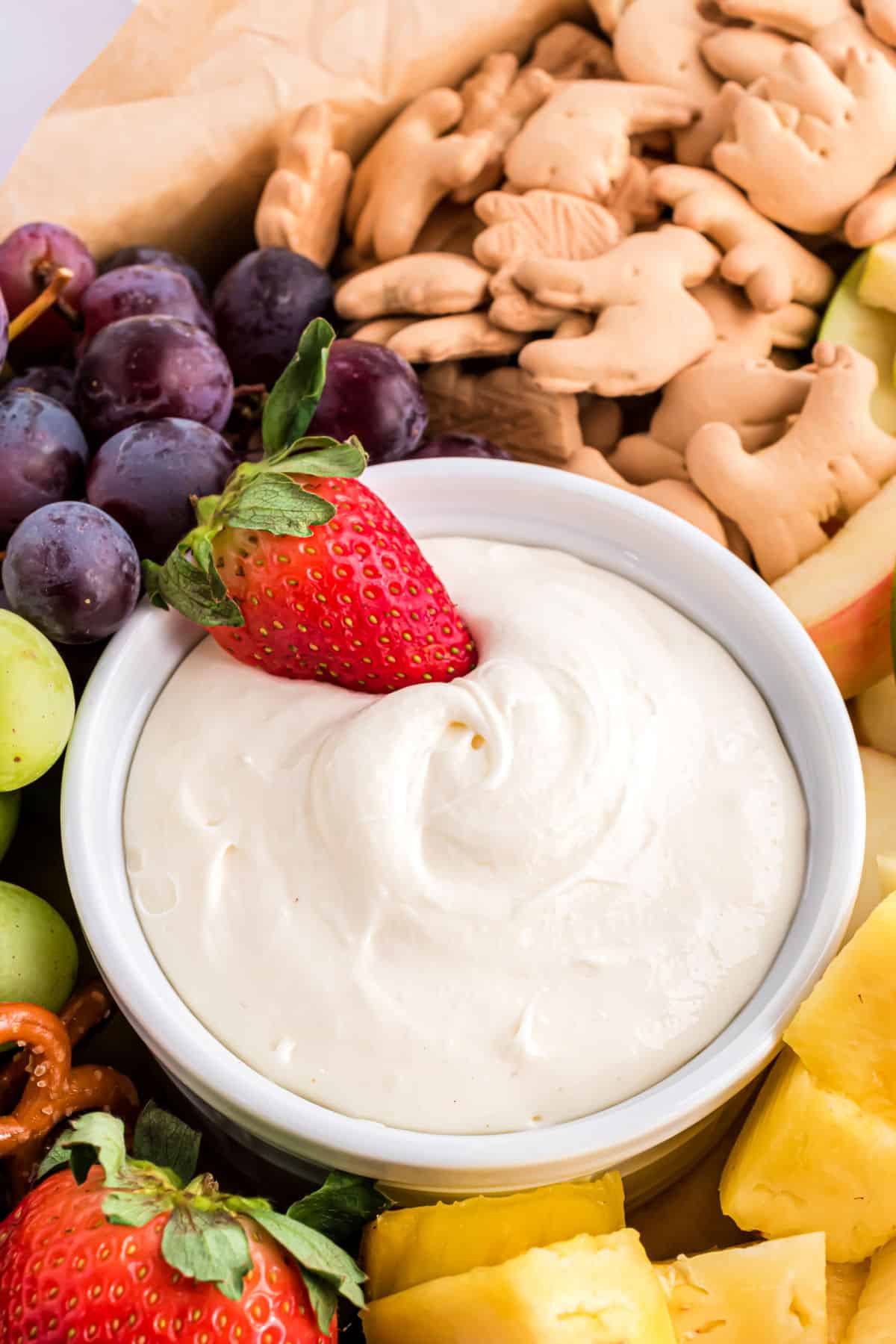 You won't have to worry about getting all your recommended servings of fruit when you have this dip in the fridge! Trust me when I tell you this easy three-ingredient Cream Cheese Fruit Dip is the best one you'll ever try.