Make dinner time exciting with this deliciously easy Doritos Casserole. Nacho cheese flavor meets seasoned taco meat, baked and covered with cheese! This is a family favorite meal that comes together in no time.
Put my homemade Taco Meat recipe to good use in a tasty one pan casserole. If you like this recipe, you need to try my Dorito Taco Salad next!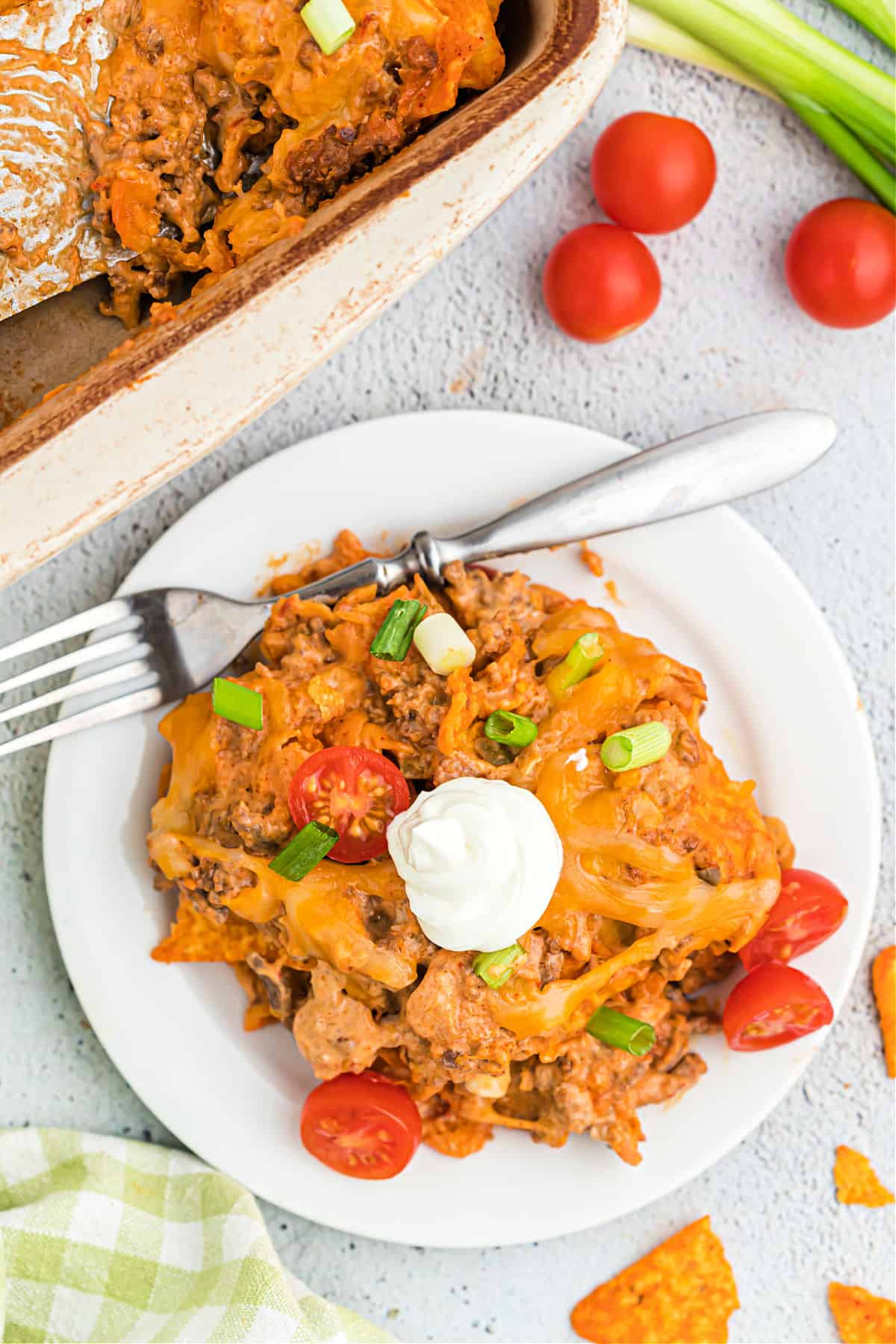 Why this Recipe Works
When life is especially busy, I reach for recipes like this easy dinner recipe. Doritos Casserole uses convenient ready made ingredients and turns them into a flavorful homemade dinner.
Layer Doritos in a pan with seasoned ground beef, sour cream and queso. Top with shredded cheese, bake and serve! It's that easy. About as easy as our 7 layer taco dip!
If you make the taco meat ahead of time, you can have dinner on the table in about 30 minutes. Even if you need to brown the meat right beforehand, it only adds a few more minutes to the prep time.
Dorito Casserole can easily adapt to suit any taste! Use different kinds of salsa or other Dorito flavors to mix things up.
Kids love this casserole and adults gobble it up too. Even on the busiest weeknights you can have a hearty, delicious family dinner!
Ingredient Notes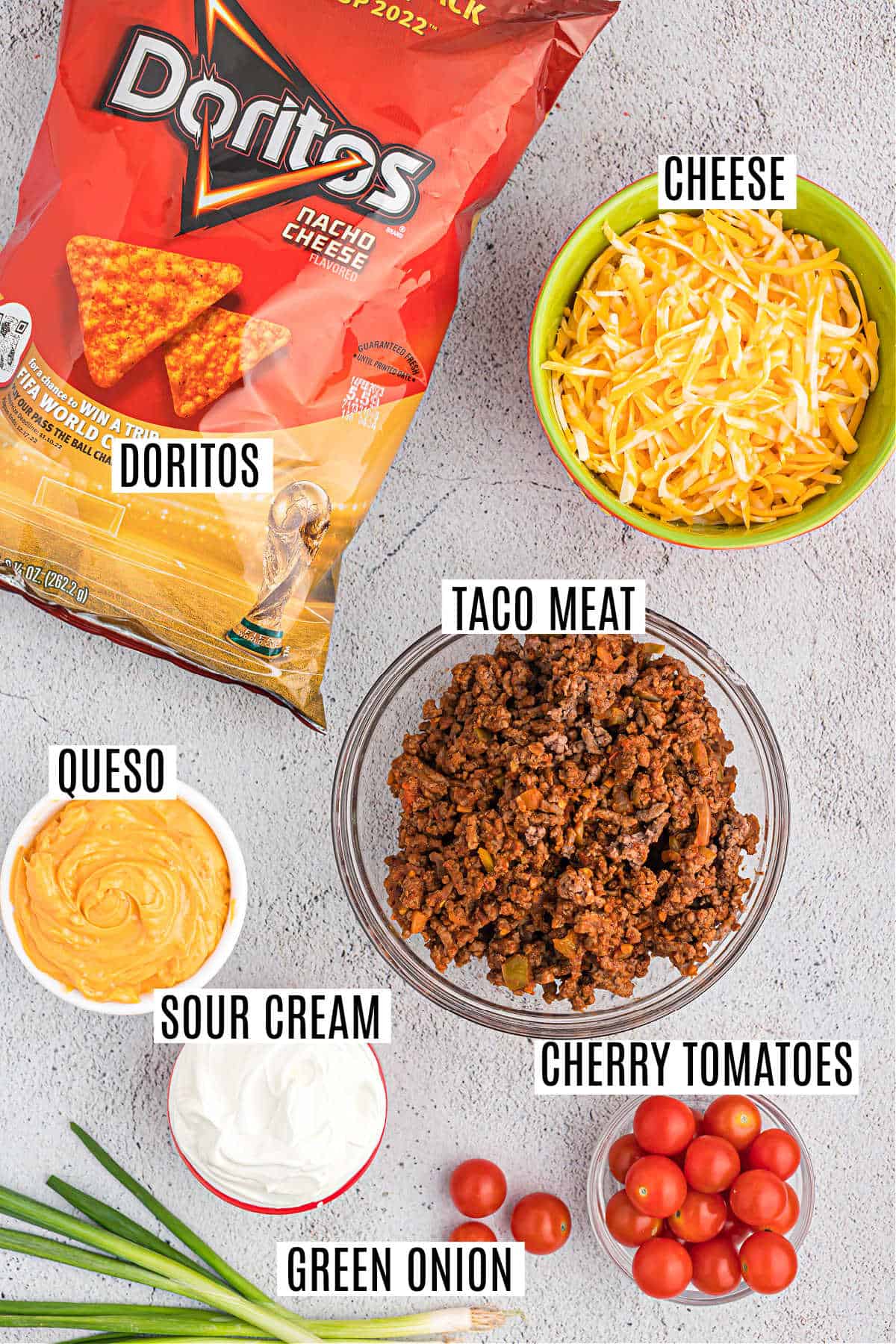 Doritos. I used nacho cheese flavor. Other flavors like spicy nacho, cool ranch or sweet chili can be used instead. You can even use the southwest tortilla strips if prefered.
Taco Meat. Use our easy slow cooker taco meat, or whip up some ground beef with taco seasoning to use in this recipe.
Salsa Con Queso. Use homemade queso if you don't want to use storebought.
Mexican cheese. Or substitute shredded cheddar.
Easy Instructions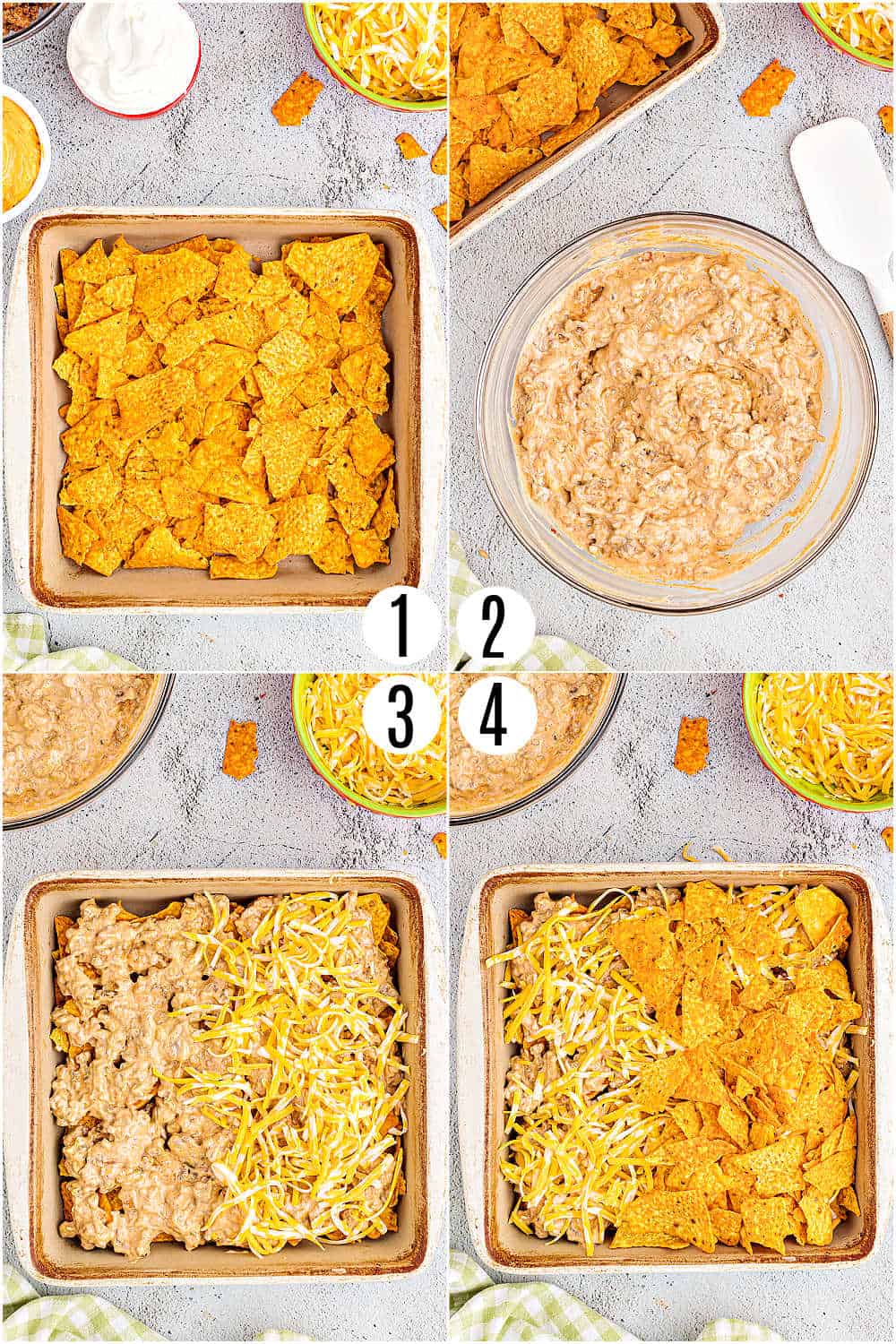 Lightly break the Doritos into large pieces with your hands. Layer half of the chips on the bottom of a baking dish.
Combine the taco meat with the sour cream and salsa con queso. Layer half of this mixture onto the Doritos. Add half the shredded cheese.
Repeat with another layer of chips, taco meat and cheese.
Cover the dish with foil and bake for 20 minutes. Uncover and bake for another 10 minutes until the cheese is bubbly.
Serve hot! Garnish with chopped green onions and cherry tomatoes if desired.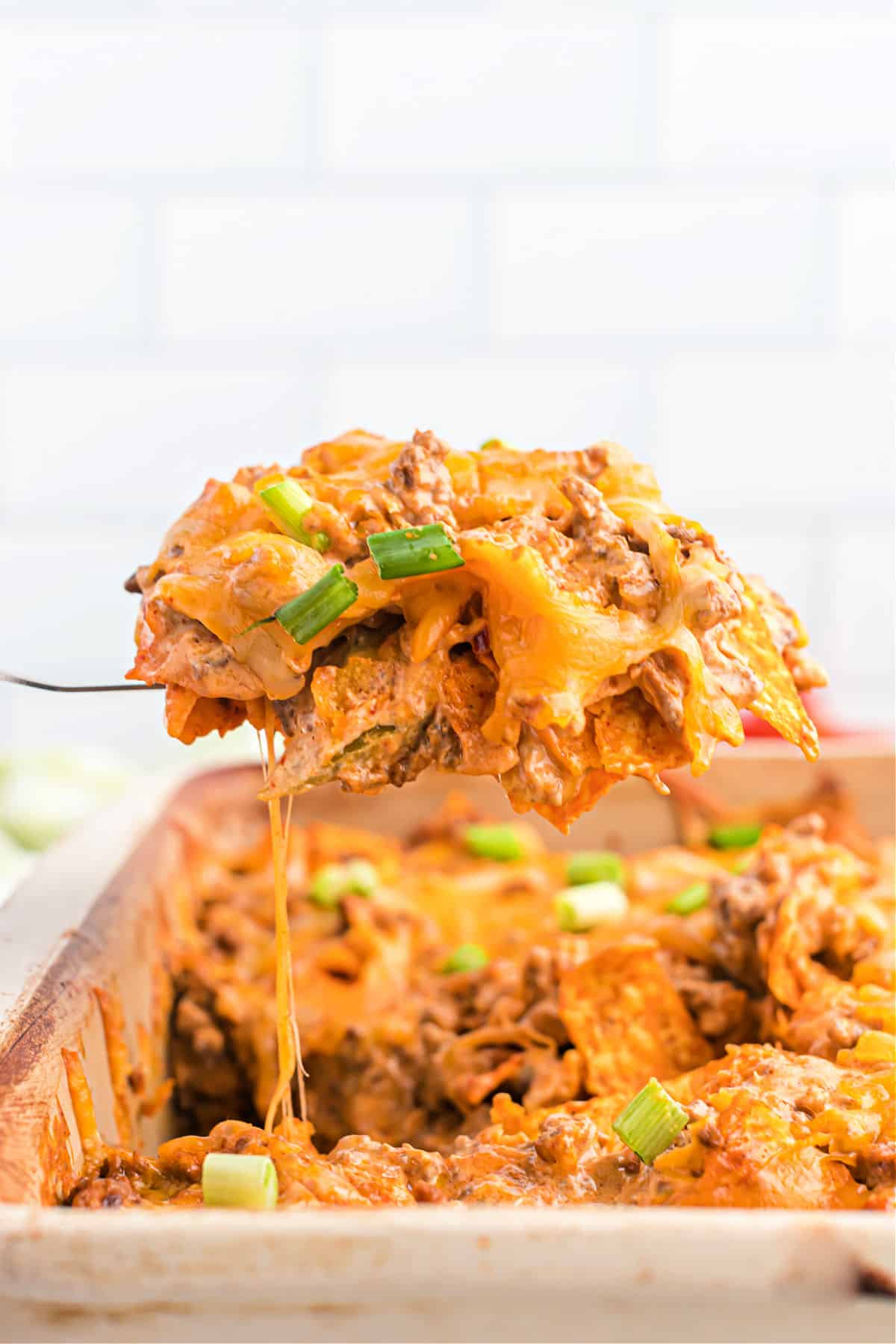 Tips & Tricks
Optional toppings. Other taco toppings like shredded lettuce and guacamole taste great on Dorito Casserole. Pico de Gallo is another delicious topping here.
Don't break chips too finely. The Doritos should stay a little crunchy as the casserole cooks. If you break them up too finely they'll turn mushy.
Make taco meat ahead of time. This is a great use for leftover taco meat that's been refrigerated. It'll reheat perfectly as the Dorito Casserole cooks.
Serve. This dish is delicious with a side of Mexican Street Corn Salad and a dessert of churros!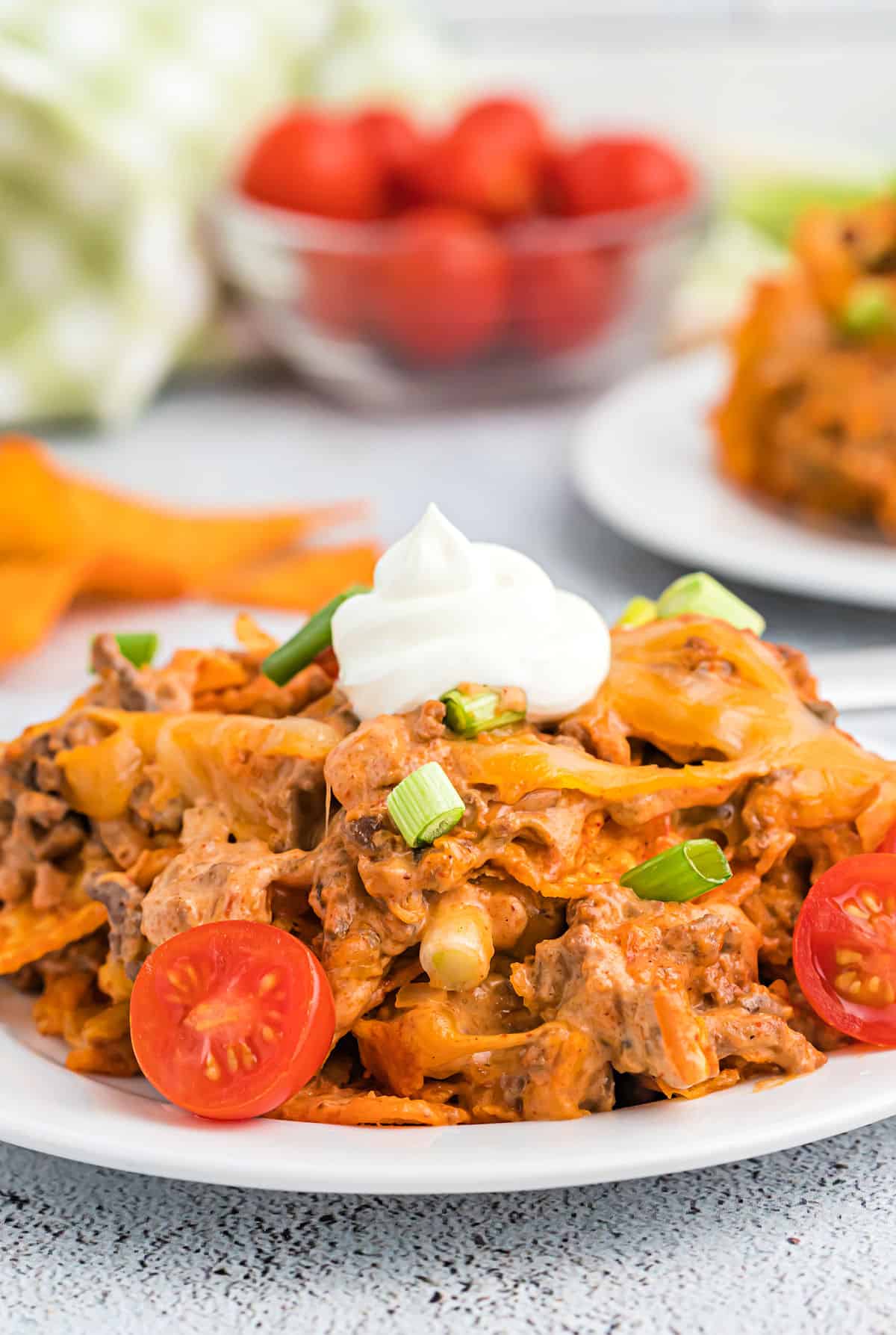 Recipe FAQs
What's the best taco meat to use for Doritos Casserole?
To make the taco meat fresh: brown 1 pound of ground beef in a skillet with a packet of taco seasoning. Stir in a jar of salsa and cook until thickened. Add to casserole as directed.
What can I use instead of Salsa con Queso?
If you can't find salsa con queso, make your own by combining 3/4 cup of queso dip with 1/4 cup of salsa.
Can this be made with other kinds of chips?
Yes. Instead of Doritos, you can use regular tortilla chips or corn chips. The flavor will be different but it will still make a nice cheesy taco casserole!
How do you store this?
Store leftovers covered in the refrigerator. Reheat and enjoy within 2 days. It tastes best fresh right from the oven!
How do you reheat Doritos Casserole?
This is best reheated in the oven until the cheese is melted and everything is warmed through. I do not recommend microwaving this casserole. The chips will soften to an unappealing texture.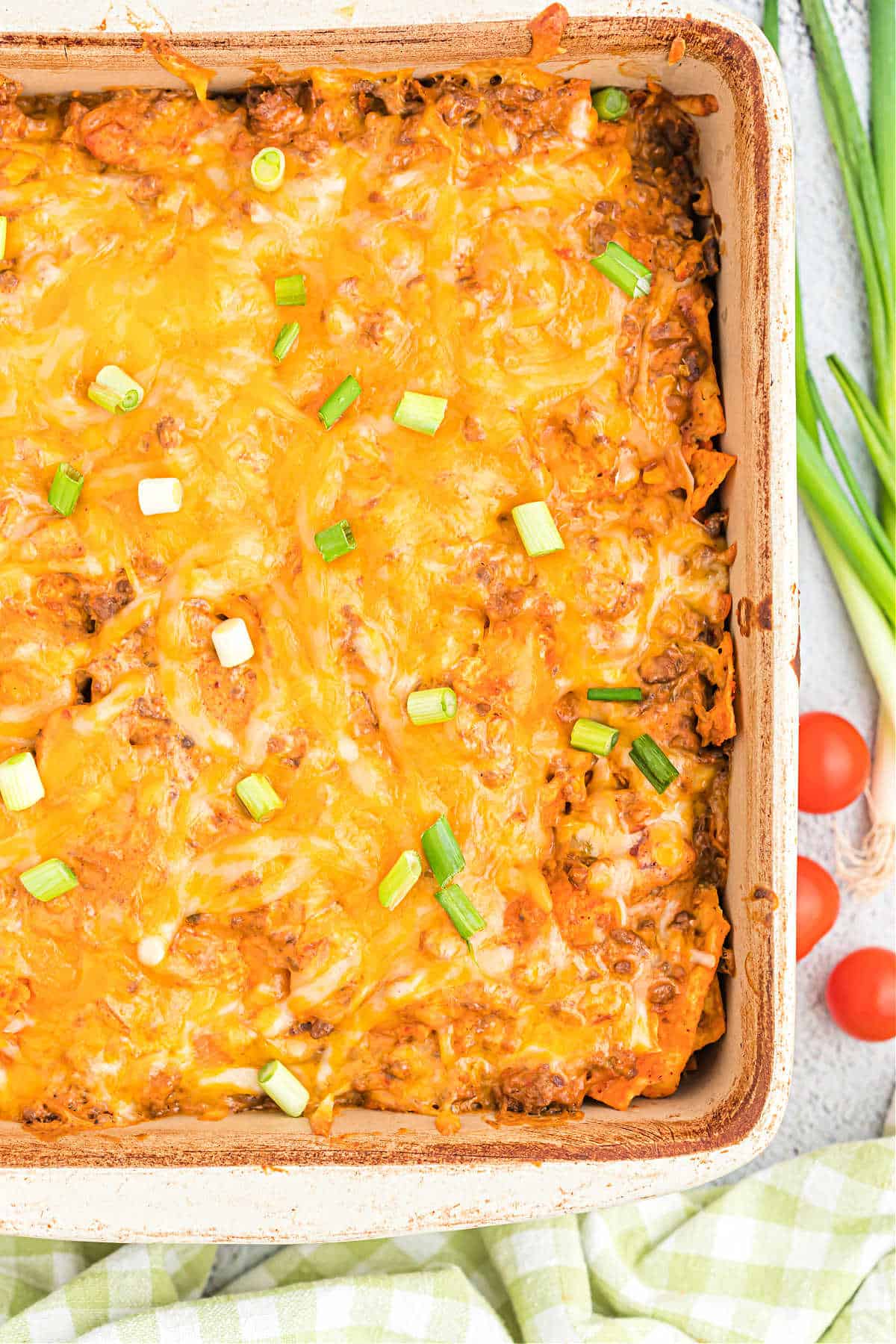 More Easy Dinner Recipes
Turn a bag of Doritos into a spicy taco casserole! Once you try this, it's sure to get a regular spot in your family dinner rotation.