This Strawberry Eclair Cake is made using Cheesecake JELL-O in the filling. Plus there's no oven needed which means it's perfect for the warmer weather!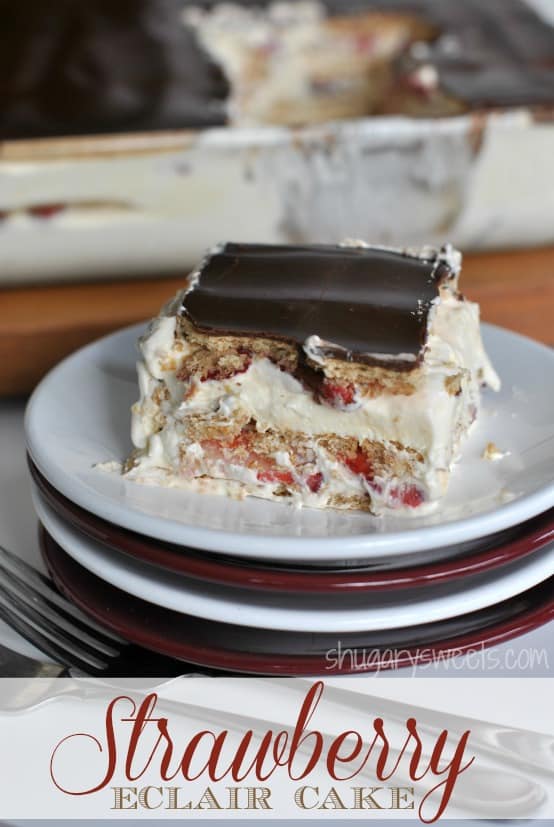 Chocolate Eclair Cake is one of my favorite desserts. It's so easy to make too, and it feeds a crowd! If you've never made it before, it's just layers of graham crackers with pudding (mixed with Cool Whip), then topped with Chocolate Frosting.
I knew I wanted to make a strawberry version and when I saw the Sugar-Free Cheesecake JELL-O at Kroger it was calling my name. I used skim milk, Fat Free Cool Whip, and Low Fat Honey Grahams. Then I ate half a pan of this dessert and convinced myself it was health food.
This dessert is perfect now that the weather is warming up. I love coming in from evening activities and serving my family a cool, refreshing dessert. We grow a huge strawberry patch in our yard every year and I can't wait for the berries to be ripe so I can make more of this cake!
Oh, and I think chocolate grahams would be delicious. Or chocolate pudding with the strawberries. Seriously so many options!
This treat reminds me of our favorite Chocolate Covered Strawberries!
How to make No Bake Strawberry Eclair Cake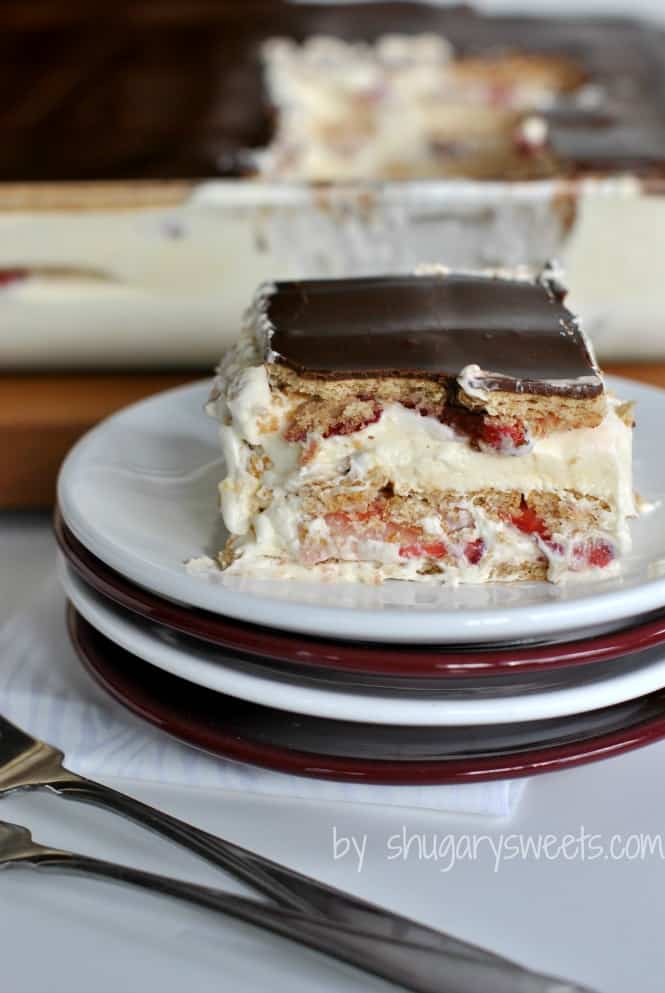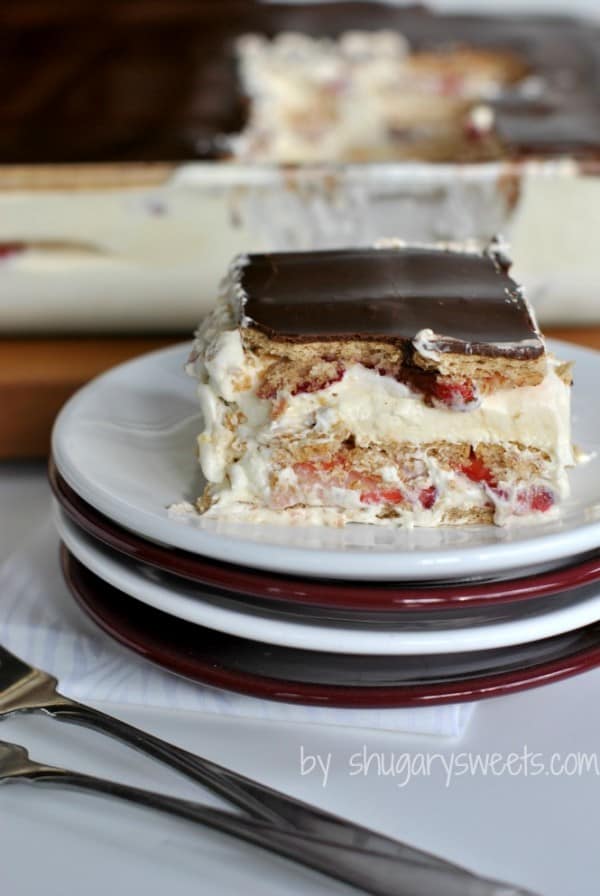 In a large mixing bowl, combine both boxes of INSTANT pudding mix with milk. I used sugar free with skim milk, but choose what you prefer.
Once blended, fold in thawed Cool Whip, set aside.
In a 13×9 baking dish, lay full size graham crackers on the bottom. Top with half of the pudding mixture.
Place half of the sliced strawberries on top of the pudding. Repeat layers with graham crackers, remaining pudding, and remaining strawberries.
Top with one more layer of graham crackers.
For the frosting, mix melted baking chocolate with corn syrup. Add vanilla, butter, powdered sugar, and milk and whisk thoroughly until smooth.
Using an offset spatula, spread over the top layer of graham crackers.
Cover and refrigerate cake for 2 hours or overnight. ENJOY.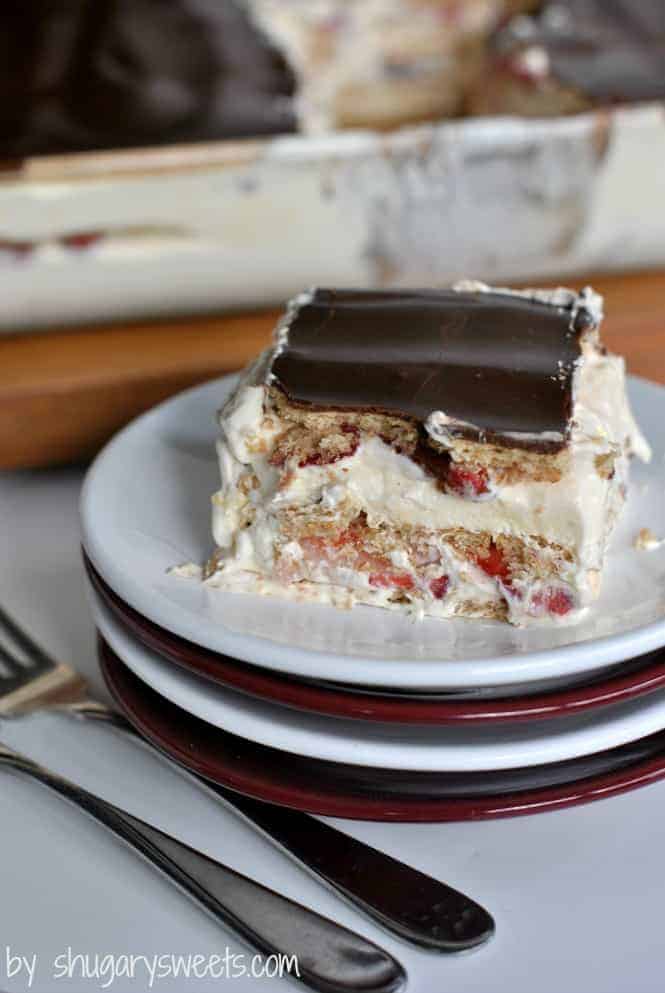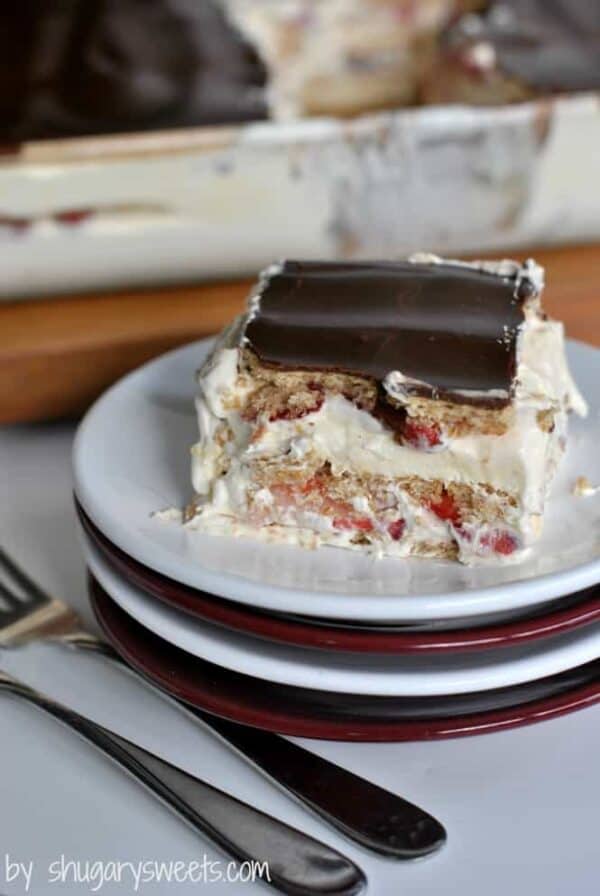 I made my own chocolate frosting (because I love the rich flavor paired with the light dessert). But if you want to buy canned frosting go for it! If you have the extra minutes though, TRY this homemade version, it's quite tasty and very easy too. No pressure!
You'll love bringing this NO Bake treat to potlucks and parties!
More No Bake Dessert Recipes
Easy to make, this No Bake Cheesecake is perfect any time of year. For a little more sweetness, top it with some Cherry Pie filling!
Chocolate Peanut Butter Lasagna is a no bake, light yet decadent dessert! Packed with flavor, you'll watch this disappear in no time!
Layers of cinnamon graham crackers, vanilla pudding and fresh banana make this no bake Banana Eclair Cake a huge summer hit! To top it off, I literally topped it off a cinnamon glaze!
Too hot to turn on the oven? Try making this No Bake Peanut Butter version of a Chocolate Eclair Cake!