These gorgeous Peanut Butter and Jelly Sandwich Cookies are made with 4 simple ingredients. Sweet strawberry preserves are layered between chewy peanut butter cookies for a treat grown ups love as much as kids!
Cookie sandwiches are the best sandwiches. These Chocolate Chip Sandwich Cookies get devoured as fast as you can make them!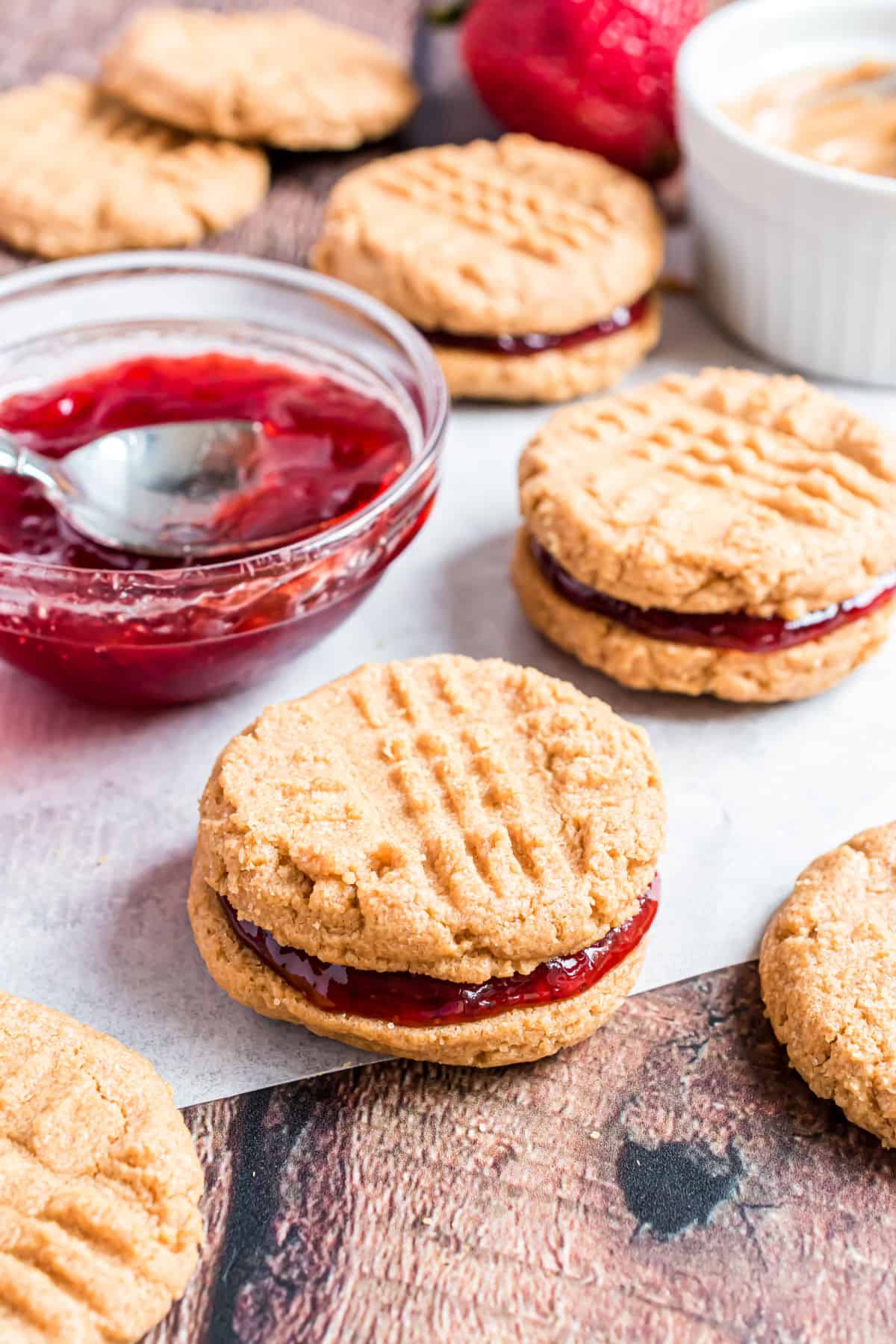 Why this Recipe Works
Who else still eats Peanut Butter & Jelly sandwiches?
When you think about it, that childhood staple is kind of the perfect food: sweet, salty and easy to eat anywhere.
4 ingredients needed to make perfect PB&J cookies!
Made with nutty peanut butter for a wholesome taste.
Mix up the jelly center with different flavors of preserves.
Quick and easy to make.
Naturally gluten free cookie recipe!
Peanut Butter & Jelly cookies are inspired by the sandwich in your school lunch box. They start with a super easy 3 ingredient peanut butter cookie recipe.
Add a slather of strawberry preserves and enjoy a nostalgic, delicious and beautiful treat. Serve with an ice cold glass of milk to make the experience complete!
Ingredient Notes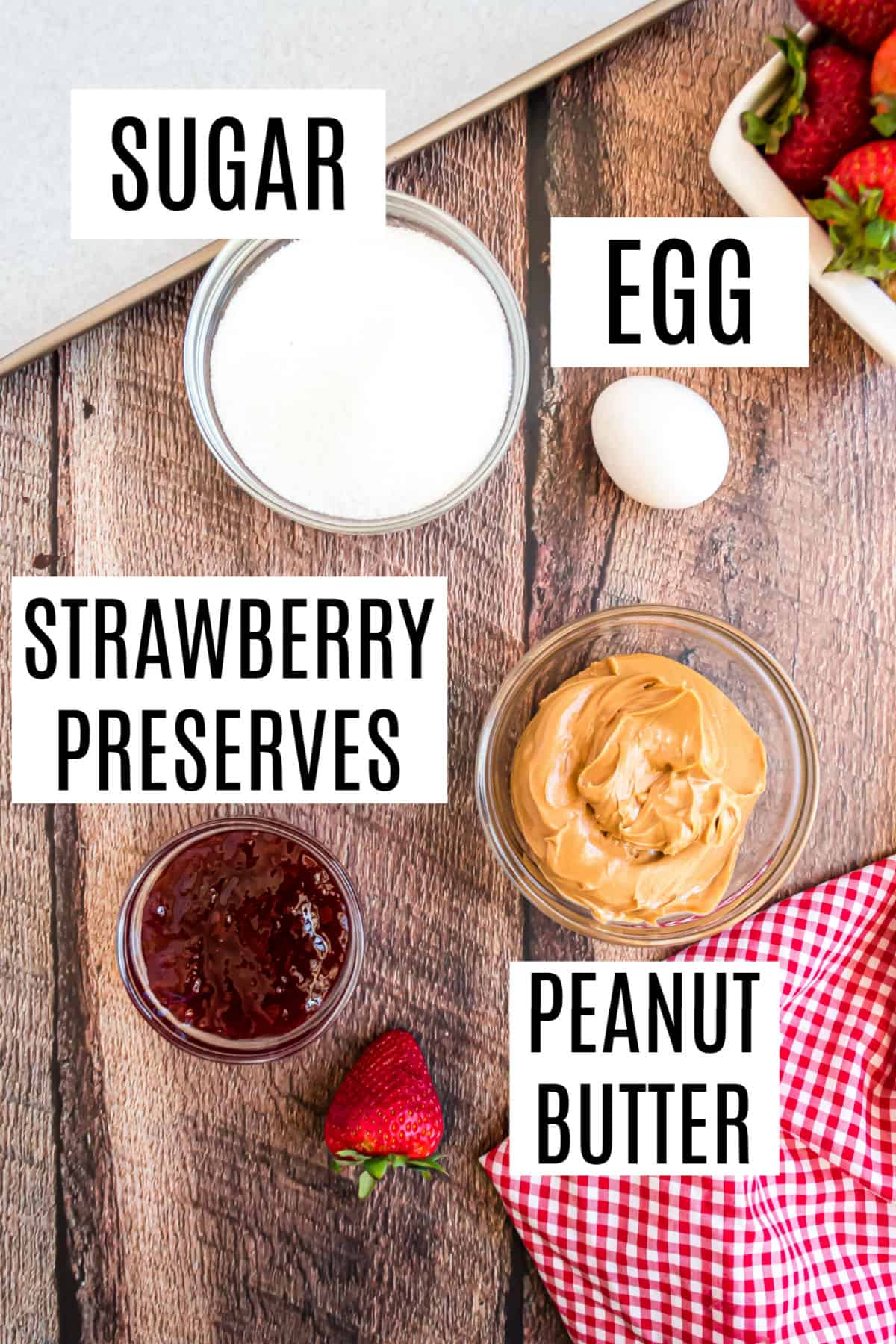 Only 4 ingredients for today's easy peanut butter cookie recipe!
Creamy peanut butter. I used creamy peanut butter for these cookies! A sugar free variety works great, you can even use natural, just be sure to stir well if the oils are separated.
Egg. One egg is all you need to add moisture and chewiness to the cookie.
Sugar. Sweeten the cookie with some granulated sugar!
Strawberry preserves. These can be swapped for other fruit preserves, jams, jellies or even marmalade. Our homemade strawberry jam would be perfect.
Easy Instructions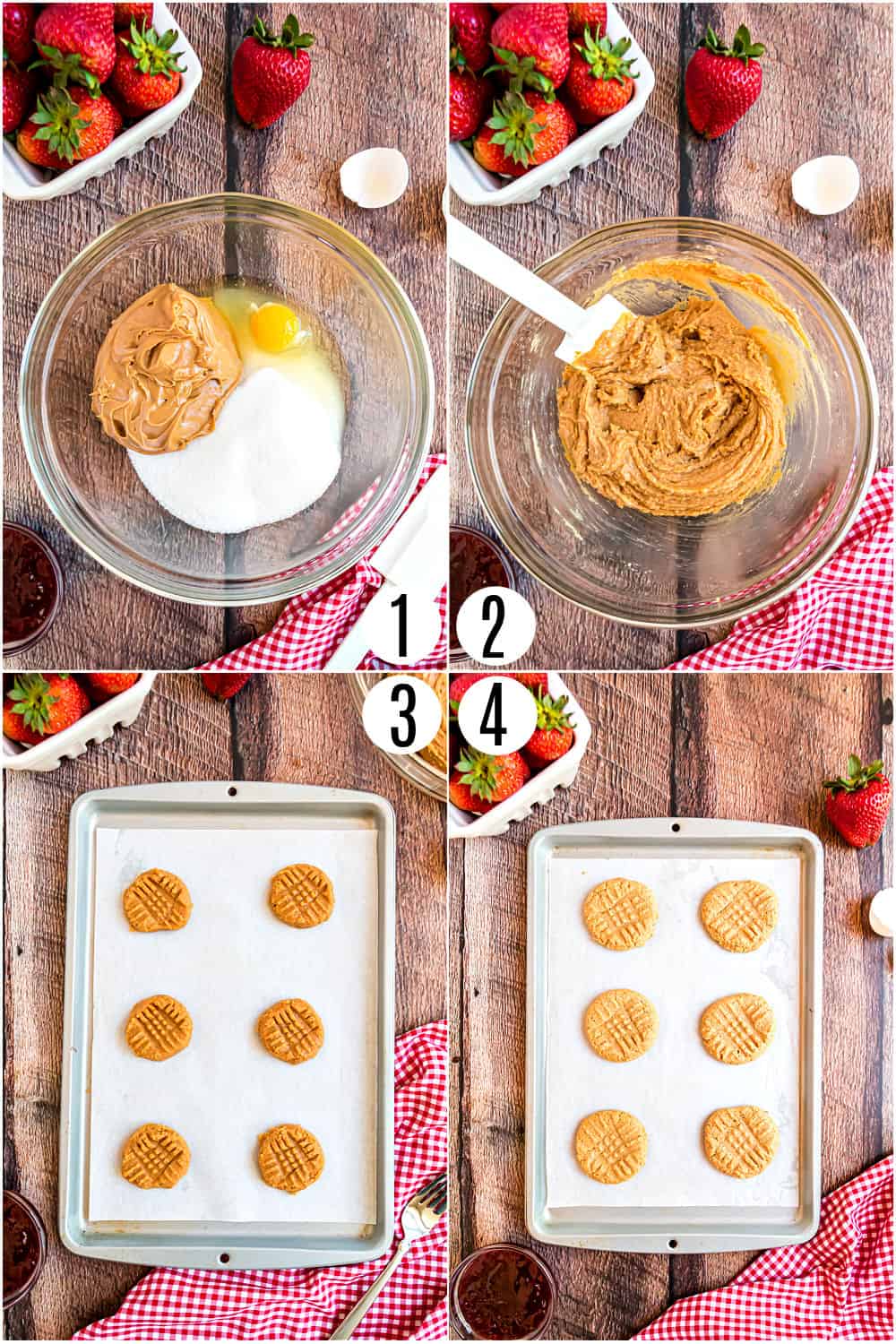 Make the peanut butter cookie dough first. Scoop by the spoonful onto a baking sheet and flatten the tops with the tines of a fork.
Bake until lightly browned. Once cooled, spoon a dollop of preserves onto the flat side of a cookie.
Sandwich with another cookie and serve!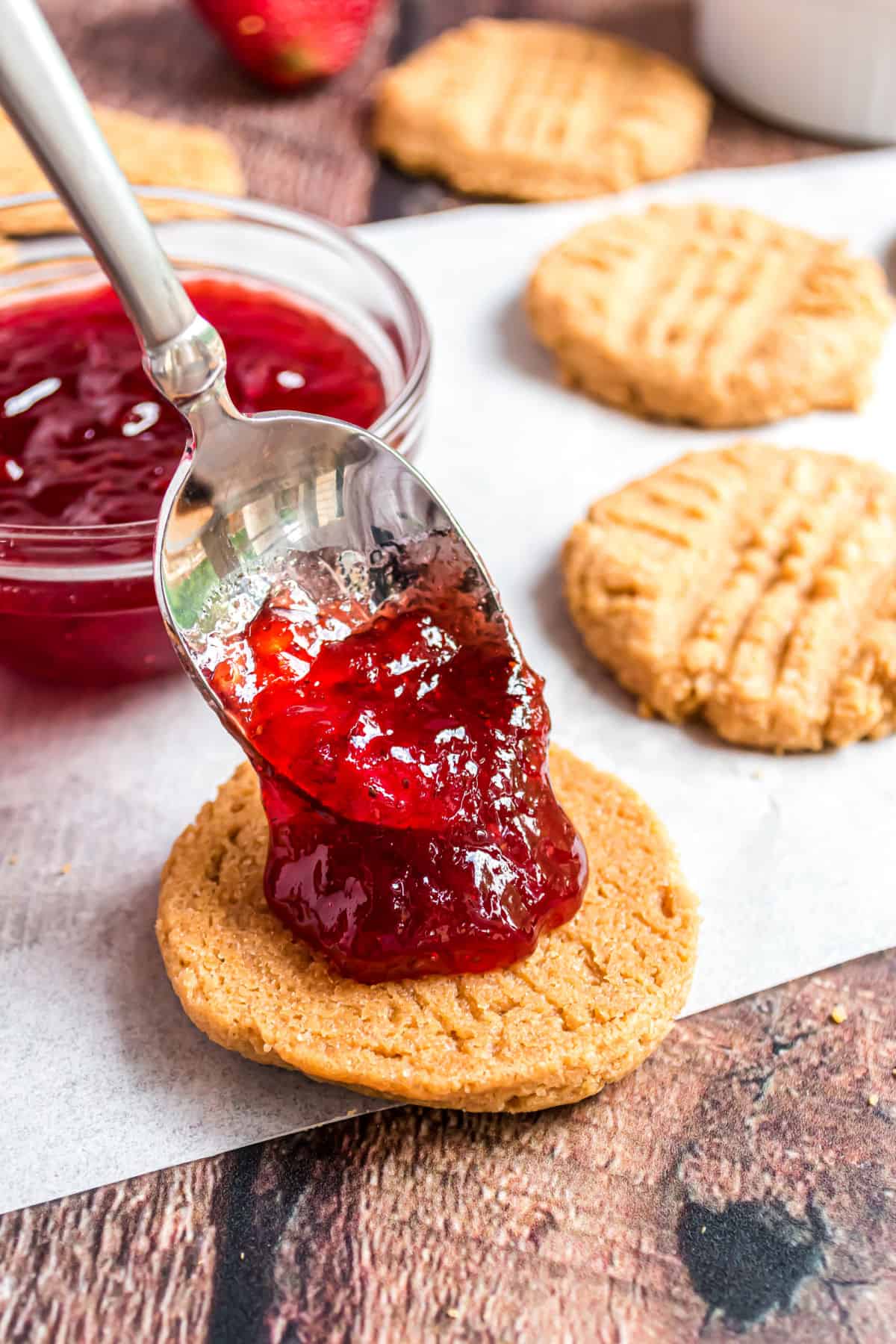 Tips & Tricks
Pair cookies of similar size for best looking sandwiches.
Use a 1 tablespoon measuring spoon or scoop to make the cookies as evenly sized as possible.
If your peanut butter is refrigerated, let it come to room temperature before adding to the recipe. This makes it easier to mix the dough and incorporate the ingredients.
Store in the refrigerator for up to 3 days.
Recipe FAQs
Do I have to use natural peanut butter?
No, you do not. These Peanut Butter & Jelly cookies work well with any kind of creamy peanut butter.
Are these cookies crunchy or soft?
These are on the softer side of peanut butter cookies. They will harden a bit as they cool but aren't crunchy.
Why are my peanut butter cookies crumbly?
Peanut butter cookies get crumbly if they are removed from the baking sheet too soon. Let them cool on the sheet for several minutes before attempting to remove them. I also recommend lining your baking sheet with parchment paper. Then, you can slide them right off on the paper instead of using a spatula.
Is this recipe gluten free?
Yes, this recipe contains no flour making it free of wheat and gluten. If you are baking for someone with Celiac disease or a severe gluten allergy, be sure to make sure to peanut butter you use is certified gluten free.
How long do these cookies keep?
Stored covered in the refrigerator, PB&J cookies stay good for about 3 days.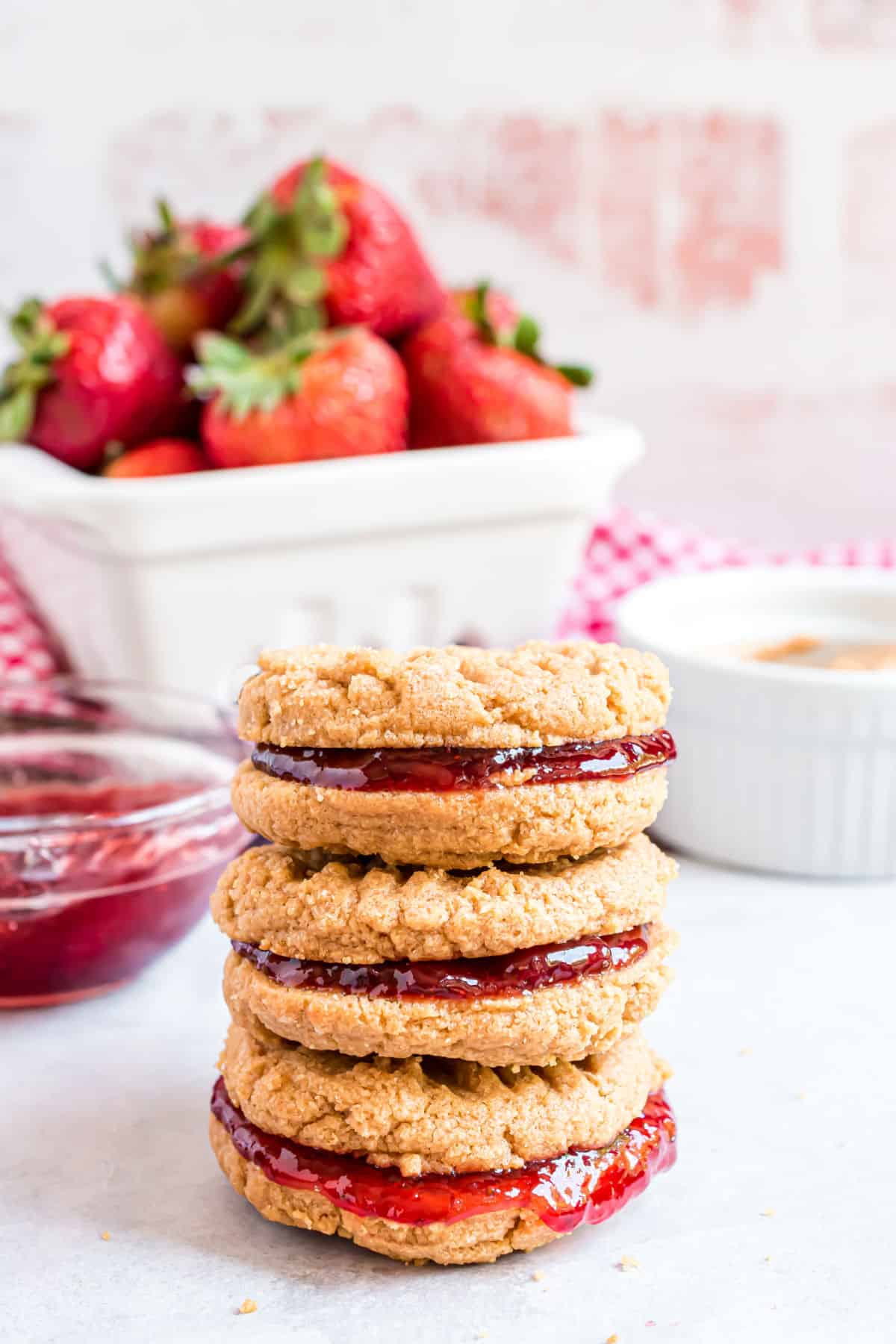 More Cookie Recipes
The easiest Peanut Butter and Jelly Sandwich Cookie with the best taste! These little cookies are delicious anytime, anywhere.