Delicious, easy Peppermint Cream Bites, just in time for the holidays!! It's like combining a Peppermint Patty with an Oreo cookie!
Be sure to sign up for my email…new recipes in your inbox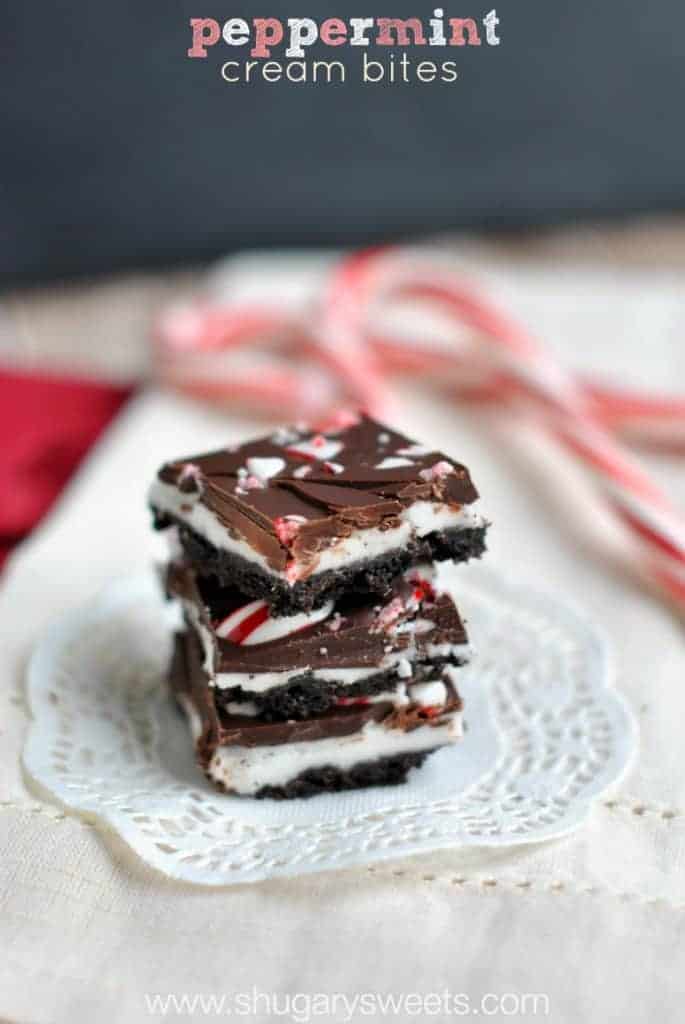 I hope you don't mind, but I think it's time to dive deep into the holiday desserts. Who's with me?
I'm pretty sure if I tell you that today's recipe is one of my FAVORITE holiday desserts so far this season, you might be interested?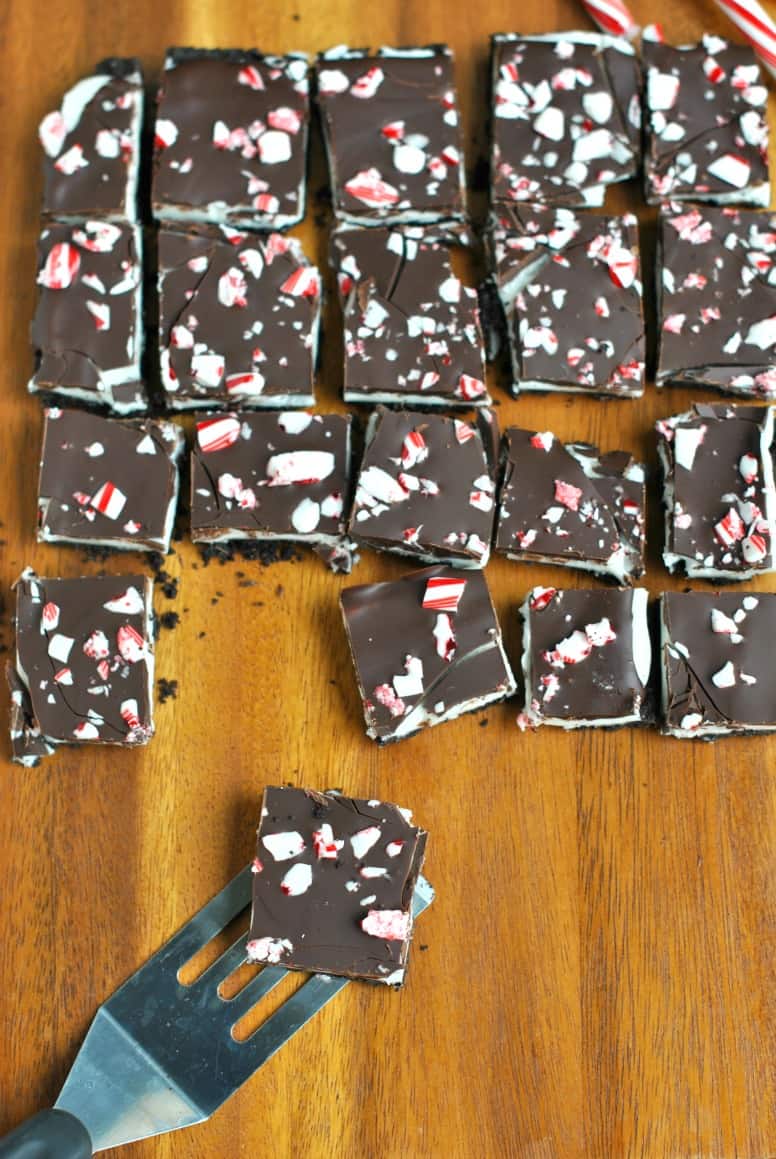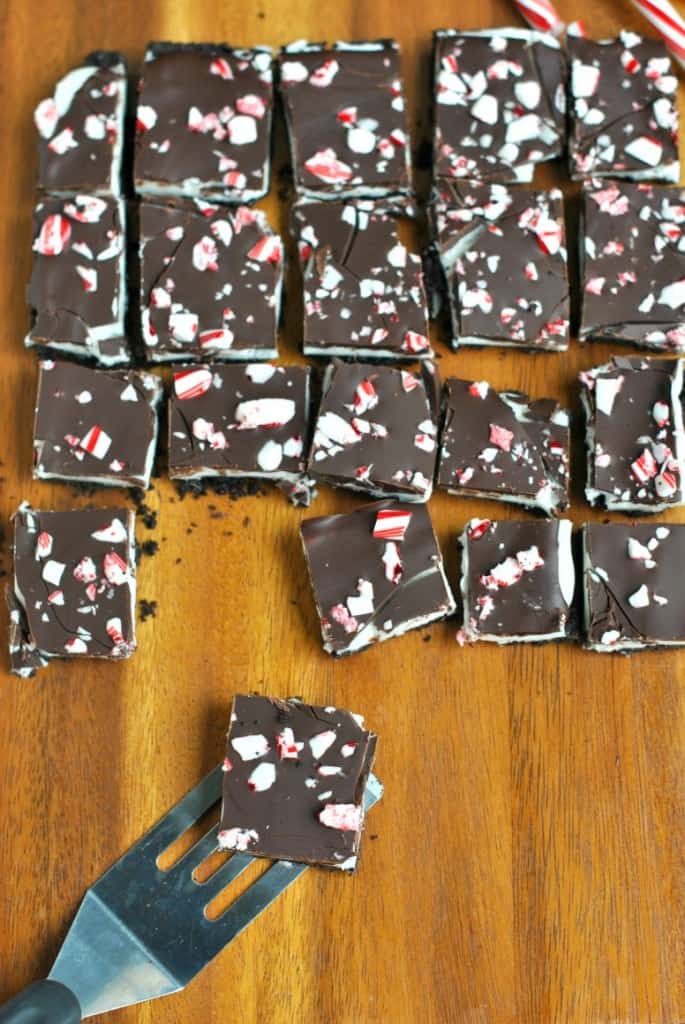 Or would you raise your eyebrows and say, "she always says it's her favorite!"?
What if I told you the taste is so amazing, it's like combining an Oreo Cookie with a Peppermint Patty. Does that make you more intrigued? And that it's easy to make!!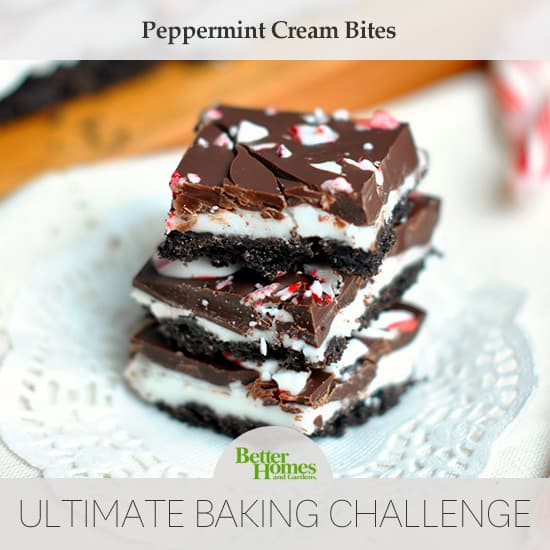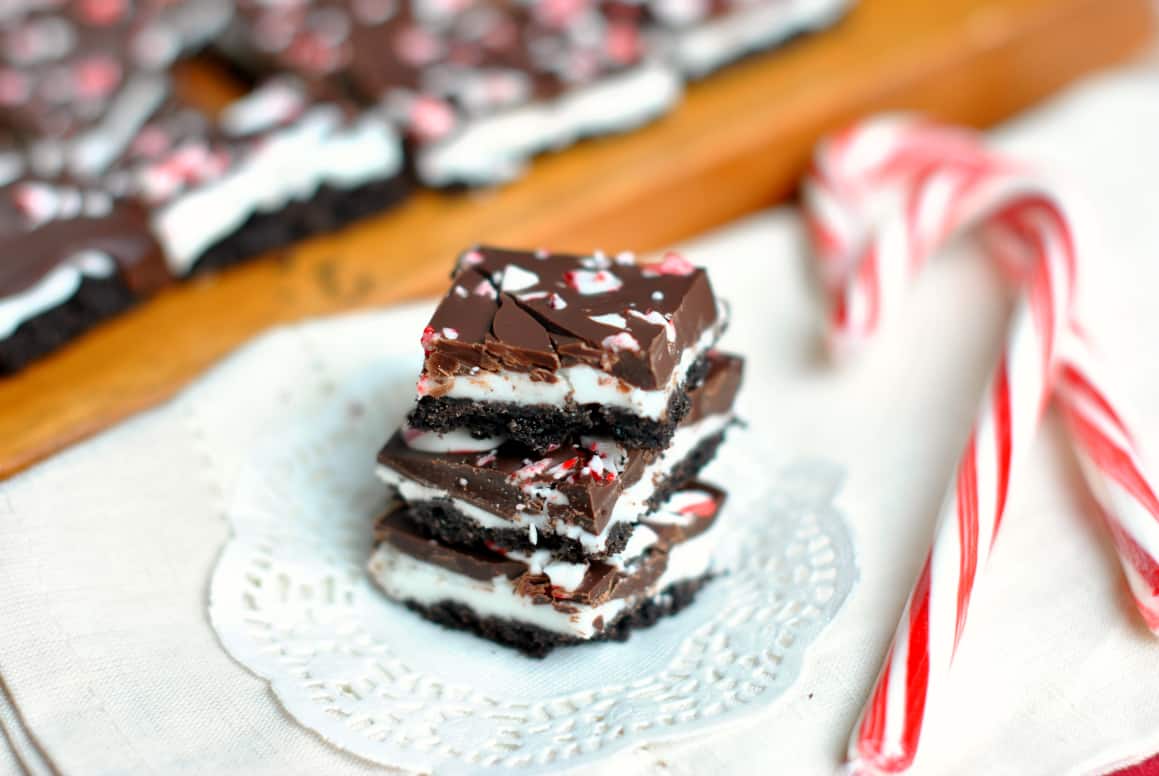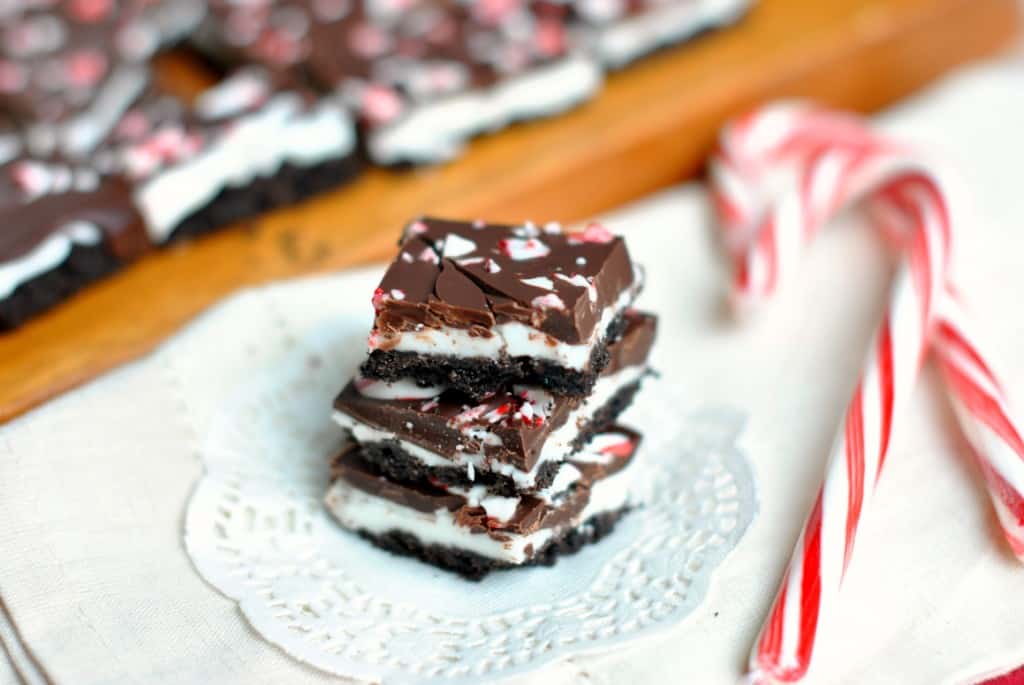 Still looking for the recipe?
Yield: 24
Peppermint Cream Bites
Ingredients
1 1/2 cups crushed chocolate sandwich cookies with white filling (15 cookies)
3 tablespoons butter, melted
2 cups powdered sugar
2 tablespoons butter, softened
2 tablespoons milk
1 teaspoon peppermint extract
6 ounces bittersweet chocolate, chopped
2 teaspoons shortening
2 peppermint candy canes, crushed, for garnish
Instructions
Preheat oven to 350 degrees F. Line an 8x8x2-inch baking pan with foil, extending foil over edges of pan; set aside.
In a medium bowl combine crushed cookies and melted butter. Press mixture into the bottom of prepared pan. Bake for 8 minutes. Cool slightly in pan on a wire rack.
Meanwhile, in a food processor combine powdered sugar and softened butter. Cover and process until butter is evenly distributed. With processor running, add milk and peppermint extract through feed tube until a paste forms. Spread peppermint mixture evenly over prepared crust. Freeze for 45 minutes.
In a medium microwave-safe bowl combine chopped chocolate and shortening. Microwave on 100 percent power (high) about 1 minute or until chocolate is melted, stirring once. Let chocolate cool for 15 minutes. Pour chocolate over peppermint layer, spreading evenly. Sprinkle immediately with crushed candy canes.
Using the edges of the foil, lift uncut bars out of pan. Use a 1-1/2-inch round cookie cutter to cut into rounds* or use a sharp knife to cut into squares. Store in the freezer until serving time.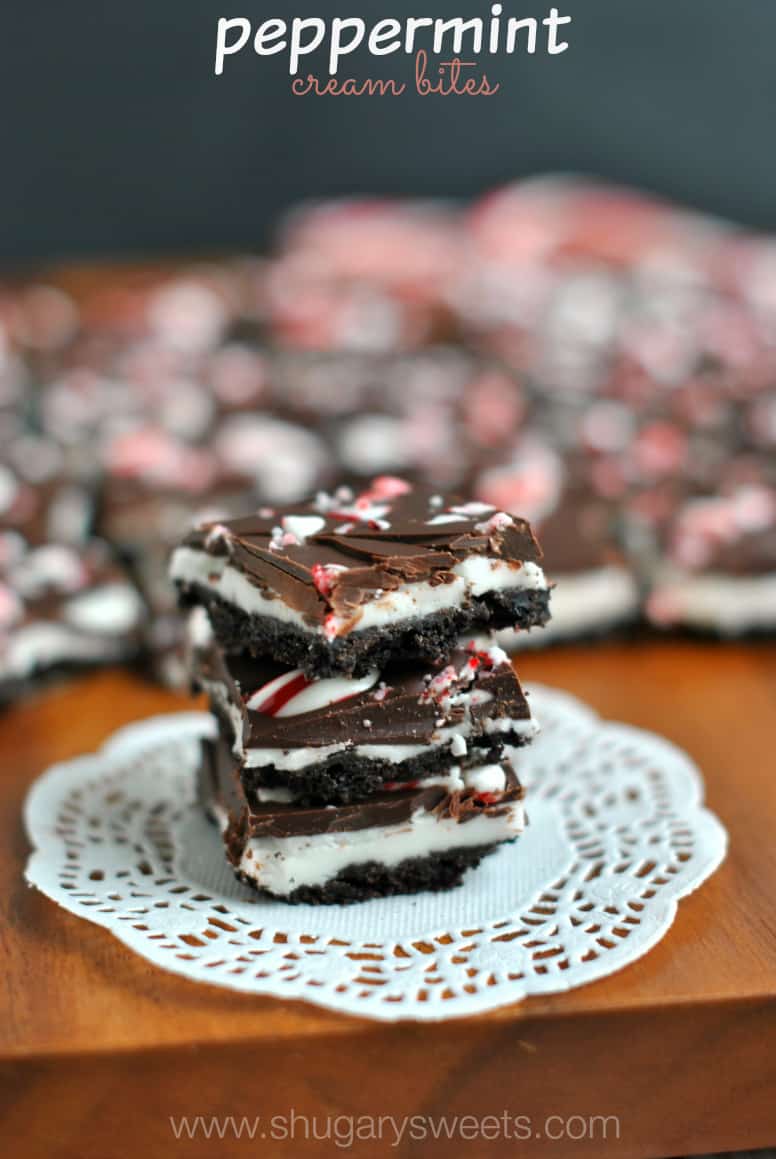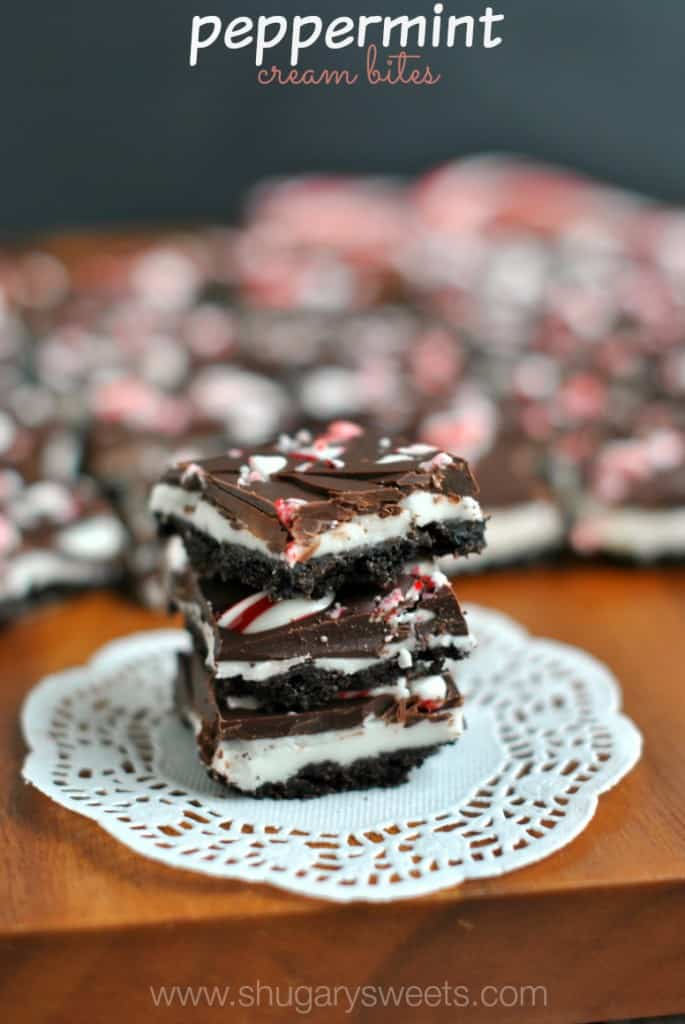 Drooling yet?