Salted Caramel Mocha Truffles are rich and decadent with a velvety smooth center and crunchy chocolate shell. Sweet caramel is balanced by a hint of sea salt in this easy truffle recipe!
Homemade truffles taste better than anything you can buy at the store. If you like these caramel truffles, try my Samoa Truffles next!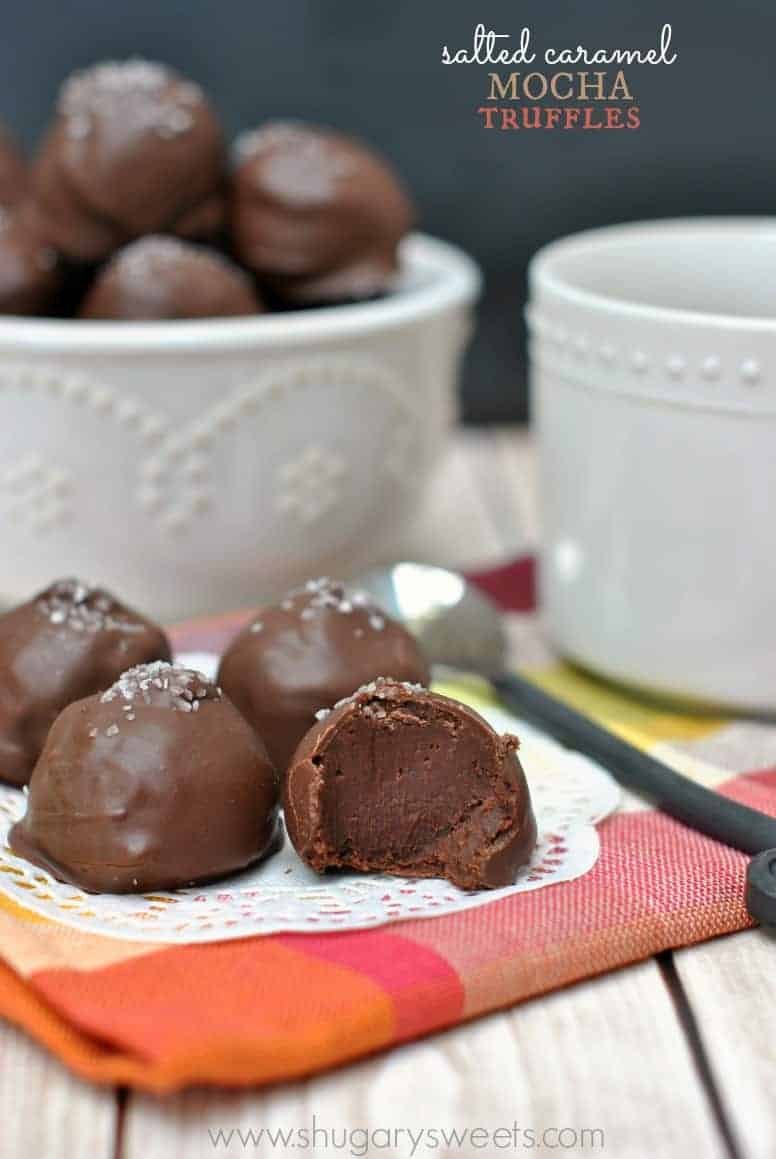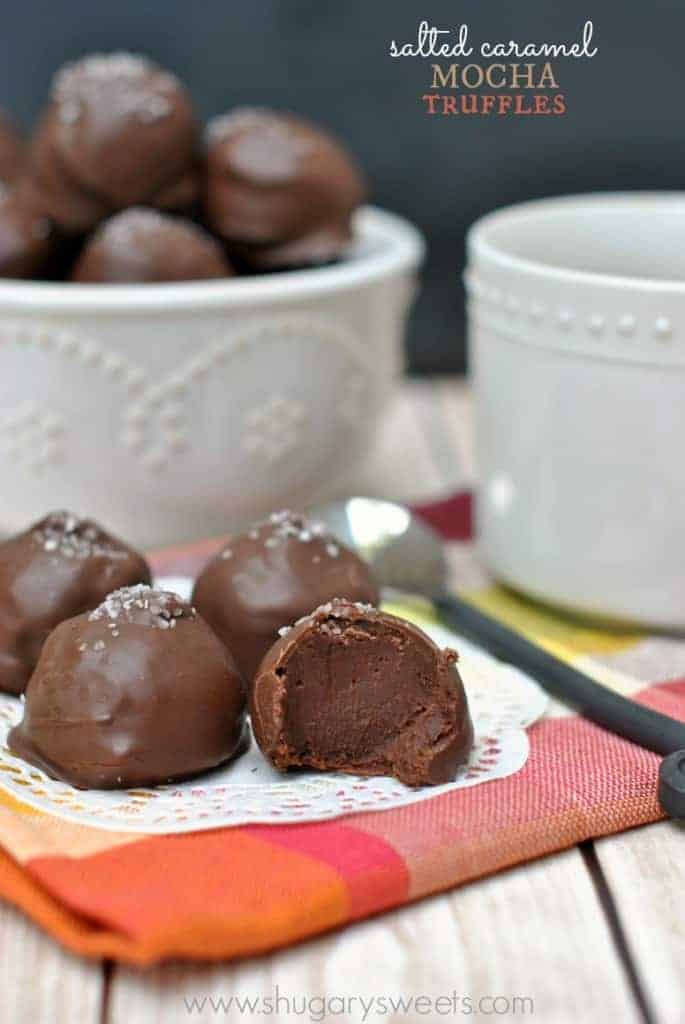 Why This Recipe Works
It's no secret that coffee and chocolate were destined to be combined. I even use coffee to deepen the chocolate flavor in my trusty chocolate cake recipe!
This recipe is loosely based on my chocolate truffles recipe. I made a few tweaks inspired by my affinity for caramel mocha coffee drinks and the resulting truffles tasted so delicious, it took all of my self-control not to eat them all myself.
Dark chocolate yields to a creamy caramel mocha center in this easy candy recipe.
Garnished in sea salt for a satisfying balance of flavors.
Only 30 minutes of active prep time.
Truffles make a tasty handmade gift for the holidays!
These are the perfect treat for anyone who loves coffee and chocolate.
Ingredient Notes
Espresso powder – A highly concentrated powdered coffee that makes the chocolate flavor "sing" in these truffles. If you can't find espresso powder, a dark roast instant coffee makes a decent substitute.
Caramel bits – Melted with heavy cream, these add the caramel flavor to the center of the truffles.
Milk chocolate morsels – The sweet and creamy milk chocolate blends beautifully with caramel and espresso.
Dark chocolate melting wafers – A bitter and deeper cocoa flavor creates a decadent coating for the sweet caramel mocha center.
Sea salt flakes – Sprinkled on the finished truffles, coarse salt adds a delightful crunch to the smooth truffles while enhancing the chocolate and caramel.
Tips and Tricks
The key to making truffles without a candy thermometer is patience.
This recipe requires chilling the ganache for at least 3 hours before scooping it onto a baking sheet to form the center of the truffles. Freeze the centers for another hour to ensure they're solid enough to dip into the melted chocolate.
Use a toothpick to dunk the frozen centers into the dark chocolate. Tap the truffles on the side of the bowl to remove any excess chocolate.
Finally, drop the coated truffles onto a lined baking sheet and sprinkle them immediately with sea salt.
Let the salted caramel truffles set for a few minutes before eating.
Tips and Tricks
Do these truffles need to be refrigerated?
Yes, salted caramel mocha truffles keep best stored in the refrigerator in an airtight container. They stay good for up to 2 weeks.
Can I dip the truffles in milk or white chocolate instead?
Yes, any flavor of melting wafers will work! In testing, we preferred the taste of dark chocolate when paired with the milk chocolate caramel center. Milk or white chocolate would be delicious but definitely sweeter!
Do these truffles taste like coffee?
The Salted Caramel Mocha Truffles have a bit of coffee essence, but taste more like chocolate and caramel than straight up coffee! The espresso powder enriches the chocolate flavor without overpowering it. Even my friends who aren't nuts about coffee enjoyed these truffles.
Can I use table salt instead of sea salt?
You can but you will not get the same flavor or crunchy texture. Table salt is much finer and less flavorful than coarse sea salt flakes, so you would need much more of it to replicate the flavor of the sea salt here. And even then, the results won't be as good.
I highly recommend purchasing a bottle of sea salt flakes or another similar coarse salt for this truffles recipe.