Bring the campfire dessert indoors with this S'mores Cookies recipe! Chocolate chip cookies are flecked with graham cracker crumbs and filled with a melty marshmallow center. Everything you love about S'mores–without the mess!
Want a s'more you can drink? Try this reader favorite S'mores Coffee Milkshake along with your cookie. Or give our super easy S'mores Bars a try today!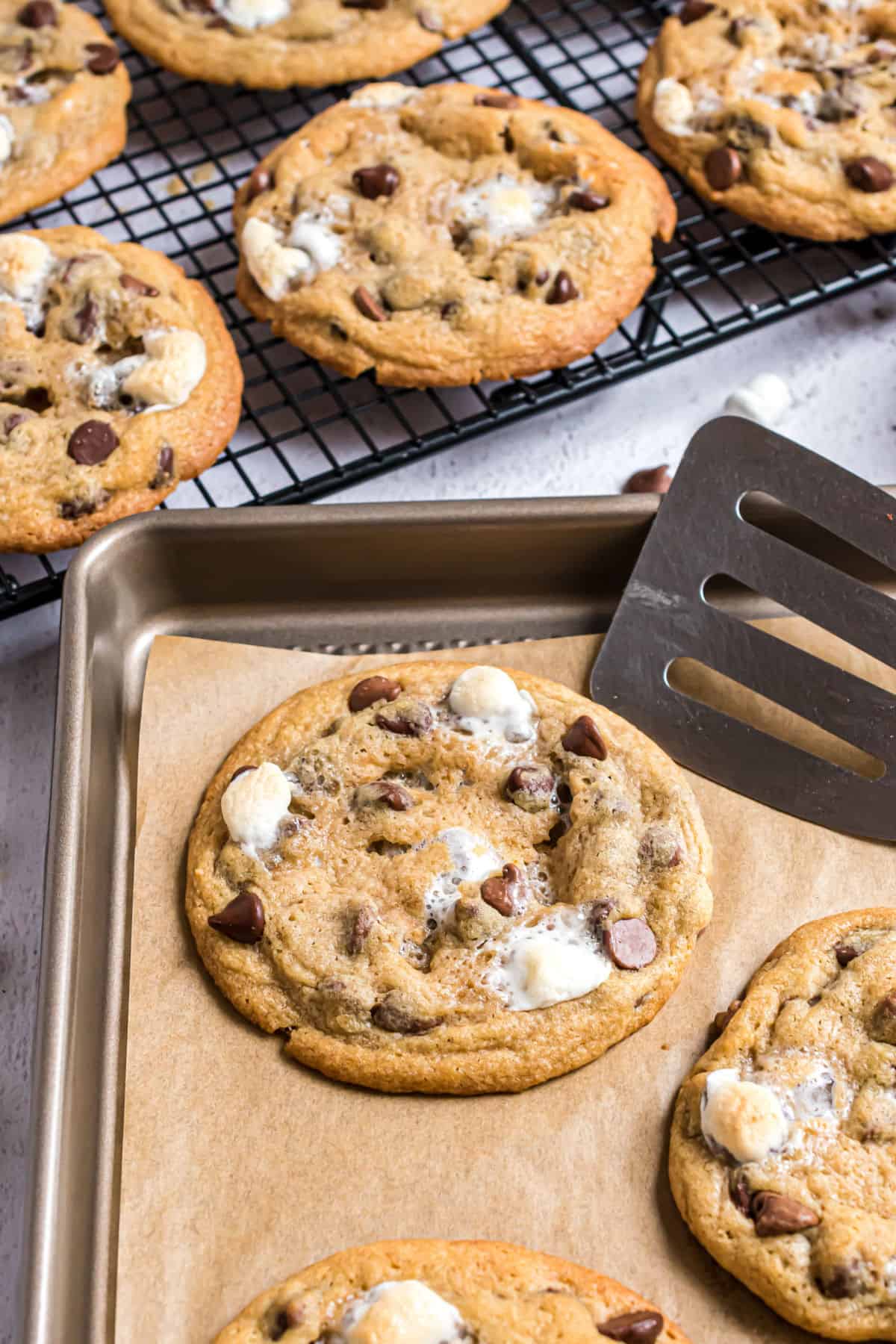 Why this Recipe Works
It's no secret that I LOVE S'mores. It's also no secret that I'm not crazy about the sticky mess they leave behind.
For lots of us s'mores are a seasonal food. They're reserved for campfires and cookouts, or summer nights in the backyard.
This easy S'mores Cookies recipe lets you satisfy your S'mores craving all year long! No fires, roasting sticks or bug spray needed.
Inspired by my Chocolate Chip Cheesecake Cookies, but with a marshmallow filling instead of cheesecake!
Graham cracker crumbs and milk chocolate are folded right into the cookie dough.
Mini marshmallows soften perfectly between cookie layers as the treats bake.
All the amazing taste of classic S'mores but so much less hassle–and no risk of burnt marshmallows!
If you love these cookies, you may also love our easy S'mores Pie recipe too!
Ingredient Notes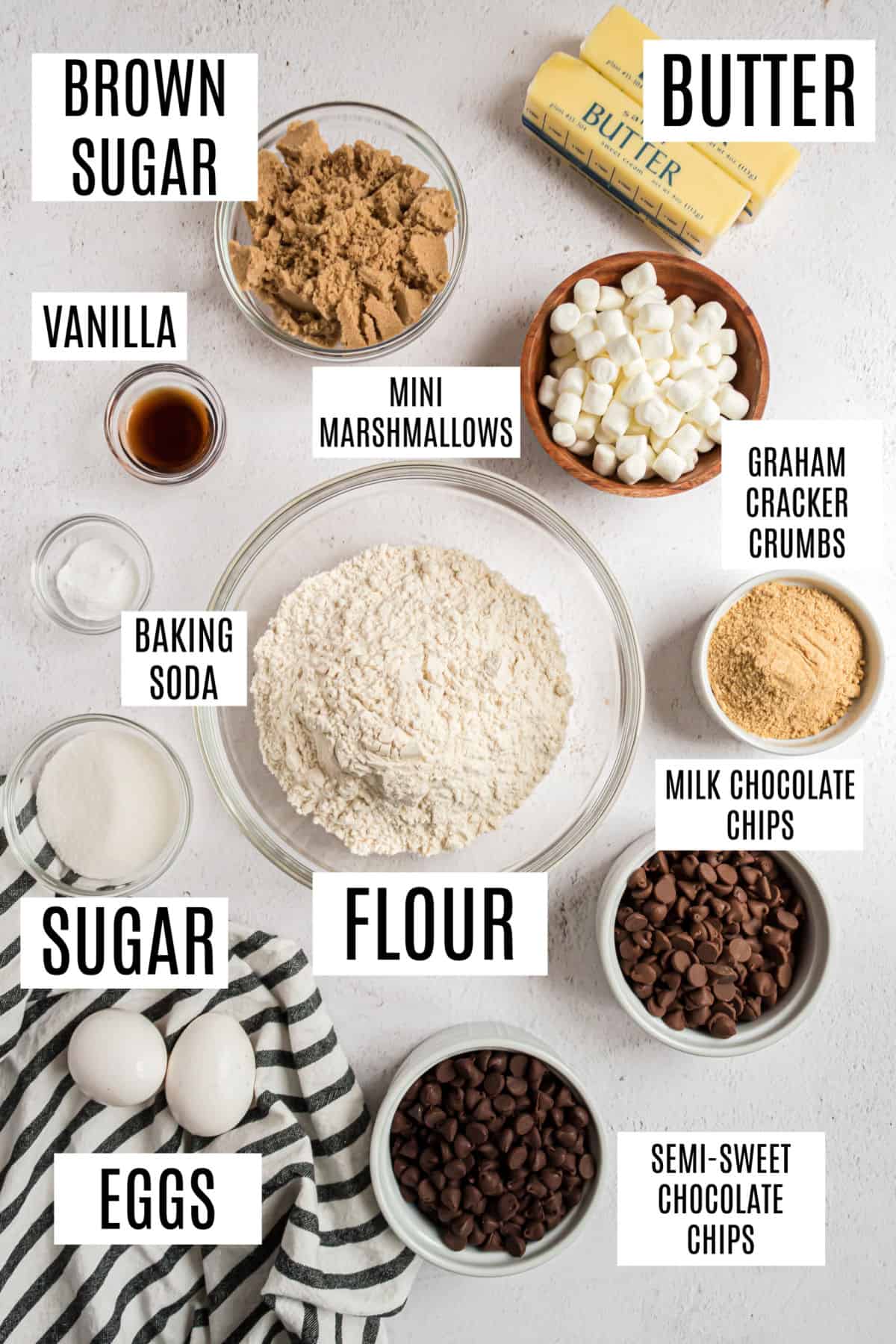 Salted Butter. While I typically prefer unsalted butter in my recipes, the salted version adds a nice flavor to these cookies. Make sure to soften it before using in the recipe. If using unsalted butter, add a pinch or two of kosher salt to the cookie dough.
Graham cracker crumbs. You can buy them ready made, but making your own is just as easy. Pulse whole graham crackers in a food processor until it forms coarse crumbs.
Vanilla extract. I always recommend a good quality pure vanilla extract in cookie recipes for richest flavor. If you have time to plan ahead, try making Homemade Vanilla Extract.
Chocolate chips. This recipe calls for a combination of semi-sweet and milk chocolate morsels. Feel free to use all milk chocolate if you prefer. You could even swap in some broken Hershey chocolate bars too!
Mini marshmallows. The small size makes them easy to layer between mounds of cookie dough. They also melt much quicker than their full sized counter parts.
Easy Instructions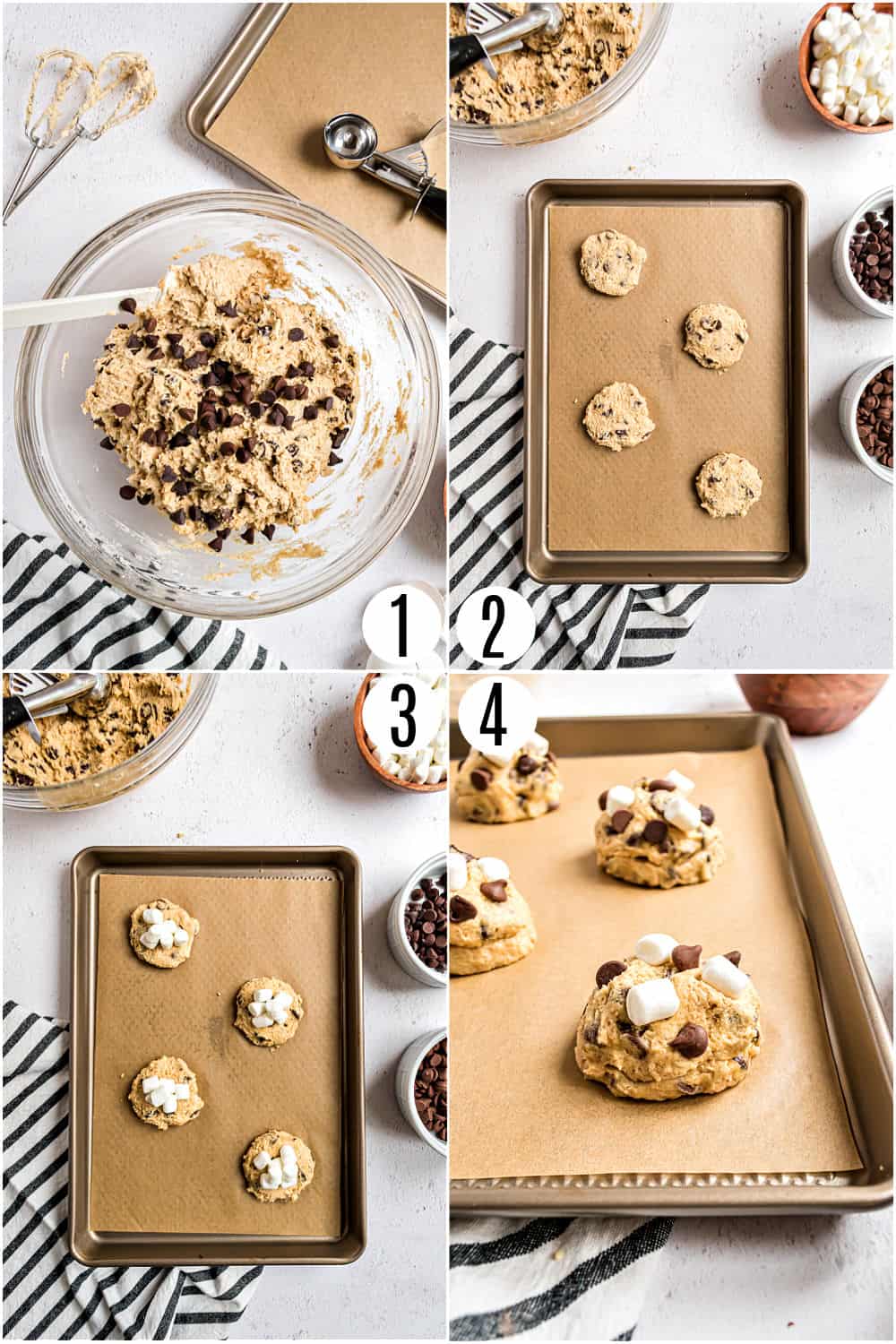 Make the cookie dough.
Prepare the S'mores Cookies dough just like making regular chocolate chip cookies. Fold in graham cracker crumbs with the chocolate morsels.
Flatten half of the cookie dough, 1 tablespoon at a time, into disks. Space them out on a parchment lined baking sheet.
Add marshmallow center.
Place several mini marshmallows onto the center of each disk. Form disks from the remaining cookie dough to gently press on top of the marshmallows.
Pinch the seams.
Press the top and bottom edges of cookie dough together around the marshmallows. Place a few reserved mini marshmallows and chocolate chips into the top of each cookie.
Bake.
Bake in a preheated oven for 12 to 14 minutes. Remove and let cool before enjoying your fresh homemade S'mores Cookies.
Love that gooey marshmallow chocolate combo? Be sure to bake up our Mississippi Mud Cake asap!
Tips and Tricks
Use parchment paper. Lining your cookie sheet prevents gooey marshmallow from getting stuck to your pan. Clean up is so much easier with parchment paper!
Measure the Flour. This is one mistake rookie cookie bakers experience. Learn my tips and tricks to properly measure flour!
Don't forget to press the cookie sides together. The more rounded and "sealed" your cookie is around the marshmallows the better. It keeps the marshmallows from oozing out as they soften and bake.
Do not overbake. They should be golden brown on the edges but soft in the center.
Gooey mess. Oops! Your cookie had a "blowout?" No worries. When it comes out of the oven, while still warm, use a spatula or spoon to shape that gooey marshmallow mess back into the cookie circle. It will harden slightly once cooled.
Cooling. Let the cookies cool for a few minutes on the baking sheet for about 10 minutes. Then, they'll be less likely to fall apart when you transfer them to your cooling rack.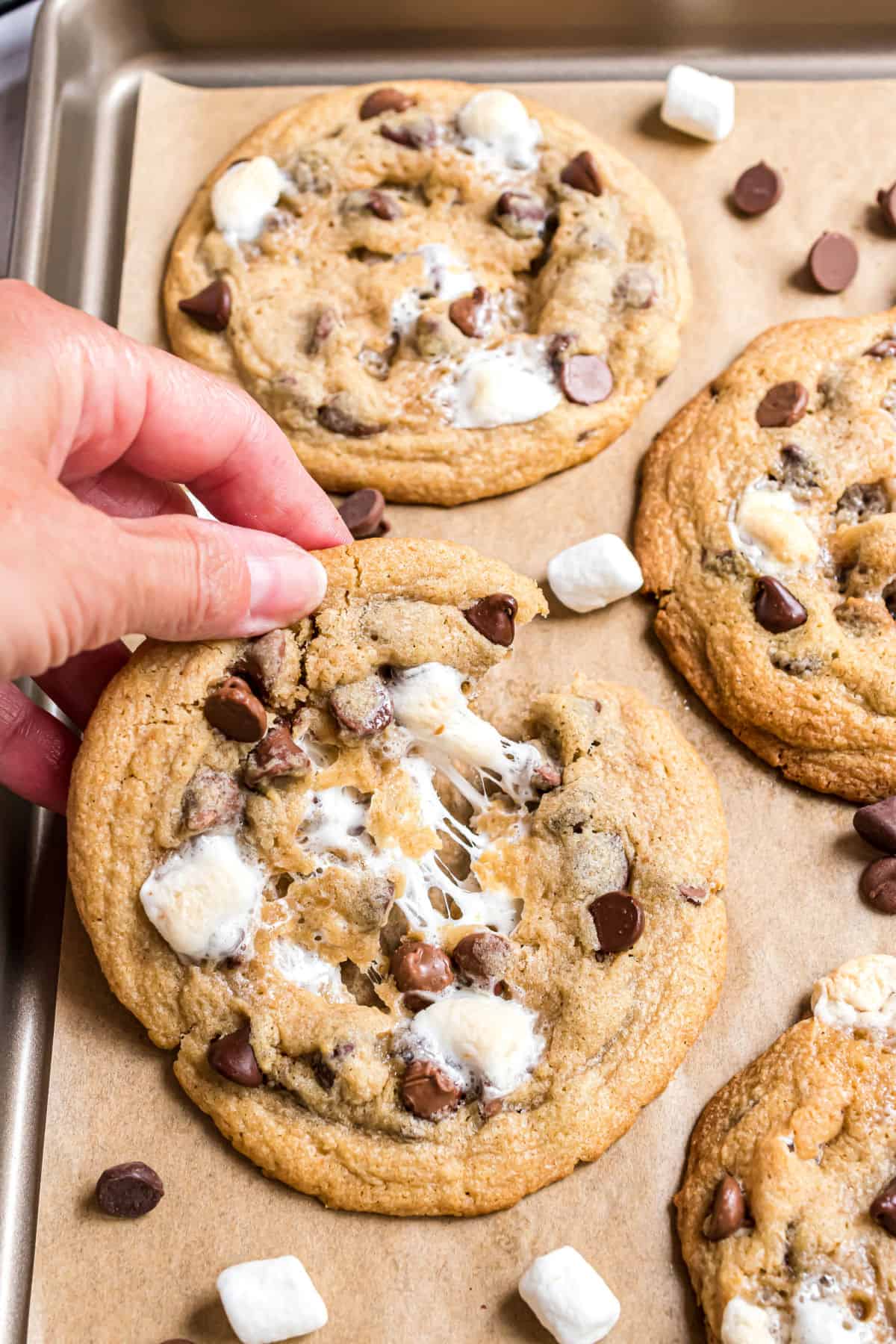 Recipe FAQs
How far in advance can I make this recipe?
You can make these as much as 4 to 5 days before serving. Store baked S'mores Cookies in an airtight container to maintain freshness.
Can I prep the cookie dough ahead of time?
You certainly can! Make the cookie dough and keep it tightly covered in the refrigerator for up to 3 days. When ready to bake, follow the directions in the recipe for shaping and adding the marshmallow center. You can also freeze the dough for up to 3 months!
What kind of graham cracker crumbs do I need?
Regular honey flavored graham crackers are best for a classic S'mores tasty. I bet chocolate graham cracker crumbs would be a delicious option too!
Can I use full sized marshmallows instead?
You can, but it will make closing the edges more difficult. If you only have regular size marshmallows, chop them into half-inch pieces first to make this easier.
More Easy Cookie Recipes
Perfect graham cracker chocolate cookies with a marshmallow center! With these S'mores Cookies you can enjoy your favorite summer camp snack anytime anywhere.