Cinnamon Streusel Zucchini Muffins
Delicious and easy, these Cinnamon Streusel Zucchini Muffins are packed with flavor. From the perfect zucchini muffin recipe to the crunchy streusel topping and sweet cinnamon glaze, these are a wonderful treat for breakfast or dessert!
Be sure to sign up for my email…new recipes in your inbox!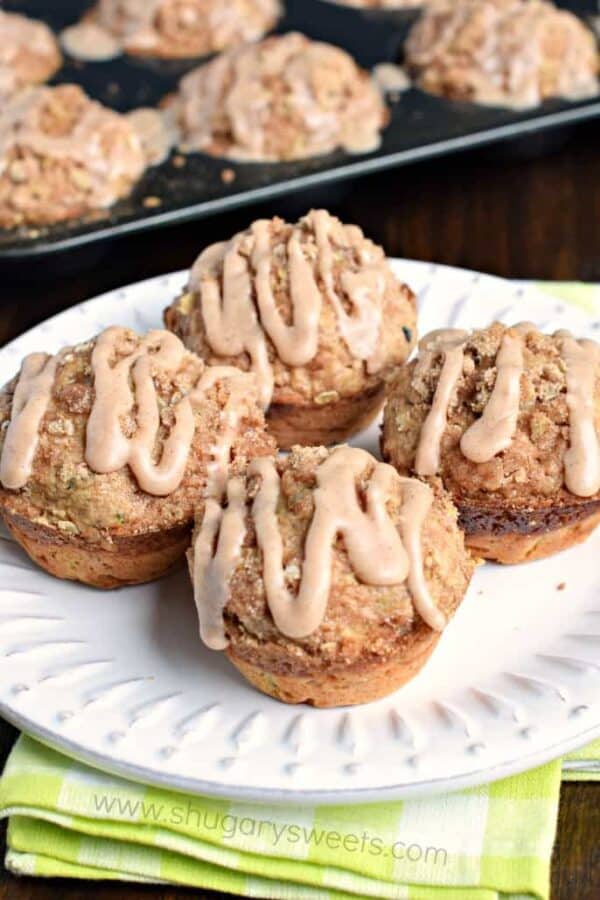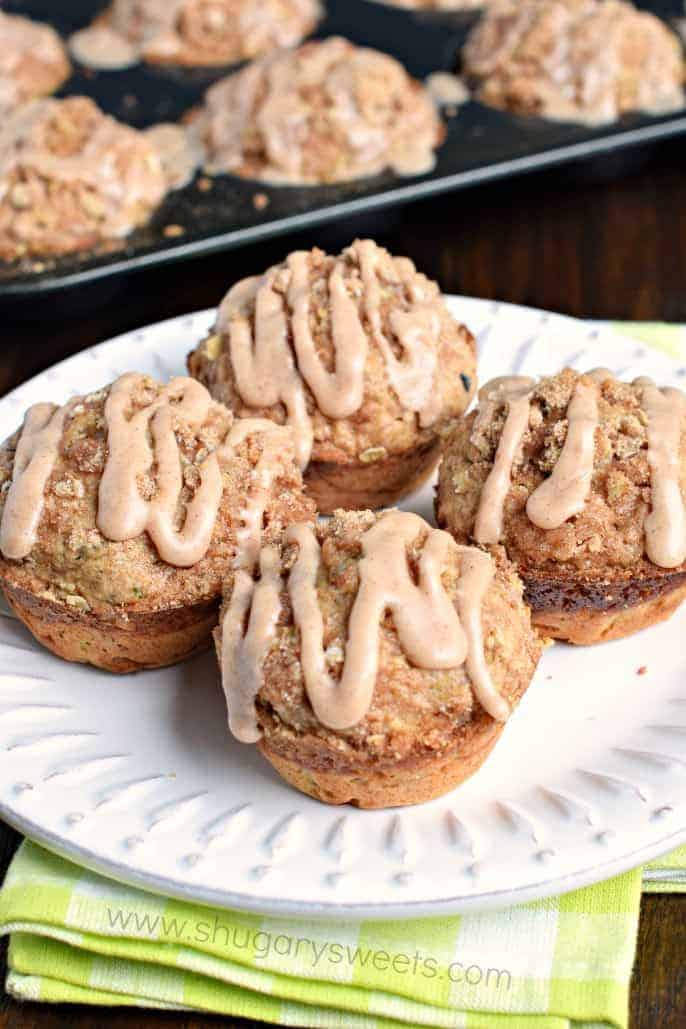 Our summer break is almost over as the kids head back to school next week!
And in true Shugary Sweets fashion, we spend every day of these last two weeks fitting in as much fun as possible. From going to water parks, visiting downtown Chicago…to relaxing at the dunes.
I use the word "relaxing" a little loosely here, because if you've ever been to the Warren Dunes in Michigan, you'll understand that relaxing is not really a good term.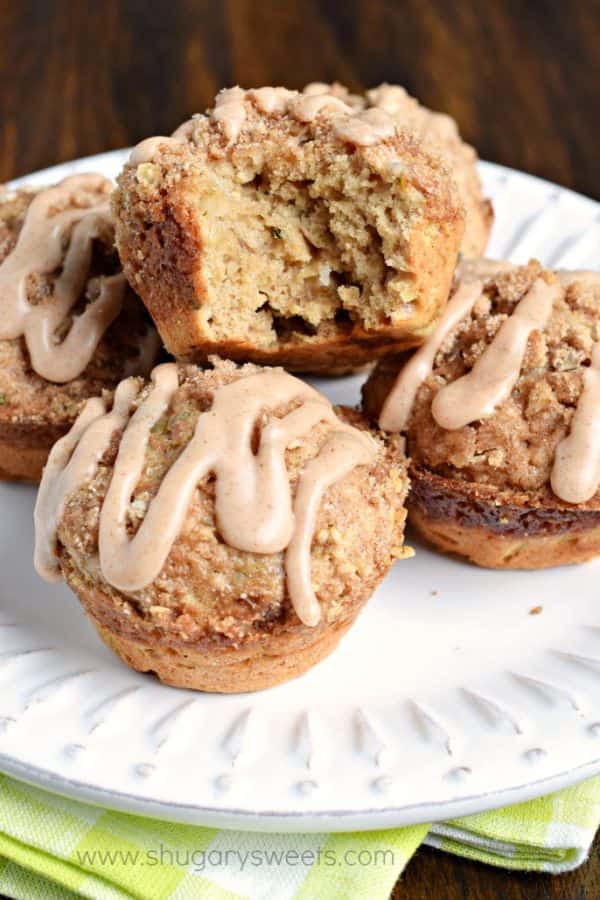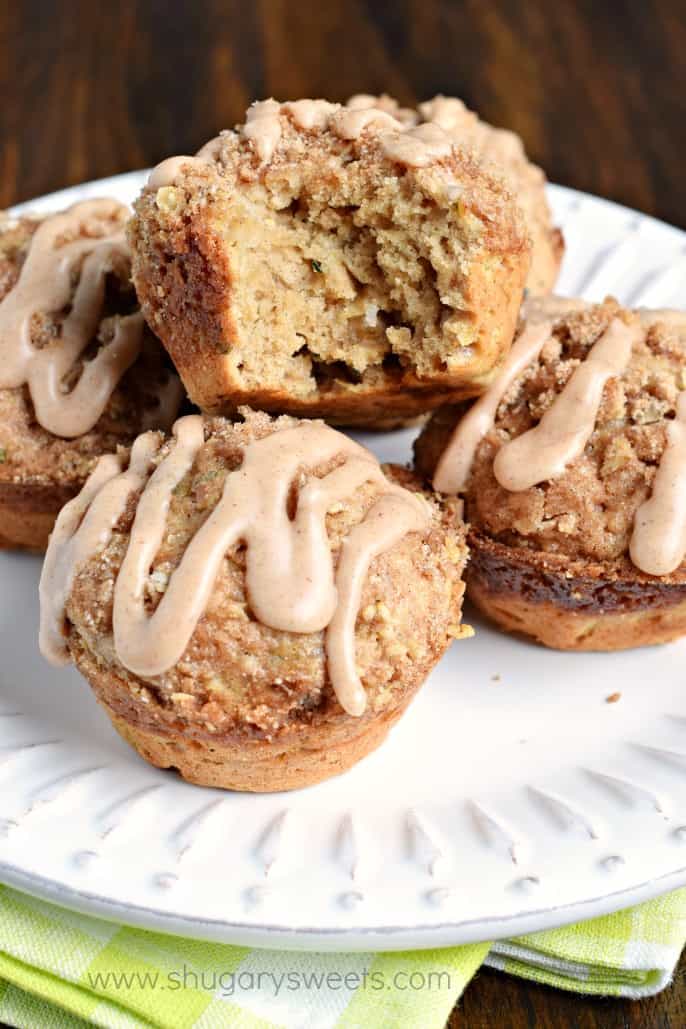 Hiking up the top takes work, and a bit of strain on the calf muscles. While they don't look incredibly high, trying to climb a sand dune barefoot is not always easy. It's like taking three steps up and two steps down as your feet slide in the sand. And don't even get me started on the temperature of that sand…dear GOD why must it be so hot? Of course all I ever think to wear on my feet is flip flops (not the ideal choice of hiking shoe in sand, eh?).
But, once we get our climbing done, we do tend to relax by the water for the rest of the day. Unless of course someone has to head over to the restroom…then it's a sprint to see how far you can run in the hot sand before tears start streaming down your face and the bottoms of your feet become blistered in the heat.
Other than that…TOTALLY relaxing 🙂
Know what's more relaxing? Sitting on your deck watching the sunrise with a cup of coffee and a Cinnamon Streusel Zucchini Muffin in your hand. Yeah, am I right?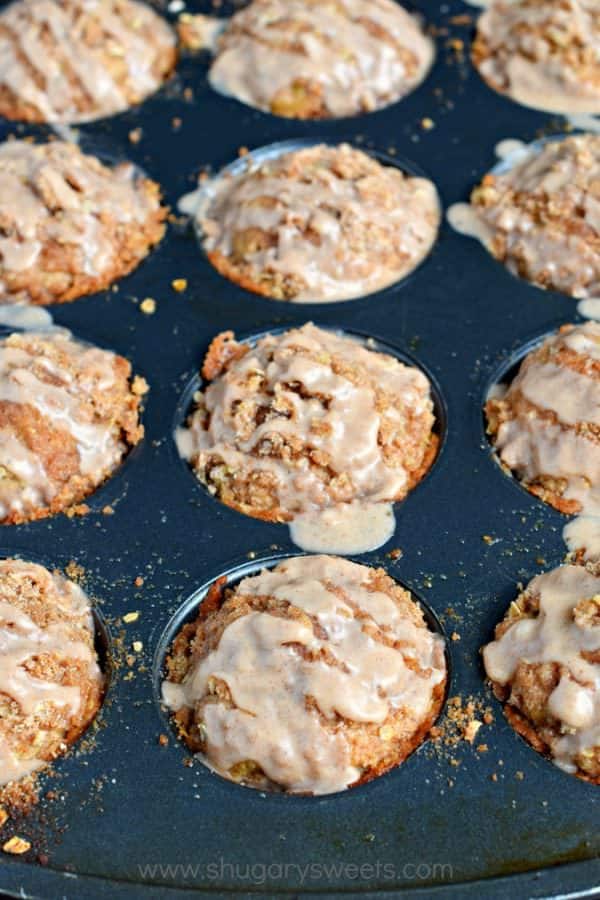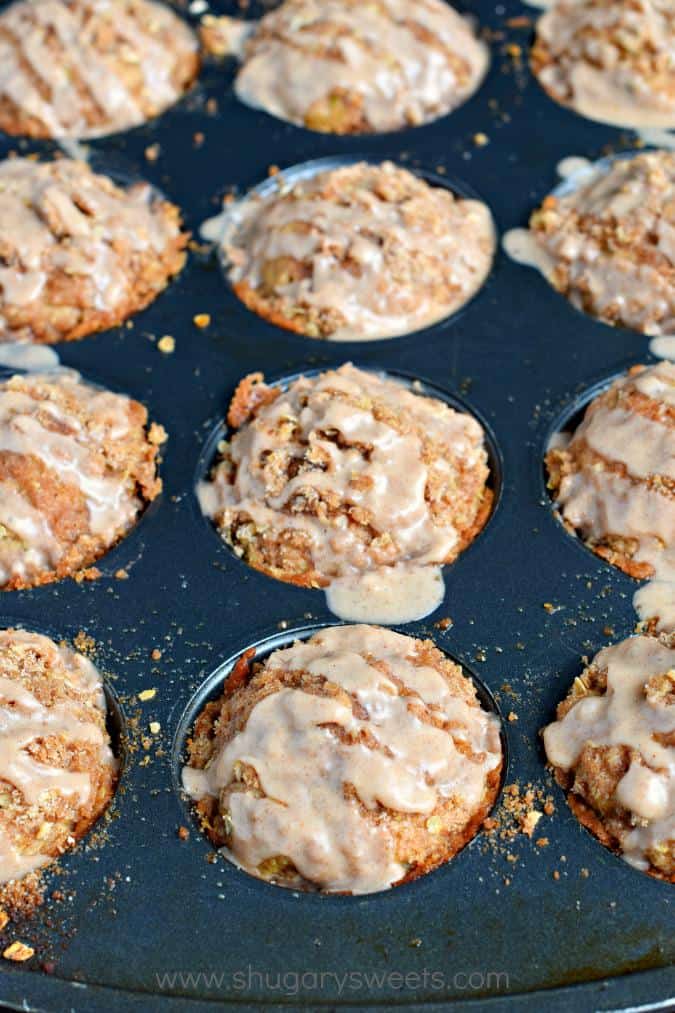 I used my favorite zucchini muffin recipe and added a delicious streusel topping. Of course then I had to top it with a cinnamon glaze, duh! If you haven't followed me on Instagram yet, what are you waiting for? You could have seen me baking these muffins in action on their "stories" feature.
Also, if you follow me on instagram, you are well aware of my obsessive need for ice cream cones, hahha!!!
I created a fun little group on facebook and I'd love for you to join in! It's a place where you can share YOUR favorite recipes, ask questions, and see what's new with Shugary Sweets (so that you never miss a new recipe)! If you'd like to check it out, you can request to join HERE.
Be sure to follow me on Instagram and tag #shugarysweets so I can see all the wonderful SHUGARY SWEETS recipes YOU make!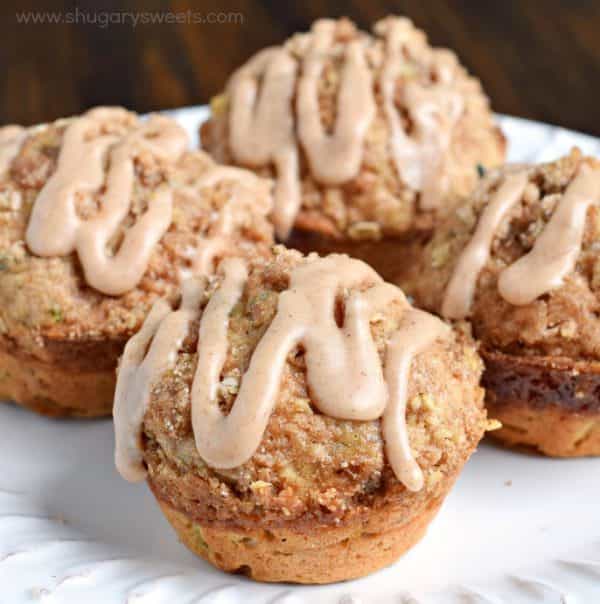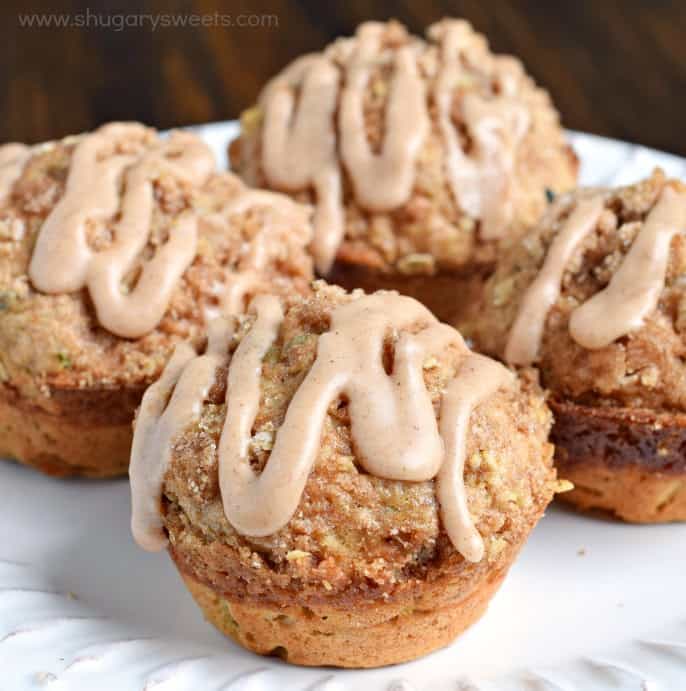 Connect with Shugary Sweets! Be sure to follow me on my social media, so you never miss a post!
Facebook | Twitter | Google+ | Pinterest | instagram | Bloglovin'
Sign up to receive an email in your inbox for each new recipe: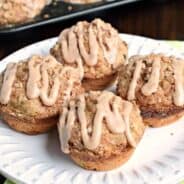 Cinnamon Streusel Zucchini Muffins
Yield: 18 muffins
Prep Time: 15 minutes
Cook Time: 12-14 minutes
Delicious and easy, these Cinnamon Streusel Zucchini Muffins are packed with flavor. From the perfect zucchini muffin recipe to the crunchy streusel topping and sweet cinnamon glaze, these are a wonderful treat for breakfast or dessert!
Ingredients:
For the muffins:
2 cups finely shredded zucchini
1/3 cup canola oil
1/4 cup unsalted butter, melted
1/4 cup milk (I use skim)
2 tsp vanilla extract
2 large eggs
3 cups all-purpose flour
1 cup light brown sugar, packed
2 tsp baking powder
2 tsp cinnamon
1 tsp kosher salt
1/2 tsp allspice
For the streusel:
1/4 cup quick cook oatmeal
1/4 cup all-purpose flour
1/4 cup granulated sugar
1/4 cup light brown sugar, packed
1 tsp cinnamon
2 Tbsp unsalted butter, softened
For the glaze:
1 cup powdered sugar
1 tsp cinnamon
1/3 cup heavy cream
Directions:
Preheat oven to 400°F. Spray a regular sized muffin tin with baking spray and set aside.
In a large mixing bowl, combine zucchini, oil, butter, milk and vanilla. Mix until blended. Add in eggs. Slowly add in flour, sugar, baking powder, cinnamon, salt and allspice. Mix until well combined.
Using a large cookie scoop, fill muffin tins about 2/3 full.
In a small bowl, combine streusel ingredients with your hands, until a well blended crumbly mixture forms. Sprinkle evenly over muffins.
Bake for 12-14 minutes, until a toothpick comes out clean. Remove from pan and cool completely on a wire rack before adding the glaze.
For the glaze whisk together the powdered sugar, cinnamon and heavy whipping cream until desired consistency. You may want to add a little extra cream if needed. Drizzle over cooled muffins and enjoy!
Store in airtight container at room temperature for up to 3 days, or freeze muffins.
MAKING THIS RECIPE? Share it with me on Instagram using the hashtag #ShugarySweets so I can see what you're cooking up in the kitchen!
Here are a few of my favorite muffin recipes on the blog: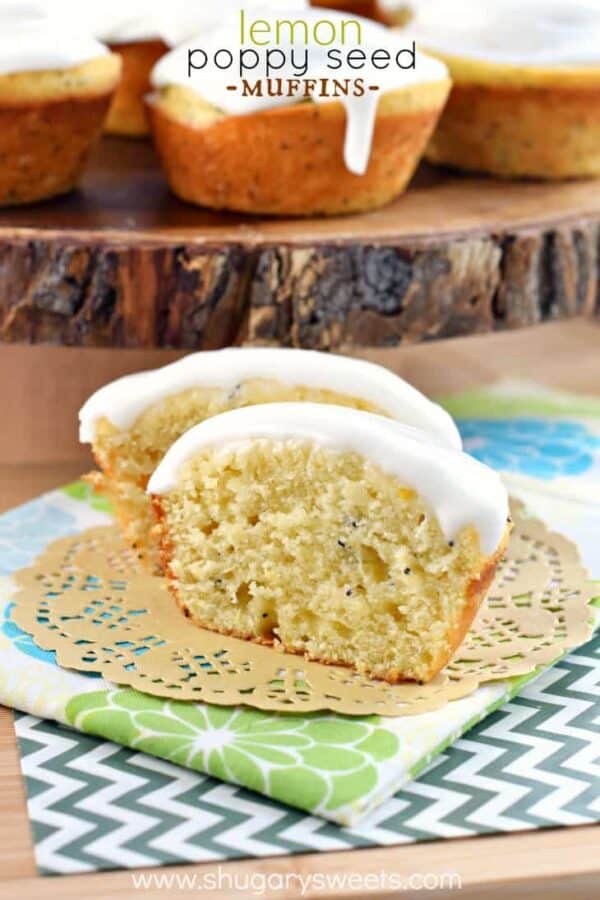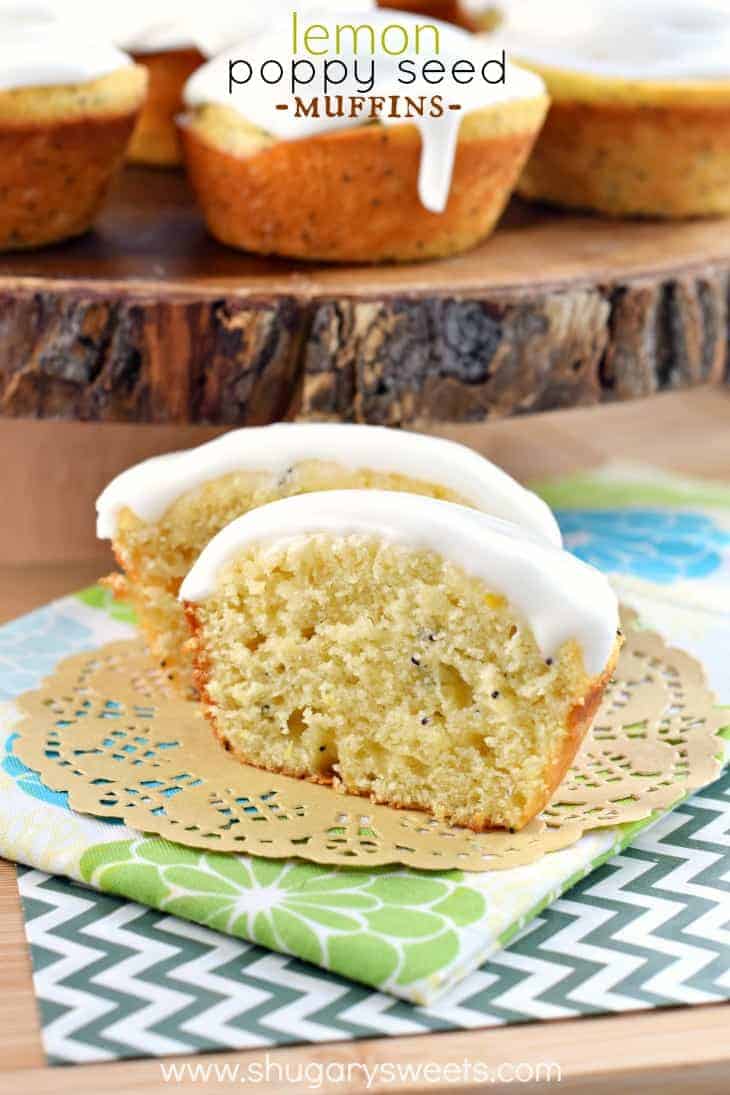 Lemon Poppy Seed Muffins: under that sweet lemon frosting is a delicious lemon syrup to give these a super moist texture!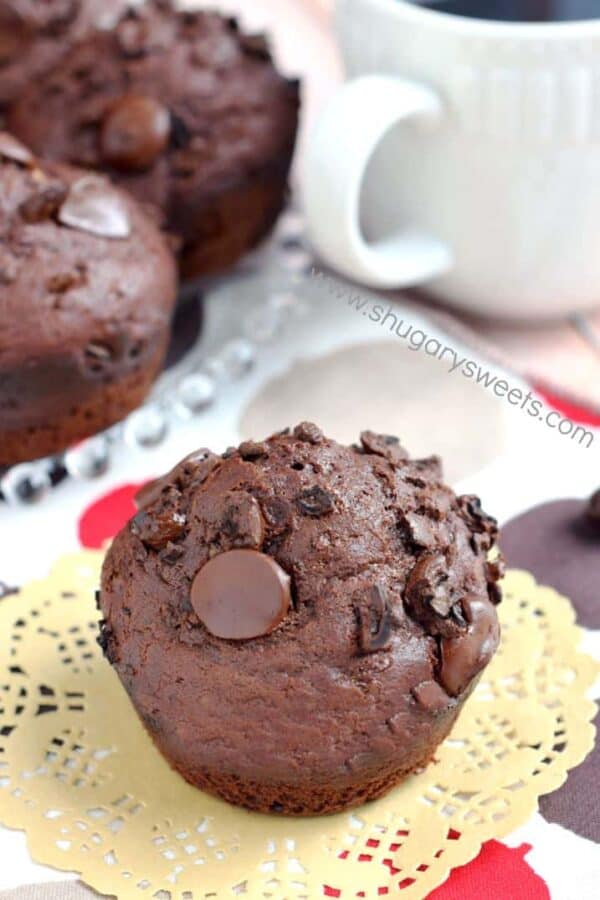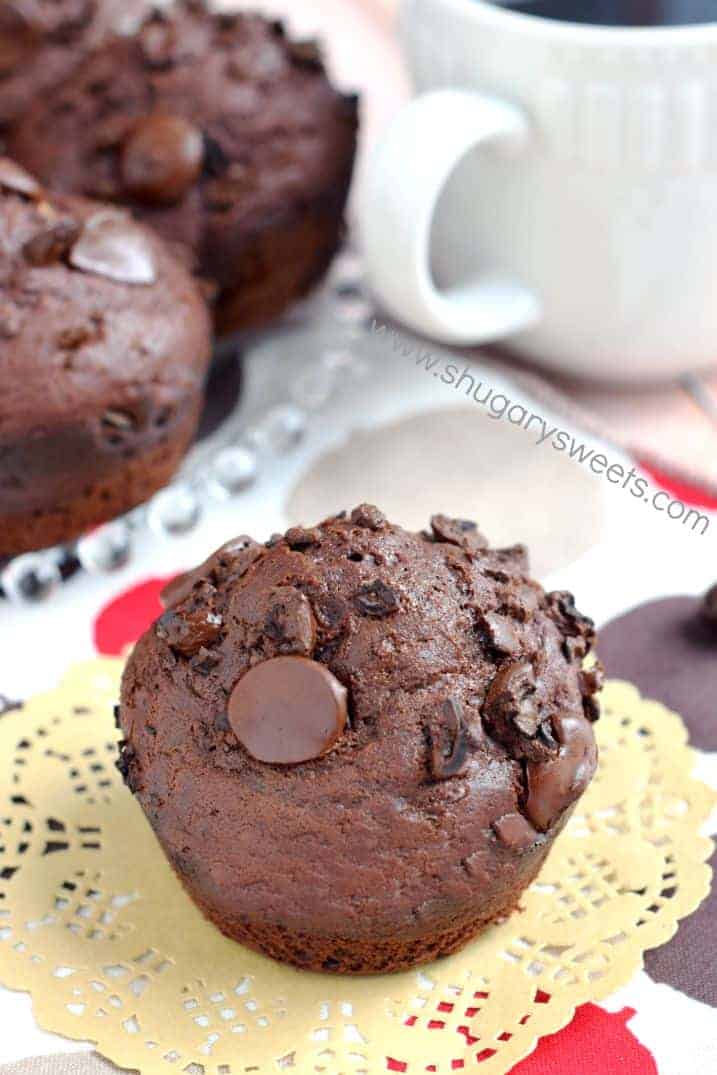 Mudslide Muffins: fudgy chocolate muffins. FOR BREAKFAST!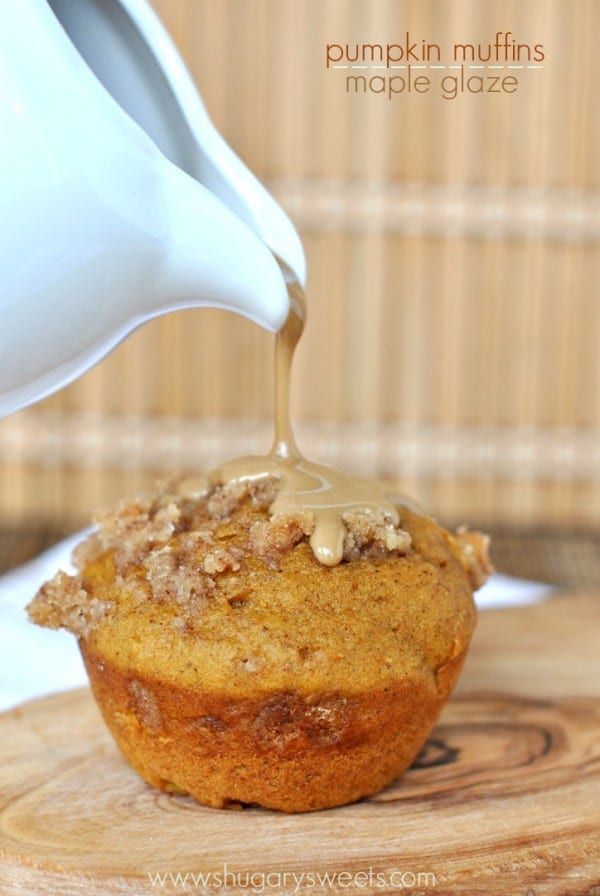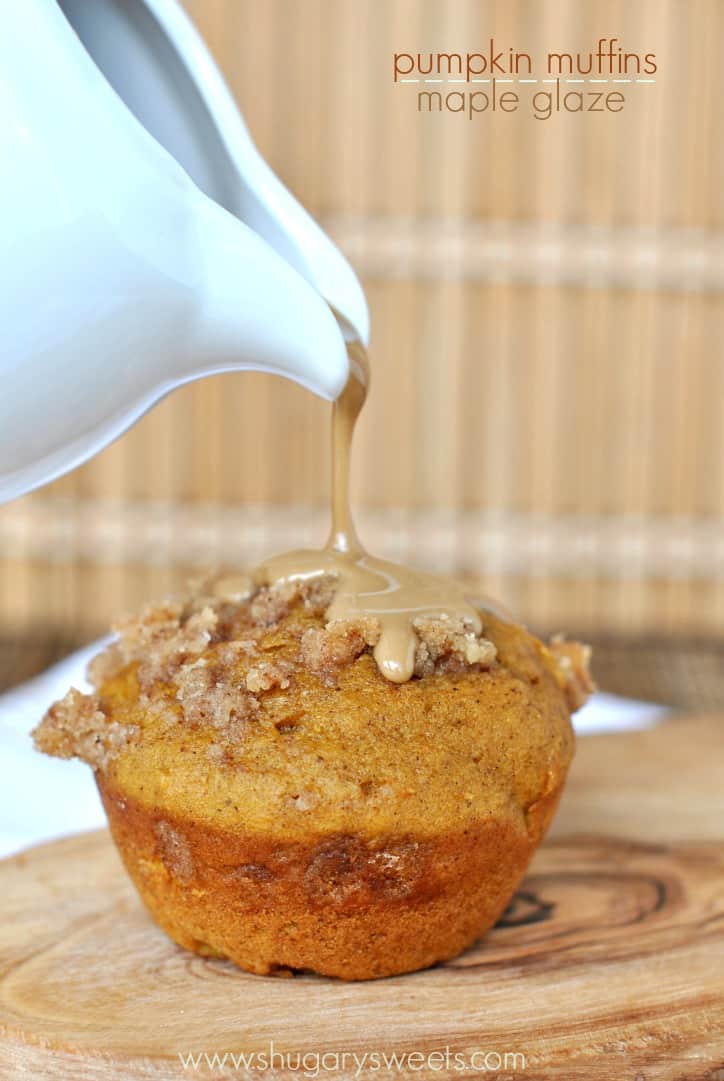 Bring on fall baking and these Pumpkin Muffins with Maple Glaze!
If you love today's Cinnamon Streusel Zucchini muffin recipe, check out these muffin recipes from my friends:


**There may be affiliate links in this post! By clicking on them, or purchasing recommended items I may receive a small compensation. However, I only recommend products I love! Thank you for supporting Shugary Sweets! See my disclosure policy for more info**