Easy, fried Boston Cream Donuts in under 30 minutes! Made using Pillsbury Grands biscuits and filled with a creamy pudding mixture, these are sure to tempt you! Don't forget the rich chocolate ganache!
Love easy breakfast donuts? Try making a batch of baked Cherry Frosted Donuts for your next craving! Or whip up a batch of Apple Cider Donuts this fall.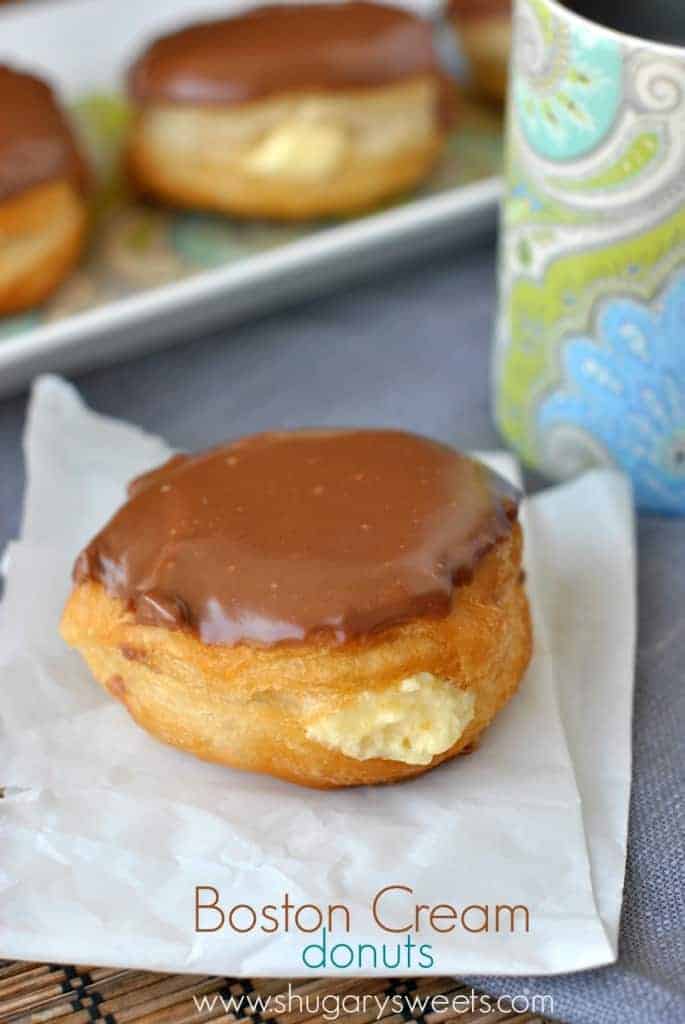 What is a Boston Cream donut?
I love a good baked donut, but these Boston Cream Donuts are the REAL thing: filled with cream then fried in oil.
This style of donut was named for its resemblance to Boston Cream Pie, a sponge cake topped with pastry cream and chocolate ganache. (which is also similar to a chocolate eclair cake).
I think by now the donut version is actually better known than the original pie!
To make Boston Cream Donut, you fill circles of yeast dough with rich vanilla flavored custard. After deep frying, the donuts are finished with a shiny layer of chocolate glaze.
Use Biscuits for Donuts
As far as homemade fried donuts go, this Boston Creams are fairly easy to make. Using a roll of Pillsbury Grands helps cut time without cutting flavor.
Vanilla pudding mix makes it easy to give the donuts an authentic cream filling. I whipped up the pudding mixture before frying the donuts, giving it time to set and chill.
No Boston Cream Donut is complete without the finishing tough–a chocolate glaze frosting. For my version, I made a rich and creamy chocolate ganache.
What is boston cream donut filling made of?
Traditional boston cream filling is a custard cream, made by combining egg yolks with cream and sugar.
For this easy homemade version, I reached for one of my favorite baking hacks: instant pudding mix!
Similar to my favorite Cream Puff Cake!
French vanilla pudding mixed with heavy cream, milk and powdered sugar creates a silky, thick custard-like filling that comes together in minutes.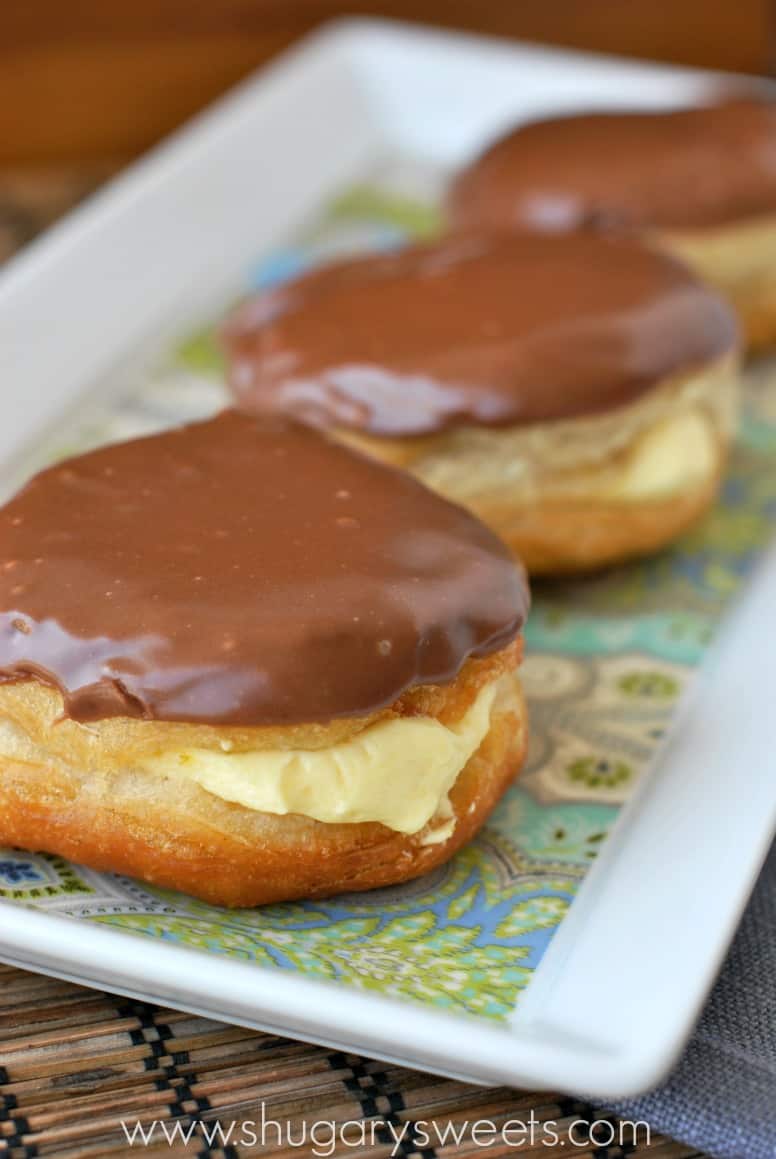 What's the difference between boston cream and bavarian cream?
Bavarian cream filling has a different texture than the bostom cream versions. With Bavarian cream, you make whipped cream with heavy cream and sugar to make a fluffier cream center for your doughnut.
Boston cream, on the other hand, has a thick custard cream that's more similar to pudding in consistency. Both are delicious but today we're making Boston Cream filling for our donuts!
How to make Boston Cream Donuts
Compared to many homemade fried donuts, these take very little effort! Here's what you do:
STEP 1. Prepare the filling
Add pudding mix to the milk. Beat with whisk for about 2 minutes. Set aside.
In a separate mixing bowl, beat on high with an electric mixer the heavy cream with powdered sugar until soft peaks form (about 3 minutes). Fold in pudding mixture. Refrigerate until ready to use.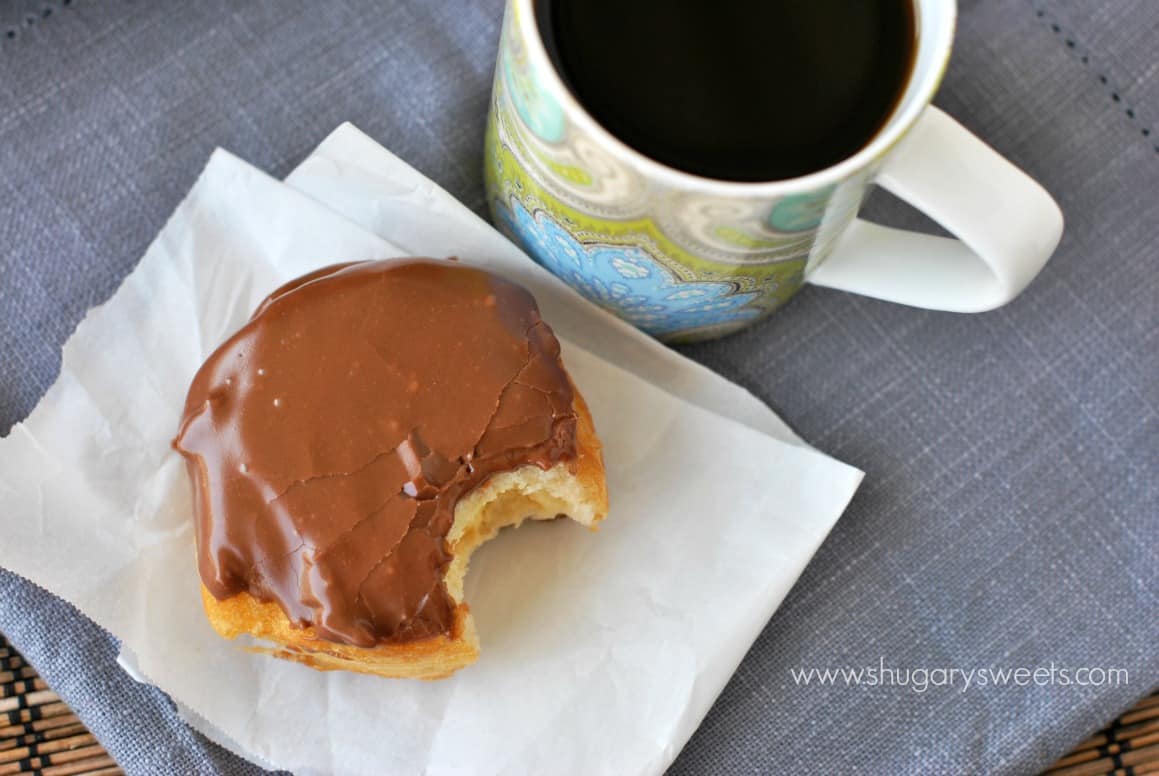 STEP 2. Fry the dough
In a large, heavy bottomed skillet, heat oil about 1/2-3/4 inch high. Depending on your size skillet will determine how much oil is necessary. Check to see if the oil is hot enough by dropping a couple drops of water into it. If it sizzles right away, it's ready.
Separate biscuits. Fry each biscuit for 2-3 minutes each side. Allow to cool and dry on paper towels.
STEP 3. Make the chocolate ganache
Add cream, milk, butter, vanilla and corn syrup to a medium saucepan. Heat on medium until butter is melted. Turn to low and add in the chocolates. Whisk continuously until smooth.
Remove from heat and whisk in the powdered sugar until ganache is smooth. Set aside.
To assemble, spoon filling into a large pastry bag with tip (any tip will do). Press tip into side of donut and squeeze until donut appears "full." Repeat for remaining donuts.
Spoon warm ganache over each filled donut. ENJOY!
Tips & Tricks
Even easier donuts: If you want to cut an extra step you can totally use canned frosting. Heat it up in the microwave for a little bit (maybe 30 seconds to a minute), stir and spoon it on the donuts.
Save your oil: I save the used oil to use again by allowing it to cool slightly, then storing it in a mason jar. I strain off any fried bits while pouring it in the jar. Then you can use the oil the next time you need to fry something and save some money!
Extra filling: This recipe makes a lot of filling so you will have some leftover. I enjoy making a trifle using this extra filling (bake up a brownie mix and layer it with filling in a trifle bowl). Or spoon into bowls by itself for a delicious pudding dessert!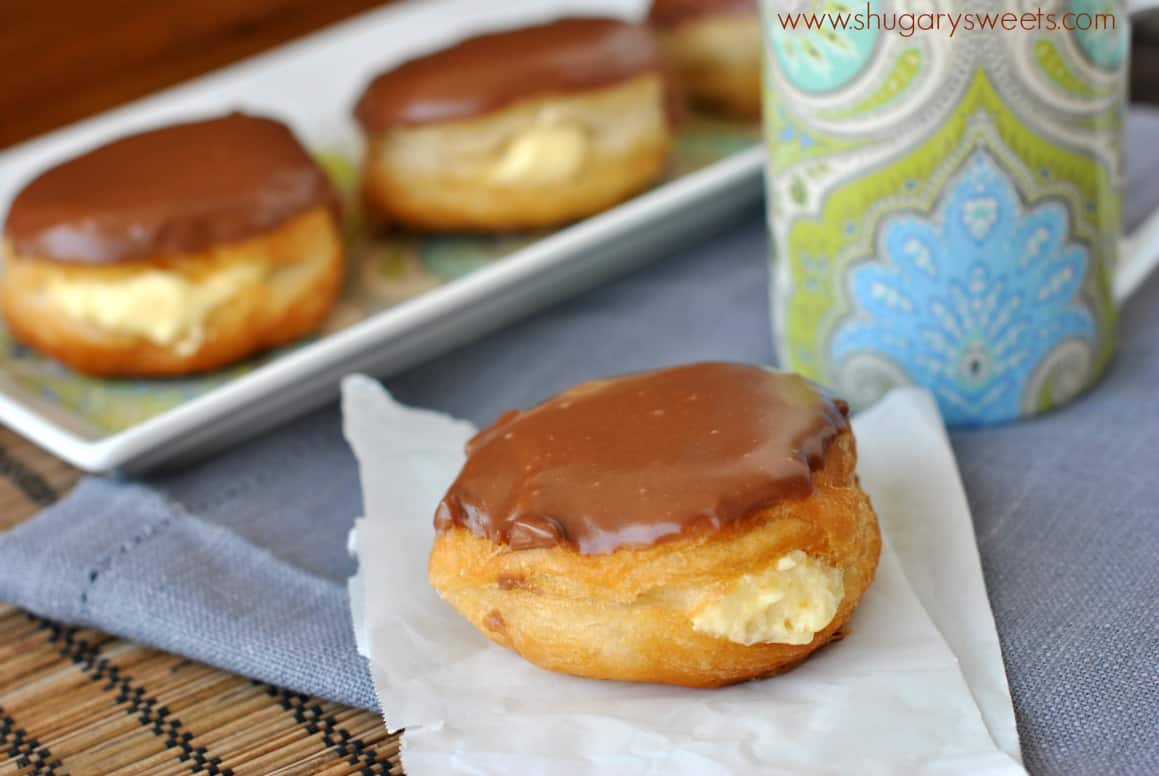 More Easy Recipes
Homemade Boston Cream Donuts are easier to make than you ever imagined! Enjoy these donuts for breakfast or anytime you need a sweet pick-me-up.