Looking for an easy, family friendly meal idea? Look no further! This Chicken Fried Rice takes minutes to cook, and is kid approved!
**Today's recipe is sponsored by Uncle Ben's, however all opinions are 100% my own**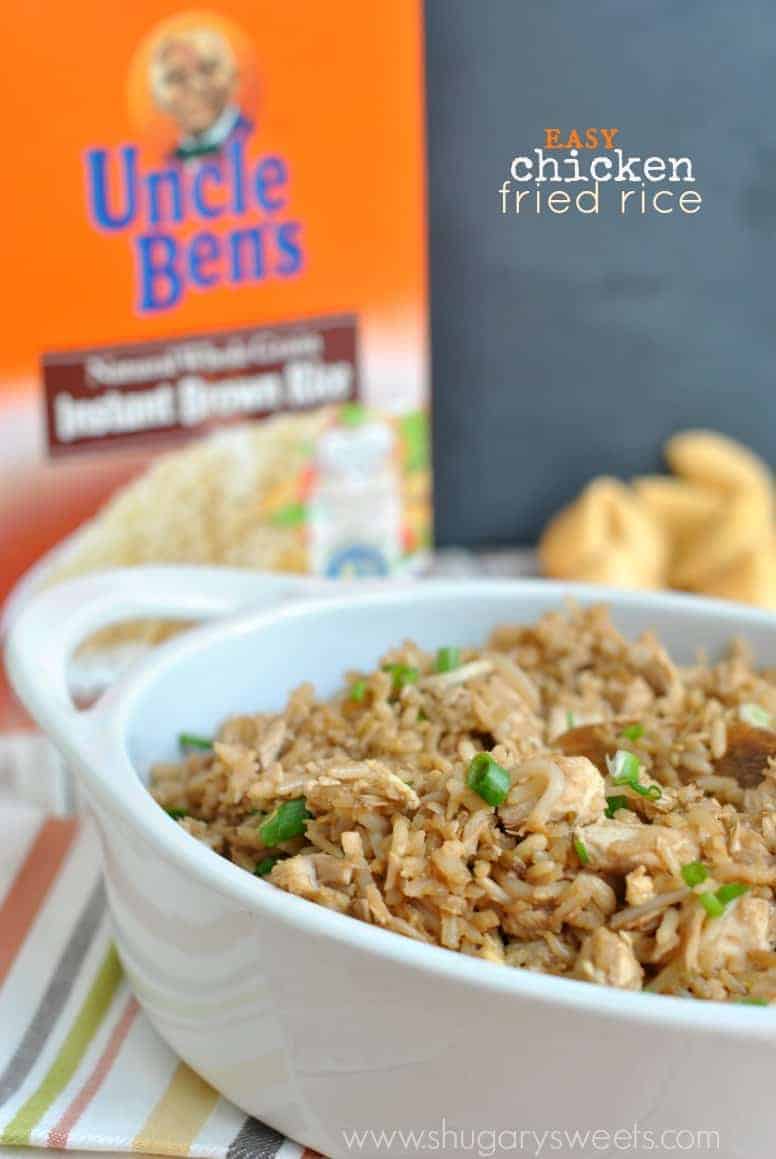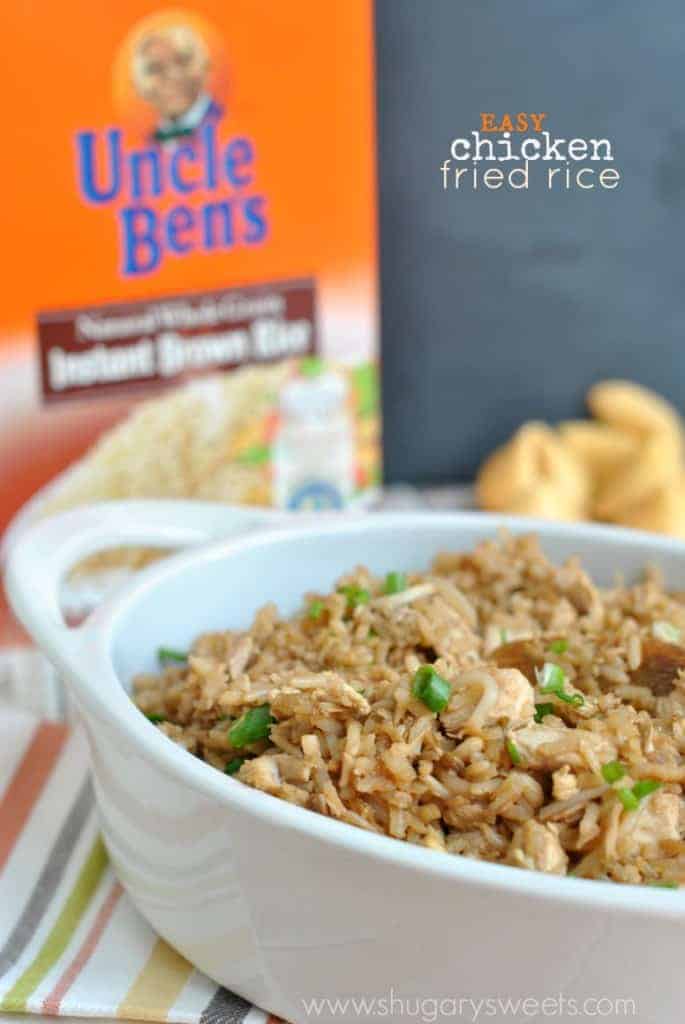 School is in full swing and the sports and after school activities are well under way too. Which means we have some busy nights.
But a family dinner is important to me, which is why I try to include many easy to prepare meal ideas here on the blog. Today's recipe is a keeper! Perfect for when you need to whip up something quick.
When Uncle Ben's asked me to cook with my kids for this recipe, my youngest jumped at the opportunity! She is mom's helper in the kitchen. She even says that one day she will take over the blog for me so I can retire. Sweet right?
Anyways, I asked her what she wanted to cook, with rice. And it was no surprise to me that she chose Chicken Fried Rice. It's one of her favorite take-out foods!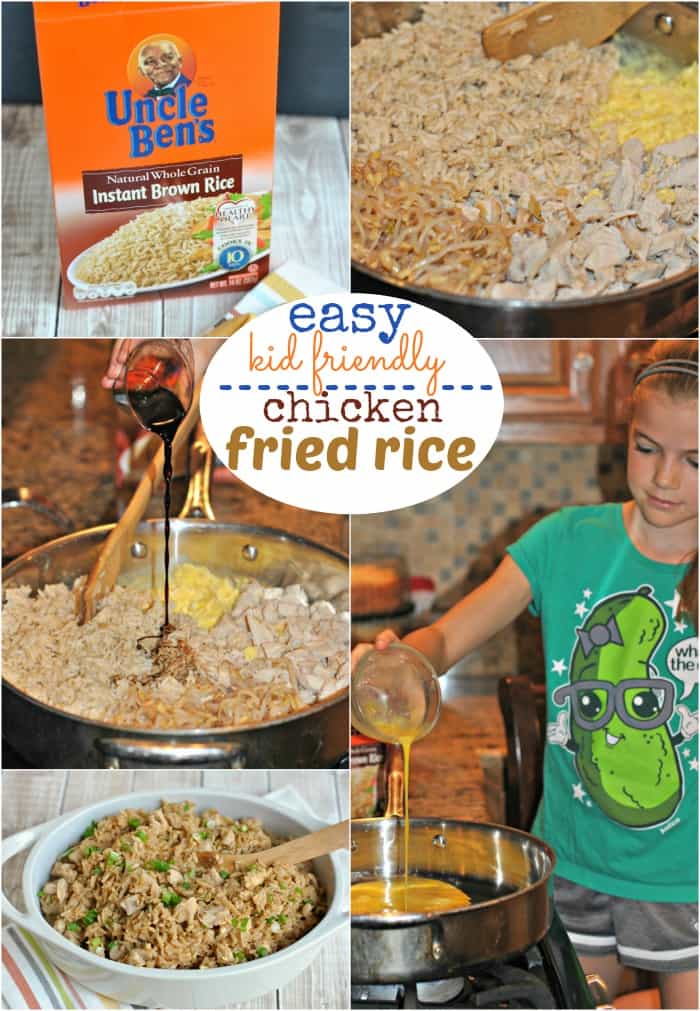 Did you know that research shows cooking with your kids teaches them better eating habits later? I believe this, truly. I am a big believer in preparing your kids for the world, even at a young age. Cooking is one of those things that they need to know how to do before they leave my nest.
One tip for creating easy meals on busy weeknights is to cook more protein than you need. For instance, if we are making tacos, I cook extra ground turkey and freeze the cooked portion for a later meal. Take a little time on your weekend (or any day) and cook up some extra chicken. Dice it up and freeze it for busy nights…to make this rice, or to put on salad.
How to make Chicken Fried Rice:
We used some chicken that was seasoned with salt and pepper for today's meal. It was cooked last week, then we diced it up and froze it. We took it out of the freezer right before preparing the rice, as it didn't take long to cook it up in the skillet. You can also use a rotisserie chicken for a quick cooked chicken substitute.
My daughter prepared the brown rice first, which only took about 15 minutes total. Once that was finished, she scrambled the egg in the hot skillet. Added the remaining ingredients and cooked it all up until it was hot.
We served our Chicken Fried Rice with a fresh salad and of course had a few store bought fortune cookies for dessert. It also pairs great with Orange Chicken or Beef Broccoli. Feel free to add your own ingredients for your liking. Carrots and peas would be delicious in this fried rice recipe! Although my kids love the bean sprouts!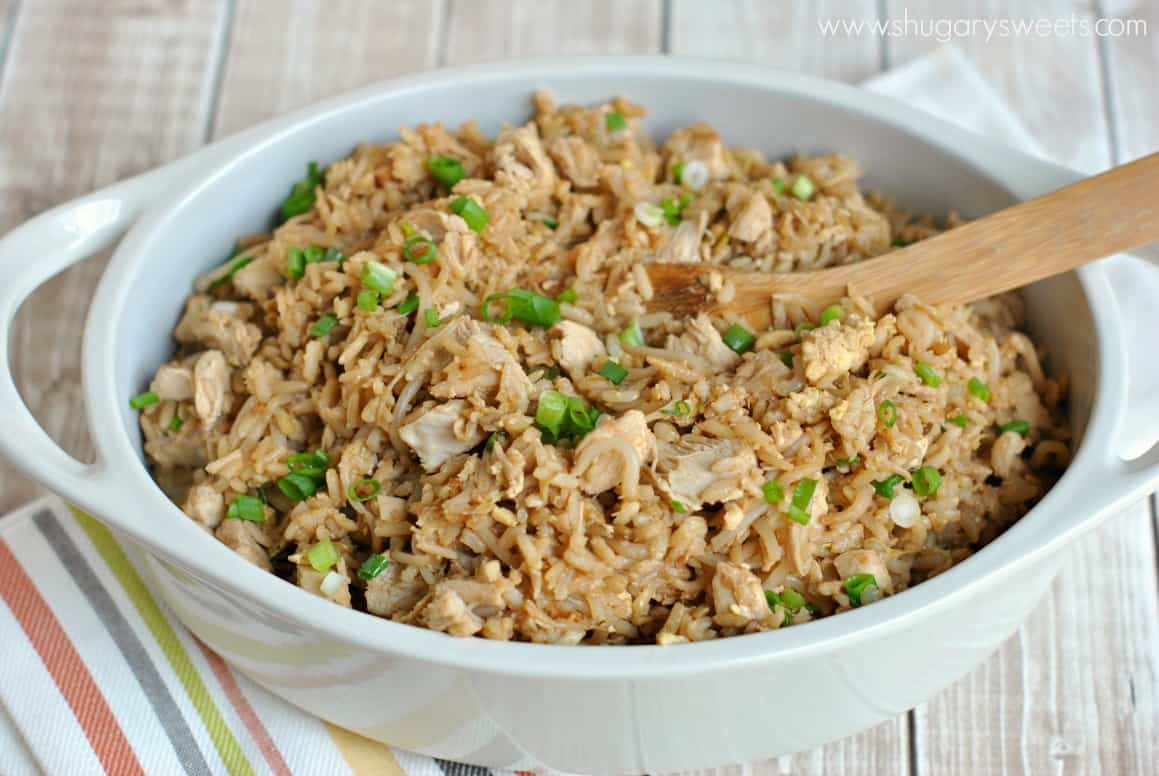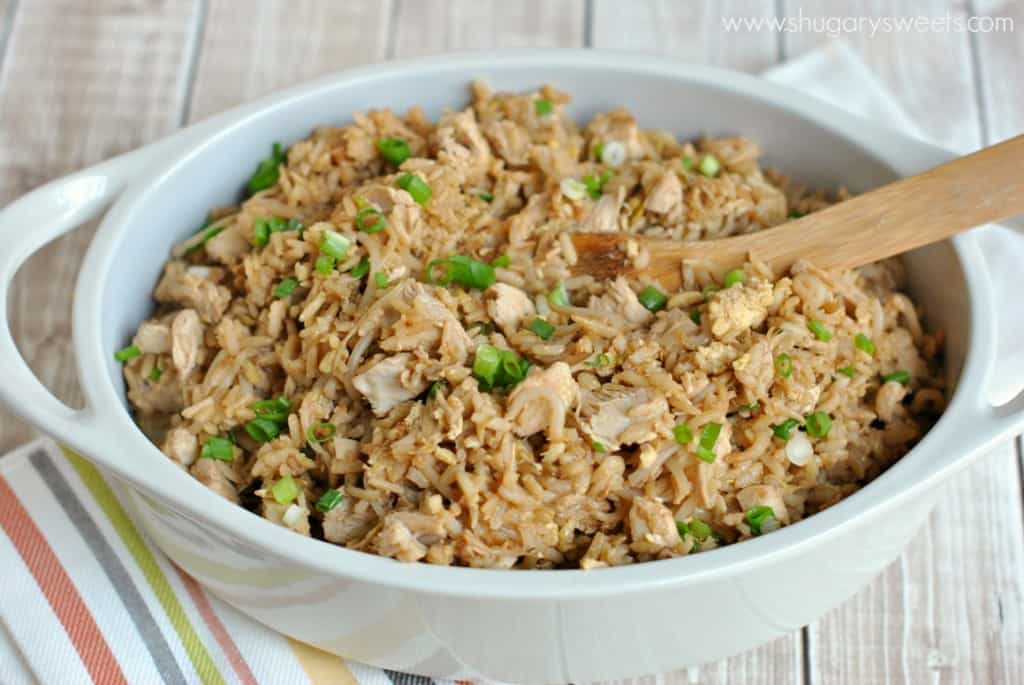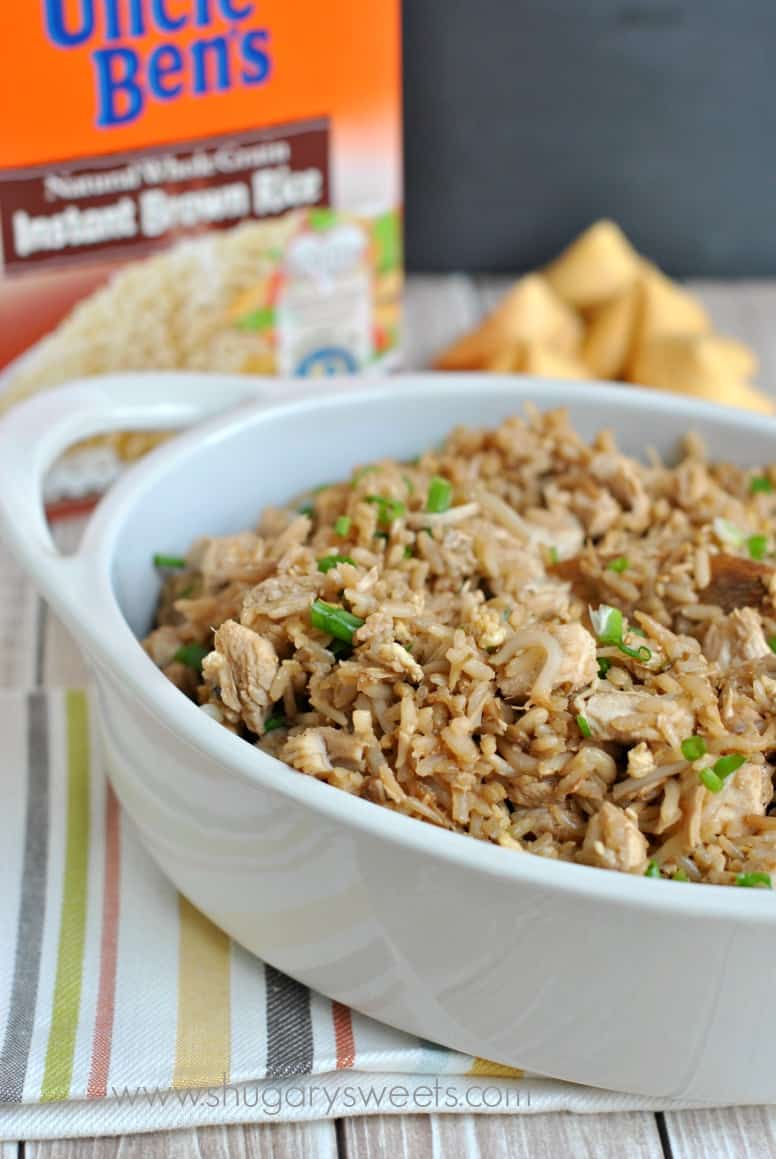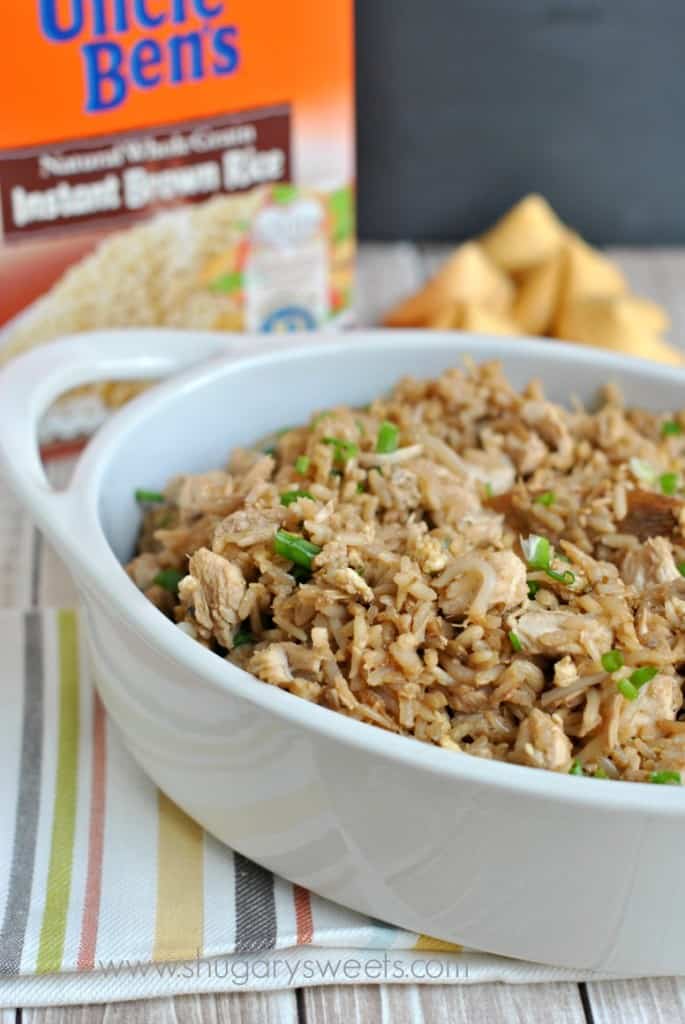 Yield: serves 6
Chicken Fried Rice
Ingredients
2 Tbsp olive oil
2 large eggs
2 chicken breasts, cooked and diced
2 cup Uncle Ben's Instant Brown Rice (makes 4 cups prepared)
1 cup bean sprouts (I used canned)
1/4 cup soy sauce (low sodium)
4 green onions, sliced from white to green
Instructions
In a large saucepan, prepare Uncle Ben's Instant Brown Rice according to package directions (for 4 cups).
When rice is done, heat a large skillet over medium high heat.
Add olive oil. In a small bowl, whisk the eggs with a fork. Pour into the hot skillet. Using a spatula, stir the eggs until cooked and scrambled. Push eggs to side of pan. Add cooked chicken, bean sprouts and rice to pan.
Pour soy sauce over everything. Using a spatula, gently saute ingredients until combined, and hot. Add more soy sauce if desired.
When everything is hot (about 3-4 minutes), remove from heat. Add sliced green onions and serve. ENJOY!