Looking for the BEST sugar cookie cut out recipe? These Cream Cheese Sugar Cookies are so flavorful and they always hold their shape. The only cut out cookie recipe you need for holidays!
You'll love these easy cut out cookies. But if you're looking for something less messy, try our Frosted Sugar Cookie Bars. Same great taste, no rolling of cookie dough!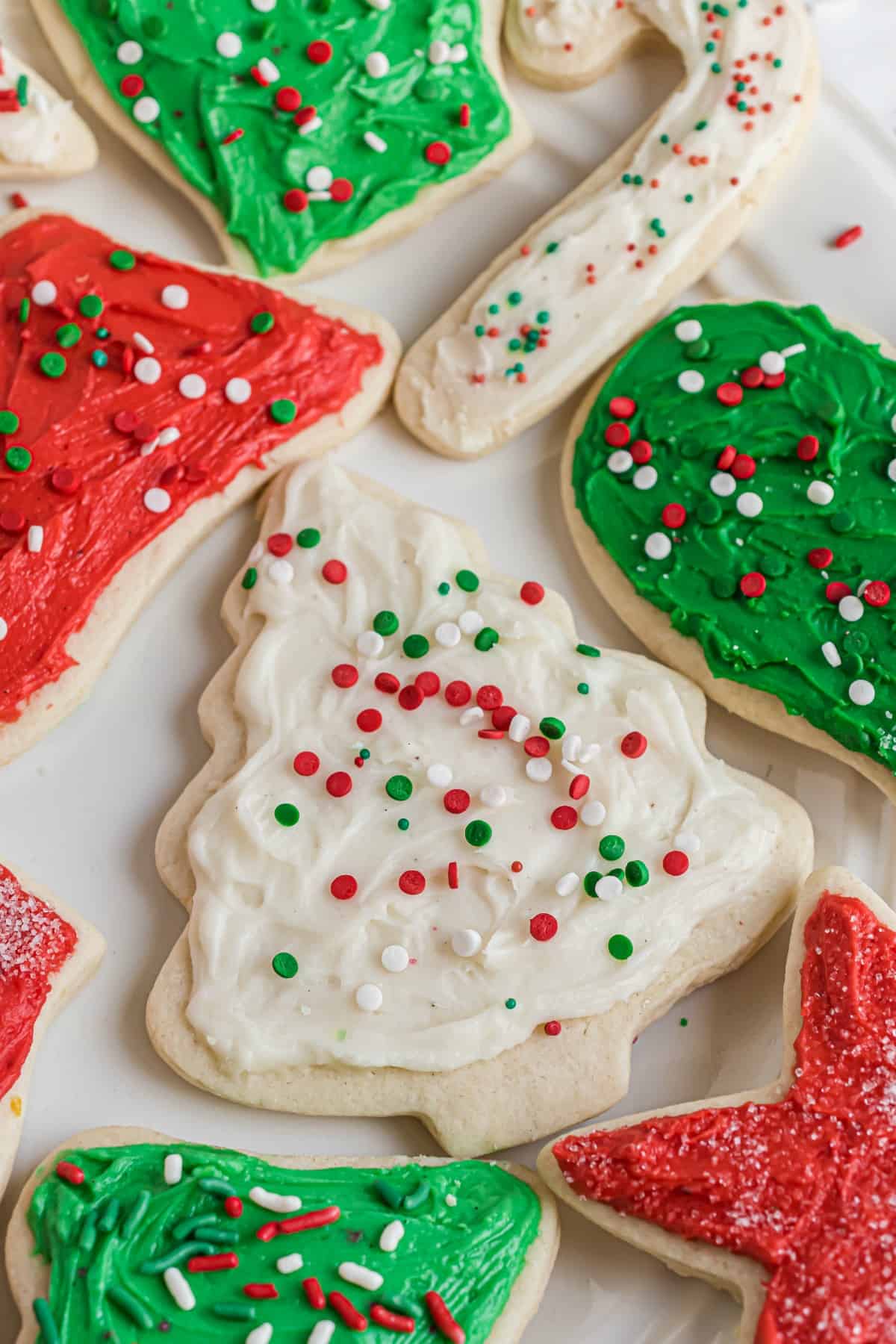 Why This Recipe is Best
Making Christmas cut out cookies is one of our favorite family traditions. Especially when it involves frosted sugar cookies.
We bake them early in the season, then freeze them until the holiday gets closer!
Why you'll love this recipe:
They are not only packed with flavor (no cardboard taste here), but they keep their shape after baking, too. They don't spread out while baking and lose that cute cookie cutter shape.
I love the texture and flavor the combination of cream cheese and butter provides as a base to these cookies.
The secret ingredients? I add in plenty of lemon zest and Almond Extract to the cookie dough as well to give it more depth of flavor!
If you love these cut out cookies, be sure to try our Halloween Jack O Lantern Cookies next. We sandwiched them together with some melted chocolate and cinnamon sugar! We've even got some christmas tree sugar cookies with royal icing!
Ingredient Notes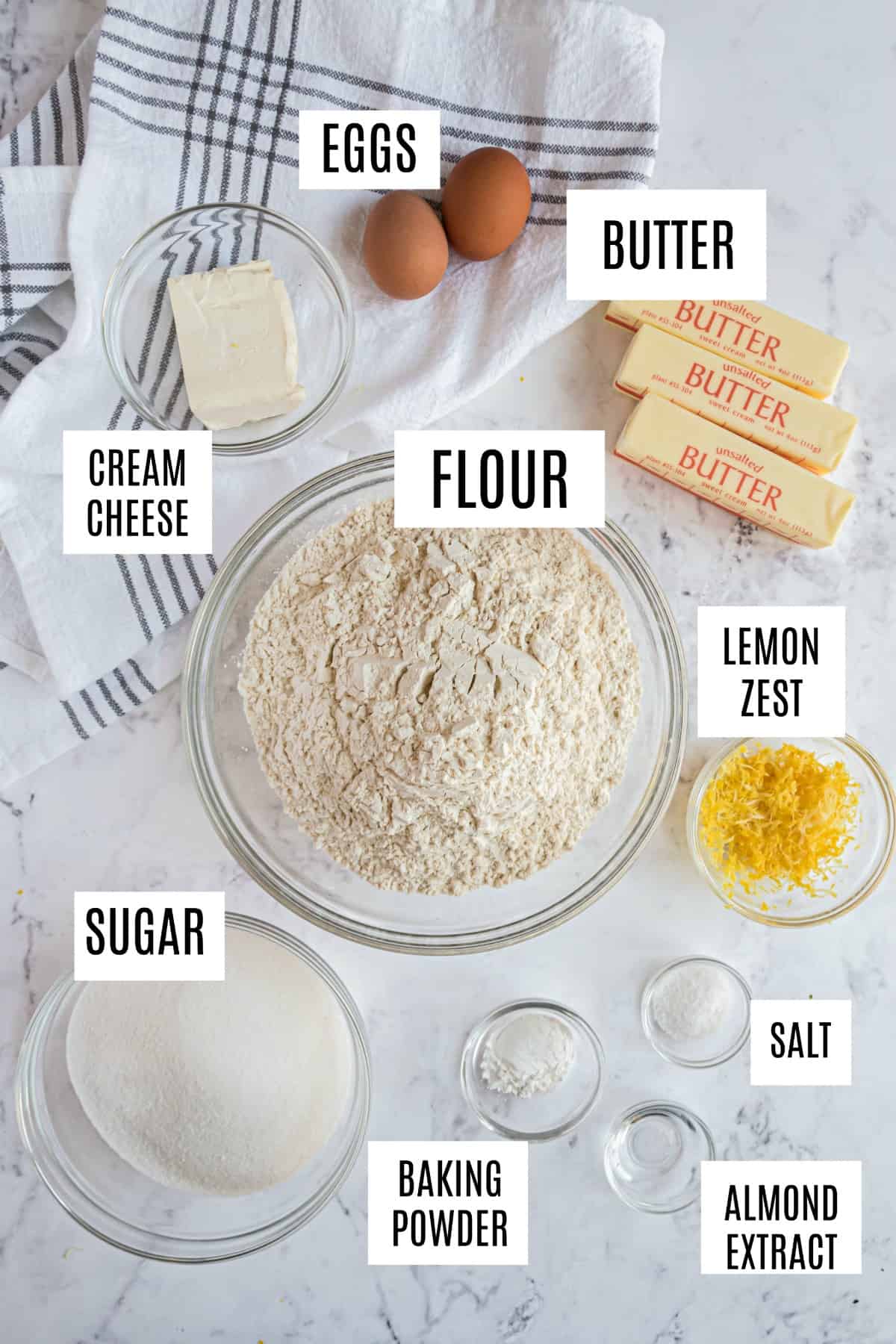 Butter- always use unsalted butter in baking, unless otherwise noted!
Cream Cheese- this gives your cookies depth of flavor and keeps them soft and chewy!
Almond Extract- you could swap this out for vanilla extract or even lemon extract. I love the hint of nuttiness the almond extract gives cookies (you'll see it added to my favorite chocolate chip cookies too)!
Lemon Zest- of course it's optional, but I suggest you try using it. Everyone is going to RAVE about your cookies this year! Use our guide on how to zest a lemon.
Easy Instructions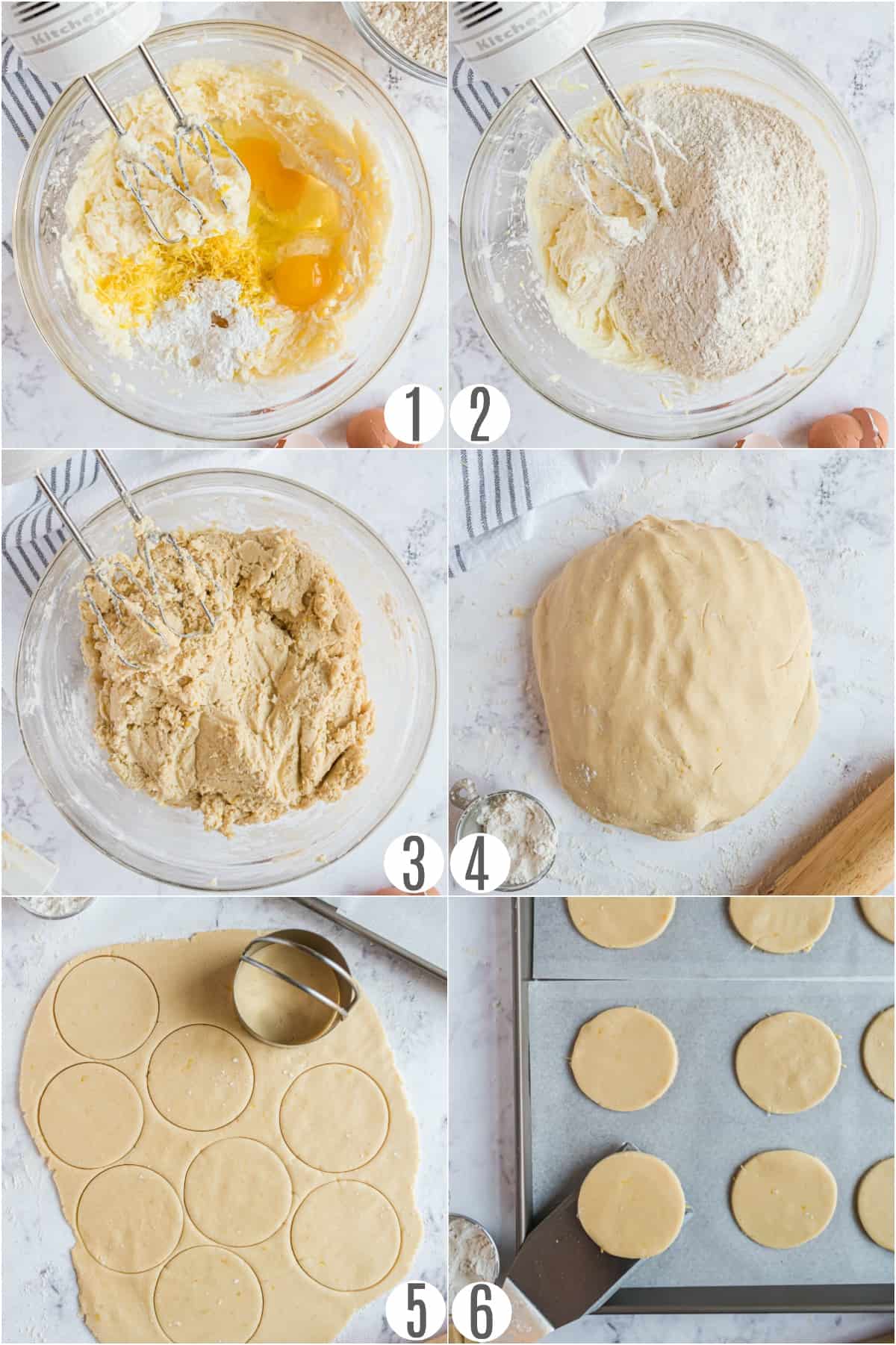 Make the Cookie Dough- Do not OVER mix the dough at this point. You'll be handling it enough that it will mix completely.
Roll the Dough- Divide dough into four parts, making it easier to roll out. Wrap the dough you are not using in plastic wrap to keep it fresh.
Bake the Cookies– each batch of dough takes about 8 minutes! Because the dough doesn't spread, you can put them fairly close together on the cookie sheet.
Frost– I love using homemade sugar cookie frosting. Made with real vanilla beans, it tastes amazing!
This Cream Cheese Sugar Cookie recipe is great for freezing too.
Freezer Instructions
For best results, roll and cut the cookies out using your favorite cookie cutter. Freeze the cut-out shapes. When we're ready to bake cookies, I bake them directly from the freezer (adding a few minutes to the bake time).
I freeze my cut out cookie dough on a parchment paper lined baking sheet. Freeze for about two hours, then remove from baking sheet and slide into a ziploc bag. These cookies will last about 2 months in the freezer.
Since the decorating of the cookies is messy enough, it's nice to only deal with one part of the baking process with the kids at a time!
But let's talk about the frosting.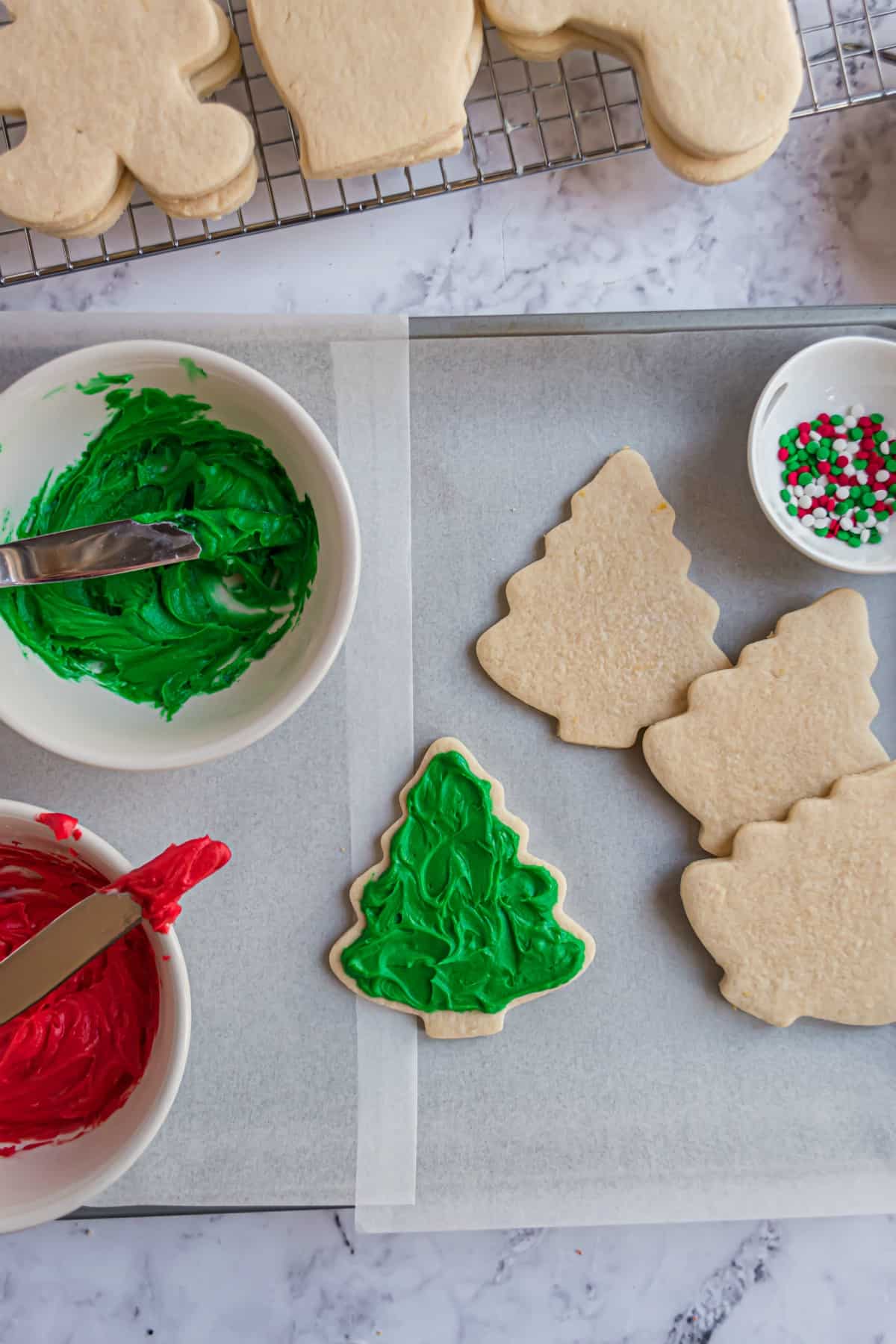 Sugar Cookie Frosting
Much like with cupcakes and brownies, PLEASE don't be skimpy with your frosting. It makes a difference when you bite into these tasty Cream Cheese Sugar Cookies.
I use vanilla beans in my frosting. It's what gives the forsting great flavor!
I know there are many recipes for royal icing. This is NOT it.
Normally when my kids decorate sugar cookies, they don't pipe on the frosting. We color it first, I spread it on the cookies, they add the sprinkles.
The texture of this Vanilla Bean Frosting is perfect, as once it's been piped (or spread) onto the Cream Cheese Sugar Cookies and the sprinkles have been added, it will harden slightly so that you can stack them up without ruining your designs! Fun, right?
You could even use this Vanilla Bean Frosting as a filling for Funfetti Shortbread Cookie Sandwiches if you want. It's such a versatile recipe!
Food Coloring- for best results and boldest colors, I always recomment Americolor Gel food coloring. Just a drop or two can give you fantastic results!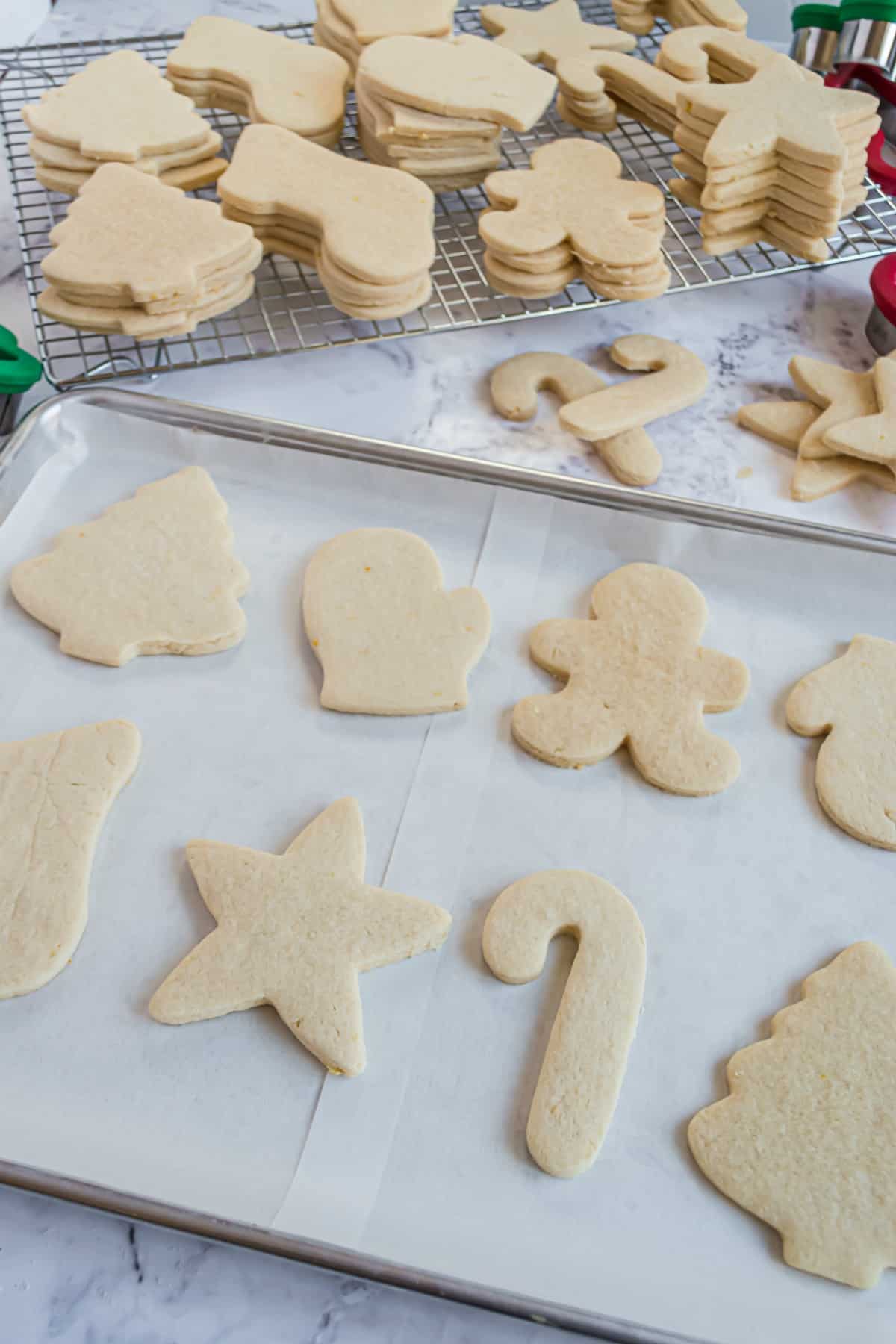 Tips and Tricks
Use plenty of flavoring. My personal winning combo for Cut Out Cream Cheese Sugar Cookies is almond extract with lemon zest. HOWEVER, these are fantastic if you want to change the flavoring to something YOU enjoy. Use a combo of vanilla and almond extract. Or, try lemon and orange extracts for an extra hint of citrus.
Use vanilla beans in the cookie dough to deepen the flavor.
Once your dough is mixed, drop onto a lightly floured surface and knead with your hands until it comes together.
Add food coloring. When adding your food coloring, do so slowly. I prefer to use gel food coloring. I find there is no flavor and you don't need to use very much to get the color you desire!
Spread or pipe the frosting onto your cookies and add sprinkles after each cookie is done (so that the sprinkles stick well).
The frosting will firm up in about an hour. You can then stack them gently (with parchment paper between layers). Store in airtight container. ENJOY.
When you're done with the vanilla bean pod, don't throw it out. USE it for vanilla sugar (which is fantastic in coffee, baked goods, and more)!
More Christmas Cookie ideas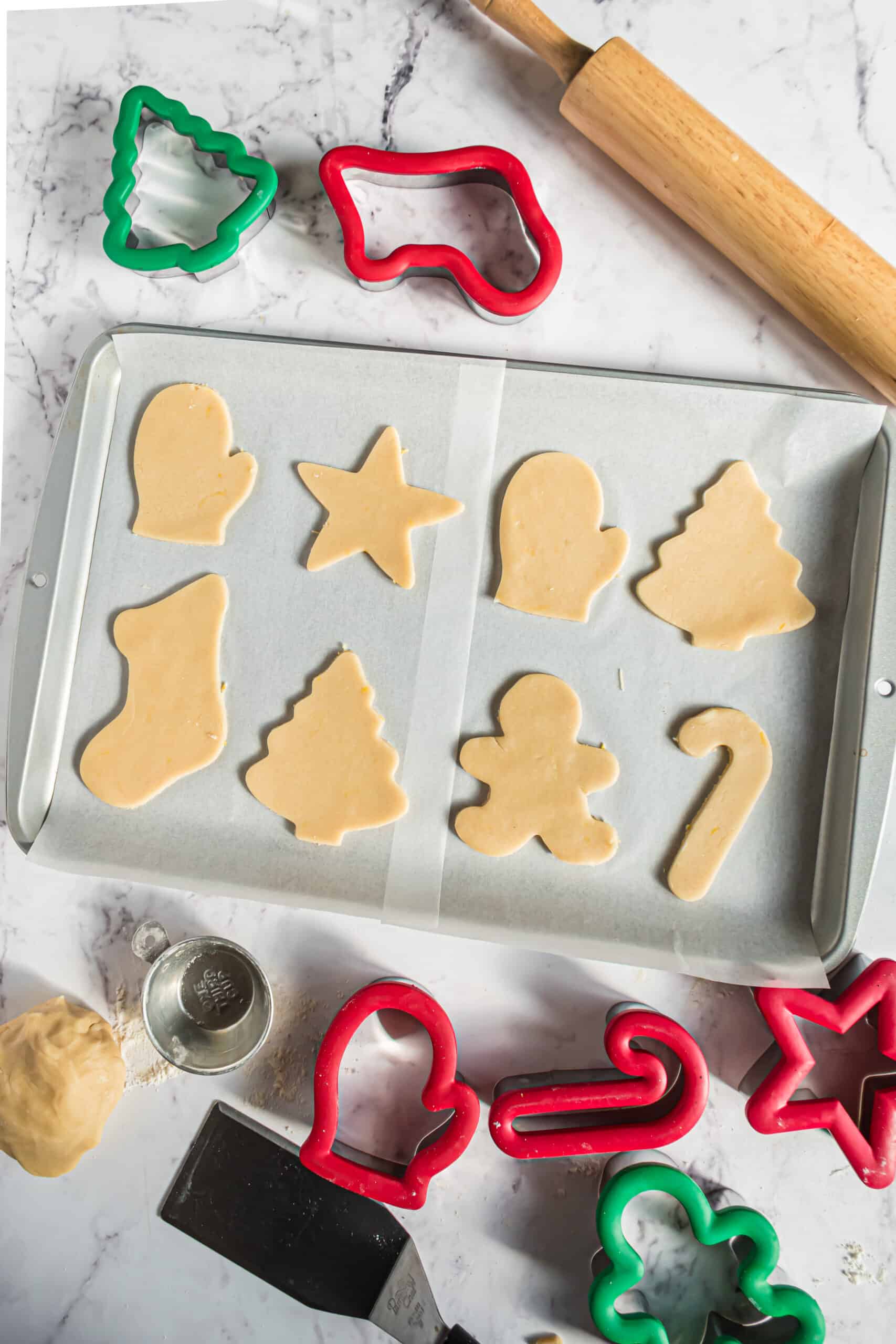 A classic sugar cookie made easy by making them into bars. Frost with a generous layer of festive buttercream, tinted in your favorite color! Frosted Sugar Cookie Bars are a family favorite!
These Easy Traditional Kolachky Cookies Recipe for Christmas have a melt in your mouth cookie base and are topped with sweet preserves. Don't forget the extra powdered sugar!
This Almond Bars recipe is a sweet treat that has a shortbread-like texture and a delicious almond glaze on top! You'll want to make extra and freeze them for later!
Gingerdoodle Cookies are chewy, soft cookies that taste like a cross between a gingersnap and a snickerdoodle. Add this to your baking list ASAP! You'll love the texture of the cookies, but more importantly the molasses flavor with the cinnamon, ginger, and cloves is irresistible!
Don't want to cut out sugar cookies? These are the best, chewy Sugar Cookies with a no-chill dough. Topped with a creamy sugar cookie icing, you'll love this Copycat Swig Sugar Cookie recipe!
More Holiday Sugar Cookie Ideas
You can use today's basic sugar cookie cut out recipe for all holidays and birthdays!
Circles- use a biscuit cutter or 3-inch circle cookie cutter to make basic round cookies. Add vanilla frosting and sprinkles (for birthdays)!
Pumpkins- Make a batch of orange frosted sugar cookies for Halloween (or Thanksgiving)!
Hearts- whether you're celebrating Valentine's Day, anniversaries, or even a wedding shower, you can't go wrong with these sweet cut out cookies.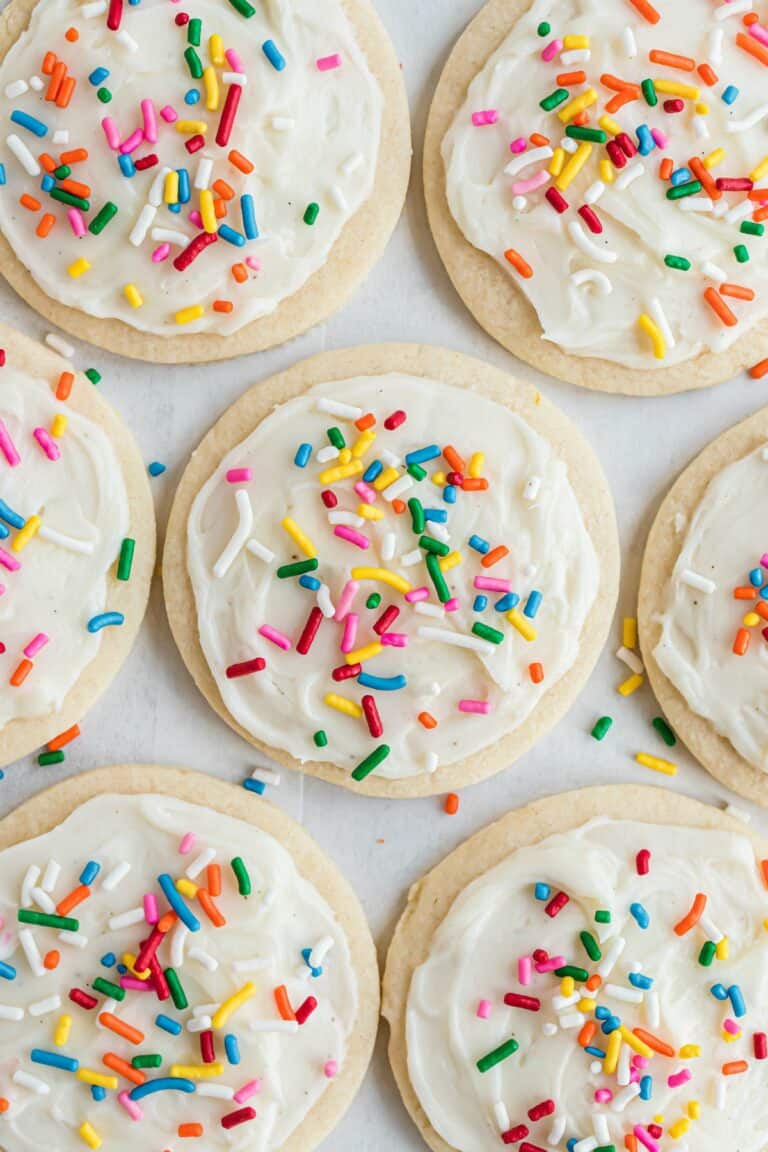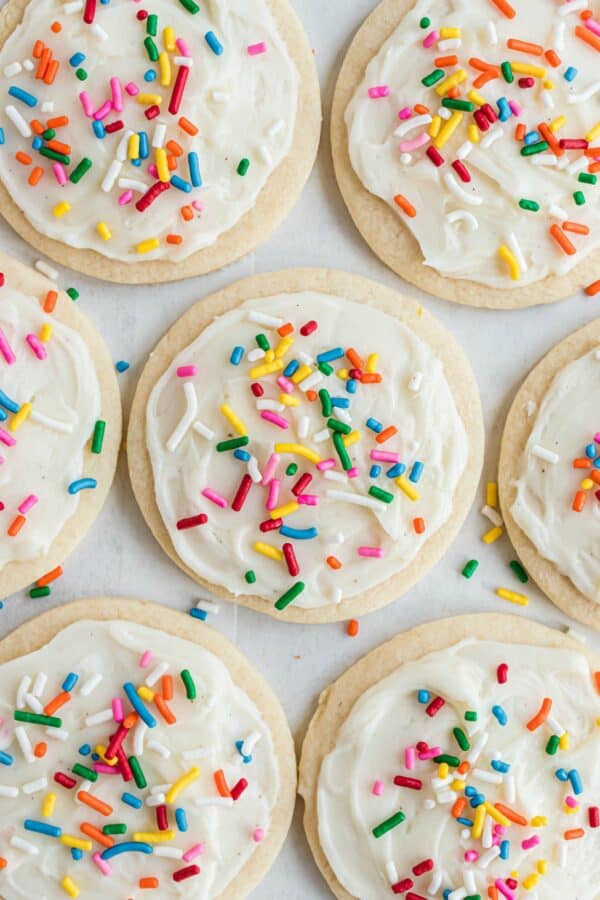 Recipe FAQs
Why do my cut out cookies lose their shape?
Not measuring your ingredients correctly, could cause your cookies to lose shape. Too much flour makes them crumbly, too much sugar and butter and cause them to spread.
How thick should cut out cookies be?
Cut out cookies should ideally be about 1/4-inch thick. This keeps them sturdy enough for frosting, but soft enough in texture.
What type of cookie cutters are best?
I typically choose cookie cutters that are made of metal (and have a plastic/silicone top for pressing down). When baking, choose cut out cookies that are approximately the same size per batch.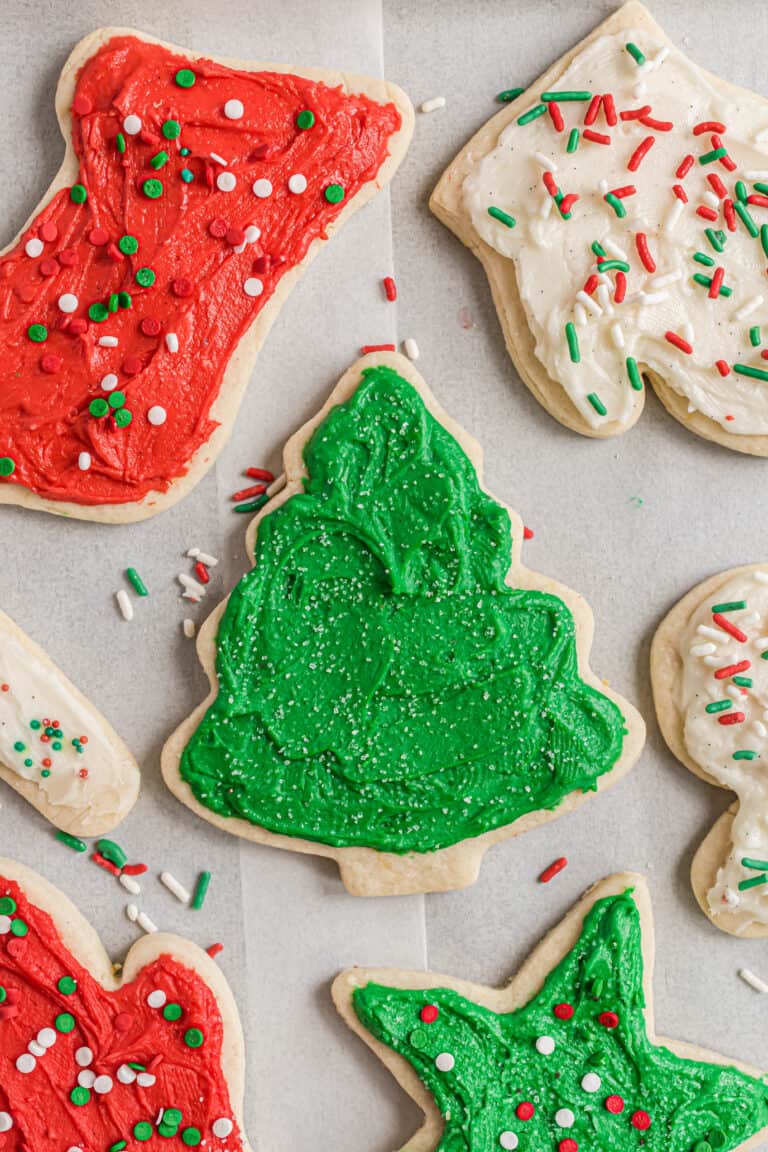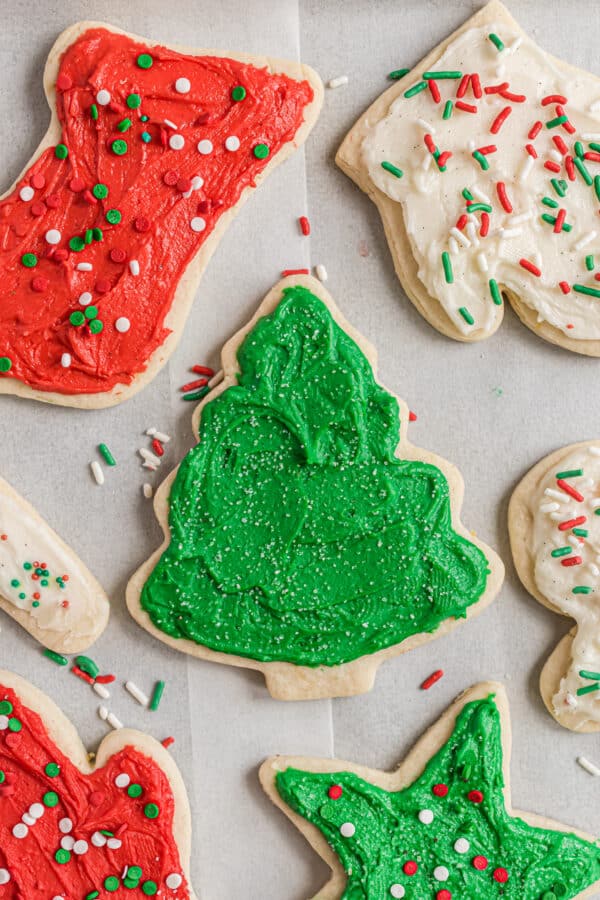 Looking for the BEST sugar cookie cut out recipe? These Cream Cheese Sugar Cookies are so flavorful and they always hold their shape. The only cut out cookie recipe you need this holiday!