Looking for the easiest fudge recipe? Today's Easy Rocky Road Fudge is your answer. And it's absolutely delicious too!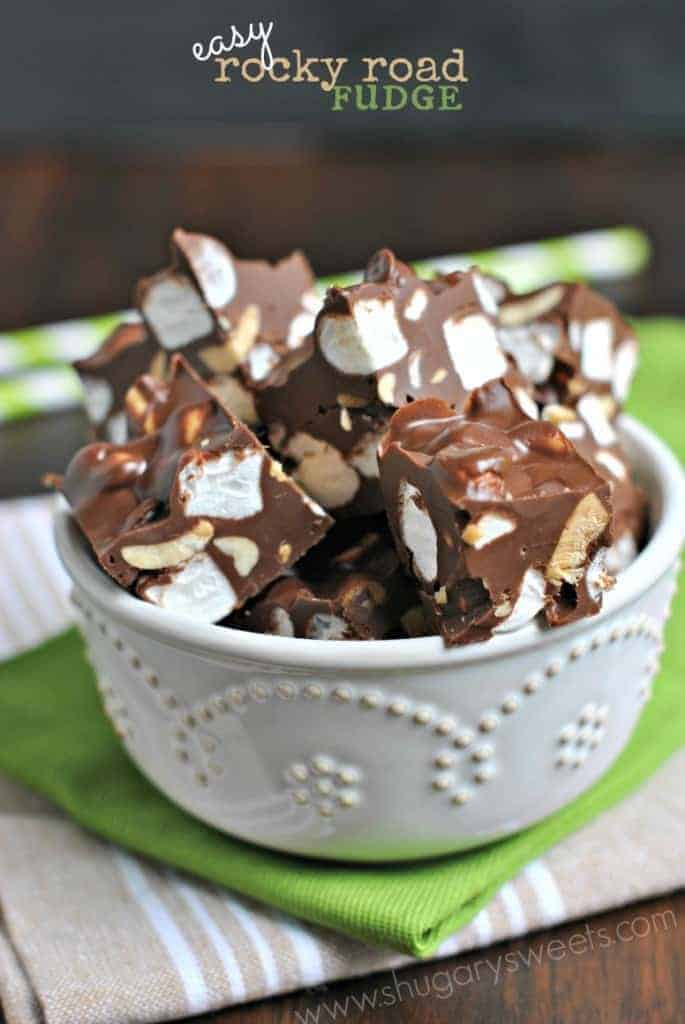 Click HERE to save recipe to Pinterest!
Making fudge at home doesn't have to be difficult. With just a few ingredients and tips for how to make chocolate fudge, you are only steps away from a decadent dessert.
Growing up we didn't call this Rocky Road. Any dessert that had chocolate, nuts and marshmallow was called Heavenly Hash.
Am I the only one that remember Heavenly Hash ice cream? I'm not THAT old, so surely someone else out there might recall this chunky ice cream.
At birthday parties, we always had several ice cream flavors to choose from. Neapolitan and Heavenly Hash were almost always present. The third flavor was usually the wild card…ranging from Chocolate Mint to Caramel Fudge swirl, depending on the desires of the birthday child.
To me it didn't matter, I always wanted the Heavenly Hash.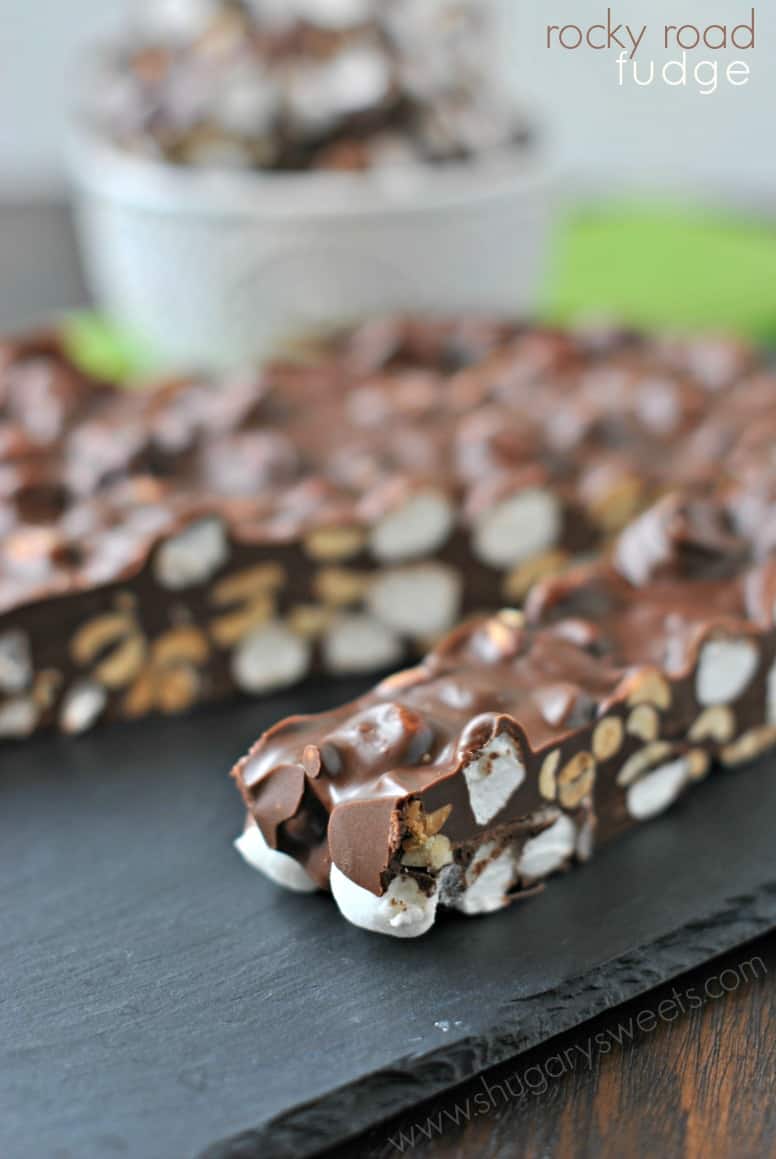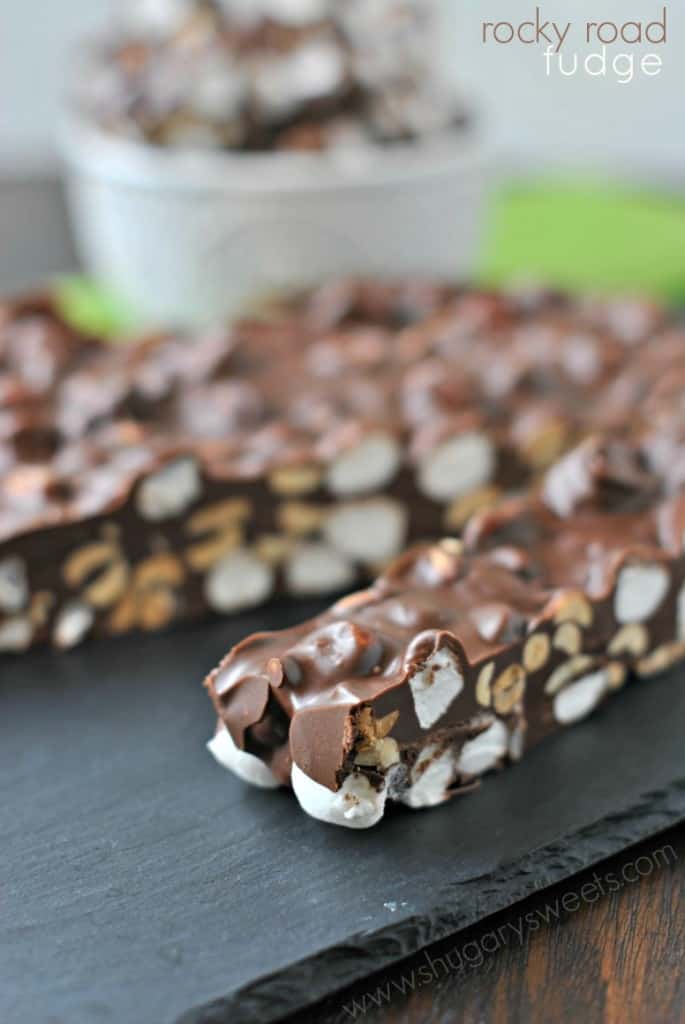 Then one day, everything changed. Heavenly Hash became Rocky Road. Still tasted great, so I'm not complaining. I think the name 'hash' just brought on too many connotations maybe?
Anyway, on to this Easy Rocky Road fudge recipe. It is super easy, no stove top needed (I use the microwave for the melting)!
Today's recipe was the very first fudge I ever made as an adult. Why it's taken me so long to share it here with all you fanatics, is beyond me. But don't worry, the wait is over!
You are only 5 ingredients away from having some of this chilling in your fridge!
And my son has declared this recipe his favorite fudge I've ever made. He loves all fudge too, so this is a big win in my book. Especially since it's probably one of the easiest fudge recipes you'll ever make! ENJOY!
How to make Easy Rocky Road Fudge (in the microwave):
Line an 8-inch square baking dish with parchment paper. Pour 1 cup marshmallows into bottom of dish.
In a large microwave safe bowl, combine semi sweet and milk chocolate with peanut butter. Microwave for 30 seconds, stir and add an additional 30 seconds. Continue stirring until smooth (you may need to microwave an additional 30-60 seconds). Mine took about 60 seconds total.
Fold in remaining 1 1/2 cup mini marshmallows and peanuts.
Pour chocolate mixture over marshmallows in baking dish. Refrigerate until firm, several hours. Cut into bite sized pieces and enjoy.
FAQ's about homemade fudge:
Q: I don't have a microwave, can Rocky Road Fudge be made on the stove top?
A: Yes! I would use a double boiler to melt the chocolate (or a glass bowl over a pot of simmering/boiling water). Melt your chocolate and peanut butter together, until smooth.
Q: We're allergic to peanuts, are there substitutions?
A: Yes! You can substitute Biscoff for the peanut butter in this recipe. Skip the peanuts (or substitute with a tree nut, like almonds, if you are not allergic)
Q: Can Rocky Road Fudge be frozen?
A: Definitely! Wrap the fudge tightly in plastic wrap or wax paper. Then wrap in foil and place in an airtight container or freezer safe ziploc bag. You can store for 3 months in the freezer. When ready to use, thaw at room temperature, still wrapped. ENJOY!

If you love today's recipe for Rocky Road Fudge, here are some more delicious candy treats:
First up, these Rocky Road Clusters. Change up the way you make today's recipe, and serve it in fun little clusters. Perfect for bake sales!
You'll love the delicious flavor combination in this sweet Cranberry Orange Fudge recipe! Perfect for Mother's Day!
When it comes to fudge, Cookies and Cream Fudge should always top the list. Packed with Oreos and flavor, you can't resist this classic treat!
I created a fun little group on facebook and I'd love for you to join in! It's a place where you can share YOUR favorite recipes, ask questions, and see what's new with Shugary Sweets (so that you never miss a new recipe)! If you'd like to check it out, you can request to join HERE.
Connect with Shugary Sweets!
Be sure to follow me on my social media, so you never miss a post!
Facebook | Twitter | Pinterest | instagram
Easy Rocky Road Fudge recipe and video tutorial:


This recipe for Easy Rocky Road Fudge was originally published on Shugary Sweets on December 16, 2014 and has been updated and republished in May 2018.
See the recipe Easy Rocky Road Fudge on YouTube