Jingles Cookies: sweet shortbread cookies with anise extract. You'll love these melt in your mouth Christmas cookies covered in red and green sprinkled!
For more festive cookies, be sure to try these Italian Ricotta cookies. Our family is obsessed with the soft texture and sweet glaze! Or try our Coconut Macaroons…we even dipped the bottoms in chocolate!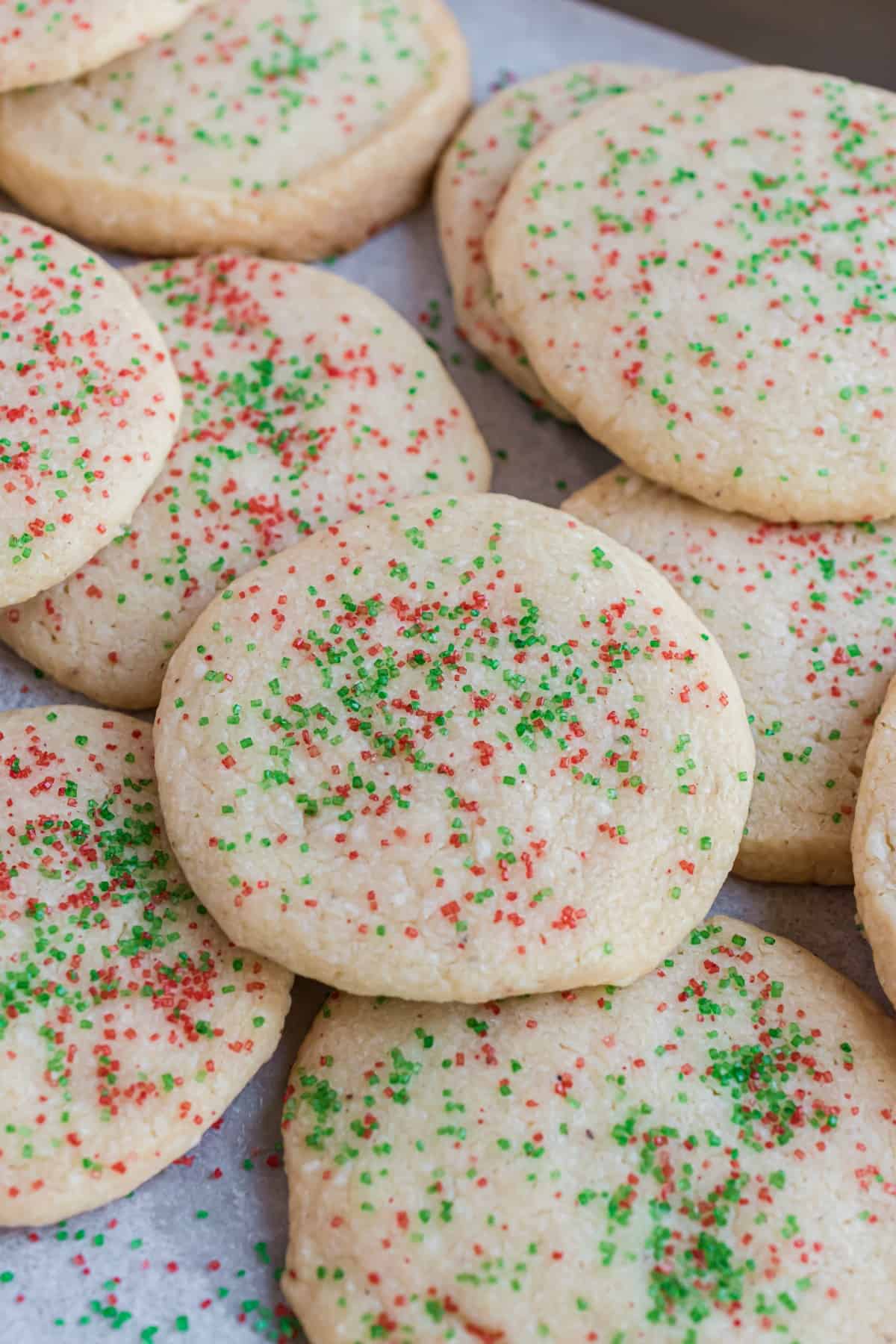 What Are Jingles?
Jingles are shortbread cookies flavored with pure anise extract and a touch of nutmeg. They used to show up in stores around November, sprinkled with red and green for the season!
You can imagine how disappointed I was then when this year's package of Jingles didn't taste as delicious as I remembered. I can't put my finger on it but they just don't have that "zip" that makes them special anymore.
I searched for a recipe to make homemade jingles cookies and came up empty handed. So, I did what any food blogger would do: attempted to create my own!
These Homemade Jingles Cookies beat the store bought ones by a mile.
The flavor is spot on, just like I remembered! You'll love these as an alternative to the Keebler classics or as a way to mix up your rotation of Christmas cookies!
Ingredient Notes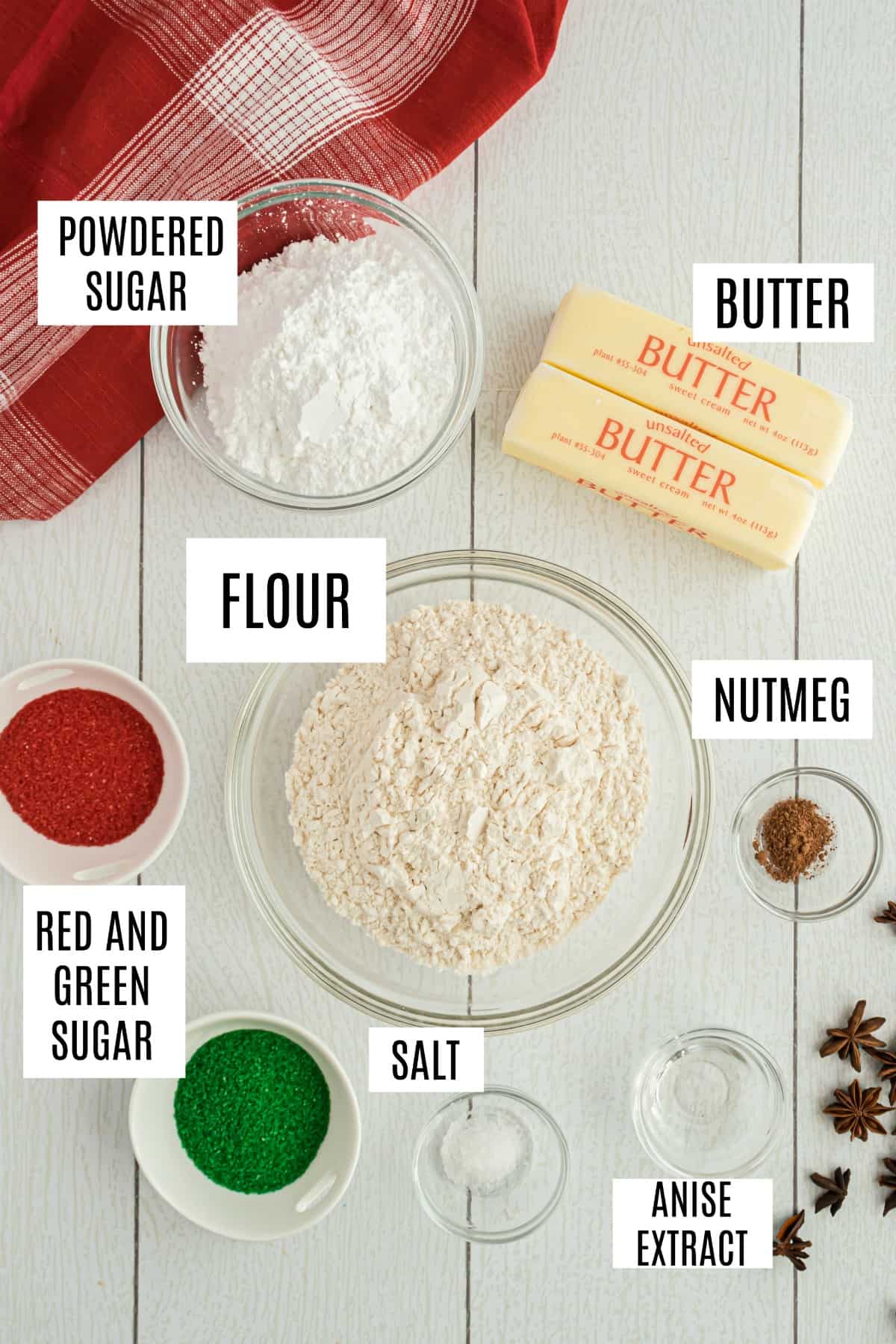 Anise – These cookies get their signature flavor from pure anise extract added to the dough. The recipe lists 1.5 teaspoons but you can add more or less depending on how strong you want the anise flavor to be. I usually end up adding closer to 2 teaspoons!
Powdered sugar- Using powdered sugar gives these cookies the familiar melt-in-your mouth texture. There's no substitute that I know of that creates cookies with quite the same consistency!
Sprinkles – I used red and green sugar crystal sprinkles to keep the Christmas theme. Feel free to mix up the colors for different occasions and make them all year round.
Easy Instructions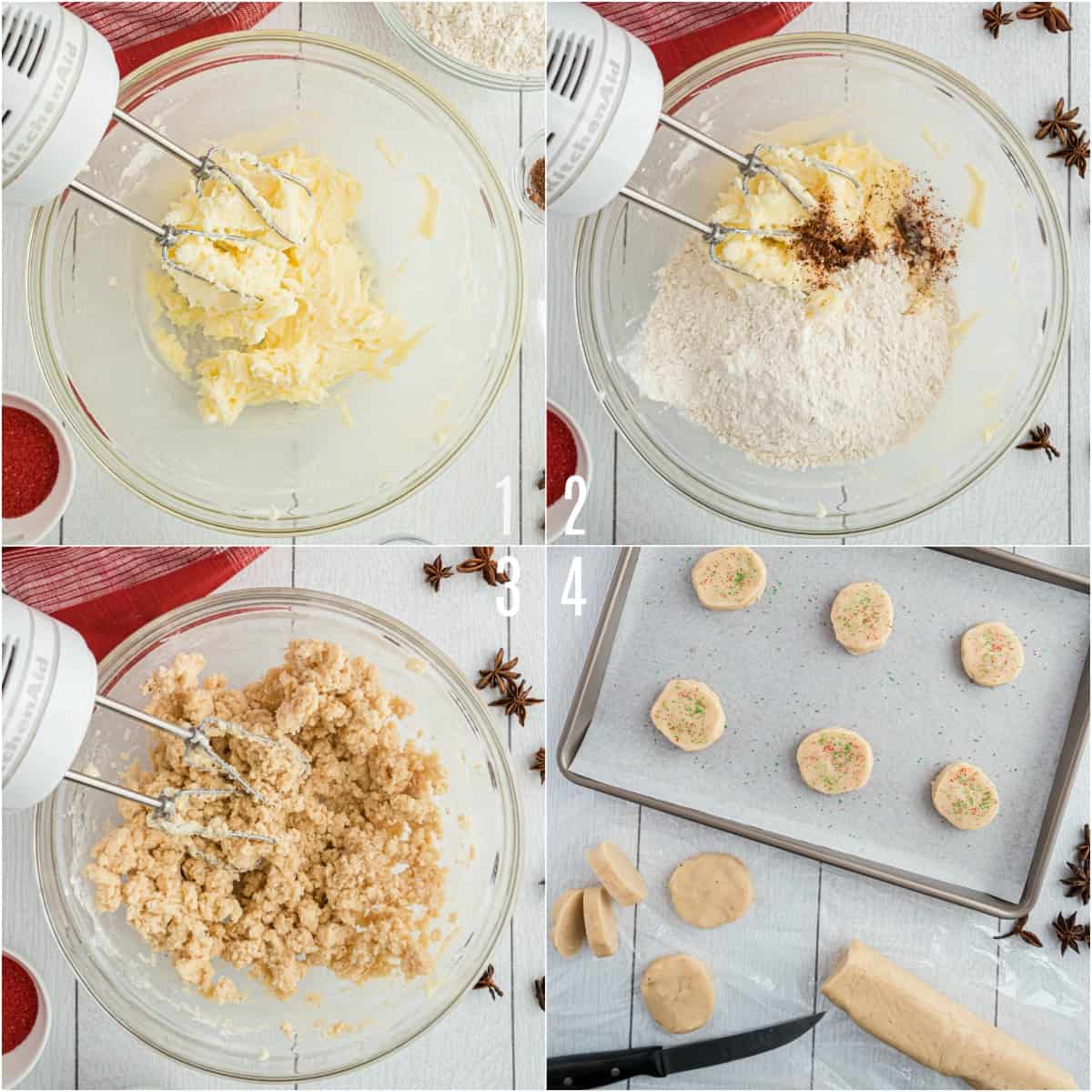 Start by beating the powdered sugar and butter, then mix in the remaining ingredients (except sprinkles) to form a crumbly dough.
Use your hands to press the dough into a ball, wrap with plastic cling wrap and shape into a log. Chill the dough while you preheat the oven.
After 30 minutes, unwrap the log of dough and cut the cookies in slices 1/4 inch thick. Sprinkle the unbaked cookies with sugar crystals and bake for 13 to 15 minutes.
So easy and oh so delicious!
Tips & Tricks
Instead of chilling slicing cookies, you can roll sections of dough into 2 inch balls and press them into disks with the bottom of a drinking glass! Dampen the glass with water and press into granulated sugar to keep the cookie dough from sticking.
For an even easier cutting method, press the cookie dough into a rectangle, sprinkle with the sugar crystals and bake for 20 to 25 minutes. Slice the cookie rectangle into squares or other desired shape as soon as you remove them from the oven.
Store the cookies in an airtight container at room temperature. Enjoy within a week for best freshness!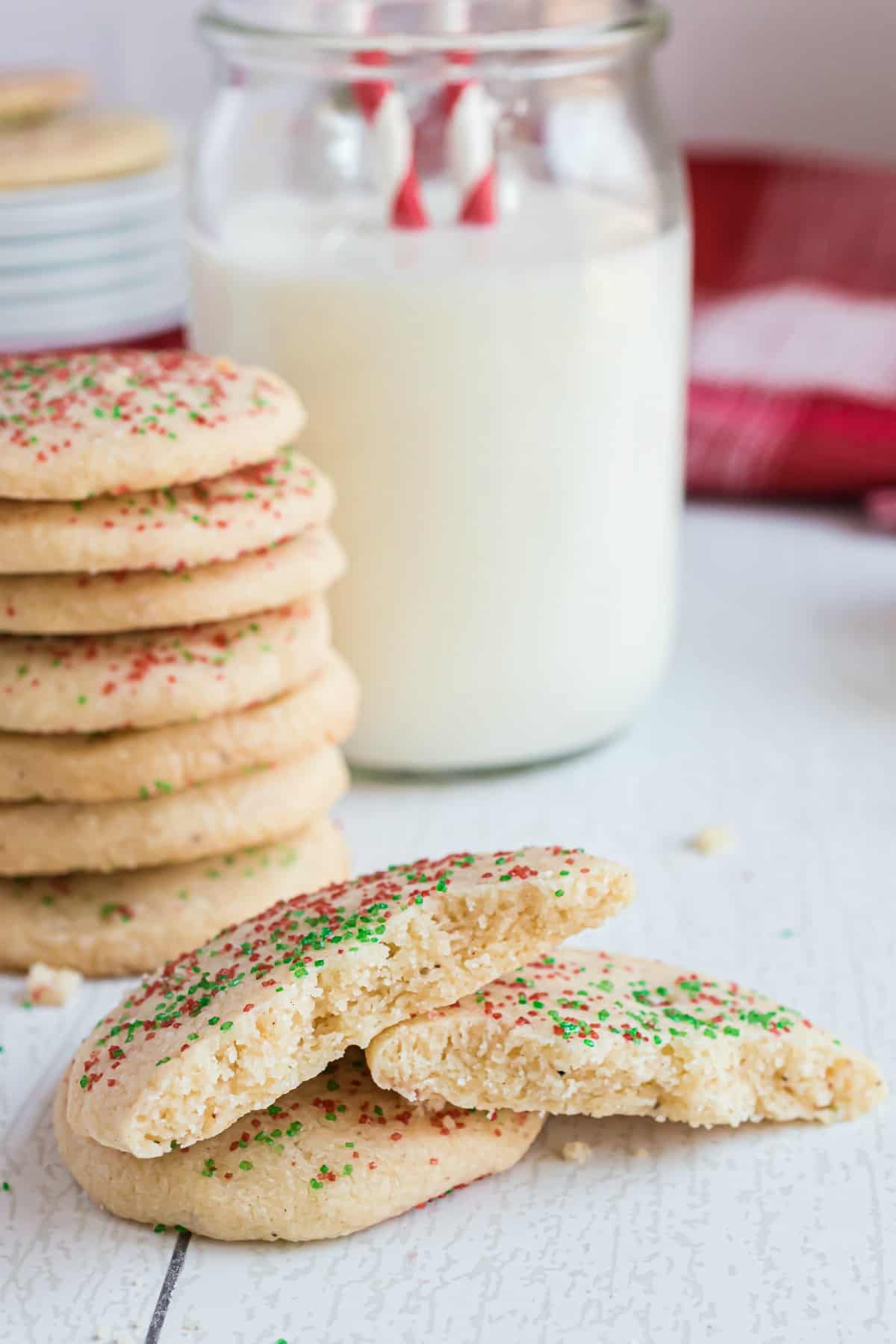 Recipe FAQs
I don't have anise extract. Can I substitute something else?
Without the anise, Jingles aren't Jingles! However, you can still make these as a simple plain shortbread cookie if you like by replacing the anise with vanilla. Just don't call them Jingles!
Do shortbread cookies freeze well?
You can freeze shortbread cookies but the sugar crystals will bleed color into the cookies as they thaw. The cookies will still taste good but won't look quite as neat!
Can you make these without chilling the dough?
Chilling the dough log helps firm it up enough to slice into disks. If you don't have time to wait, use a drinking glass to press balls of dough into flat circles before baking. (See Tips & Tricks above.)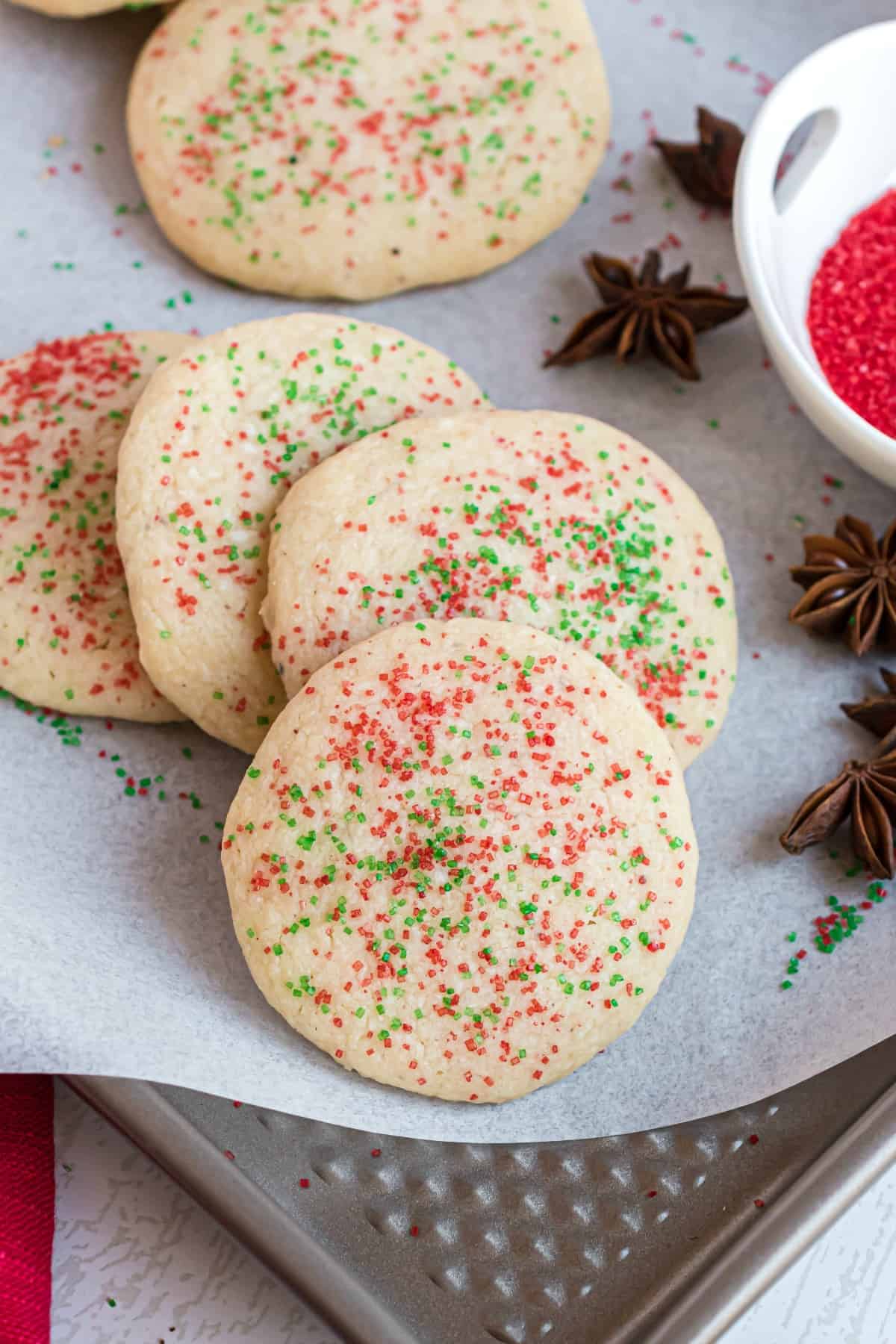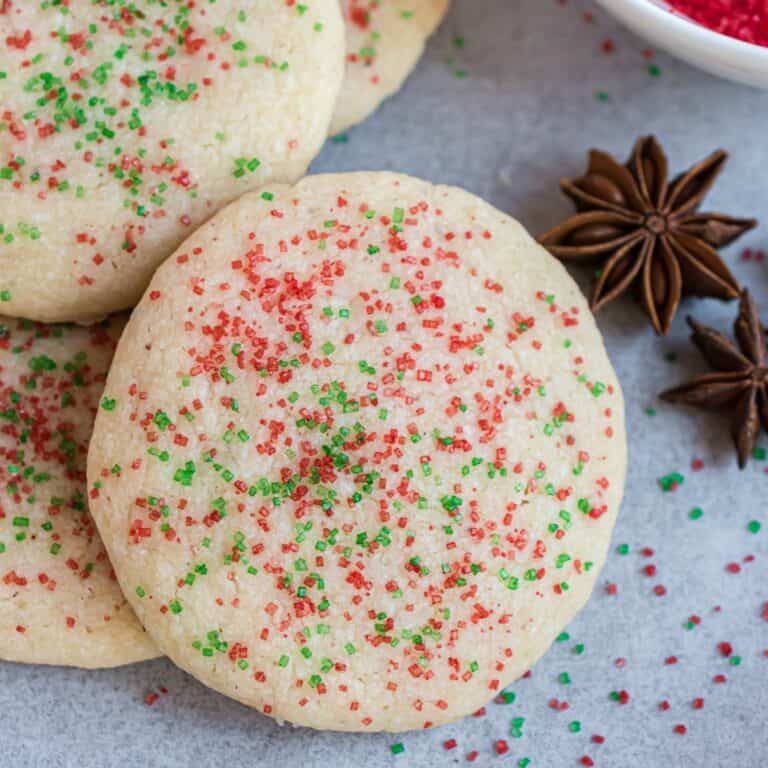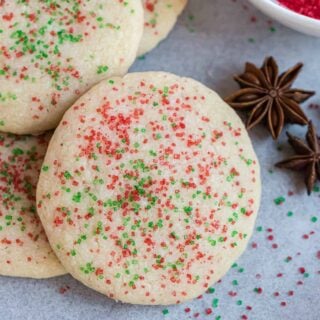 Homemade Jingles Cookies
Jingles Cookies: sweet shortbread cookies with anise extract. You'll love these melt in your mouth Christmas cookies!
Ingredients
1

cup

unsalted butter

softened

¾

cup

powdered sugar

1 ¾

cup

all purpose flour

¼

teaspoon

kosher salt

¼

teaspoon

ground nutmeg

1 ½

teaspoons

pure anise extract

red/green sugar crystal sprinkles
Instructions
In mixer, beat butter and powdered sugar until combined. Add in flour, salt, nutmeg and anise extract. Mixture will be crumbly, use hands to form a ball. Lay on saran wrap and roll into a log shape. Wrap up tightly and refrigerate for 30 minutes.

Line a baking sheet with parchment paper. Cut slices of cookies 1/4 inch thick and lay on baking sheet. Sprinkle with red/green sugar. Bake in a 350 degree oven for 13-15 minutes. Cool completely and store in air tight container. ENJOY!
Notes
Other options for cookies include scooping dough into 2Tbsp balls, rolling, pressing with the bottom of a glass, then sprinkling with sugars. Bake for 15 minutes (makes about 24 cookies).
Or you can press into a 14×10-inch rectangle and bake for 20-25 minutes. Cut into slices or squares immediately after removing from oven, then cool and enjoy.
Add more or less anise extract for your preference. I usually add closer to 2 tsp anise, but some people enjoy just a hint, at 1 tsp.
Nutrition
Calories:
70
kcal
,
Carbohydrates:
6
g
,
Protein:
1
g
,
Fat:
5
g
,
Saturated Fat:
3
g
,
Polyunsaturated Fat:
2
g
,
Cholesterol:
12
mg
,
Sodium:
9
mg
,
Sugar:
2
g
Santa loves Jingles Cookies and so will you! This homemade version has all the irresistible anise flavor of the packaged originals but tastes even fresher because you made them yourself.