Holidays can be a crazy time of year. Get your day started with this hearty Sausage and Gravy Breakfast Casserole! Best part? It can be made ahead of time!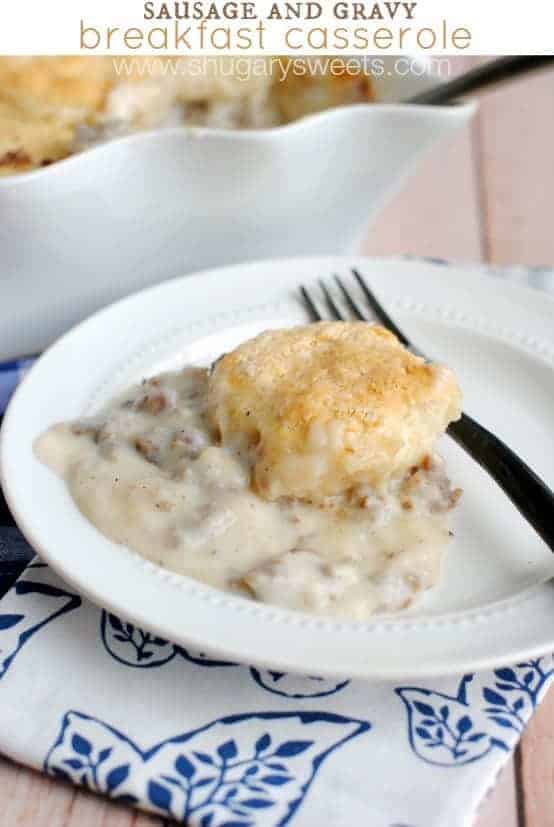 I don't make Sausage and Gravy very often. We LOVE it, but it's not something I think to make.
Savory gravy ladled over fluffy biscuits is one of my very favorite things in the world.
There's only one problem.
As I've mentioned here on the blog, I hate making hot breakfast. I love eating pastries and muffins, biscotti and bagels.
But all those can be made in advance. When my eyes aren't so sleepy. When the caffeine from my dalgona coffee has been flowing through my veins.
Being expected to get out of bed and make a full breakfast from scratch before I've even had my first sip of coffee is something I just can't handle most of the time.
But sometimes my family has the audacity to want a freshly made HOT breakfast that's more than just pastries. And honestly? So do I.
Now, friends, I've got a solution for us!
Make Ahead Breakfasts
This Sausage and Gravy Breakfast Casserole can be made ahead of time. You can heat it up immediately, or prepare it (without baking) the night before.
Then all you have to do is turn on the oven and bake. THAT I can do! After you make this breakfast casserole, you're going to be all about the make ahead breakfasts life.
This Berry French Toast Casserole can be prepped ahead of time and all you have to do is roll out of bed and pop it in the oven.
Add my favorite Overnight Egg Casserole to the list of breakfasts that can be prepped ahead of time!
Biscuits and Gravy
This breakfast casserole is a savory breakfast option for those of us who don't like cooking in the morning! If you like Biscuits and Gravy, this is the make ahead casserole recipe you need in your life.
I love freshly baked biscuits, especially when they're paired with gravy.
Speaking of the biscuits, I make mine using Bisquick Original Baking Mix. Always. Every time.
For as many things as I make from scratch, some mixes is are just too easy, and too convenient to keep on hand! This is one of those things I have in my pantry at all times.
Of course, if you have a favorite made-from-scratch biscuit recipe, you're welcome to use it here. I just personally love the convenience of bisquik. It takes the guess work out and saves me an extra step.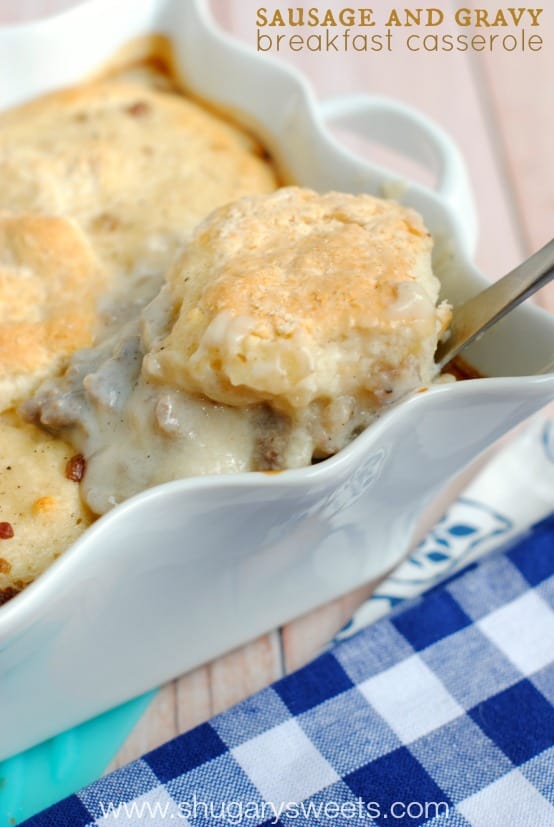 Breakfast for Dinner
Sausage and Gravy Casserole also a great dinner idea. My family LOVES breakfast for dinner. Serve with a big fruit salad and some extra biscuits with honey and jam, and dinner is done!
Sausage and gravy casserole is easy enough for a weekday meal but also tasty enough to serve to company. This might need to be on my menu next time we have guests over for brunch.
Easy ideas: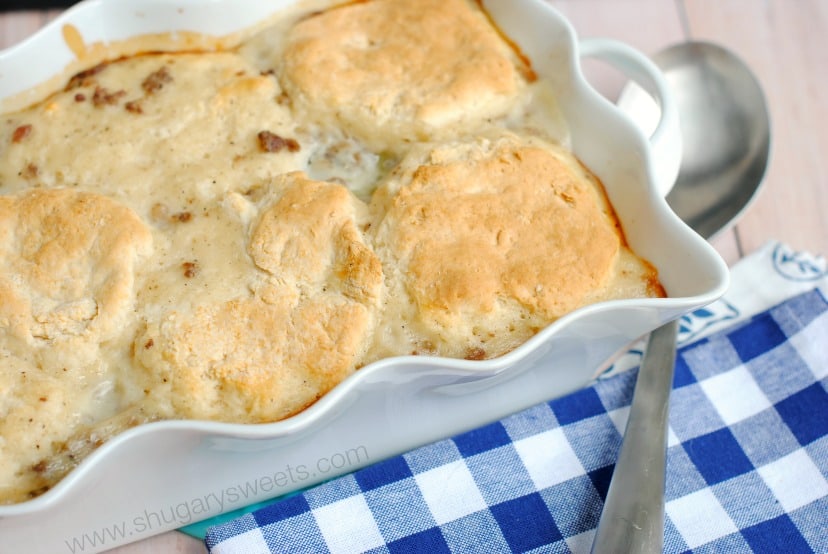 Making meals ahead of time is such a life saver this crazy time of year.
This breakfast casserole is hearty stick-to-your-rubs comfort food that's well worth getting out of bed for!
What you'll Need
The recipe only requires a few ingredients, too. We almost always have breakfast sausage ready to go in the fridge so I know I never have to make a special trip to the store for this meal!
Here's what you need to make the casserole:
Breakfast sausage
Milk
Flour
Biscuit mix
Salt and pepper
After browning and crumbling the sausage in the skillet, you make a gravy by whisking the milk and flour together to form a thick roux, then adding in the sausage.
Make the biscuits with bisquik and milk, then fill a casserole dish with the sausage gravy. Top the gravy with balls of biscuit dough and bake! You can bake the dish right away or save it for later.
Make it in Advance
Make everything as directed, then cover the dish with foil and keep it refrigerated until ready to bake.
After about 30 minutes in the oven, the casserole is ready to serve and enjoy.
The biscuits get browned on top and fluffy on the inside. Each bite of casserole yields to creamy, savory delicious sausage gravy.
Recipe Notes
While I can't recommend the Bisquik method enough, you're welcome to substitute it with your other favorite biscuit dough, refrigerated or made from scratch. I just happen to love the taste of biscuits made from my trusty boxed mix.
If refrigerating the casserole overnight before baking, you may need to add a few minutes of baking time. Bake until the biscuits are golden brown on top and the gravy is bubbly.
This tasty Breakfast Casserole is by far my new favorite way to Biscuits and Gravy! I know you're going to love it, too.