Looking for a delicious, make ahead meal? This Sausage Pizza Bake inspired by Pillsbury Bubble Up Pizza Casserole, is the answer to your busy weeknight schedule!
If you love easy weeknight pizza dinners, try our delicious slow cooker Pizza Soup recipe. Or give this tasty Taco Pizza a try soon!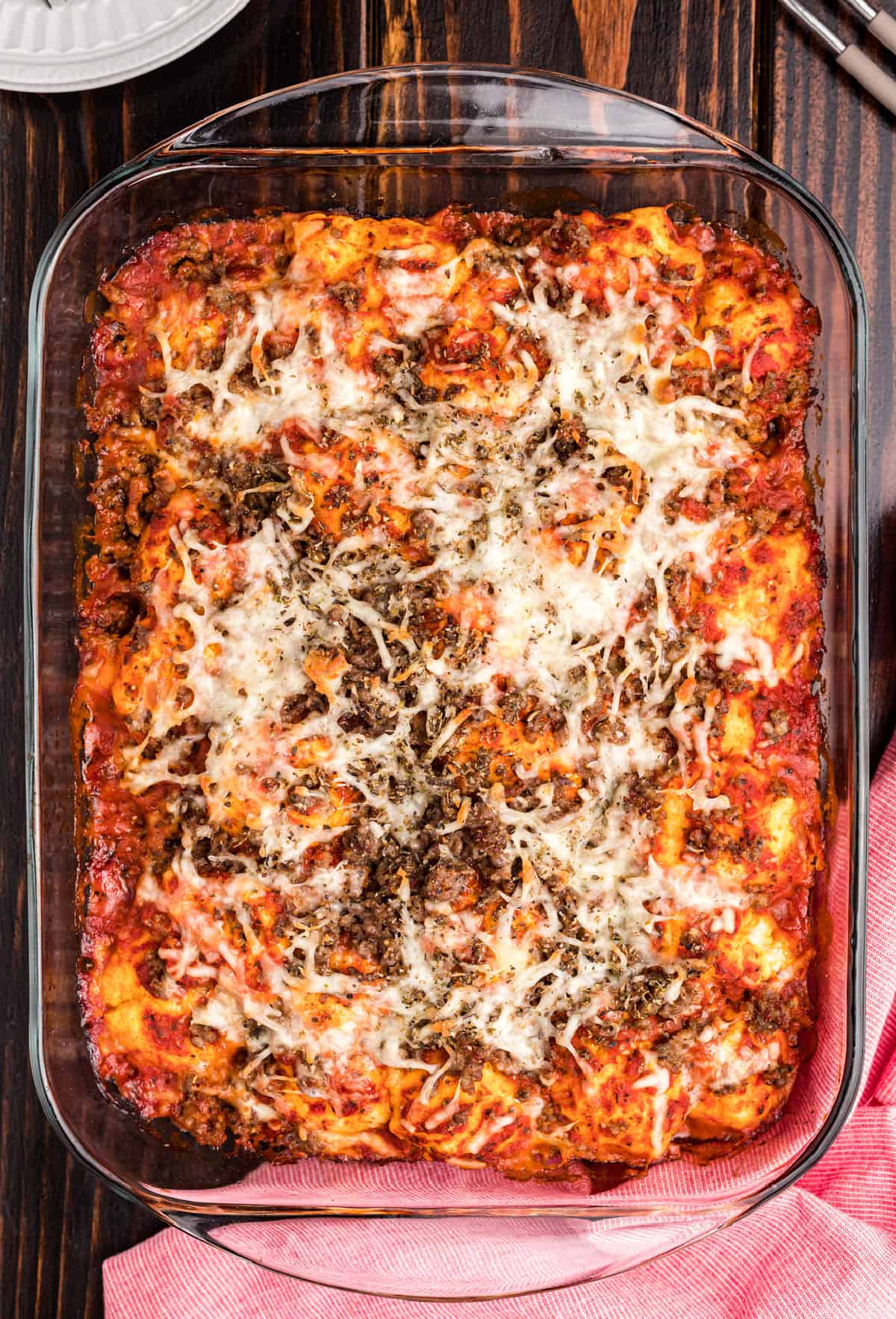 Why this Recipe Works
I don't know about you, but dinner time can be crazy during the week at our house. Add in the hectic holidays and getting a delicious dinner on the table can be cumbersome.
Enter: Easy Bubble Up Pizza.
Make it in the morning, cover with foil, and refrigerate until dinner. Bake as directed and enjoy this easy pizza!
If you've ever had Pillsbury Bubble Up Pizza (or bubble bake) this cheesy pizza casserole tastes similar! You get puffy pieces of dough layered with cheese, sauce and sausage
Eating this also reminds me of a deep dish Chicago style pizza! And as a Chicago native…I love me some deep dish pizza!
The convenience of having this made ahead of time in my refrigerator was awesome!
Ingredient Notes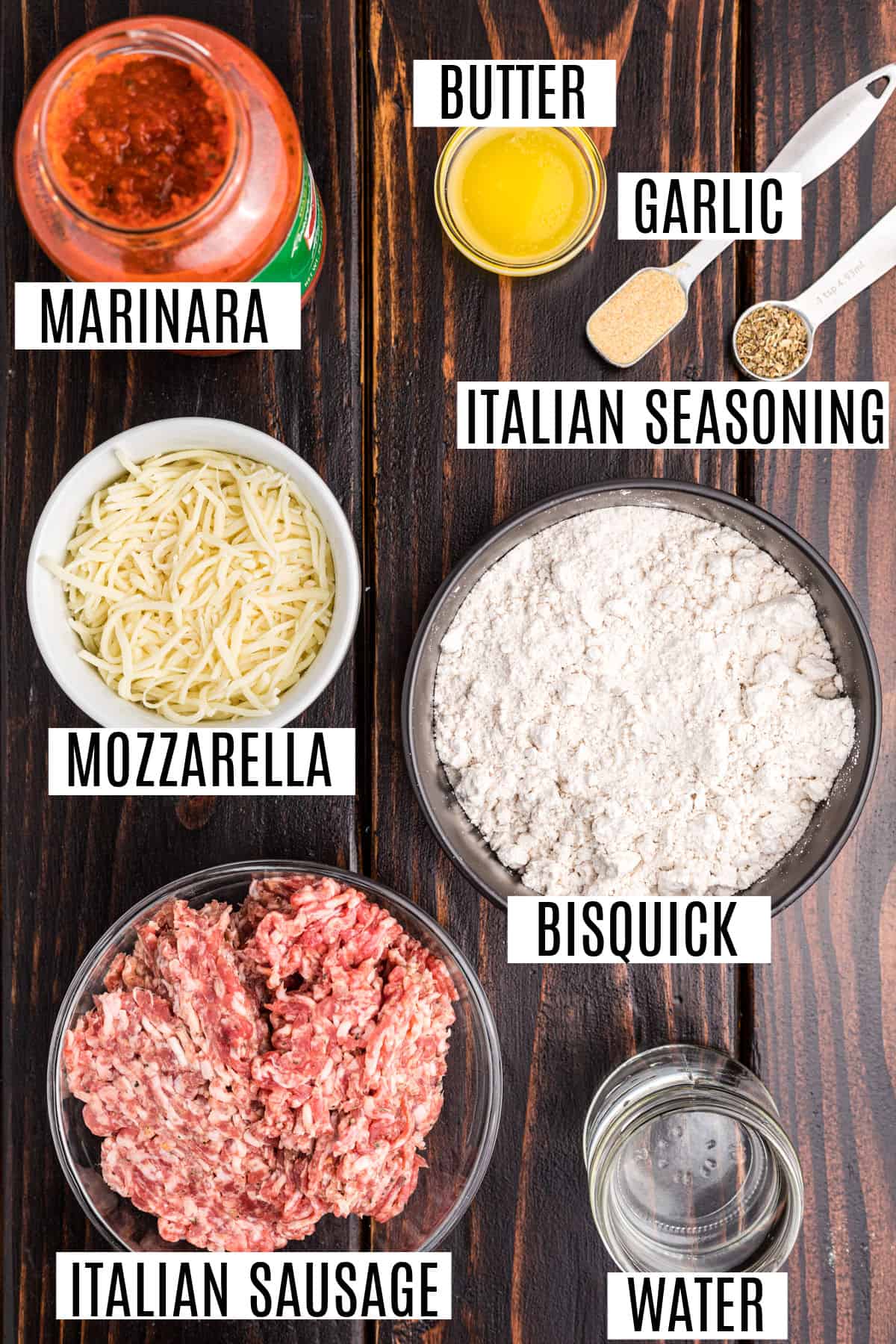 Bisquick.
The way I see it a quick and easy meal needs a short and sweet ingredients list. This recipe starts with a box of original Bisquick to form the dough. You can swap this for a tube of Pillsbury Grands Biscuits, cut into eighths too!
Italian Sausage.
Italian Sausage gets my vote for best sausage to use in this recipe! It's already full of flavor so it needs no extra seasonings, and I almost always have some on hand for fast dinners. Add in some pepperoni and bacon for a true meatlovers pizza.
Sauce and Seasonings.
A jar of spaghetti sauce (store bought or homemade marinara) and lots of shredded mozzarella cheese complete the pizza bake! For seasoning, I just use dried Italian Seasoning and garlic powder. This is a weeknight meal so I kept it as convenient to make as possible!
Make it Meatless.
You can easily make the bubble up pizza vegetarian, too! Leave out the meat entirely or replace it with a meatless sausage substitute or vegetables. Think peppers, mushrooms, olives or whatever chopped veggies you usually enjoy on your vegetarian pizza.
Step by Step Instructions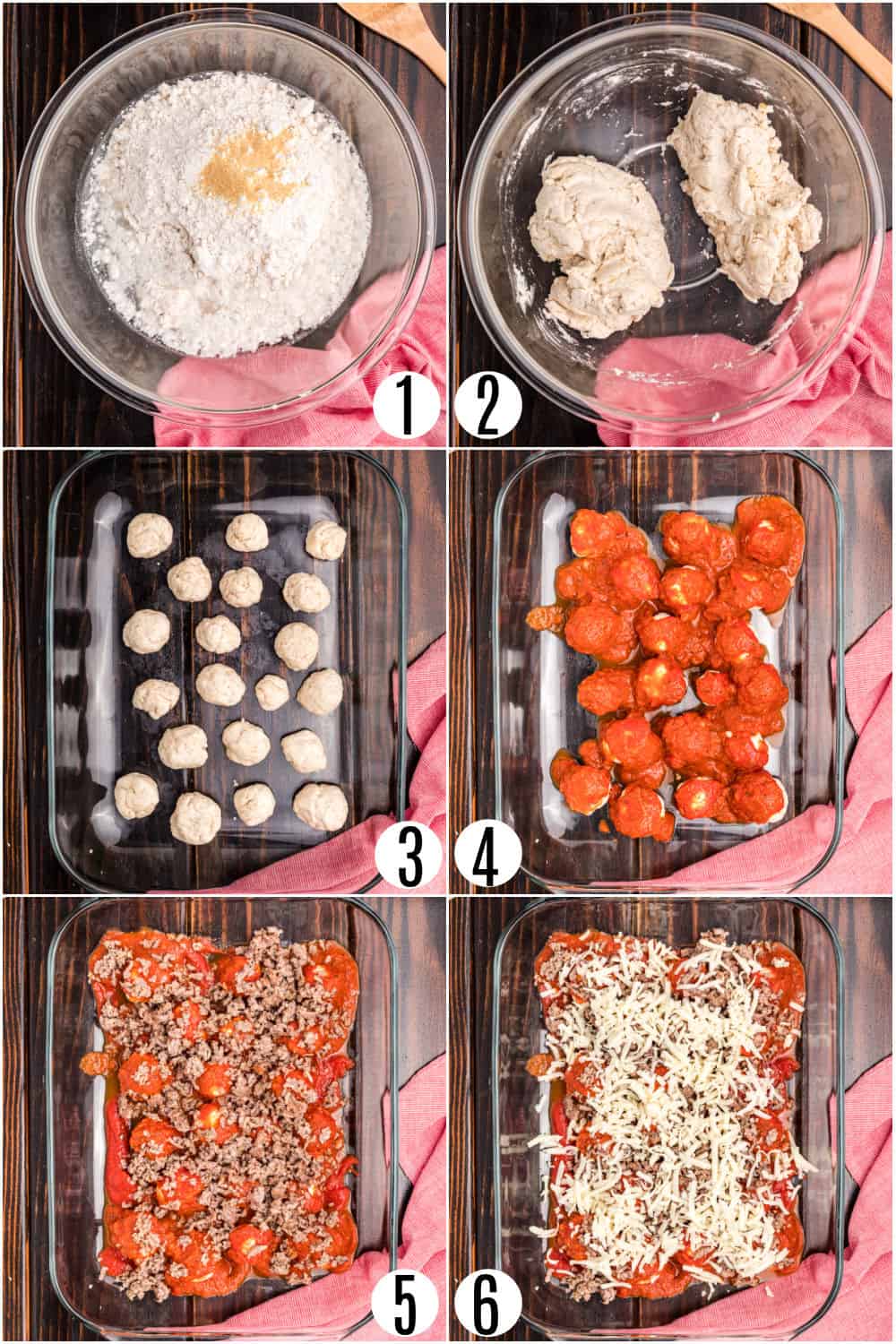 STEP 1. Cook the sausage
Brown Italian sausage over medium high heat, using a wooden spoon to crumble it while it cooks. Drain the grease and set sausage aside.
STEP 2. Make the dough
Mix Bisquick with water, melted butter and garlic powder in a bowl to form a dough, then divide in half.
STEP 2. Assemble
Drop half the dough by the tablespoon onto the bottom of a glass baking dish. Top with half of the sauce, sausage and cheese. Add the rest of the dough by the spoonful to the top and add the remaining half of other ingredients. Sprinkle Italian seasoning over the whole thing. Repeat with remaining ingredients. Sprinkle with Italian seasoning.
STEP 3. Cover and bake
Cover dish with foil and bake for 10 minutes. Remove foil and bake an additional 25 minutes, until bubbly and browned. Serve and enjoy!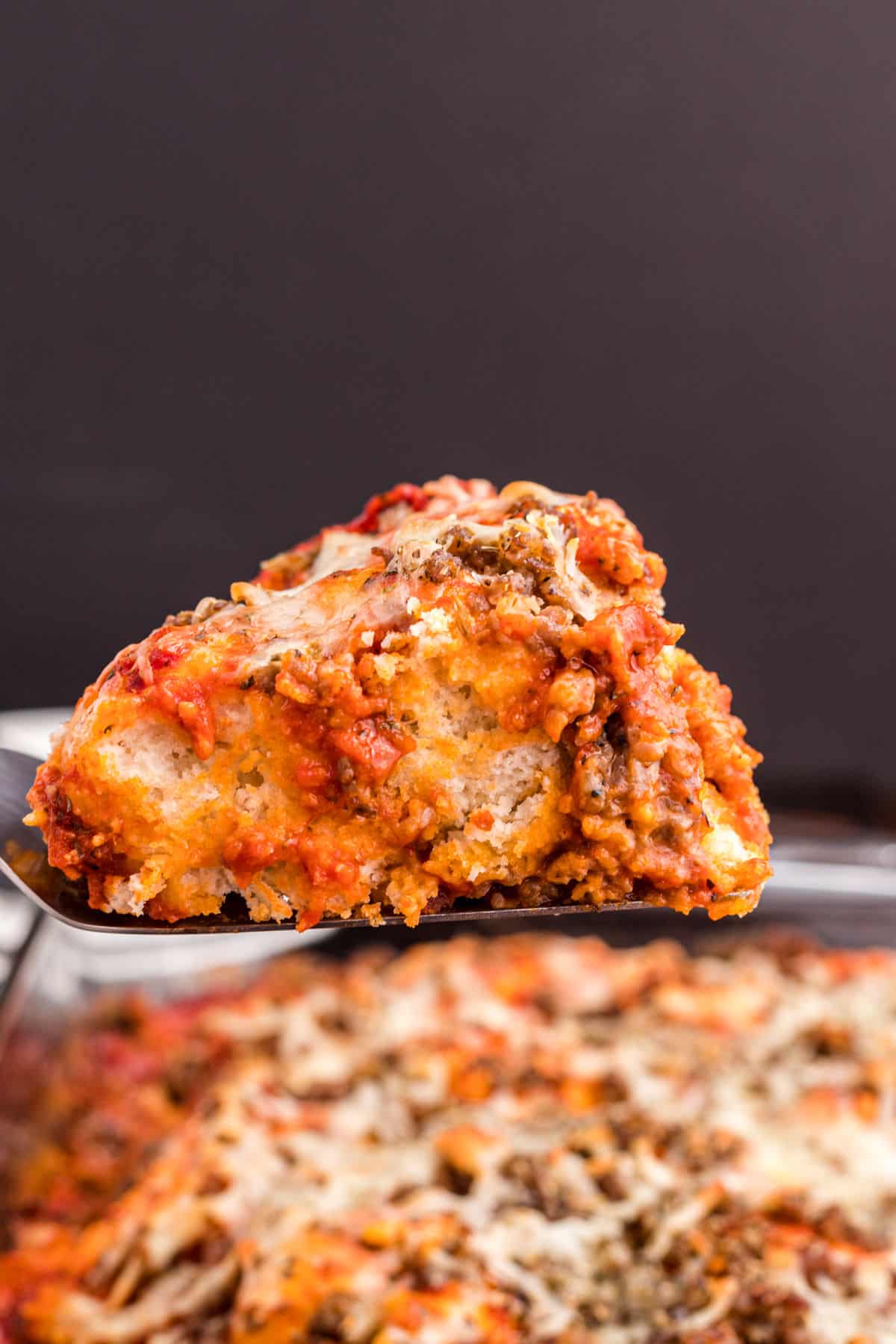 Recipe FAQs
What can I use instead of Biscuick?
Refrigerated biscuit dough works great in place of the bisquick baking mix.
What toppings go on Bubble up pizza?
Whatever you enjoy on pizza, put it on your casserole. Sausage, pepperoni, mushrooms, and all your favorite veggies!
How do I store leftover sausage pizza casserole?
Store leftovers in airtight container or covered with plastic wrap in the pan. Keep cold for up to 3 days, microwave to remelt the cheese and heat before eating.
Can Bubble Up pizza be made in advance?
Keep the unbaked pizza covered in the pan in the fridge until ready to bake! You can assemble this in the morning and have it ready to toss in the oven as soon as you get home in the evening.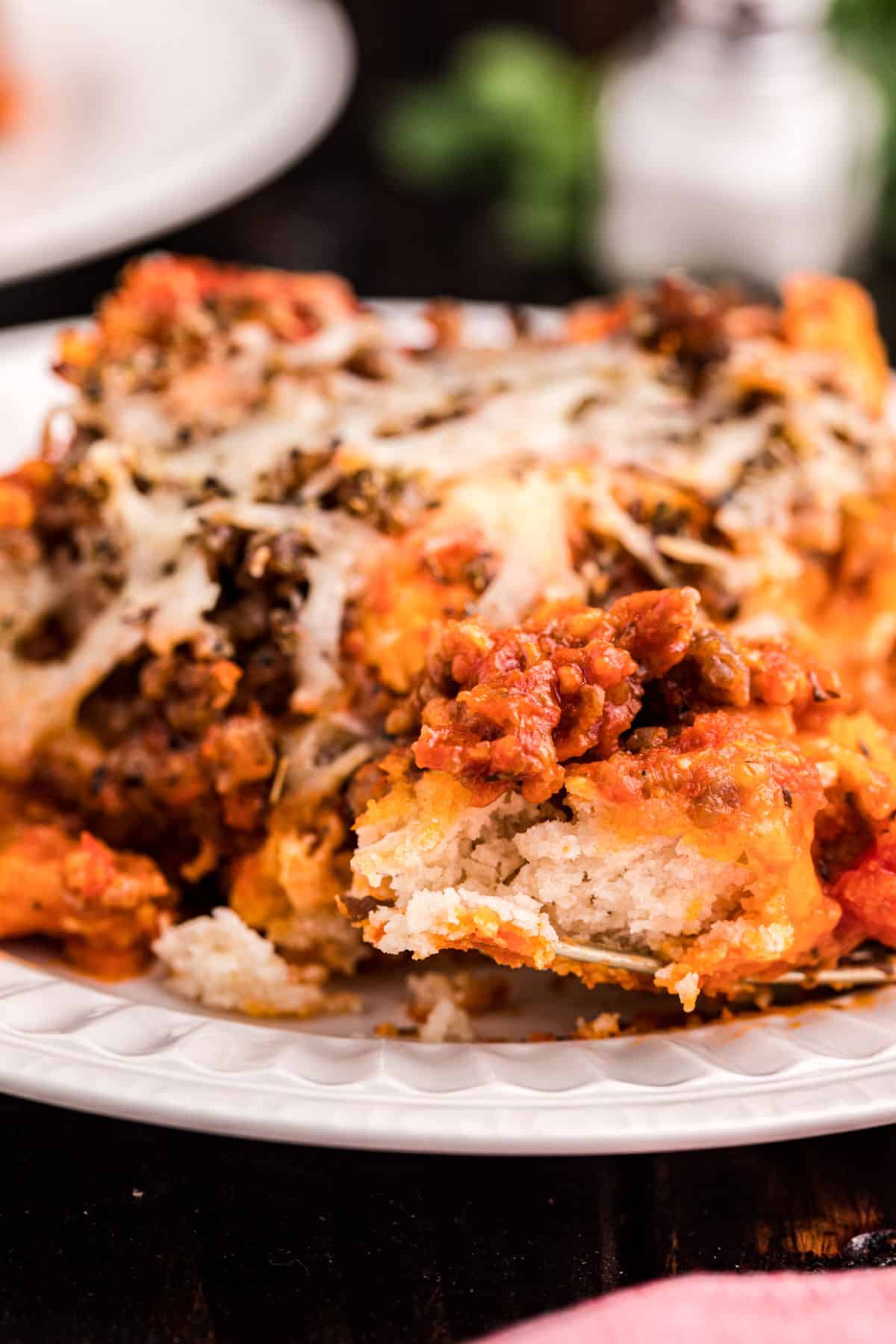 Serving Suggestions
When you only have time to make ONE thing for dinner, Bubble Up Pizza is a great solution. It's a whole meal all in one pan.
I love to serve this with something fresh on the side like this Easy Italian Salad or Cucumber Tomato Salad. While I definitely make this for family dinners most often, pizza casserole makes a perfect potluck food and party food too.
Don't forget dessert. Apple Crumble or an easy pan of chocolate eclair cake would be perfect.
Everyone loves a heaping serving of this gooey, cheesy sausage Bubble Up Pizza casserole!