Watergate Cake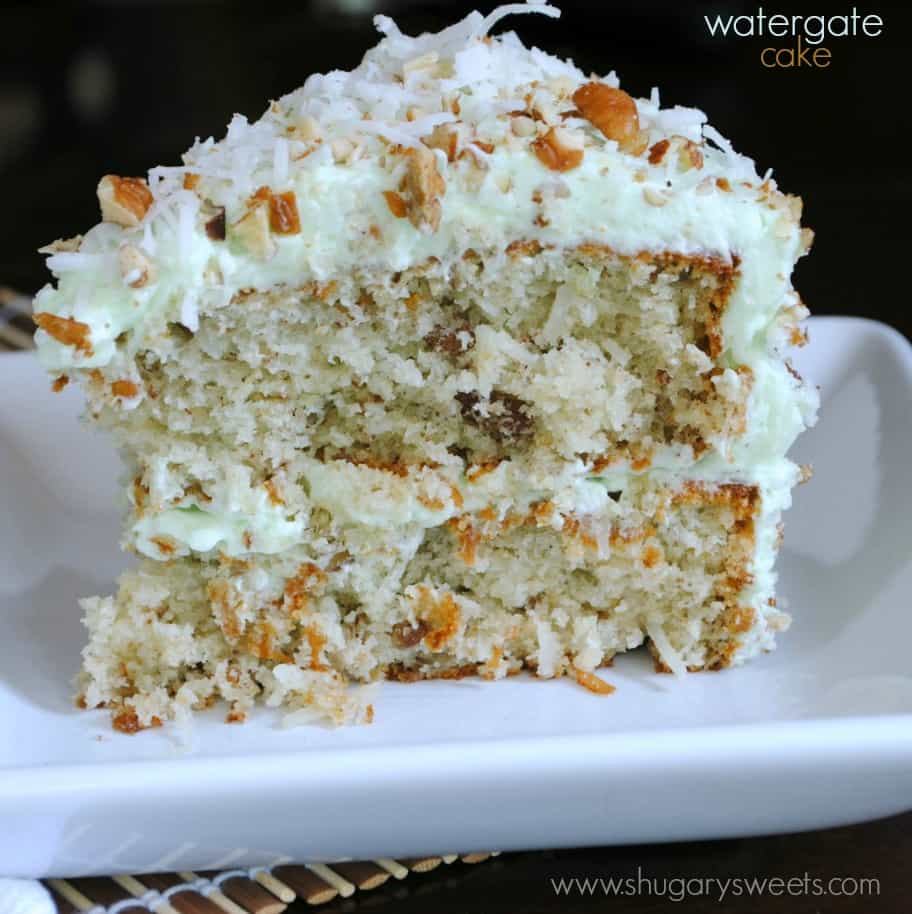 Tomorrow is my birthday. I have loved celebrating my birthday pretty much every year.
And then comes this year. The year I turn…wait for it….
.
.
.
.
Looking back, my twenties were fun, but very busy. I got married very young, and we started a family a year after our marriage. My twenties were filled with babies and diapers, and babies, and more diapers. 
My thirties have been filled with just plain fun. Vacationing, laughter, happiness, a complete sense of self confidence that I didn't have in my twenties, watching my children grow into who they will become!
But, I think it's official now. I'm old. You laugh?
Here's how I can tell I'm old:
1– I like to watch birds out my window. I spend lots of money on bird food, just so I can see them while I sit at my computer. Yeah, can someone say "senior citizen."
2– I pay attention to commercials that talk about eye brighteners, wrinkle reducers and other skin firming creams. I've even bought said brighteners and reducers (to no avail, the wrinkles are still there)
3– I find myself talking to people who have little kids and saying things like "treasure each moment, it goes so fast." I hated when people said that to me, I'll be honest. When my kids were throwing a tantrum in the grocery store, whining, kicking, screaming and someone said that to me…all I could think is time drags in the grocery line. But wow, it's so flipping true…my kids are big. And the bigger they get, the older it makes me.
4– I like watergate cake. As a young person, you see a green cake covered in nuts and coconut and you think, "what the heck did grandma make us. Why can't she make us chocolate cake?" Now, as an old person, as an almost senior citizen, I LOVE green cake with coconut and nuts. Yep. Old.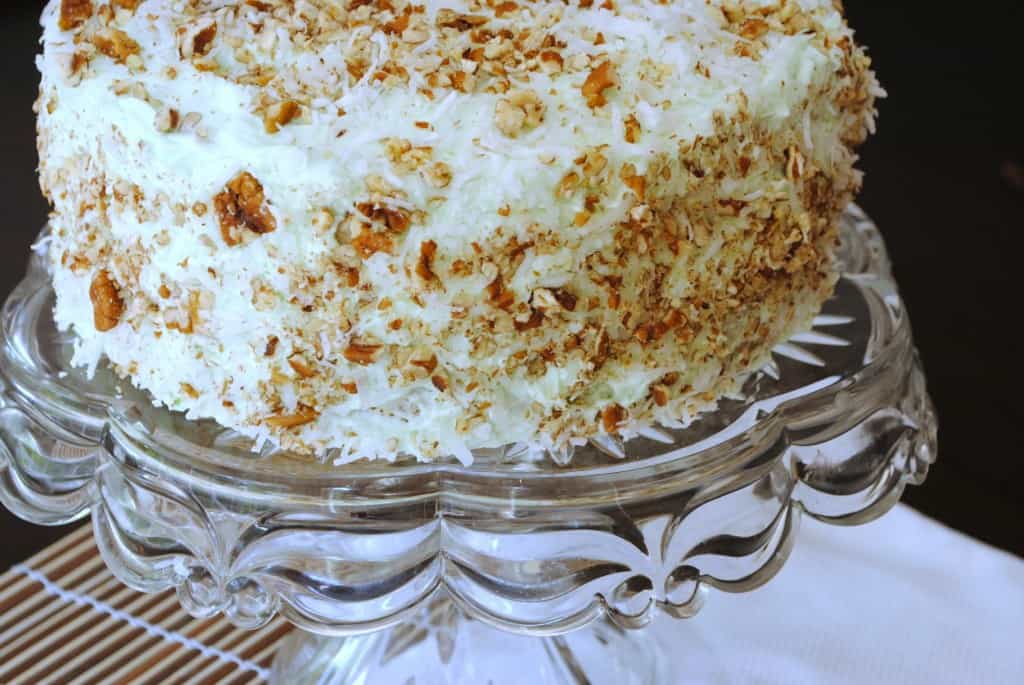 If you're reading this blog, and you're younger than me, show this cake to your mom. Or grandma. Or dad. They might enjoy it! Don't worry, next week, after my birthday has come and gone, I'll get back to young people food….chocolate!
Do you like this recipe? Check out some of my other senior citizen style food: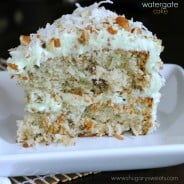 Watergate Cake
Watergate Cake: pistachio, coconut, and pudding in a delicious layer cake!
Ingredients:
For the cake:
1 box (18.25oz) white cake mix
1 cup oil
1 pkg (3oz) instant pistachio pudding
1 cup lemon lime soda
3 eggs
1/2 cup chopped pecans
1/2 cup sweetened, shredded coconut
For the Frosting
2 (3oz) envelopes Dream Whip
1 1/2 cups milk
1 pkg (3oz) instant pistachio pudding
1/2 cup chopped pecans
1/2 cup sweetened, shredded coconut
Directions:
In large mixer bowl at medium speed, add cake mix, oil, pudding, eggs, and soda. Fold in chopped pecans and coconut. Pour into greased & floured 9inch round baking pans and bake in a 350 degree oven for 35-40 minutes. Cool completely on wire rack.
To frost, whip dream whip & milk until peaks. Gradually add the pudding & beat until light & fluffy, about two minutes. Spread on first layer of cake. Top with second cake layer and cover cake completely in frosting.
Press pecans and coconut into cake and refrigerate two hours or more. Serve cold!
MAKING THIS RECIPE? Share it with me on Instagram using the hashtag #ShugarySweets so I can see what you're cooking up in the kitchen!