Apple Cheesecake Ring has a flaky crescent roll crust, sweet cheesecake filling and the crunch of real apples. You'll love this easy cheesecake ring recipe for family brunch or a holiday breakfast!
I love apple pastries of all kinds. This Cinnamon Apple Coffee Cake is another favorite. Or give these baked Apple Cider Donuts a try!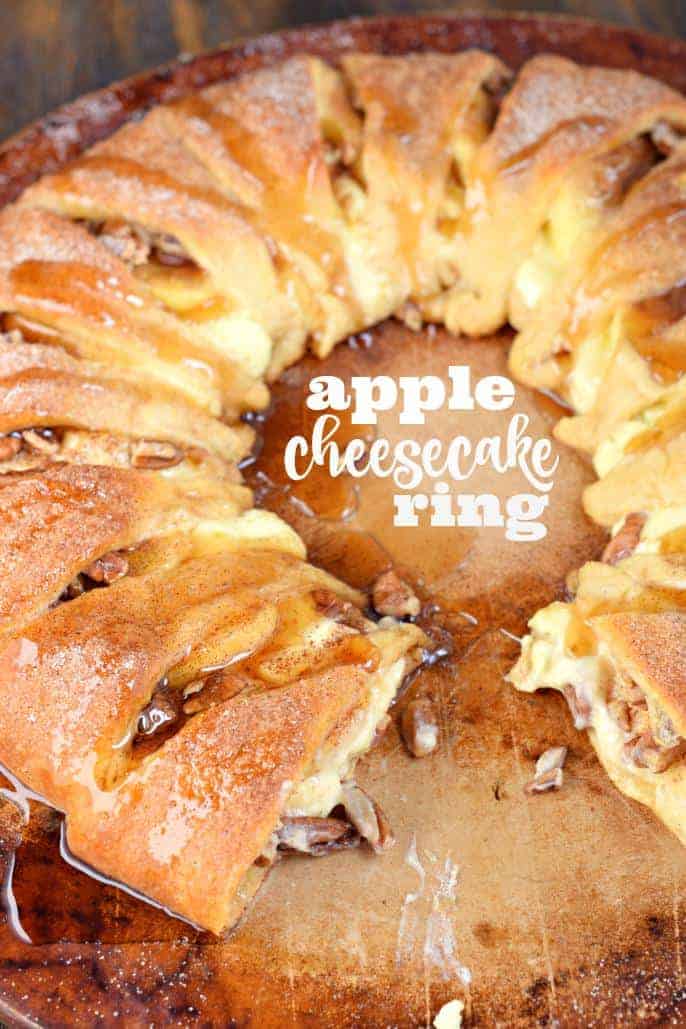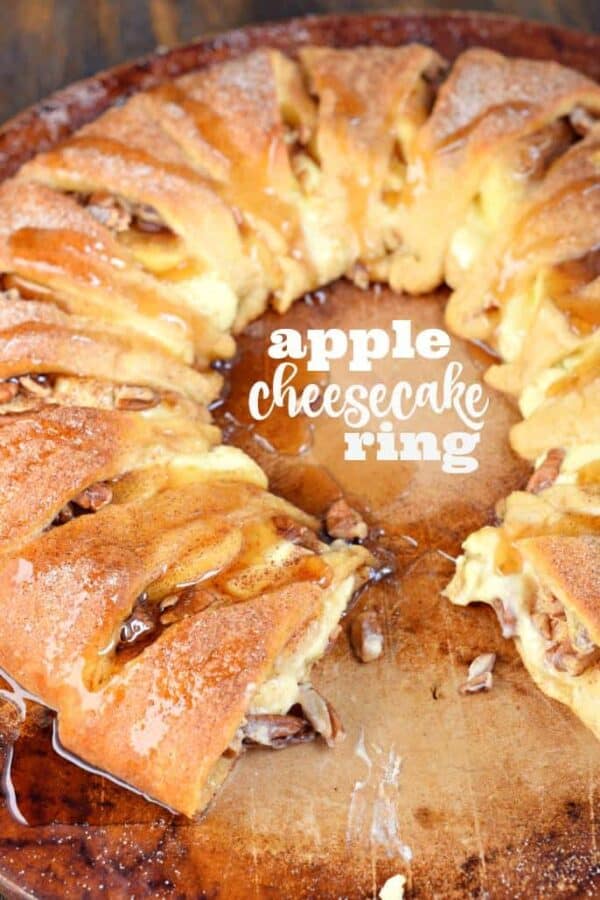 Why This Recipe Works
Have you ever tried a cheesecake ring?
You take cheesecake filling, roll it into crescent dough, shape into a circle and bake. Impressive, delicious and surprisingly easy to make!
I added apples, pecans and cinnamon sugar to this cheesecake ring recipe.
The crunchy nuts and apples taste amazing with the creamy filling.
Apple Cheesecake Ring looks gorgeous on any table!
Cinnamon sugar is sprinkled over the flaky crescent crust for a perfect sweet finish.
It's easy to assemble with a big WOW factor!
Did I mention that the whole thing is drizzled with maple syrup too? You can't get much better than apples, cinnamon, pecans and maple syrup all in one cheesecake ring!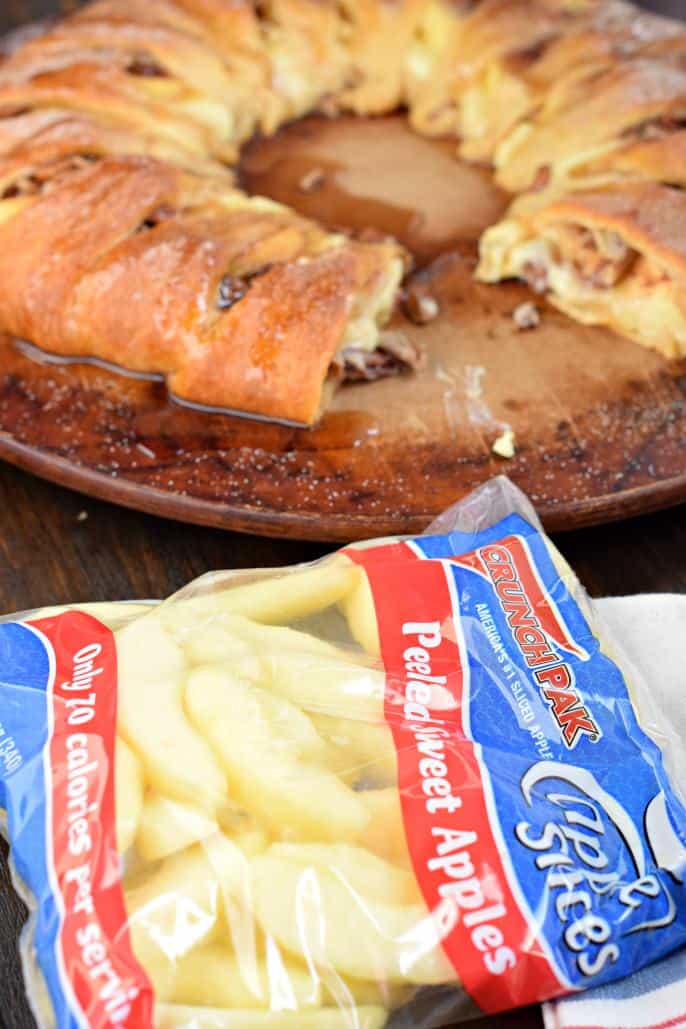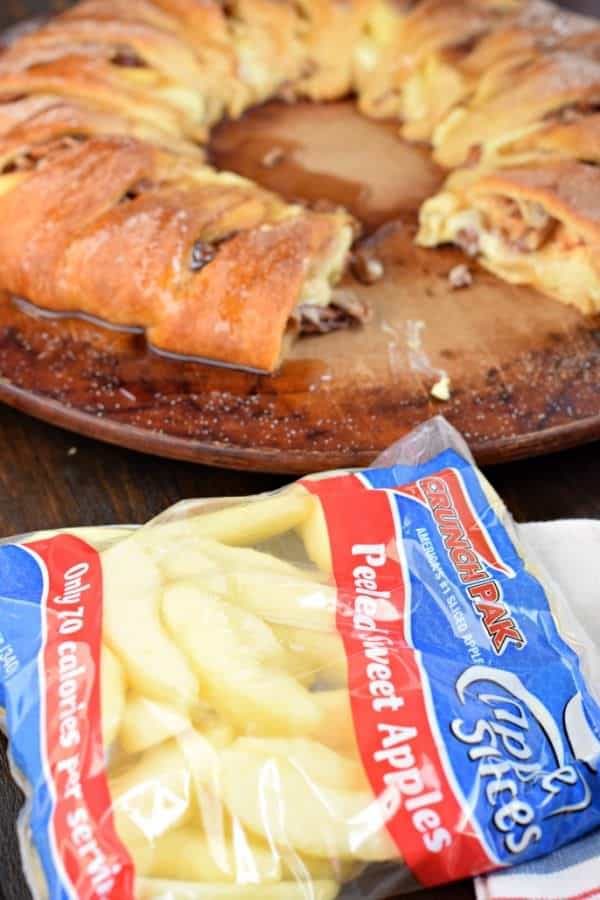 Ingredient Notes
You're going to love how simple the ingredients for this cheesecake ring are simple.
Cream cheese – As always, use the stick kind NOT the tubs.
Powdered sugar – for sweetness.
Egg – binds everything together.
Apples – I use CrunchPak apples to save time.
Pecans – I buy these prechopped too.
Refrigerated crescent rolls – You'll need two full packages for today's recipe.
Maple syrup – Use pure syrup (not pancake syrup) for drizzling over the baked apple ring.
Easy Assembly
Once you have all your ingredients ready to go, making apple cheesecake ring is a breeze.
Beat together the cheesecake filling ingredients. Set the bowl aside.
Separate the crescent roll triangles. Arrange 12 triangles in a ring shape with the wide ends connected. Top with 12 more triangles and press the ends together to form an indentation around the ring.
Spoon the cream cheese mixture into the indentation. Sprinkle with cinnamon sugar and pecans.
Roll the ends up around the filling and tuck them in to the center of the ring. Sprinkle the top of the ring with more cinnamon sugar!
Bake the apple cheesecake ring until it looks nice and golden brown.
Let the ring cool for a few minutes, then drizzle with maple syrup before slicing and serving.
Enjoy!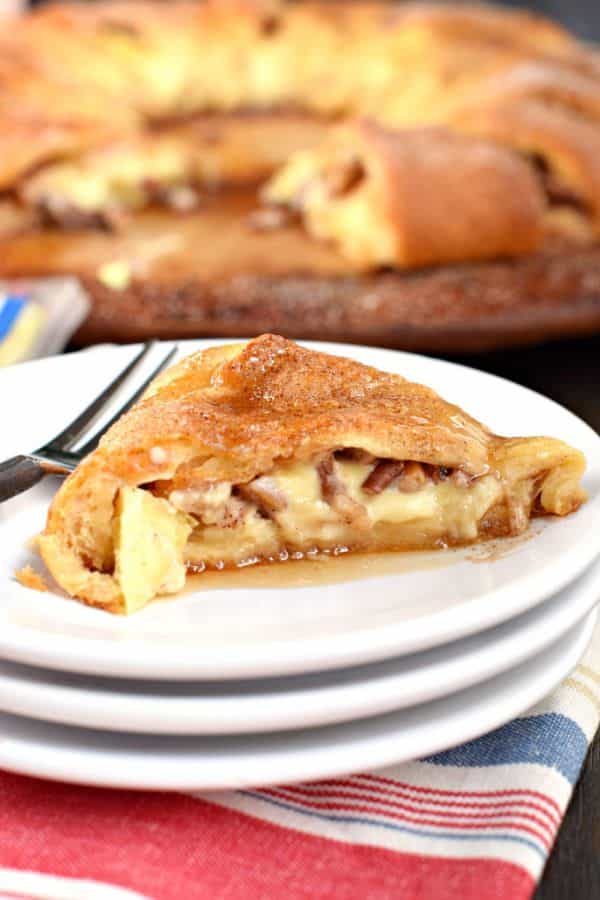 Tips and Tricks
The crescent rolls create natural "slices" in the ring that are easy to cut and serve.
I love apple cheesecake ring served warm. It tastes good at room temperature and cold too!
Store leftovers tightly wrapped in the refrigerator. It's best enjoyed within 2 days of baking. The crescent roll crust gets softer and loses is flakiness the longer it is stored.
Want an even more decadent sweet brunch treat? Drizzle the ring with your favorite caramel sauce instead of maple syrup!
Recipe FAQs
What kind of baking dish do I need?
I used a round baking stone for these cheesecake recipe. You can use any kind of baking dish that ring will fit on.
What kind of apples are best in this recipe?
You can use any kind of apples! I like a combination of sweet and tart for baking, like granny smith and pink lady.
For many of my recipes, I use Crunch Pak brand of apples which come peeled and already sliced.
Can I make this without nuts?
Sure! Feel free to leave out the pecans for a nut free option.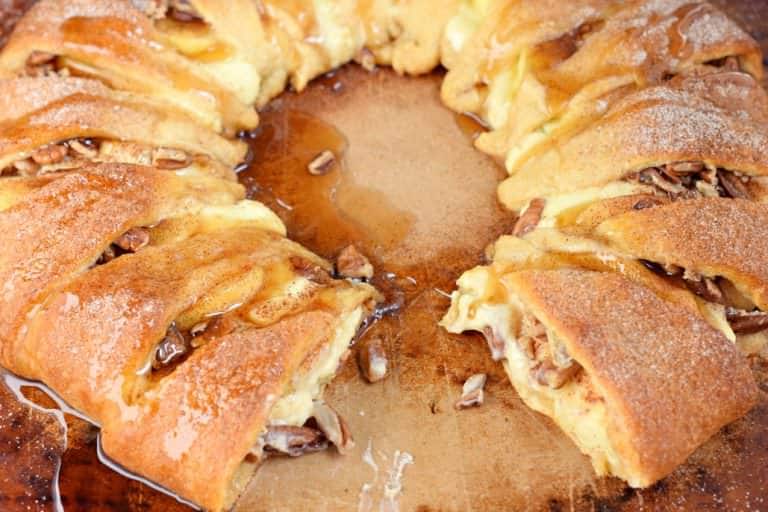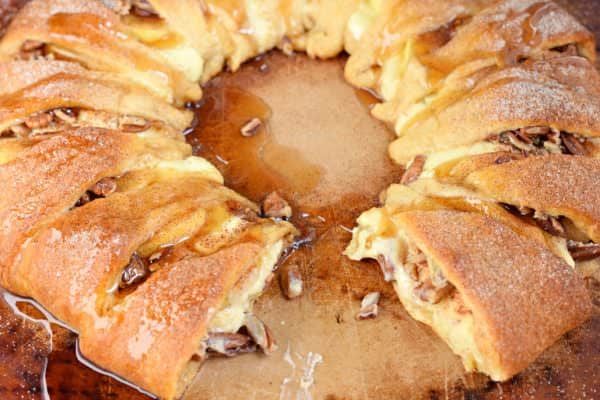 More Fall Baking