Make this easy apple dessert with just FOUR ingredients! You don't even need a mixing bowl for Apple Dump Cake. Just add everything to your baking dish and your homemade apple cake is ready in under an hour.
Dump cake recipes are the ultimate in lazy desserts! This Pumpkin Dump Cake has been an autumn favorite for years. In the summer, we go for Peach Dump Cake.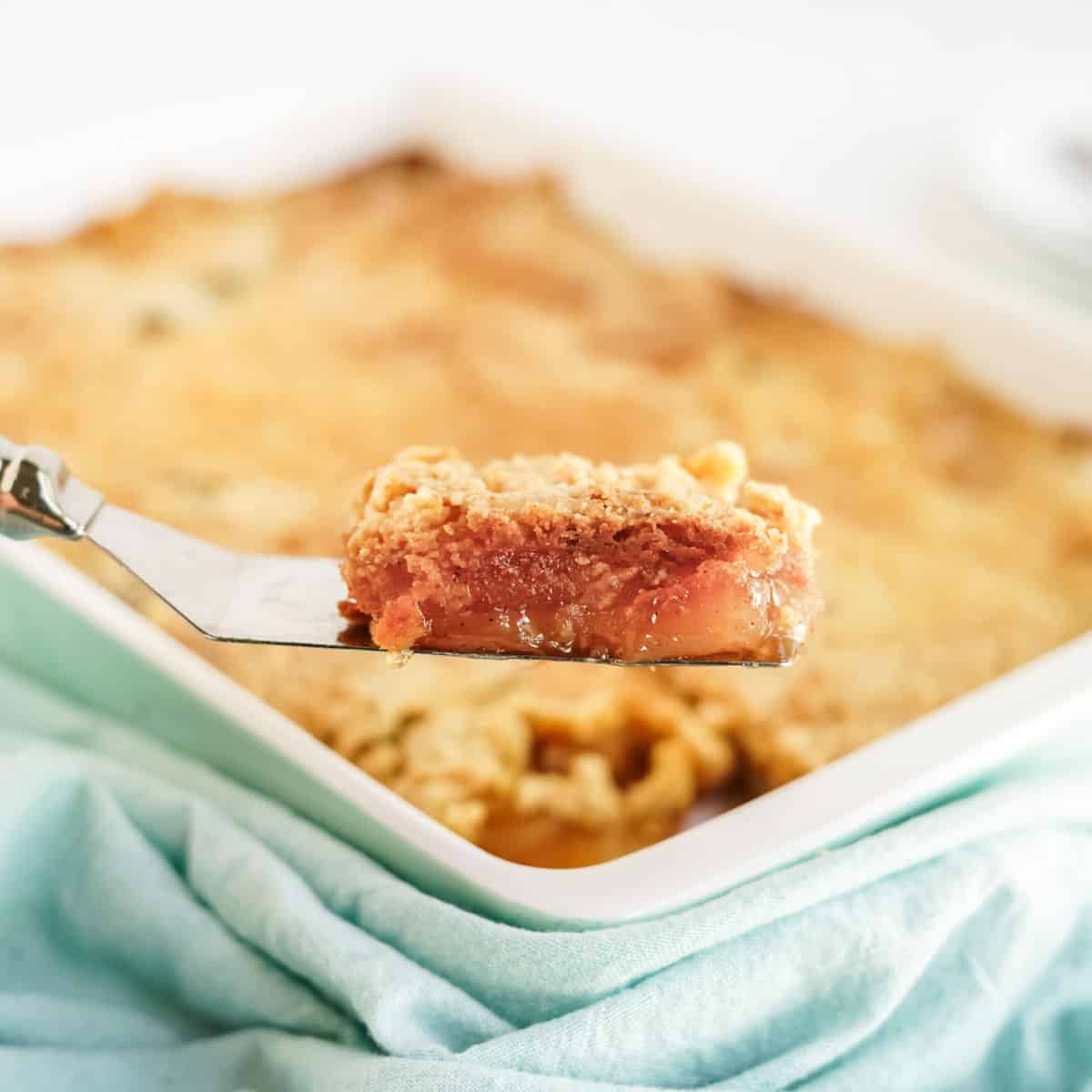 Why this Recipe is Best
You can mix, bake and serve Apple Dump Cake right in the same dish.
No mixing bowl means fewer dishes!
It uses 4 easy ingredients you can find at any supermarket.
You'll love the combo of cinnamon sugar apples and fluffy yellow cake.
As much as I love baking cakes from scratch, sometimes you need a dessert recipe you can throw together at a moment's notice.
Today's recipe is perfect when you're craving apple pie, but have zero energy to make it!
Whether you top it with vanilla ice cream, fresh whipped cream, or enjoy it plain, this apple dump cake is a crowd pleaser.
Ingredient Notes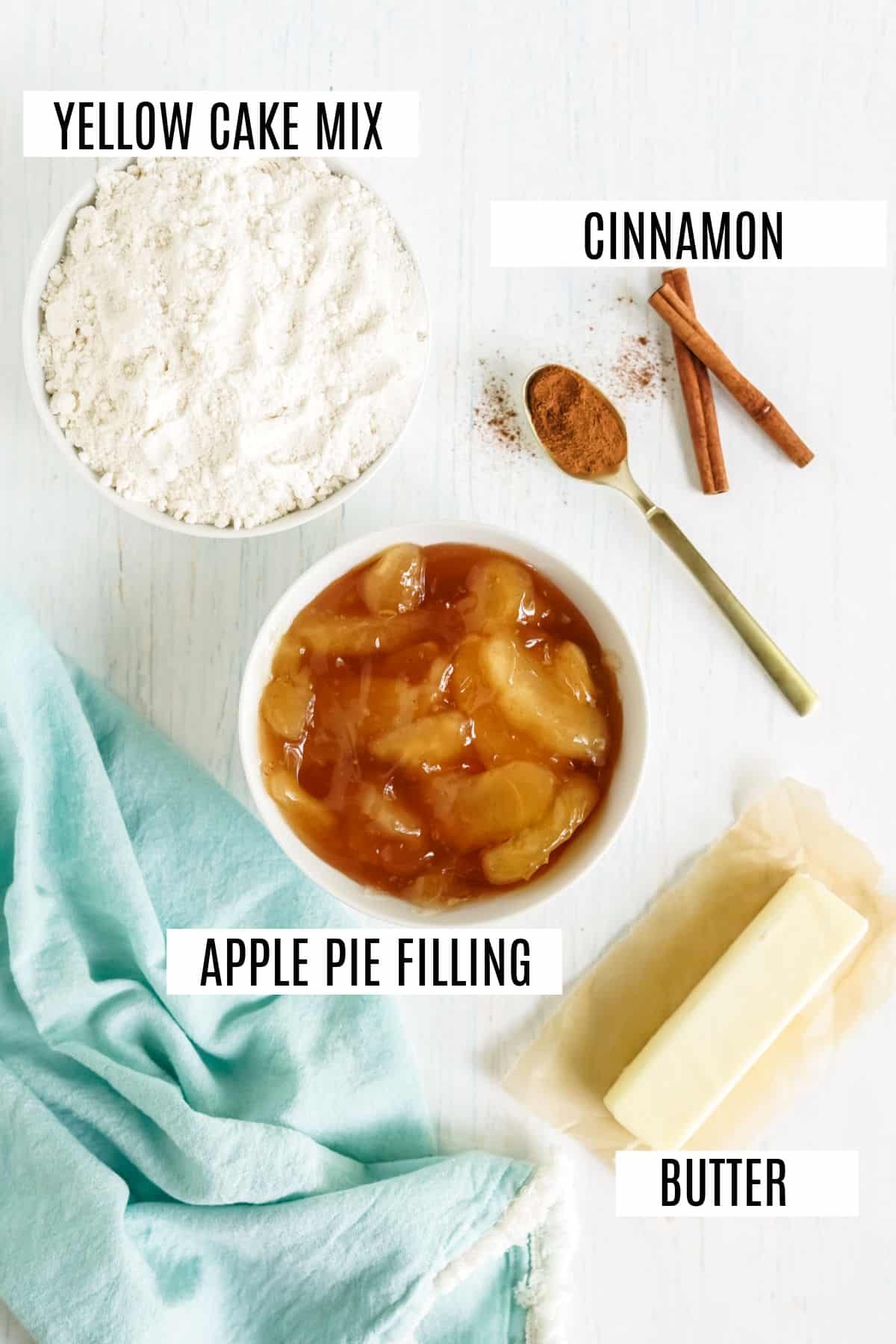 Apple pie filling. I use canned pie filling to make this recipe even easier.
Yellow cake mix. Do not make the cake according to package directions. You'll add the dry mix right to the recipe.
Unsalted butter. Melted to go over the top of the cake. You can use salted butter if you prefer.
Cinnamon. You'll love the sweet cinnammon flavor in today's cake!
Easy Instructions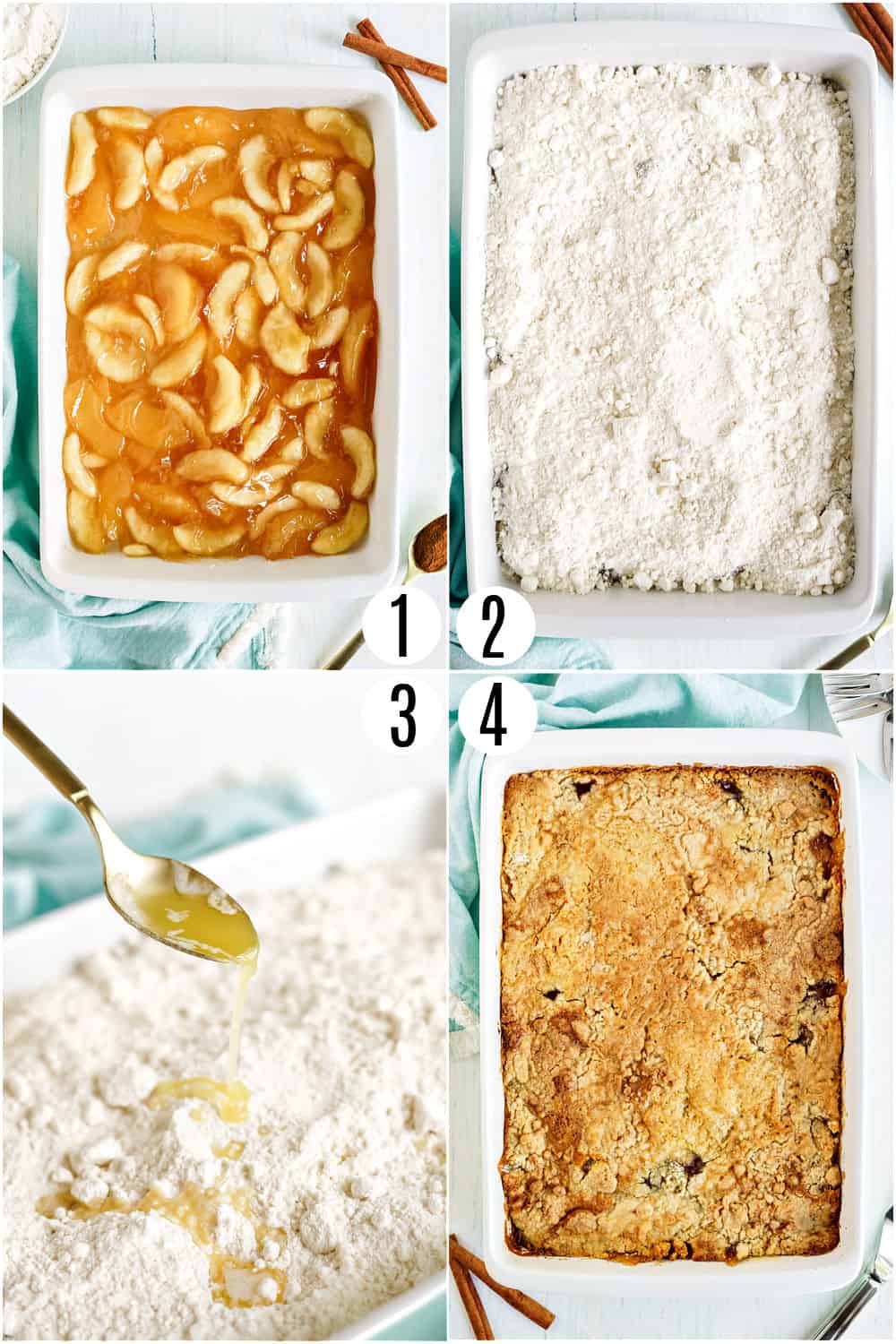 STEP 1. Fill the bottom of a 9 x 13 baking dish with apple pie filling. Sprinkle cinnamon on top and stir.
STEP 2. Sprinkle cake mix over the apple layer.
STEP 3. Drizzle melted butter evenly over the whole cake.
STEP 4. Bake for 50 minutes. Let the cake cool slightly before serving.
Tips and Tricks
Do NOT stir the butter into the other ingredients. It should sit on top of the cake mix.
Serve this cake warm, room temperature or chilled.
Paired with homemade pumpkin cream cold brew coffee it's the perfect fall dessert.
There are tons of flavor variations for this cake recipe too!
Try it with a French Vanilla, White or Spice cake mix to change things up. Or swap the apple pie filling for another fruity favorite, like we did in this Lemon Blueberry dump cake recipe.
Want to make it a caramel apple dump cake? Swirl caramel sauce over the top before serving. Sweet, indulgent and delicious!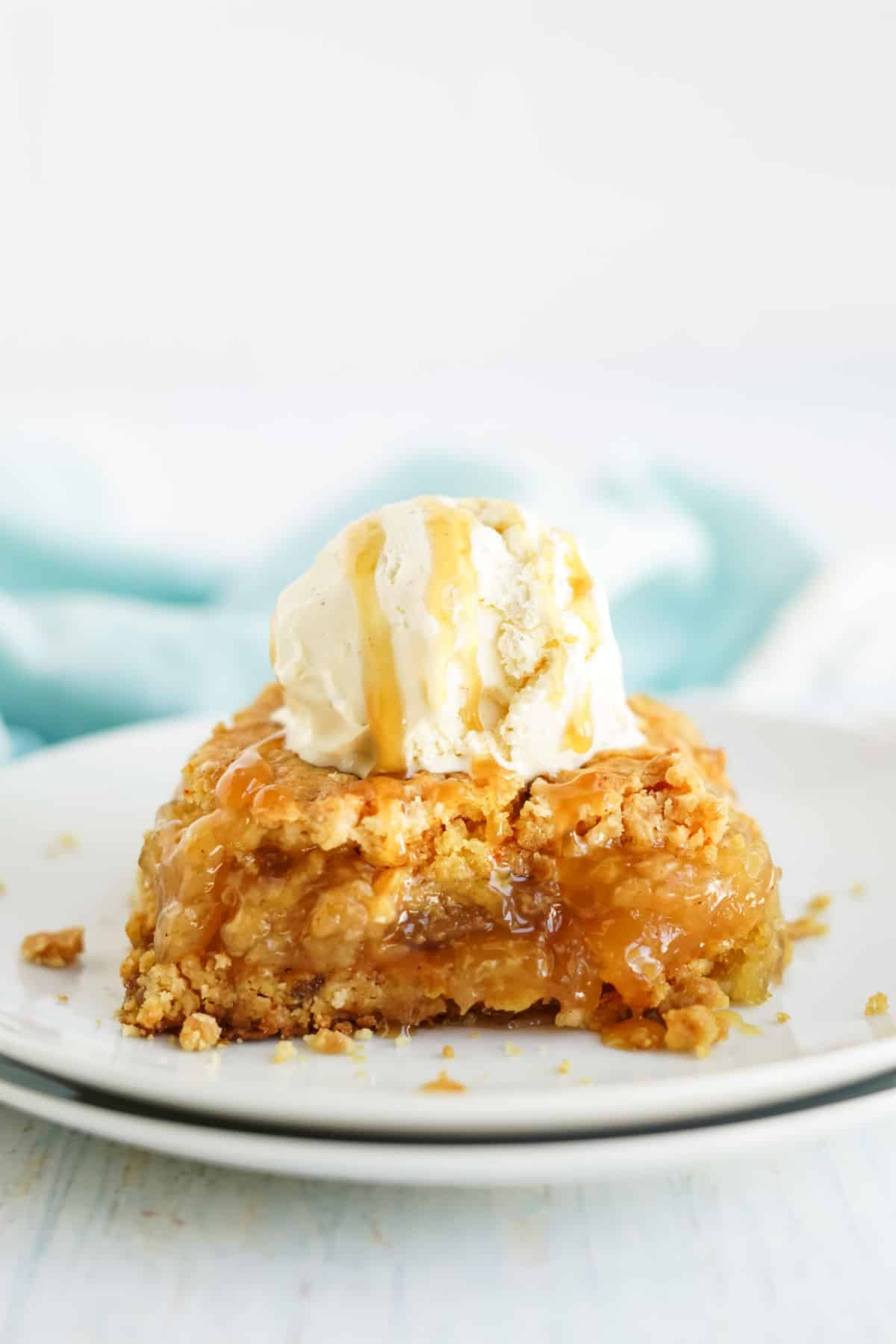 Recipe FAQs
Can I make dump cake with homemade apple pie filling?
Yes, but it should be a cooked filling (not raw apples). You'll need 30 ounces (about 3 and 3/4 cups) of pie filling.
What's the difference between a cobbler and a dump cake?
A dump cake can be considered a type of cobbler. Cobbler is made by topping a fruit filling with a pastry dough or batter.
With dump cake, you add dry cake mix and butter right on top of the fruit, instead of combining them to make a batter.
Does apple dump cake need to be refrigerated?
No, you do not need to refrigerate this cake, unless you like the flavor when it's chilled. (Which I do!) It can be stored in the pan, tightly covered at room temperature.
I don't have a 9 x 13 pan. Can I make this in a different sized pan instead?
Yes, you can bake your apple dump cake in any oven proof dish that is large enough to accommodate the ingredients. Try a cast iron skillet for an apple skillet dump cake!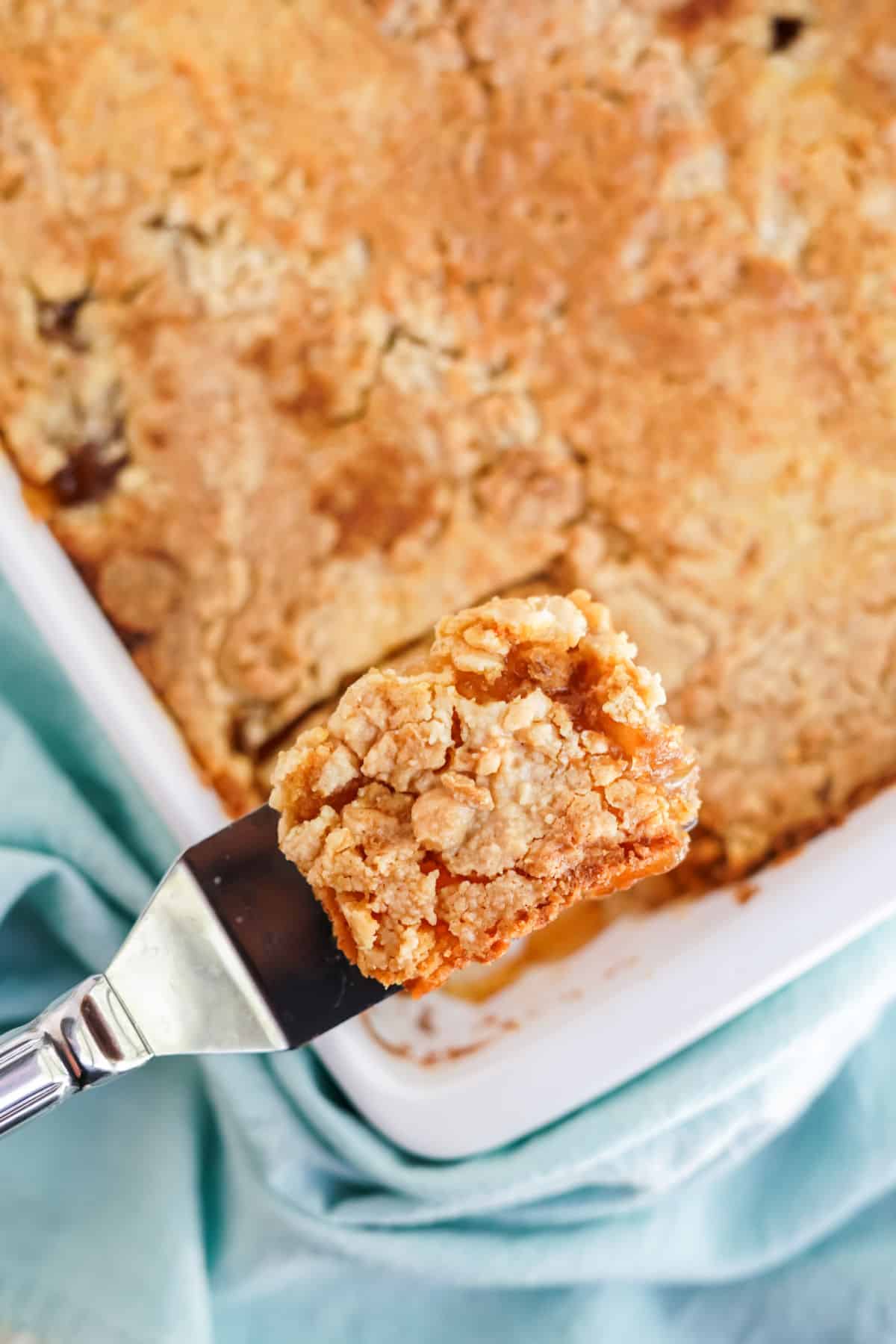 With just four ingredients, quick prep time and no extra dishes to wash, Apple Dump Cake isn't "easy as pie". It's easier!