Cake Batter Blondies are chewy cookie bars with a birthday cake twist! Top them with a sweet cake batter frosting and sprinkles for an over-the-top fun dessert.
This Cake Batter Fudge has dry cake mix added in to give it a butter-rich, chewy texture. Or give our easy Cake Mix Cookies a try, they're definitely a reader favorite!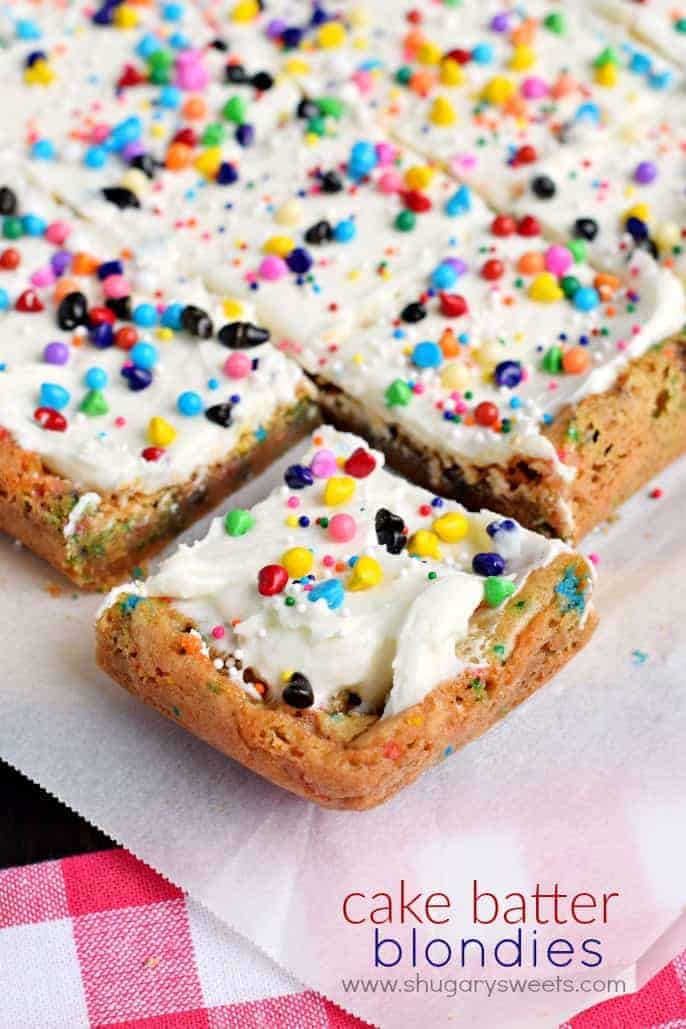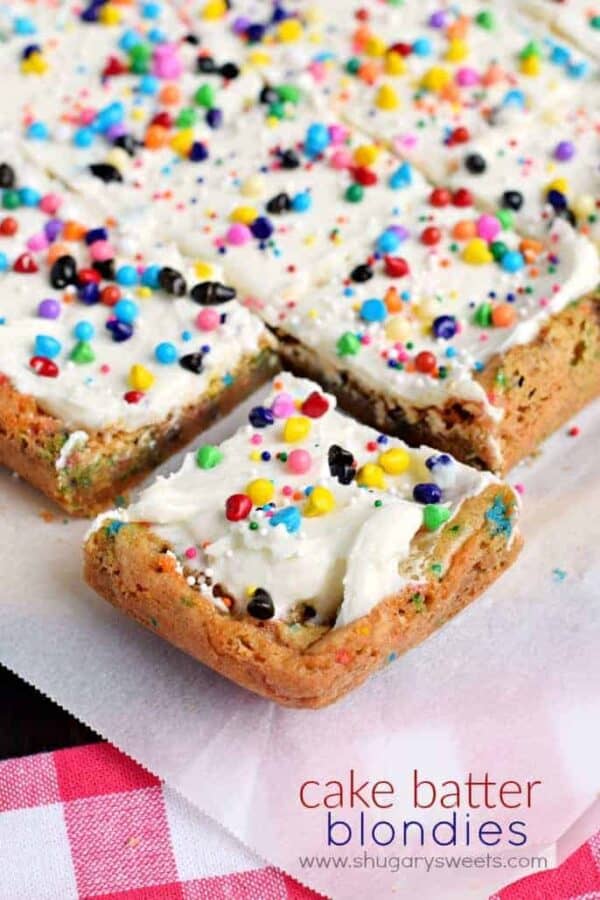 What are Blondies
Today's recipe is like a yellow cake and blondies all in one!
Blondies are bars with a chewy, dense consistency that's similar to brownies but without the chocolate. They're usually flavored with plenty of vanilla and baked with mix-ins ranging from chocolate chips to nuts.
I have so many blondie recipes on this site for different cravings and occasions. It's too hard to pick a favorite!
Today's Cake Batter Blondies recipe is for those times when you can't decide between cake or blondies. With rainbow sprinkles on top, they're perfect for any kind of celebration!
Ingredient Notes
Brown sugar – This darker moister sugar is best for blondies with a rich flavor and golden brown color.
Butter – Use melted butter for chewiest blondies!
Yellow cake mix – Adds the butter-rich flavor you recognize in your favorite birthday cakes! You will use some in the blondie batter and another 2 tablespoons in the frosting.
Vanilla – A good quality pure vanilla extract goes a long way in blondie recipes. I love baking with homemade vanilla extract whenever possible.
Sprinkles – You can use nonpareils, jimmies or any other kind of colorful sprinkles you like in these cake batter blondies.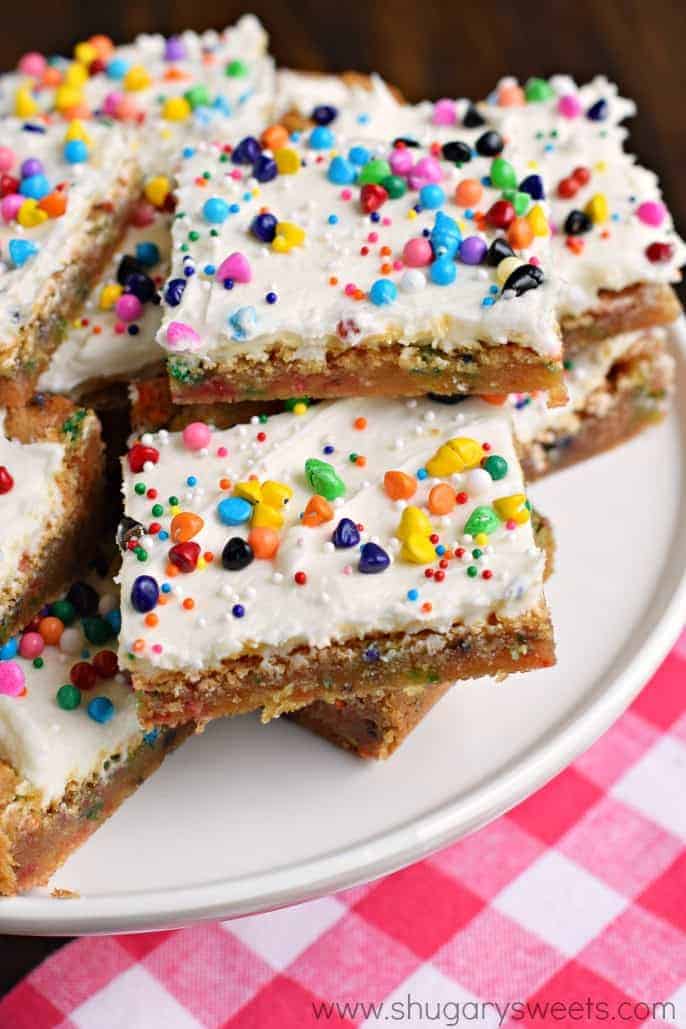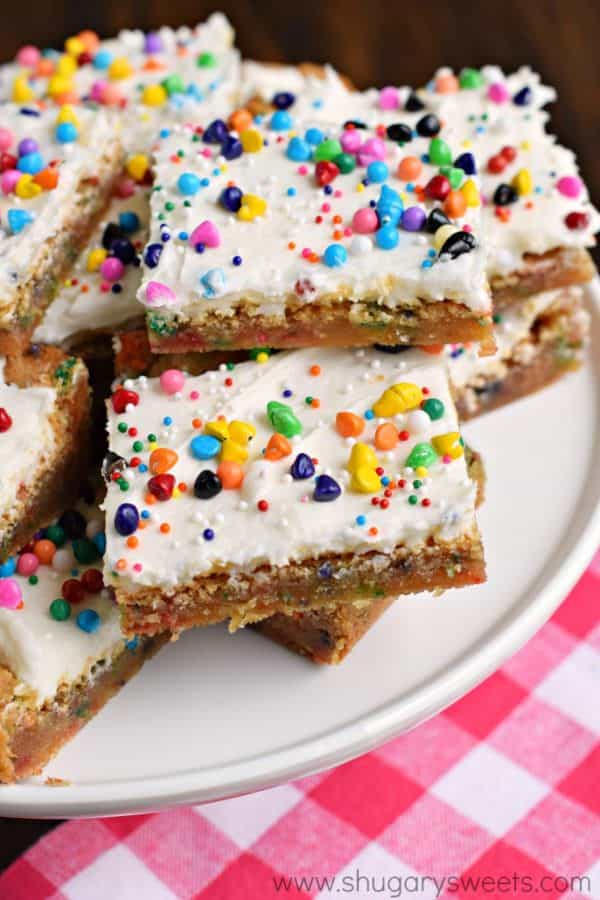 Tips and Tricks
Do not over mix. I prefer to mix the batter by hand for this recipe, especially after adding the dry ingredients. Over blending can make blondies tough.
Line your pan with parchment paper. This makes it so much easier to remove the blondies from the pan.
Let blondies cool before frosting. If you rush and add frosting to warm blondies you'll have a gooey sticky mess on your hands. I speak from experience!
You will not use a full box of cake mix. This recipe uses just over half a cup of mix. Store the leftovers in an ziploc bag to use for future baking.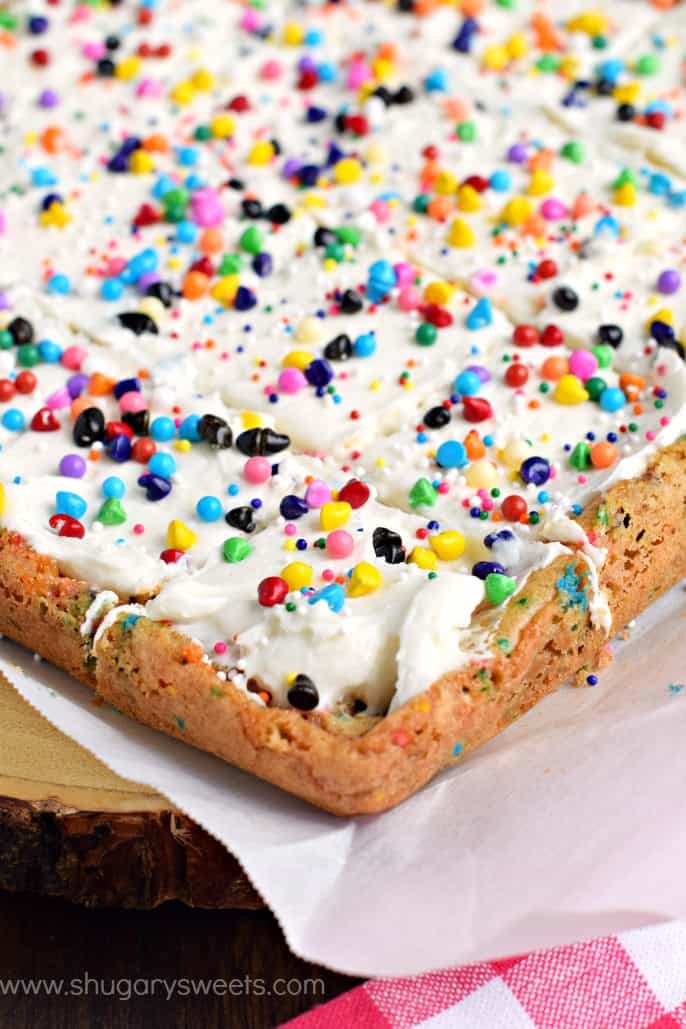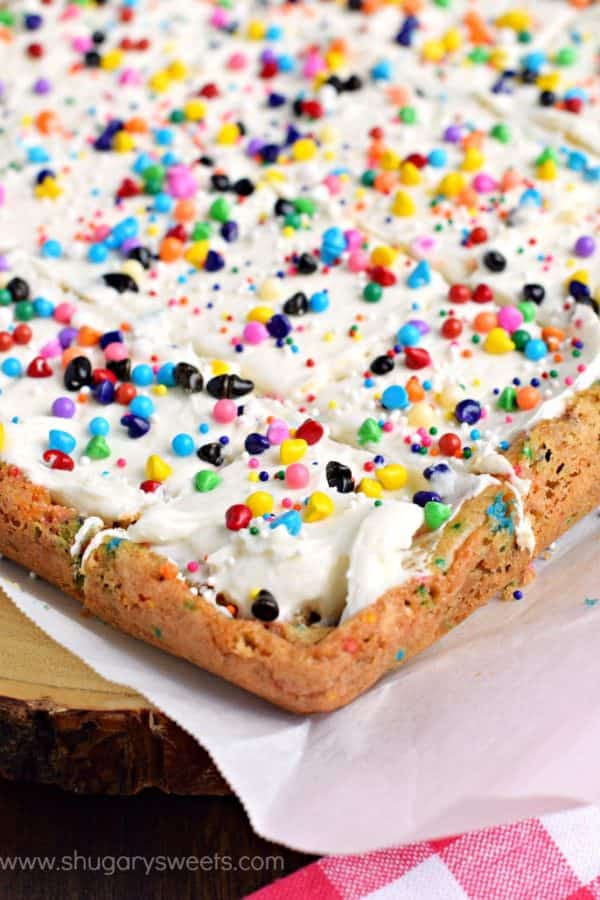 Recipe FAQs
Are these blondies cake-y?
These blondies have a cake like flavor but should not be cakey in their consistency. They are fudgy and chewy when made as directed. If yours are cakey it's possible you overmixed the batter or overbaked the blondies.
How can I tell when blondies are done baking?
Blondies are ready to come out of the oven when the edges are set but the middle still looks soft. In my oven, this takes about 22 minutes. The centers will continue to firm up slightly as the blondies cool.
What's the best way to cut blondies?
I recommend cutting blondie bars with a sharp, non-serated knife. Blondies are a littler easier to cut neatly than brownies, but make sure to wipe the knife clean between cuts for perfect edges.
How do I store homemade blondies?
These cake batter blondies can be stored covered at room temperature for up to a week. Blondies freeze well too. Just keep in mind that the sprinkles in this recipe can "bleed" color a bit as the blondies thaw.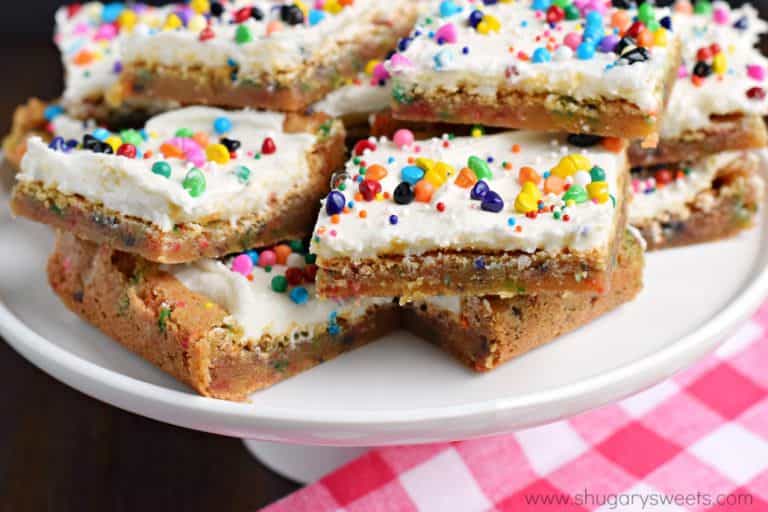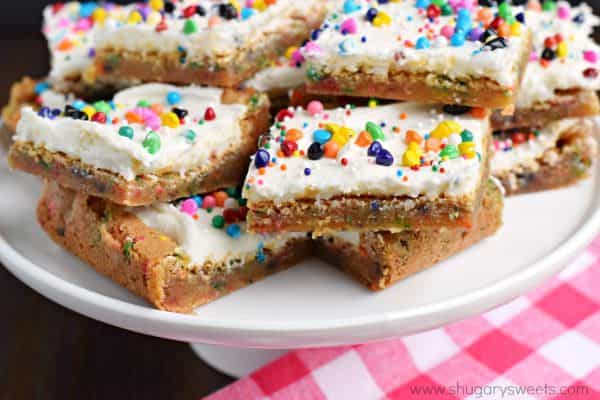 Love birthday cake? These cake batter blondies may just be your new favorite dessert bar!