Lemon bars meet cheesecake in this heavenly dessert. Lemon Cheesecake Bars have a vanilla wafer crust layered with lemon cookie dough and cheesecake filling. You won't be able to eat just one!
If you like lemon desserts as much as I do, make sure to try my classic Lemon Cheesecake Recipe. These Lemon Crunch Cookies are always delicious too!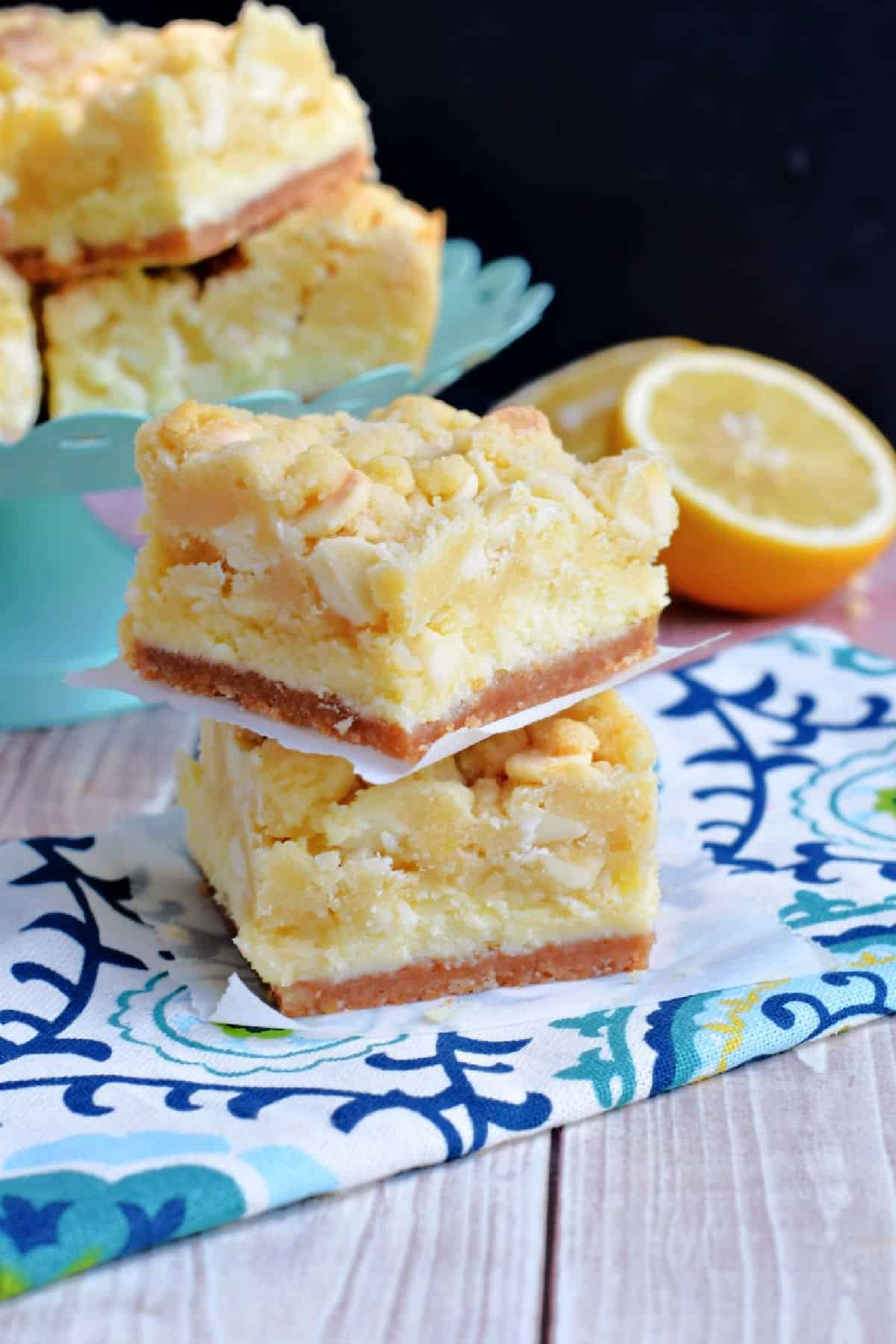 Why this Recipe Works
Can't decide between Lemon Cheesecake and Lemon Bars? Lemon Cheesecake Cookie Bars combine the best of all worlds!
This recipe starts with a simple crust made from Nilla wafers.
The cheesecake filling is creamy, sweet and easy to make.
The lemon cookie layer is full of white chocolate chips to add even more sweetness and texture.
Everyone is impressed by these lemon cheesecake bars!
If you love layered cheesecake bars I've got some other fun flavors too, like these Snickerdoodle Cheesecake Bars and of course traditional Chocolate Chip Cheesecake Bars! Our peanut butter cheesecake bars are perfect for the peanut butter lover!
Ingredient Notes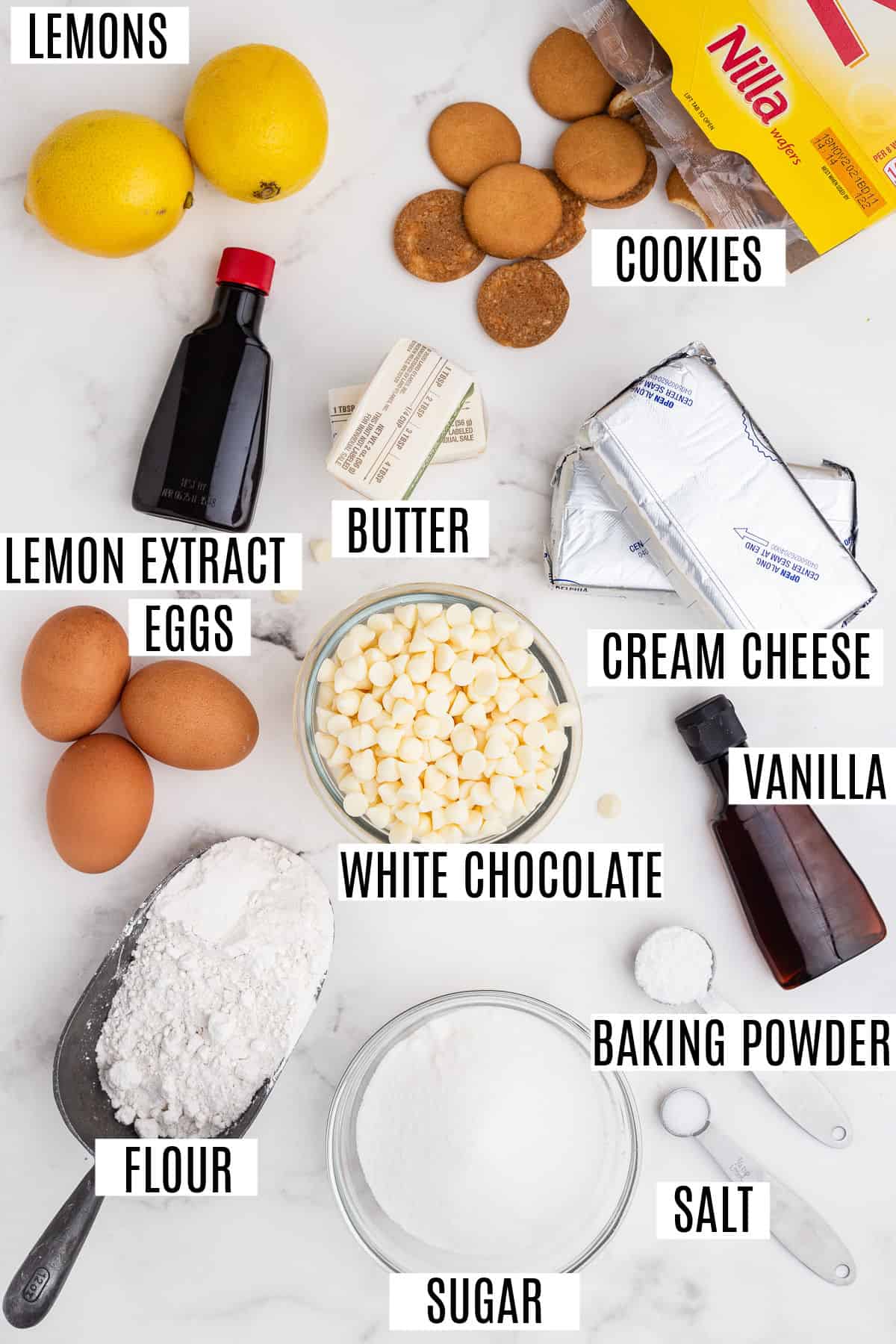 Lemon extract. This is the secret to amazing, bright lemon flavor without having to squeeze a ton of lemons. Use pure lemon extract (not artificial flavoring) for best results.
Lemon zest. The zest is the yellow part of a lemon's rind. Remove it from the lemon with a zesting tool or microplane grater. Use our guide on how to zest a lemon for best tips and tricks.
Cream Cheese. Use full fat and make sure it's softened before blending into cheesecake filling.
Nilla wafers. If you can't get these where you live, you can use any vanilla wafer style cookie to make the crust instead, or use our graham cracker crust recipe.
Easy Instructions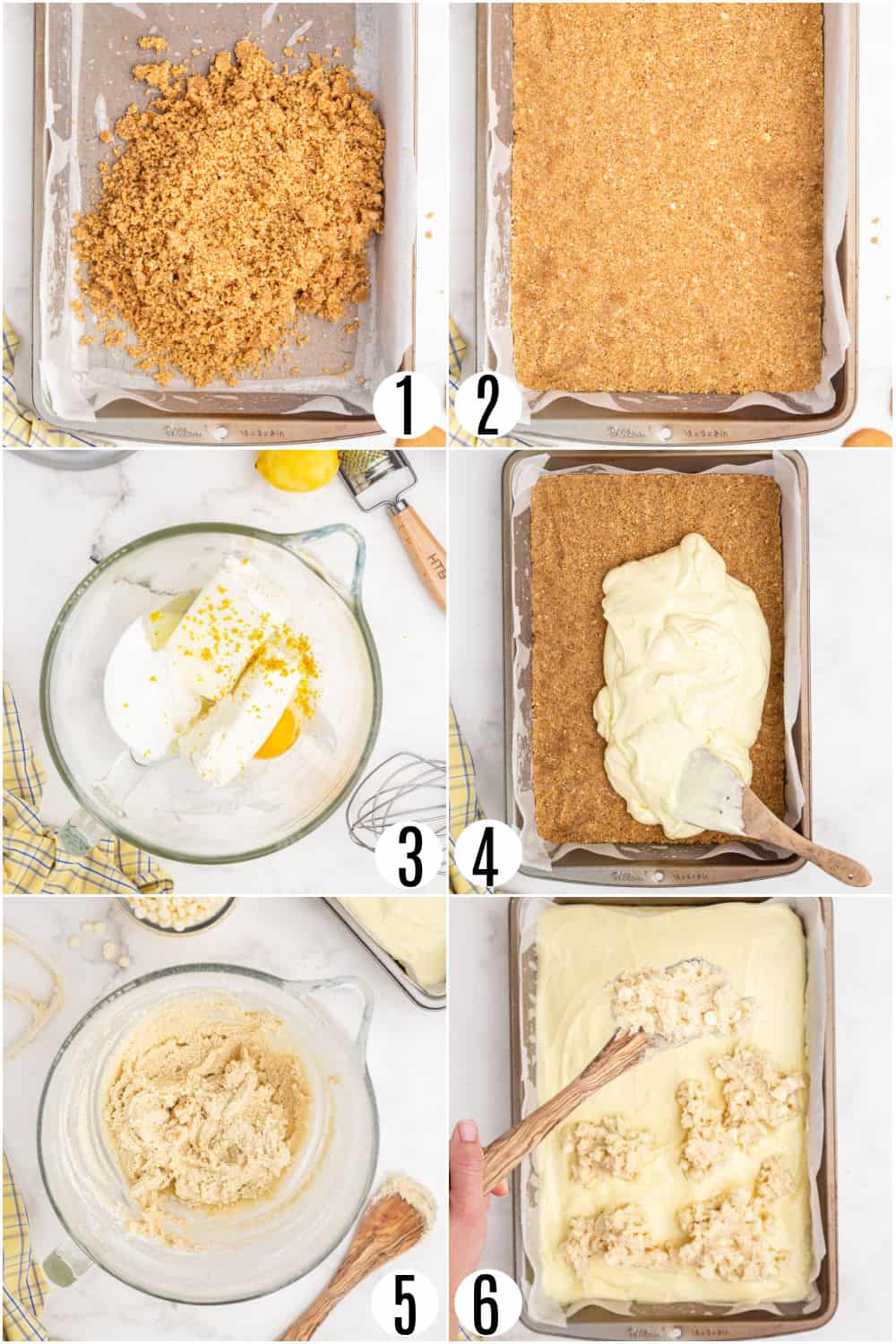 For the crust:
Pulverize the wafer cookies in your food processor with sugar. When the cookies have become fine crumbs, add melted butter and combine.
Press the cookie crust into the bottom of a baking dish.
For the cheesecake filling:
Use the whisk attachment to beat all filling ingredients together in a stand mixer. Pour it over the cookie crust.
For the lemon cookie dough:
Beat butter and sugar together until well combined. Add in eggs, lemon zest and vanilla extract. Then add the dry ingredients and beat until blended.
Scoop the dough on top of the cheesecake layer. Use your hands to spread the dough out so it's fully covering the cheesecake.
Bake the bars until the tops are lightly browned. Refrigerate for at least four hours and serve cold!
Tips and Tricks
Do not overbake. The center of the Lemon Cheesecake Bars will be a little jiggly when you take them out of the oven. It'll continue firming up as it cools.
Store in the refrigerator. These taste best when they've had several hours to get nice and cold. I like to make them the day before and let them chill overnight.
Line your pan. Place a sheet of parchment paper in the bottom of your baking dish. It prevents the bars from getting stuck and makes clean up easier!
Cutting bars. Use a clean sharp knife to cut these. Between cuts, wipe the knife with a paper towel.
Freezing. For perfect edges, you can even freeze the bars and cut them while they're still frozen. Let them thaw in the fridge before serving.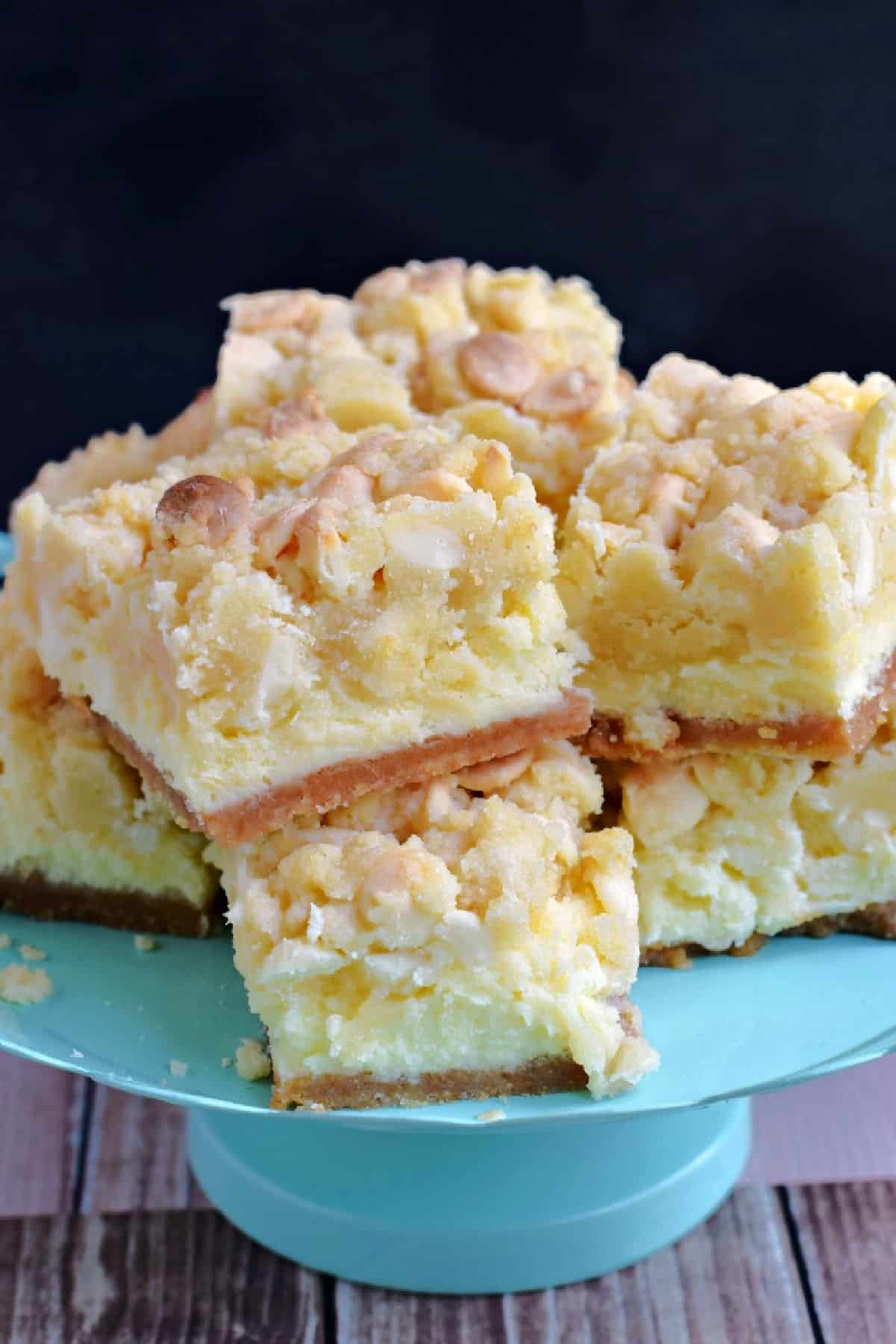 Recipe FAQs
Can I use lemon juice instead of lemon extract?
No, lemon juice won't work the same way here. You would have to add a lot of juice to get the same lemon flavor as a tiny bit of extract, which would add too much liquid to the recipe.
The cheesecake filling is too soft to slice. What should I do?
If your filling is still to soft to cut, the bars likely need a bit more time to chill. Try leaving them in the refrigerator longer or placing them in the freezer.
Can I make this with a graham cracker crust instead?
You sure can! I have made it with a graham cracker crust in the past and it was delicious. Lemon Oreo Cookies would be another great choice.
More Lemon Desserts
Cold, creamy and sweet Lemon Cheesecake Bars make everyone happy!