Turn refrigerated biscuits into the best Monkey Bread with this easy recipe. You only need 5 ingredients to make an amazing breakfast the whole family will love.
Nothing says "Christmas morning" like homemade baked goods, especially when they're covered in cinnamon and sugar. If you like monkey bread, you'll love these classic Cinnamon Rolls too! Or give our apple cinnamon bread a try soon.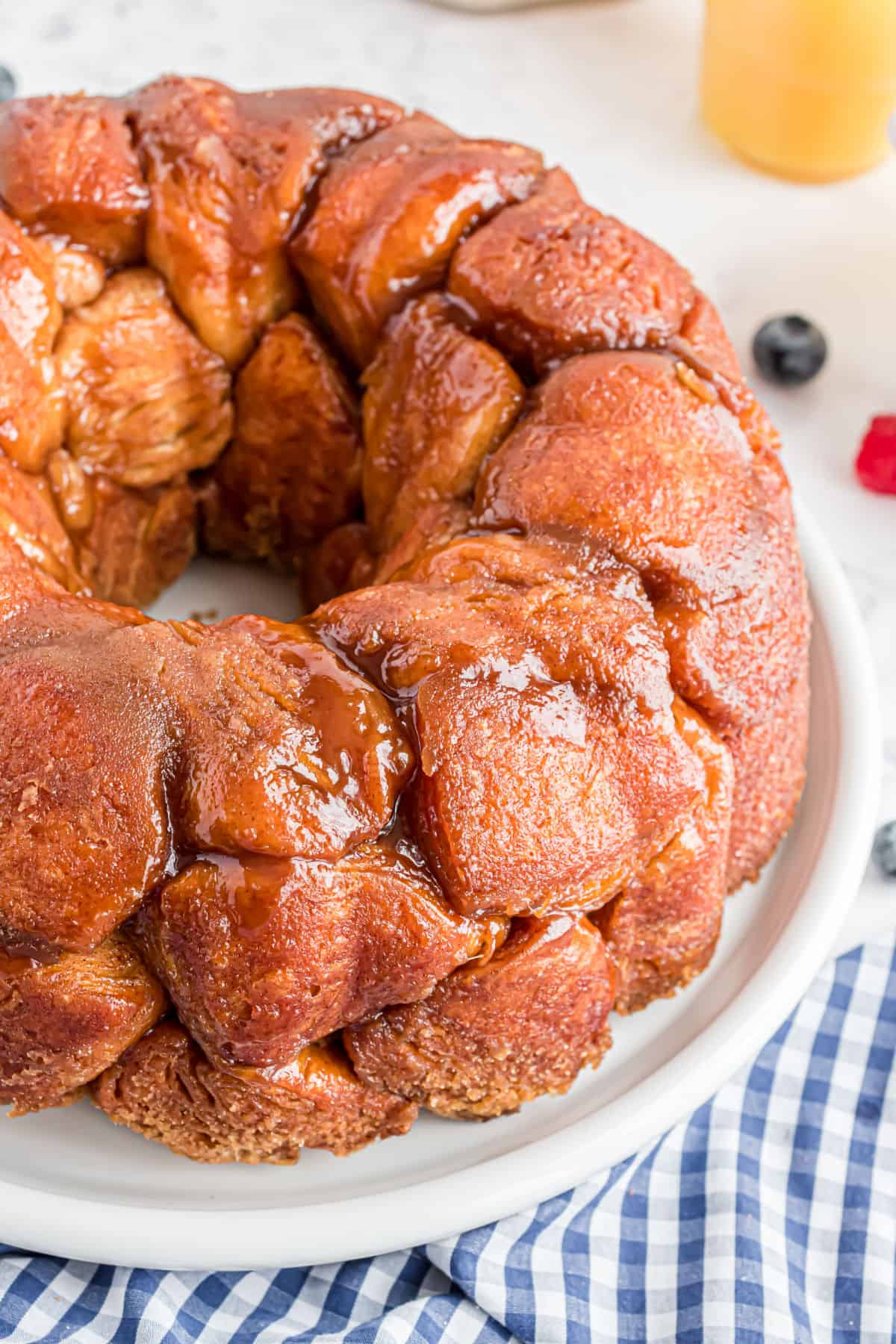 Why this Recipe is Best
I've loved monkey bread for as long as I can remember. What's not to love about fresh baked bread covered in butter and cinnamon sugar? Baking it in a Bundt pan makes it easy for everyone to pull off a section to devour.
Made with prepared biscuit dough. Super easy!
Gooey pull apart bread is so much fun to share.
Caramelized cinnamon sugar coating.
You'll have so much fun passing this around the table. . . and fighting over who gets to have that last perfect piece!
Try our easy Instant Pot Cinnamon Roll Bread next. Similar to monkey bread, it's a breakfast to love!
Ingredient Notes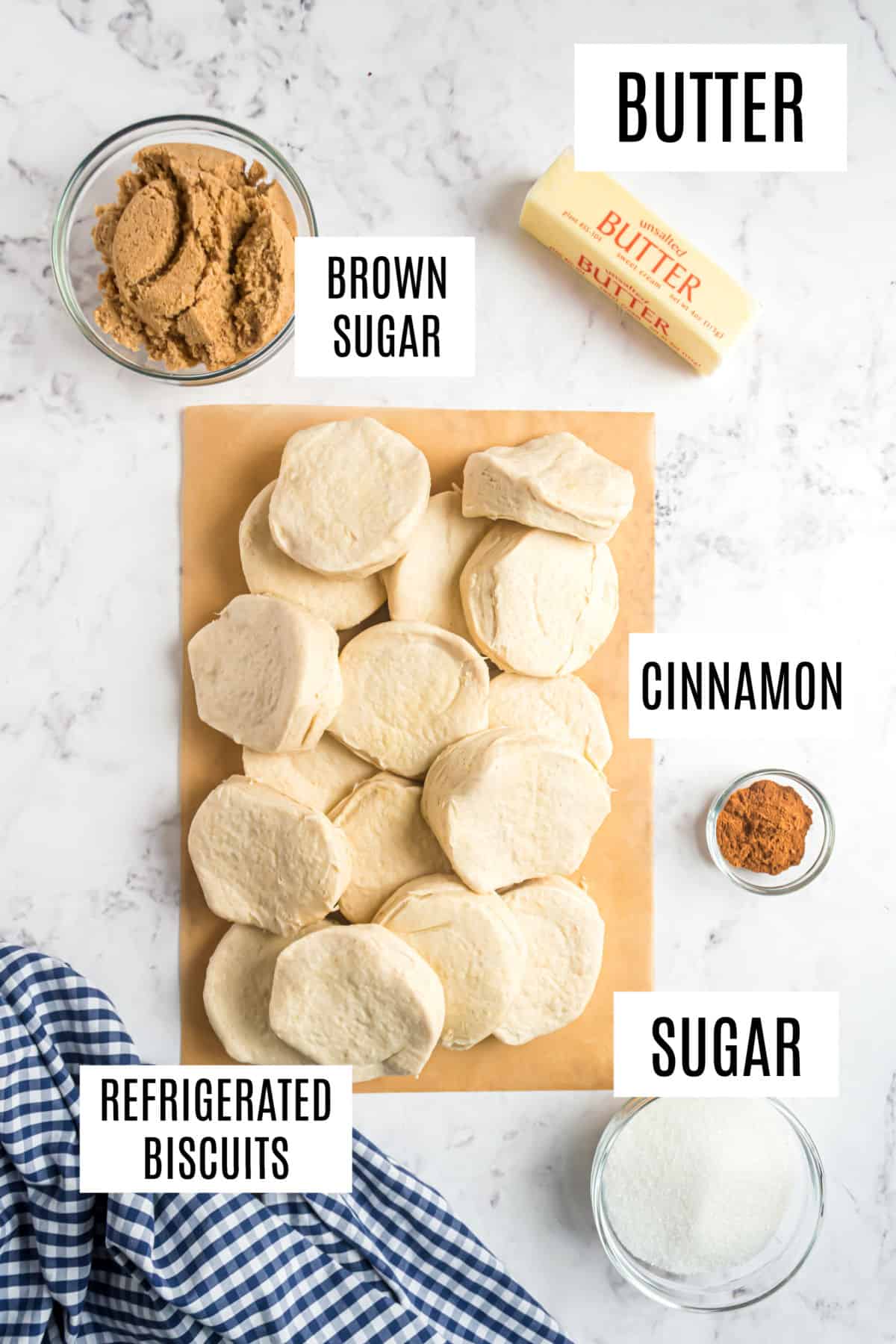 Refrigerated biscuits – Any brand will do. The pre-segmented rolls of dough take the hassle and guesswork out of homemade monkey bread. I love using Grands biscuits (the original)- the flaky layers are awesome.
Butter – Unsalted is best but if you only have salted, go ahead and use it here. You'll melt it with brown sugar to create the sticky sweet monkey bread coating!
Brown Sugar- create the ultimate caramelized topping with brown sugar!
Cinnamon Sugar- make your own with our easy cinnamon sugar blend, or buy it already mixed!
Easy Instructions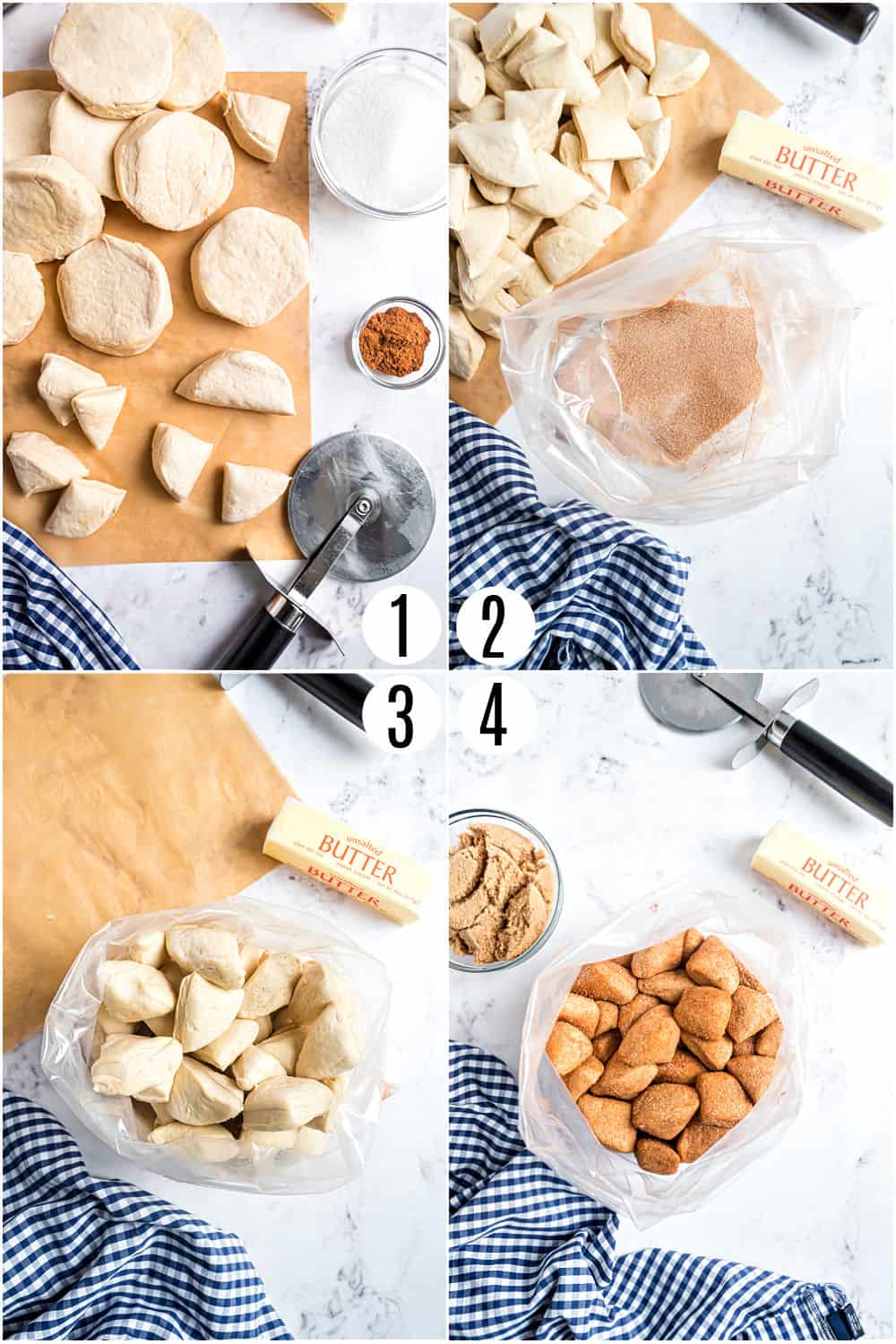 Prepare a Bundt pan: Grease and flour a fluted tube (bundt) pan or spray it generously with baking spray.
Prepare the biscuits: Quarter each of the canned biscuits. Place the biscuit pieces in a bag with the cinnamon sugar. Shake until the pieces are well coated. Now place them in the bundt pan in a single layer.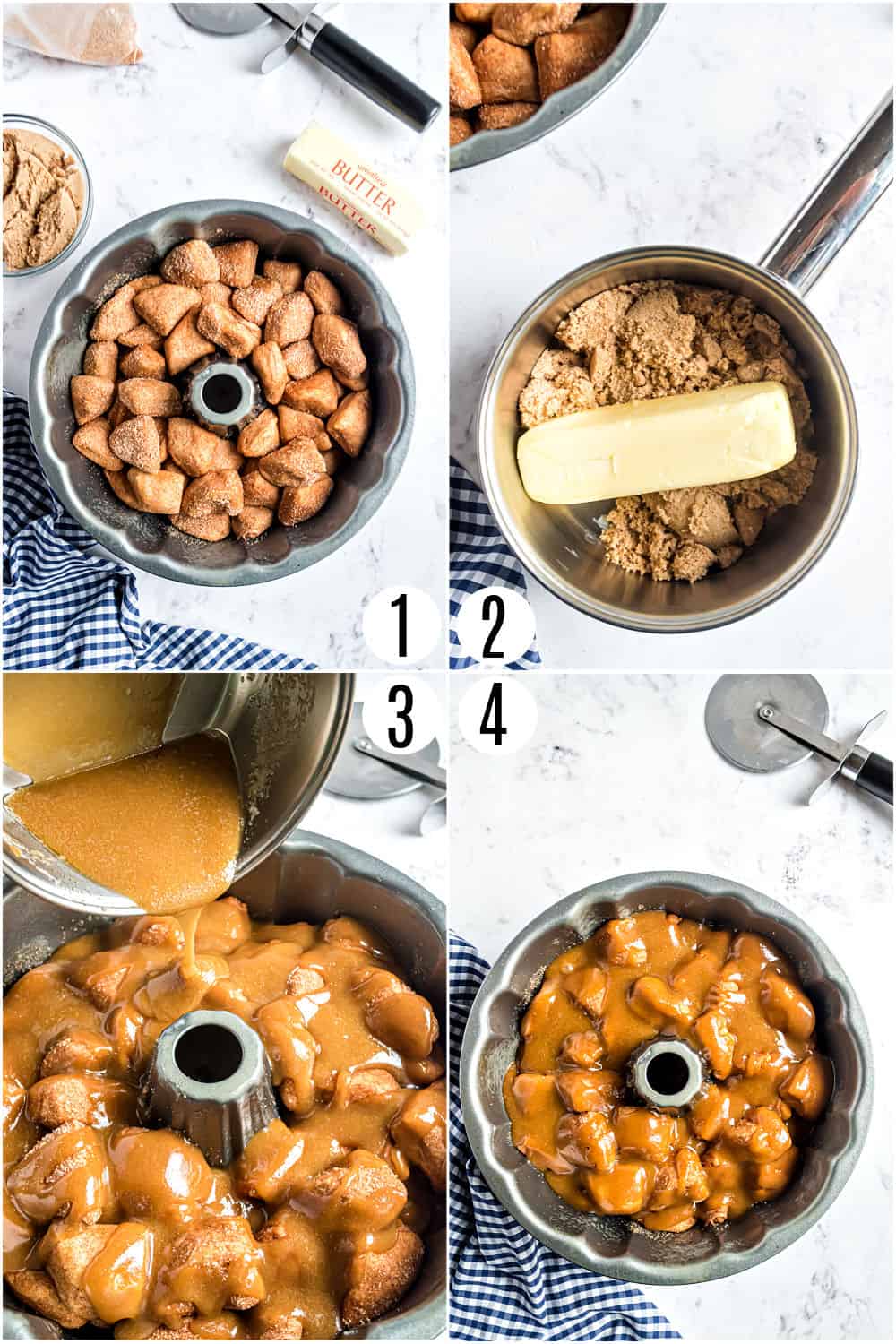 Brown sugar topping: Warm the butter and brown sugar in a sauce pan over the stove. Whisk until smooth and combined before pouring the mixture over the biscuits.
Bake: Bake for about 35 minutes, or until the biscuits are fully cooked through.
Let the Monkey Bread cool in the pan for a few minutes before turning it out onto a serving dish. Enjoy warm for best taste!
Tips and Tricks
Make sure to use a 9 cup bundt pan for this recipe. The monkey bread will overflow into your oven if you use anything smaller.
Place a baking sheet under the bundt pan to catch any dripping glaze or overflowing monkey bread.
Remove this bread from the pan while it's still warm. If you let it cool fully in the bundt pan, it will get stuck.
Add nuts or raisins for a delicious twist!
Serve with a drizzle of icing or with our delicious buttermilk syrup. SO GOOD.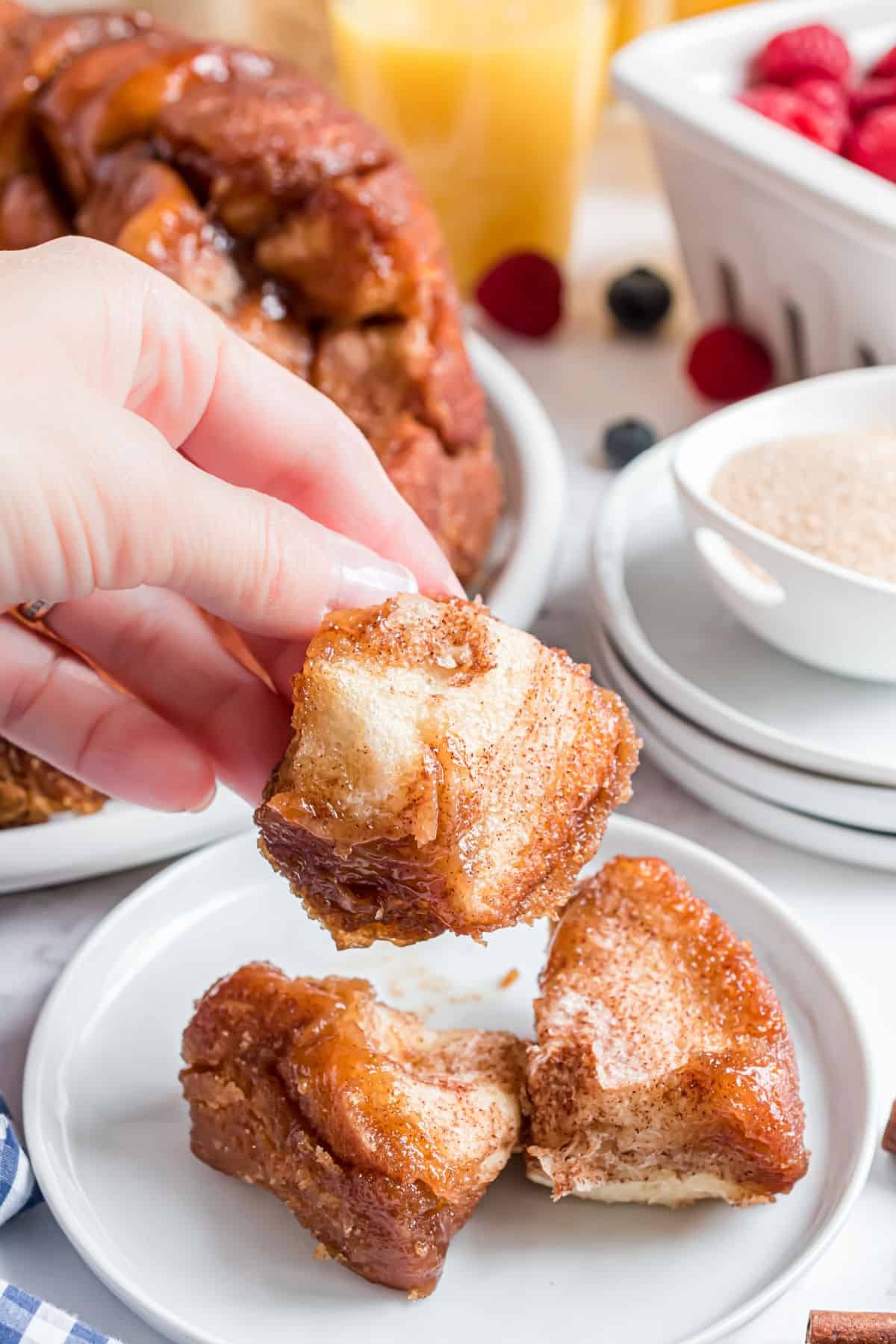 Recipe FAQs
What's the best way to store monkey bread?
Homemade monkey bread is best enjoyed fresh from the oven while still warm. Any leftovers (as if!) can be stored in a sealed container or zipped plastic bag at room temperature for about 3 days.
Can I freeze monkey bread?
Monkey bread is definitely freezer friendly! Wrap it in plastic cling wrap, then foil before freezing. It will stay good for about 3 months. Rewarm thawed monkey bread in the oven or microwave before enjoying.
I have leftover cinnamon sugar from coating the biscuits. How can I use it?
Sprinkle the remaining cinnamon sugar over biscuits before baking for even more sweet cinnamon flavor.
What bundt pan do I need?
Use a standard 9 cup bundt pan (also called a "flute pan") for this recipe. Do not use the ones with fancy molds and designs. Those are best saved for another recipe!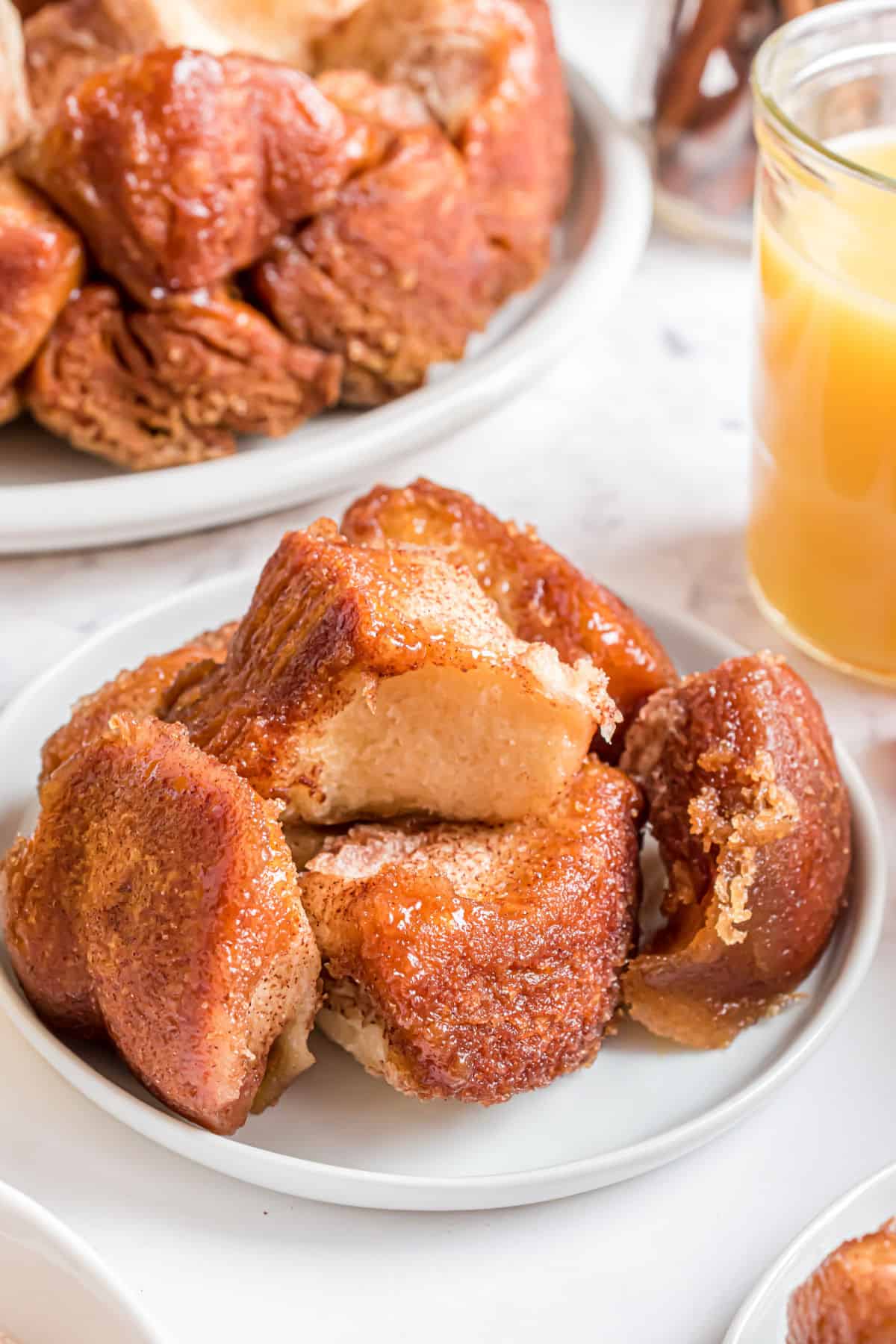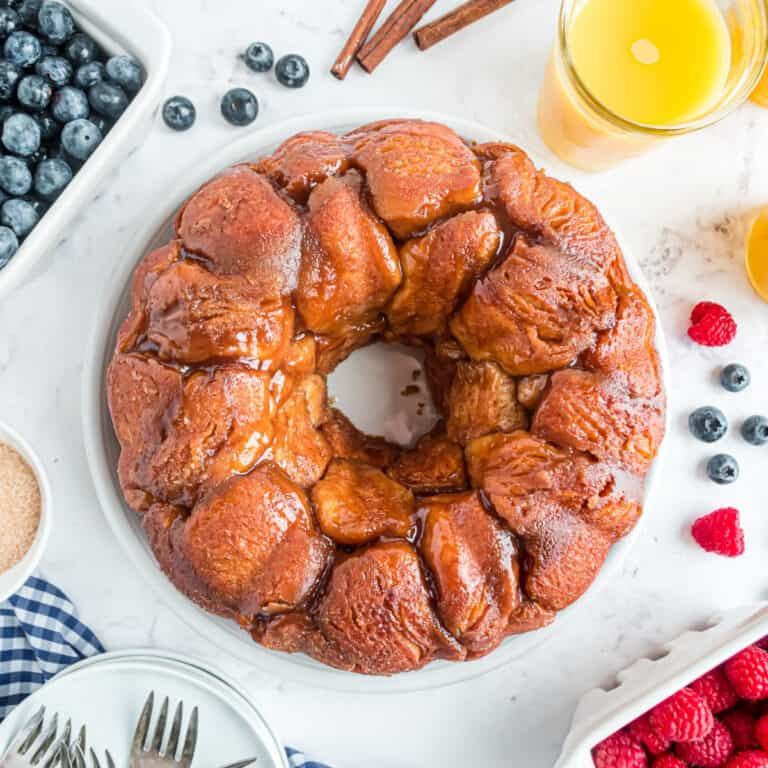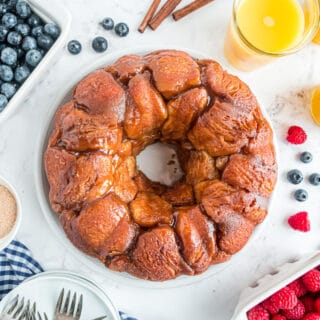 Monkey Bread Recipe
Turn refrigerated biscuits into the best Monkey Bread with this easy recipe. You only need 5 ingredients to make an amazing breakfast the whole family will love.
Ingredients
2

cans

refrigerated biscuits

½

cup

granulated sugar

2

teaspoons

ground cinnamon

½

cup

unsalted butter

¾

cup

light brown sugar

packed
Instructions
Preheat oven to 350℉. Liberally grease and flour or spray a 9 cup bundt pan with baking spray. Set aside.

Cut canned biscuits into quarters using a knife or pizza cutter.

In a gallon size storage bag, combine the sugar and cinnamon. Add the biscuit pieces to the bag and shake and rotate the bag until all the pieces are covered with the cinnamon sugar mix.

Place the biscuit pieces into the bundt pan, creating an even layer. Set aside.

In a small saucepan, combine the butter and brown sugar. Whisk over medium low heat until combined and smooth.

Pour over the biscuit pieces. Bake for 35-45 minutes or until the biscuits are fully cooked and no longer raw inside.

Let cool in the pan for 5 minutes. Turn the bread out onto a plate or serving dish. Serve warm.
Notes
The bread can be stored, in an airtight container, for 2-3 days.
To freeze, wrap tightly in plastic wrap and then foil for up to 3 months.
Only 5 ingredients needed to make this easy, breakfast treat. A 9 cup bundt pan is a MUST! Don't use anything smaller as you will have overflow in your oven. I even put a baking sheet under my pan to make sure I didn't have any spillage in my oven.
Extra cinnamon and sugar left in the mixing bag can be sprinkled over the top of the bread before baking.
Before the bread cools completely, make sure to remove it from the pan. If it gets left in the pan, it can stick.
A standard designed bundt pan works the best. Save the fancy designed bundt pans for another recipe.
Nuts or raisins are great add-ins.
Nutrition
Calories:
180
kcal
,
Carbohydrates:
24
g
,
Protein:
1
g
,
Fat:
9
g
,
Saturated Fat:
5
g
,
Polyunsaturated Fat:
4
g
,
Cholesterol:
21
mg
,
Sodium:
62
mg
,
Sugar:
20
g
The easiest Monkey Bread Recipe is made with refrigerated biscuit dough and lots of cinnamon sugar. This sticky-sweet bread is perfect for sharing on a lazy weekend or holiday morning!