There's no mistaking these Oatmeal Chocolate Chip Cookies for the kind with raisins. This favorite soft and chewy oatmeal cookie is loaded with flavor and chocolate morsels.
For all the cookie lovers out there be sure to try this rich and fudgy Chocolate Chocolate Chip Cookie recipe! Or these simple Butter cookies.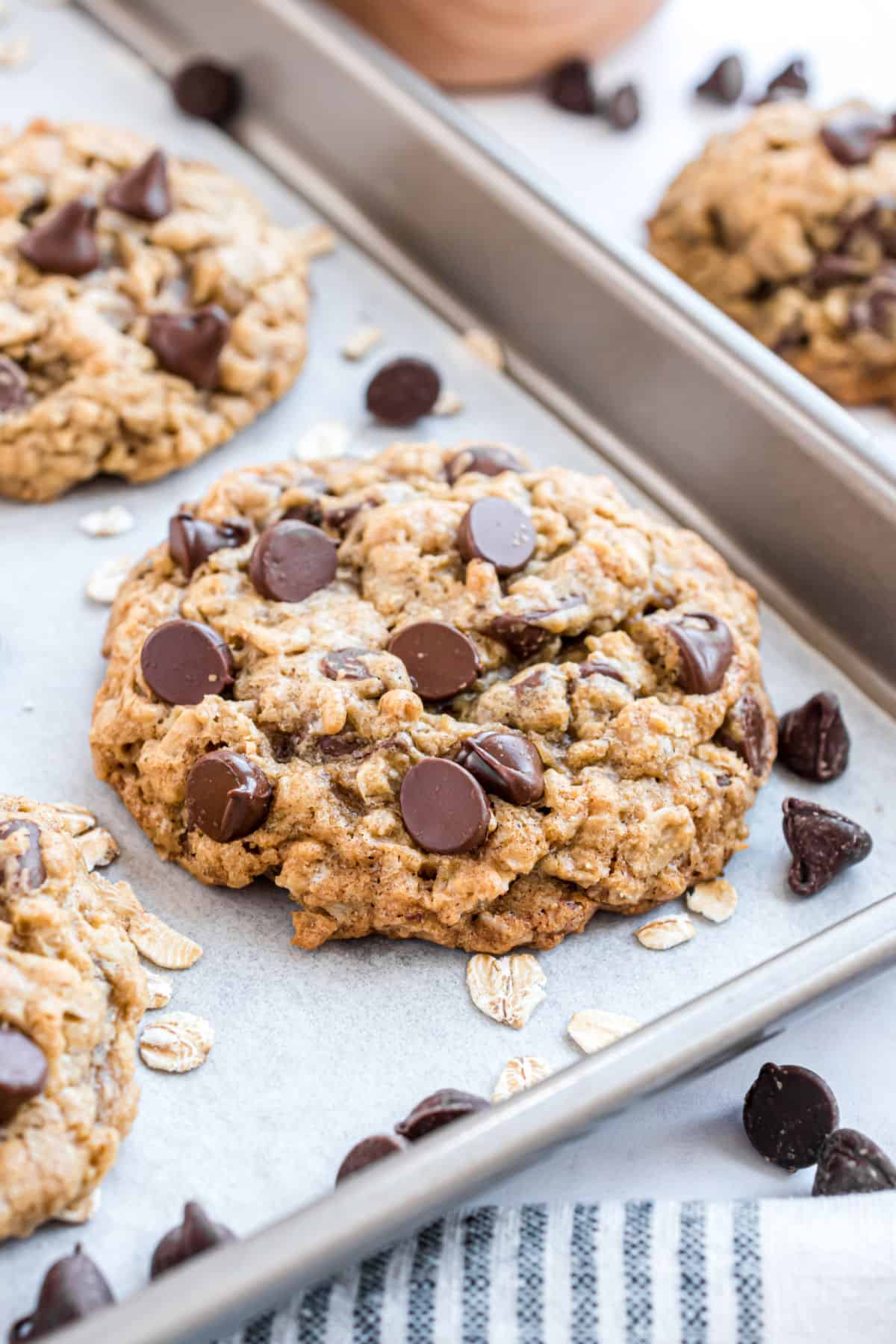 Why this Oatmeal Cookie is Best
Anyone else have a fear of biting into a delicious looking oatmeal chocolate chip cookie only to find out it's a raisin cookie in disguise?
I personally love Oatmeal Raisin cookies, but in my house, there is a huge fear of the raisin.
There's no mistaking today's cookie for anything but chocolate!
Jam packed with chocolate chips! Use more or less depending on what you like.
Soft and chewy. Old fashioned oats are key in this recipe!
Flavorful. Thanks to the dark brown sugar and butter, these are a great cookie base. You may recognize it from our favorite Oatmeal Scotchies recipe!
Because I never stop at "some chocolate" when I can have "ALL the chocolate", I did one extra thing to these cookies that set them apart: pressing more chocolate chips on top of the cookies right before baking!
The toasty, almost-nutty, flavor of the oatmeal coupled with the sweet chocolate morsels makes these cookies difficult to resist.
Use this same recipe as a base for our favorite oatmeal cookies with dried cranberries in this chewy white chocolate oatmeal cranberry cookies too!
Ingredient Notes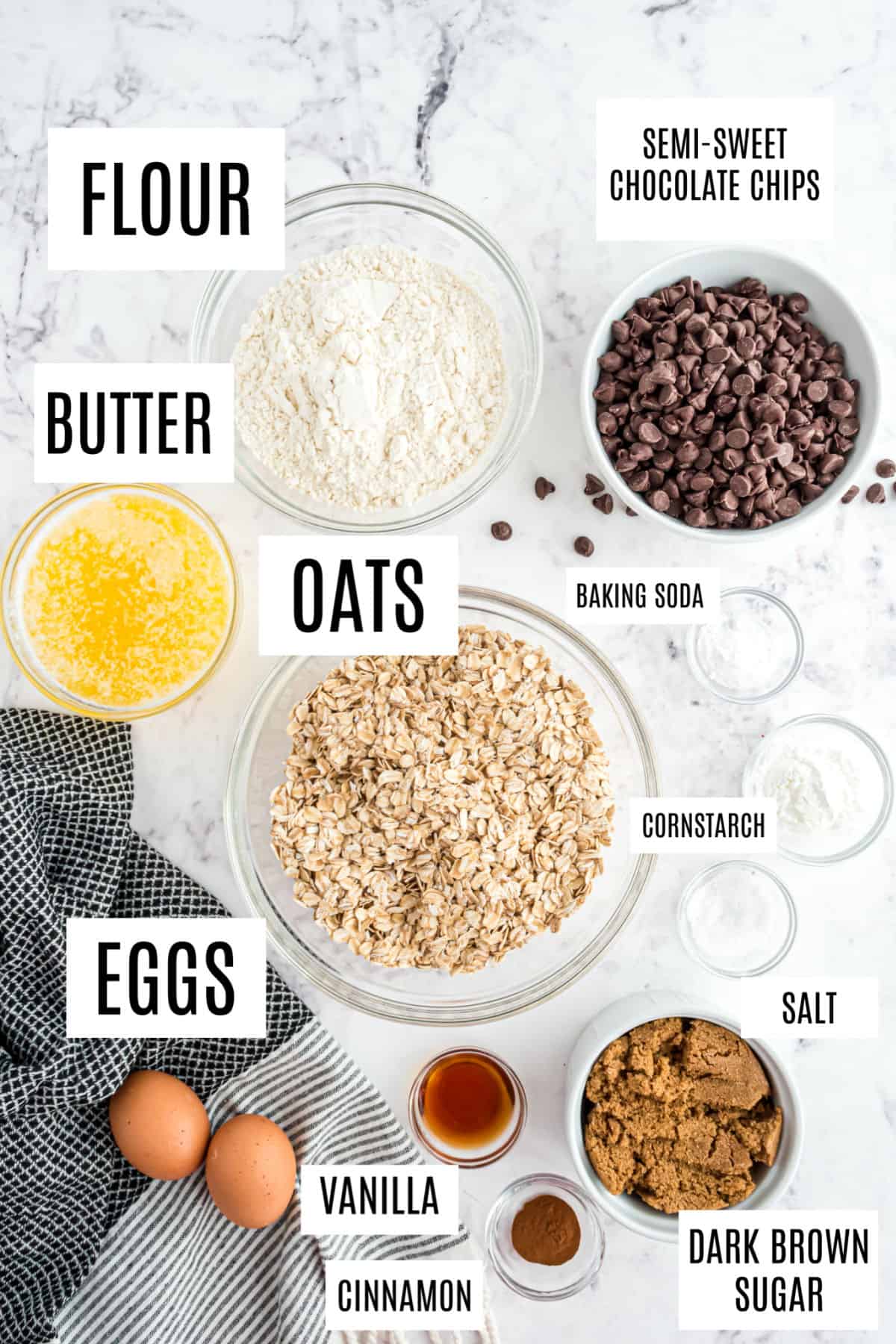 A good oatmeal cookie is one of life's simple joys.
I'm not a fan of oatmeal cookies that get dry and crumbly and I'm happy to report that these Oatmeal Chocolate Chip Cookies stayed wonderfully chewy even after a few days.
Melted butter. Melt the butter then let it cool slightly before adding to the dough.
Dark brown sugar. Dark brown sugar has more molasses flavor which gives these a rich, butterscotch undertone. It pairs beautifully with the choolate chips.
Cornstarch. Adding cornstarch to the cookie results in a soft and chewy texture.
Vanilla extract. I love to use my Homemade Vanilla Extract. Store bought is just fine too!
Oatmeal. Use old fashioned rolled oats–not steel oats or quick oats. The old fashioned oats help with a chewy texture. Quick oats will be fine, but your cookie will be softer and less chewy.
All Purpose Flour. Be sure to measure the flour correctly.
Chocolate chips. You'll need two cups. Reserve 1/2 cup for topping the baked cookies. This is totally optional, but gives them a bakery style look. Add chunks of chocolate like we do in our Chocolate Chunk Cookies!
How to Make Oatmeal Cookies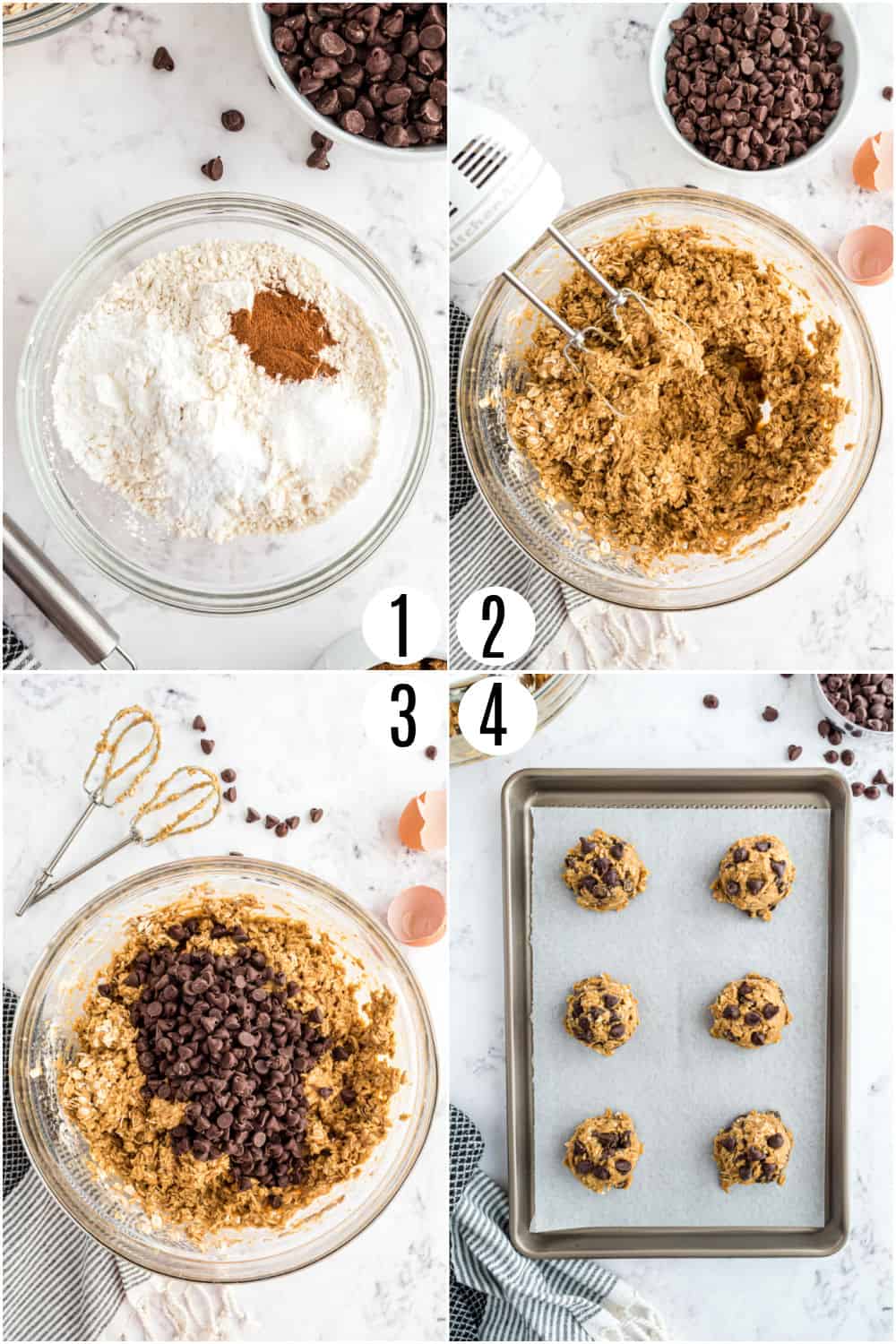 Keep in mind today's recipe does need to be chilled. But only an hour, so it gives you time to clean up the kitchen and get ready to bake!
Combine Dry Ingredients. In a bowl, whisk flour, cinnamon, baking soda, kosher salt, and cornstarch together. Set aside.
Mix Butter and Sugar together. Add eggs and vanilla. Mixture should be light and fluffy.
Combine everything. Add dry to the wet, slowly add in oats and chocolate chips.
Chill dough. Just for one hour, but you can cover it and refrigerate for up to 24 hours. Allow to sit at room temperature about 15-20 minutes before scooping (if you refrigerated for more than a few hours).
Scoop. Spoon about 2 Tbsp of cookie dough onto a parchment paper lined cookie sheet. Press a few extra chocolate on top.
Bake. Eat. Enjoy.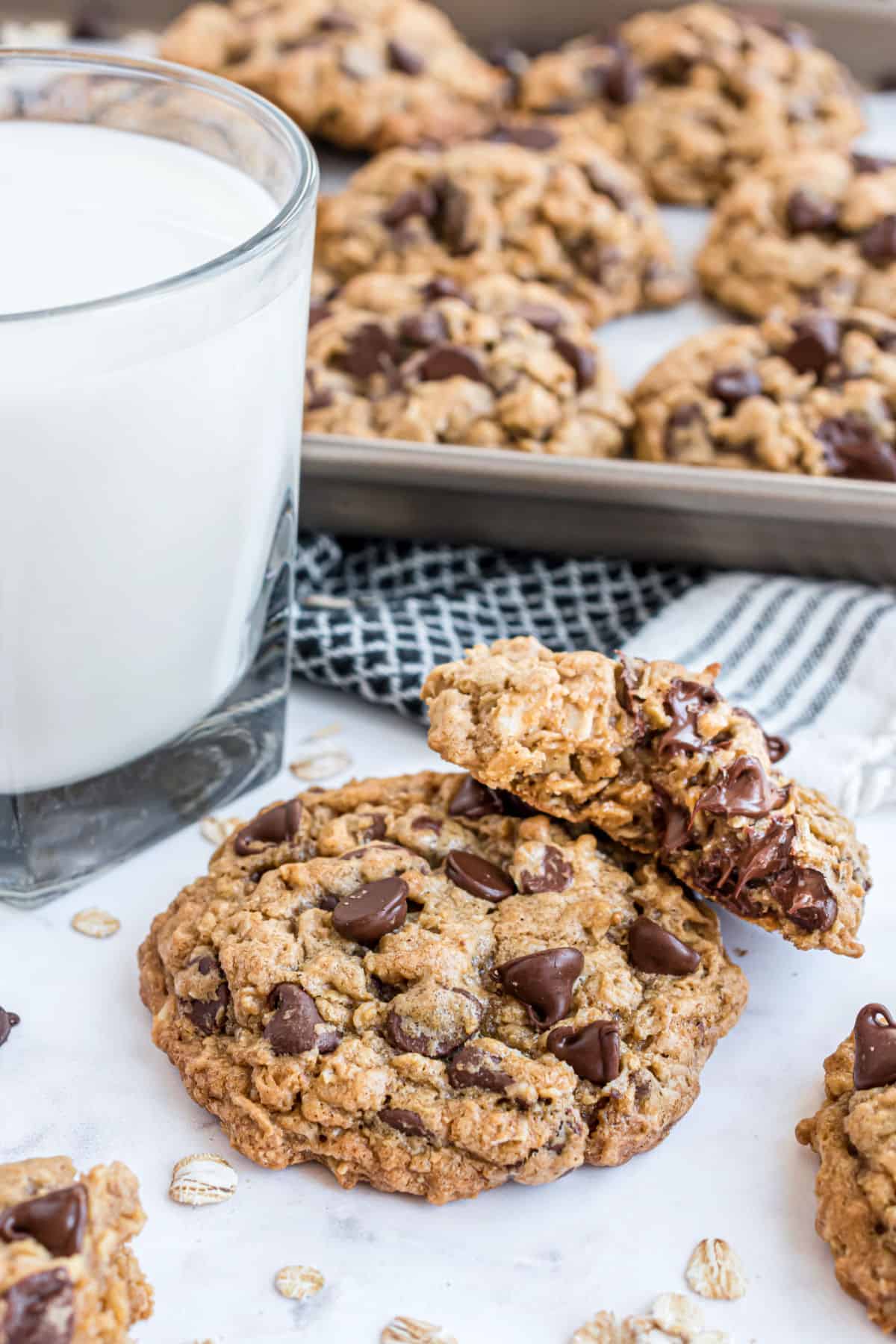 Tips & Tricks
Want to make Oatmeal Chocolate Chip Cookies that stand out from the crowd? Here are my best tips for world class cookies every time:
1. Chill the dough. I know. When you're in a rush (or just excited to eat cookies) this is the step you're most likely to skip. But letting the dough chill in the fridge prior to baking makes the finished cookies so much chewier! The cookies will still be fine if you must skip this step, but we're going for spectacular here!
2. Line the sheet with parchment paper. Using parchment paper (or a reusable non-stick mat) not only helps keep the cookies from sticking but also prevents over browning on the bottom. As a huge bonus–it makes clean up a breeze, too.
3. Use a cookie scoop. This cookie dough is sticky, and using a scoop helps make the cookies all the same size and shape which is perfect to avoid over baking these cookies!
4. Freeze leftover cookies. These cookies keep well in an airtight container or your cookie jar for about a week. If you're baking a lot of batches at once, freeze any cookies you won't eat within that time frame. I almost always have a batch or two of cookies stocked away in the freezer so that I'm never more than a few minutes away from delicious homemade treats! Frozen cookies also make perfect lunchbox snacks. Pack one in the morning and it'll thaw by lunch time, while keeping everything else cold.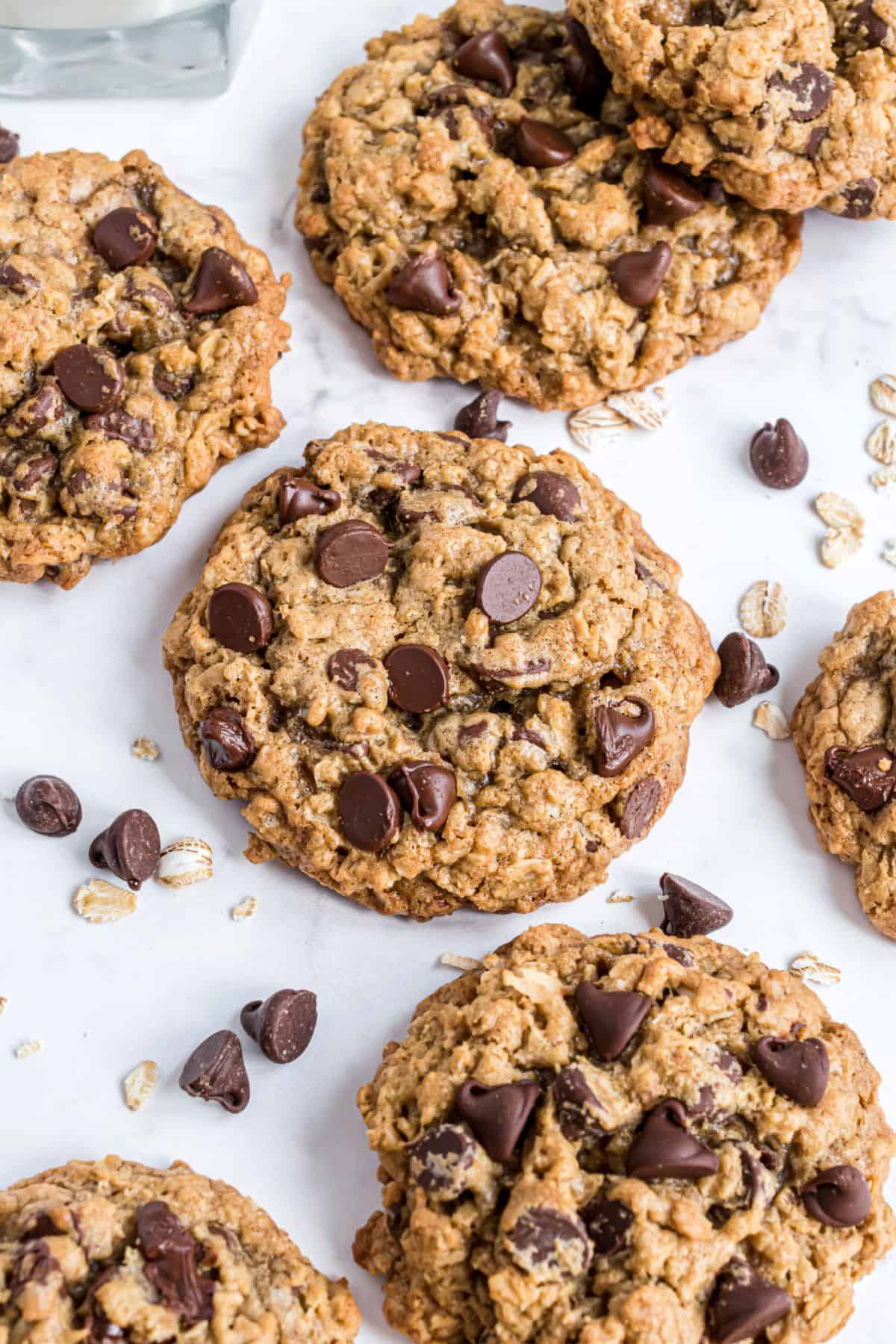 Recipe FAQs
Can I use light brown sugar instead of dark brown sugar in oatmeal cookies?
Yes. I suggest adding 1 Tbsp of molasses if using light brown sugar instead of dark brown sugar.
What kind of chocolate chips are best for oatmeal cookies?
Semi-sweet chocolate chips pair perfectly with our chewy oatmeal cookie recipe. You could swap them out for mini chocolate chips if you prefer.
Why are my oatmeal chocolate chip cookies flat?
Make sure you have chilled the dough for at least one hour before baking oatmeal chocolate chip cookies. This allows the melted butter to combine with the other ingredients.
We enjoyed these tasty oatmeal chocolate chip cookies as after school snacks and midday pick-me-ups. They're perfect with an ice cold glass of milk or a hot cup of coffee!