Potato Salad recipe made the old fashioned way with a few simple ingredients. Eggs, vegetables, mayonnaise, and seasonings make this a classic recipe.
For another classic, our readers LOVE this German Potato Salad recipe. We have instructions for stove top AND Instant Pot! Or try my grandma's Egg Salad recipe for another easy lunch staple!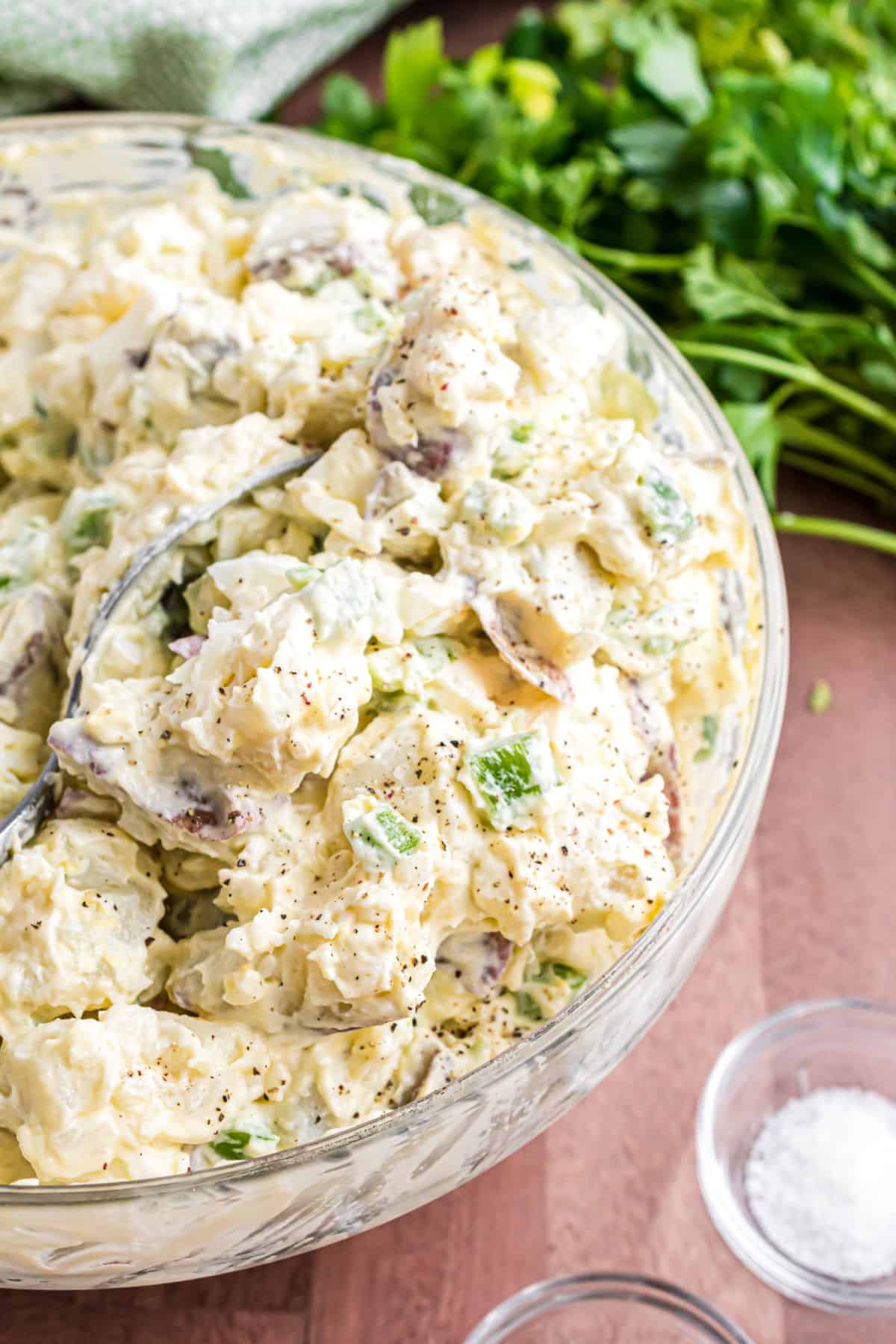 Why this Recipe is Best
I am certain that every family has their own potato salad recipe. This easy and delicious recipe comes from my dad's side of the family, my Grandma Bauer.
Grandma Bauer made the best potato salad (and ham salad, too).
It's perfect because it requires minimal ingredients and is easy to put together for a crowd.
The perfect complement to your Pulled Pork or Hamburgers!
This is a classic potato salad that tastes great without unnecessary ingredients like pickle juice, yellow mustard, apple cider vinegar, or celery seed.
All you need is potatoes, green peppers, onions, eggs, Hellman's mayonnaise, and salt and pepper.
The key to making my grandma's potato salad is to dice everything into very small pieces, and I mean small. So grab your best chef's knife and let's make it together!
FAVORITE POTLUCK RECIPE: Macaroni Salad | Roasted Corn Salad
Step by Step Instructions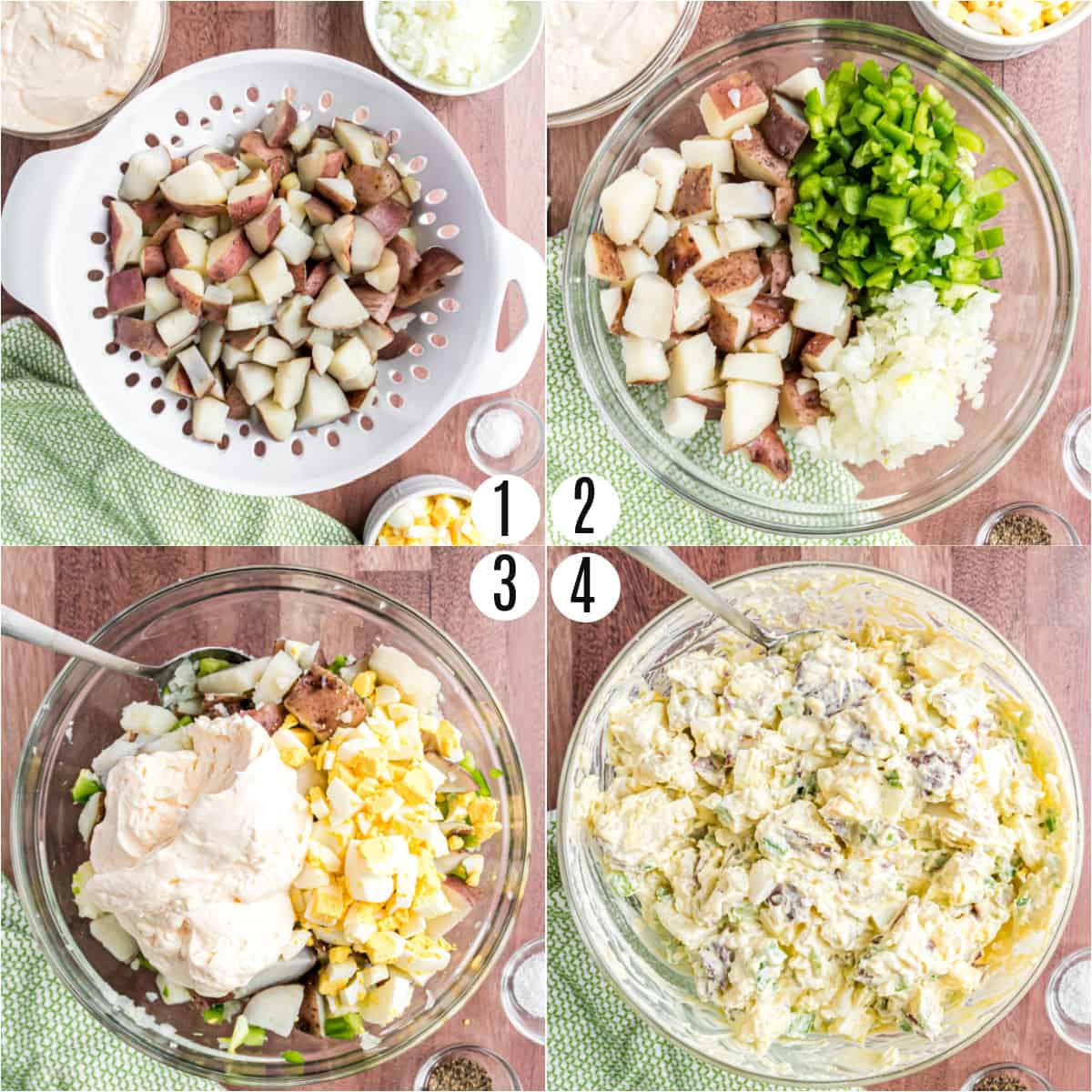 Prep the potatoes. If you want your potatoes peeled, start there. I like to leave the skin on mine, but Grandma always liked hers peeled.
Cut your potatoes into smaller chunks and place them in a large pot with enough water to cover the tops of the potatoes.
PRO TIP: You can also make potatoes in the Instant Pot with this Instant Pot Potatoes recipe.
Cook over high heat and bring to a boil. Once it's boiling, reduce heat to medium low and cover with a lid. Cook for 15 minutes or until potatoes are soft. Allow potatoes to cool.
Once the potatoes are done cooking, drain them and then dice them into small bite-sized pieces.
Dice your Peppers and Onions. While your potatoes are boiling, you can also make your hard boiled eggs and dice your peppers and onions. Remember, you want to dice them in very small pieces, about 1/4", thumbnail size as my mom always told me!
Combine. In a large mixing bowl, mix together the diced potatoes, onions, and peppers. Stir in the diced eggs and mayonnaise. And yes, grandma always used the whole 30 ounce jar and so do I. Feel free to add as little or as much as you enjoy! Stir everything together and season with kosher salt and pepper to taste.
REFRIGERATE. Refrigerate potato salad for at least one hour before serving, allowing the flavors to mingle and chill. Then enjoy!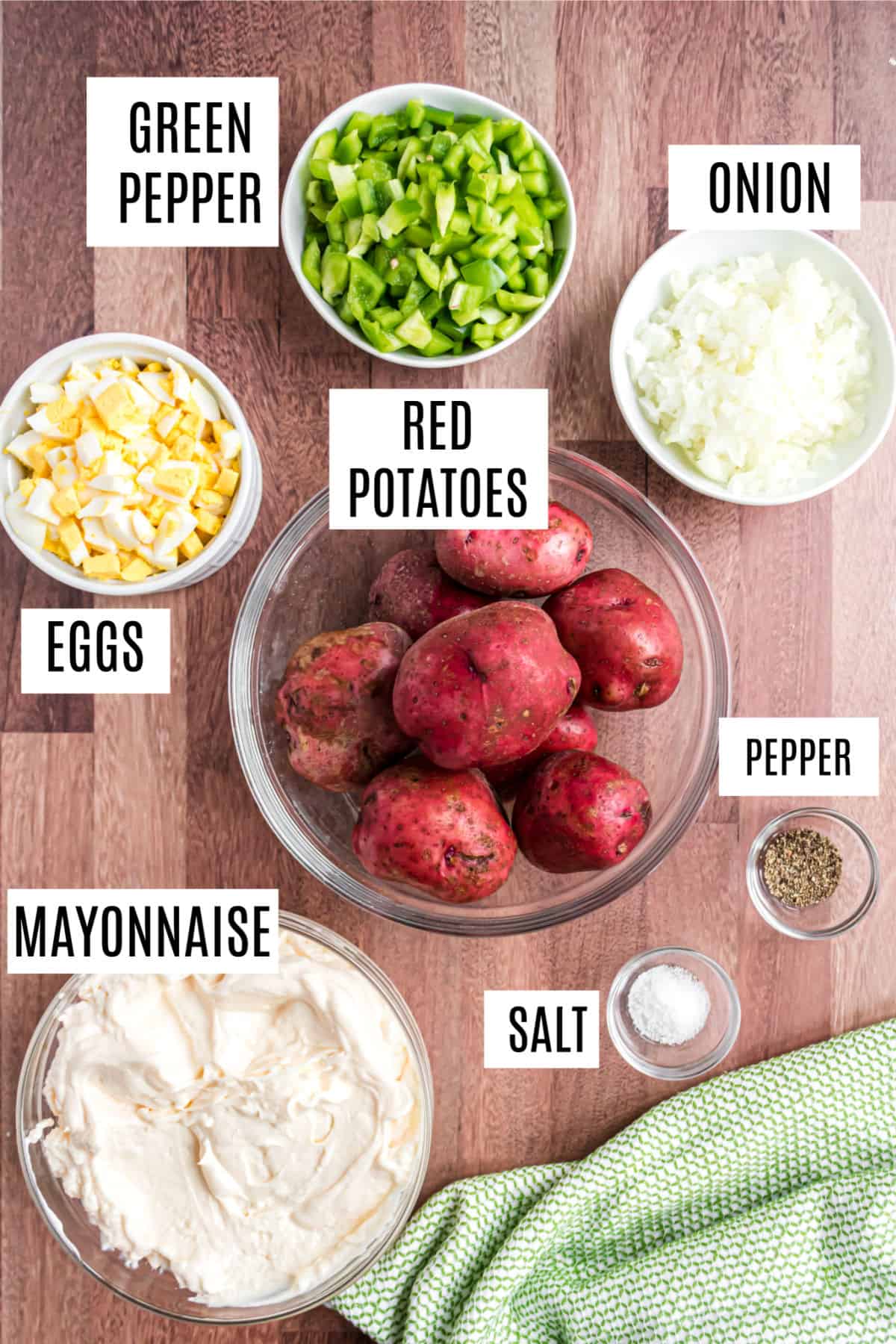 Tips and Tricks
Dice everything into really small pieces, about 1/4" pieces.
Use Hellman's Real Mayonnaise. Do not use an imitation or substitute for this. Trust me, it makes a difference!
Let the potato salad sit in the refrigerator for a few hours or overnight to really let the flavors mingle together.
Recipe FAQs
Can I mash the potatoes for potato salad?
You can mash your potatoes but it will change the texture of the potato salad. It does make this recipe easier with mashed potatoes but I always prefer diced potatoes.
Do I need to peel the potatoes?
No, I don't peel them. Grandma Bauer always peeled her potatoes.
What kind of potatoes are best?
I prefer using red potatoes but you can also use Yukon Gold potatoes or Russet potatoes. Any potatoes will work, really.
Can I make potato salad ahead of time?
Yes! You can make this dish the day before. Which makes it a great holiday or party side dish. No mess in the kitchen on the day of your event!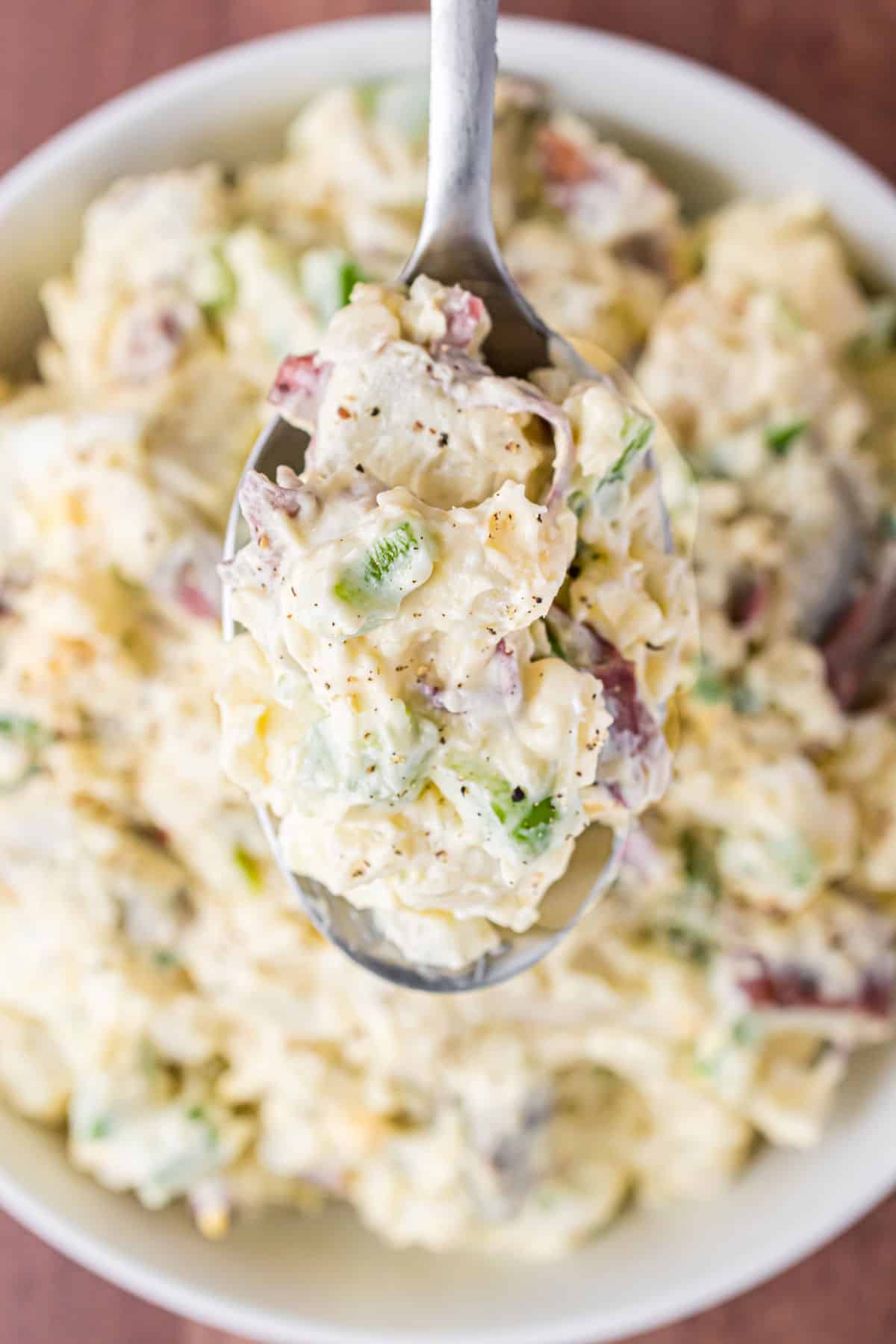 How to boil potatoes
Put the potatoes in a large pot and cover the tops of the potatoes with water. Add ½ tsp. of salt. Turn the heat on high and bring the water to a boil.
Once boiling, reduce the heat to medium low. Cover with a lid and cook the potatoes for about 15 minutes, or until tender. Drain the potatoes and let them cool.
PRO TIP: Yukon Gold or Russet potatoes may need a little longer to cook.
Perfect hard boiled eggs
I can now make the perfect hard boiled eggs using my Instant Pot! The Instant Pot makes it so the eggshells come off very easily and the yolk is a perfect yellow.
I have tried every way out there to make perfect hard boiled eggs and this way is the best! It also makes the most delicious deviled eggs!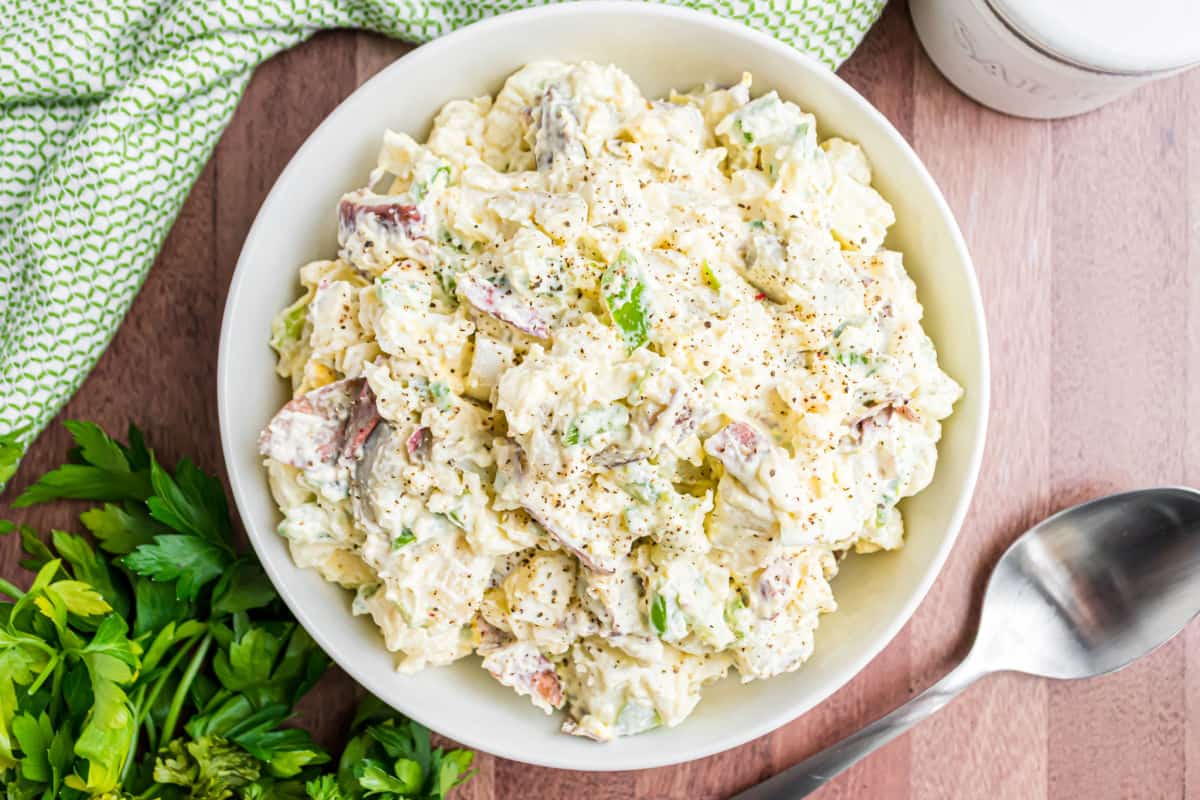 More Potato Recipes
More Potluck Recipes
Classic Potato Salad Recipe with a few basic ingredients. It's all about the combination of flavors, not all the extras!