These Pumpkin Muffins with Maple Pecan Glaze are the perfect breakfast! Small bites means you get to eat more, right?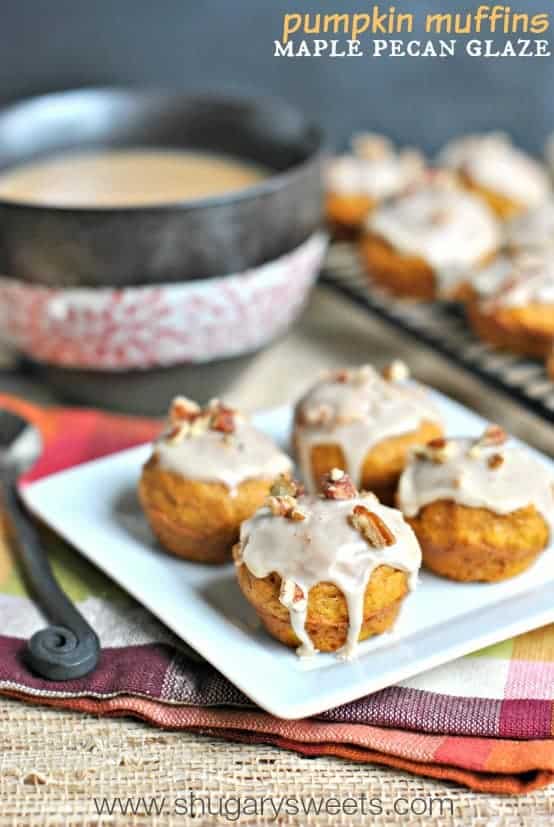 Click HERE to save recipe to Pinterest
You didn't think I was done sharing pumpkin treats yet, did you?
I know I took a small break, but these muffins have been waiting in line, patiently, to be shared.
Earlier this fall (well, actually at the end of summer) I worked with BAILEYS® Coffee Creamer to create some fun breakfast treats for an event they were hosting to showcase their new fall/winter coffee creamers.
In addition to the Pumpkin Spice Waffle Bites I shared last month, I also made these Pumpkin muffins. Holy heck guys, they are good.
And the extra punch of flavor from the BAILEYS® Coffee Creamer is such a hit to the taste buds. Pair a dozen one of these muffins with your coffee and you will be delighted. Especially if you've added some of the BAILEYS® Pumpkin Spice Coffee Creamer to your cup of joe!
It's no secret I love creamer in my coffee. Getting the opportunity to try out these creamers early in the season just prepared me ahead of time for all things pumpkin!
How long before you guys are sick of pumpkin? Okay. Don't answer that question.
How about this question: How soon can I start sharing peppermint and eggnog recipes? (please answer "right away")!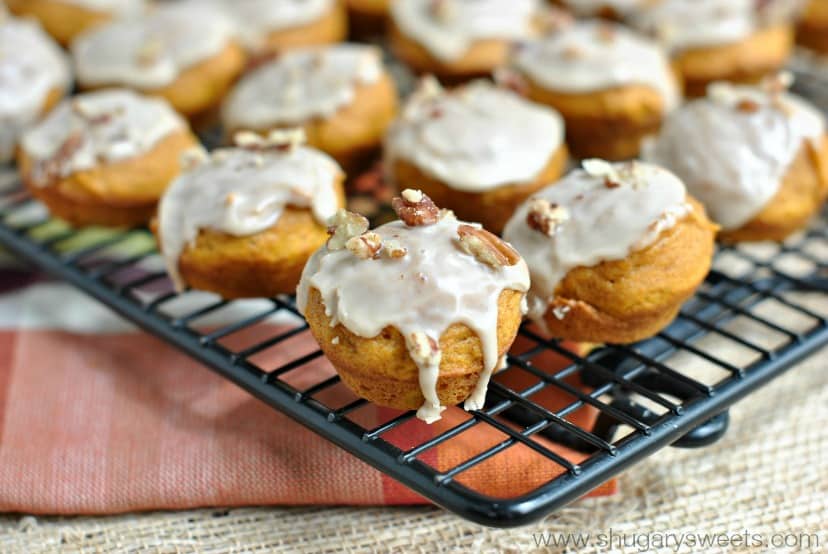 How to make Mini Pumpkin Muffins:
I used a mini muffin panto bake these muffins. You can use a regular sized pan, but you will have to adjust the baking time (add a few extra minutes and watch the muffins until they are done)
Make sure you use pure pumpkin from the can (not pumpkin pie filling). It makes a difference to the taste
Don't add your glaze until your muffins are cooled, otherwise they will drippy and melty…who wants that?
These muffins are best eaten the same day. If you want to freeze them, do so before adding the glaze. When ready to use, thaw completely at room temperature and then proceed in making the glaze. Delicious!
I suggest making these muffins today. Enjoy half of them now and freeze the remaining half for Thanksgiving! All you have to do is thaw and dip in glaze. ENJOY!
Connect with Shugary Sweets!
Be sure to follow me on my social media, so you never miss a post!
Facebook | Twitter | Pinterest | instagram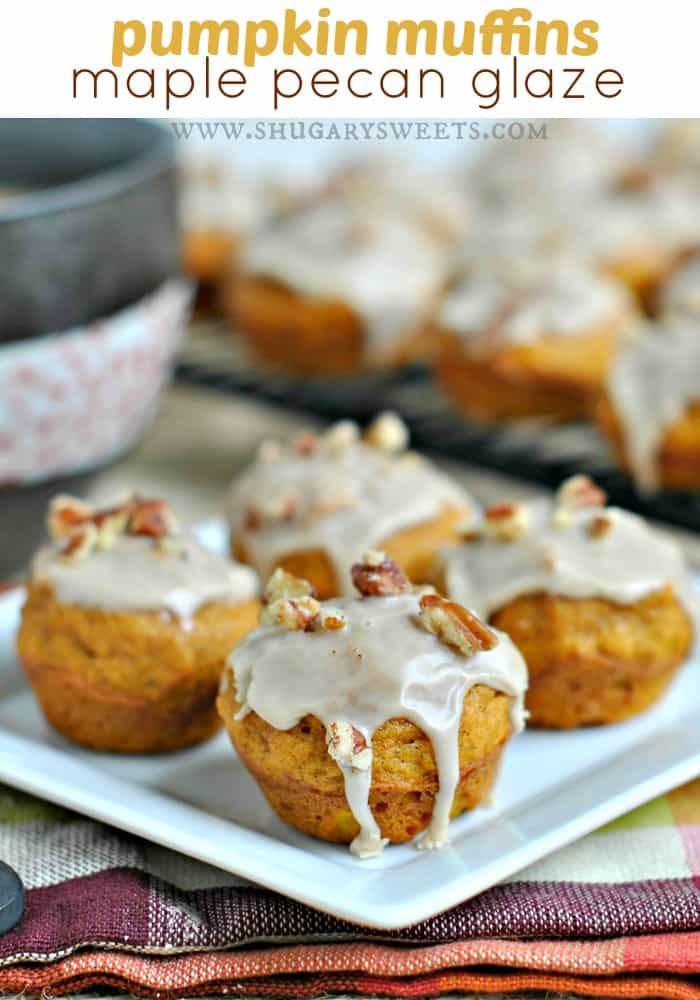 Looking for more treats made with Coffee Creamer? You've come to the right place!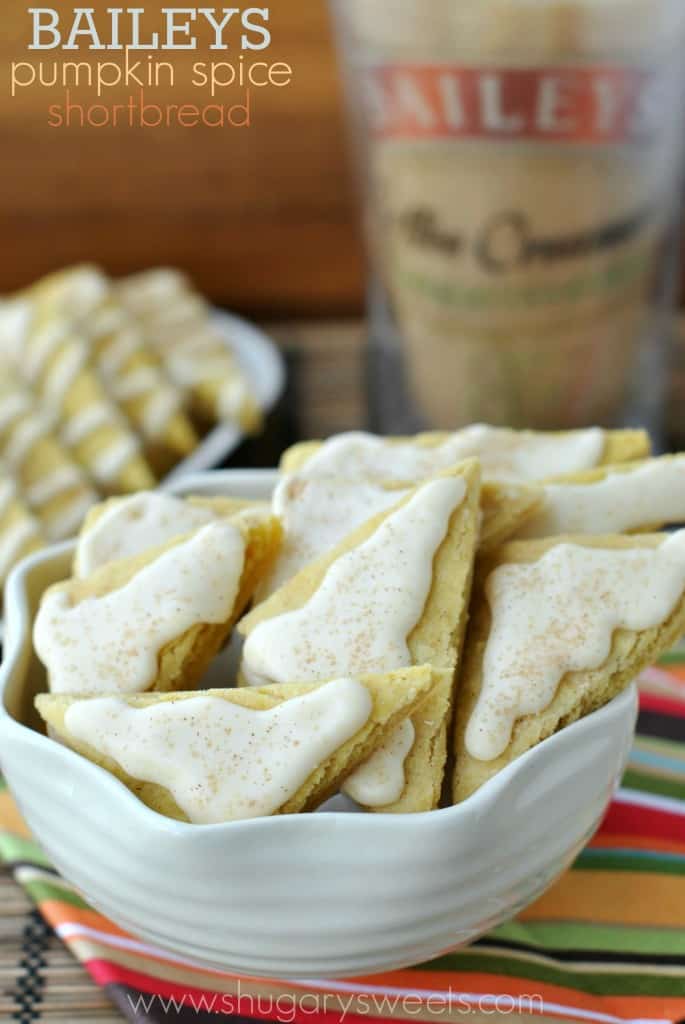 Pumpkin Spice Shortbread Cookies: put that pumpkin coffee creamer to use in these delicious, buttery cookies!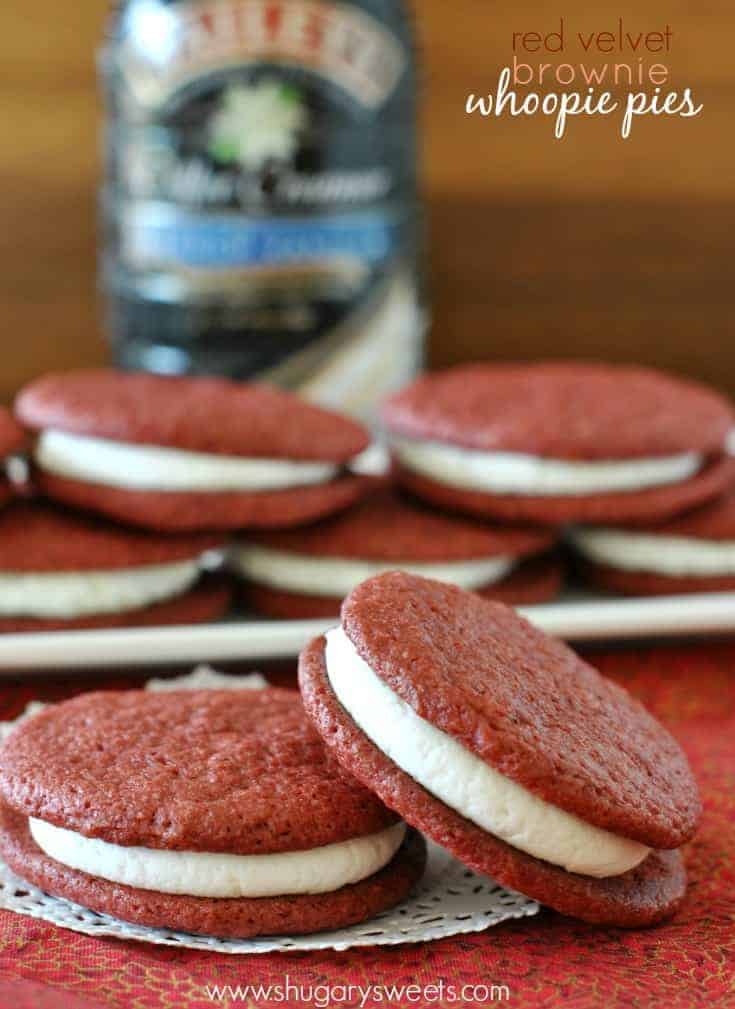 Red Velvet Brownie Whoopie Pies: a fun holiday treat made with Red Velvet Cupcake coffee creamer!
Still Looking for more Coffee inspired recipes?
Be sure to check out My Coffee Addiction Pinterest Board!
I created a fun little group on facebook and I'd love for you to join in! It's a place where you can share YOUR favorite recipes, ask questions, and see what's new with Shugary Sweets (so that you never miss a new recipe)! If you'd like to check it out, you can request to join HERE.
Mini Pumpkin Muffins with Maple Pecan Glaze recipe:
Yield: 6-7 dozen mini muffins
Pumpkin Muffins with Maple Pecan Glaze
Ingredients
For the muffins:
½ cup unsalted butter, softened
1 cup granulated sugar
½ cup light brown sugar, packed
1 can (15oz) pure pumpkin
3 large eggs
2 Tbsp BAILEYS® Pumpkin Spice Coffee Creamer
2 ½ cup all-purpose flour
½ tsp baking soda
2 tsp baking powder
1 Tbsp cinnamon
½ tsp ground ginger
½ tsp nutmeg
½ tsp ground cloves
½ tsp kosher salt
For the glaze:
1 ½ cup powdered sugar
1 tsp maple flavoring
¼ cup BAILEYS® Pumpkin Spice Coffee Creamer
½ cup pecans, chopped
Instructions
In a large mixing bowl, beat butter with sugars until fully blended. Add pumpkin, eggs and BAILEYS® Pumpkin Spice Coffee Creamer. Beat until combined.
Add flour, baking soda, baking powder, cinnamon, ginger, nutmeg, cloves and salt. Beat for about 2-3 minutes until fully combined.
Spray a mini-muffin pan with non-stick baking spray. Drop batter by 1-2 Tbsp scoop into muffin pan. Bake in a 350 degree F oven for 11-13 minutes. Remove and cool on wire rack.
In a small bowl, whisk the powdered sugar, maple flavoring and BAILEYS® Pumpkin Spice Coffee Creamer together until smooth and well blended.
Dip tops of muffin into glaze, allowing the excess to drip off. Place on wire rack and sprinkle with chopped pecans. Allow muffins to set about 15 minutes. ENJOY.
Notes
If you want to freeze the muffins, do so before adding the glaze. Place cooked and cooled muffins into an airtight freezer bag. When ready to use, thaw at room temperature. Proceed in making the glaze and enjoy!
If you can't find the BAILEYS® Pumpkin Spice Coffee creamer, feel free to substitute with my Homemade Pumpkin Coffee Creamer!


Today's recipe for Mini Pumpkin Muffins with Maple Pecan Glaze was originally published on Shugary Sweets on November 11, 2014 and has been republished in August 2018.