Chicken Tetrazzini is a creamy, cheesy pasta dish that the whole family will love. Easy to make and freezer friendly, it's a great casserole to share with friends.
Use up some leftover turkey breast and whip up a dish of this easy, cheesy Turkey Tetrazzini for the holidays!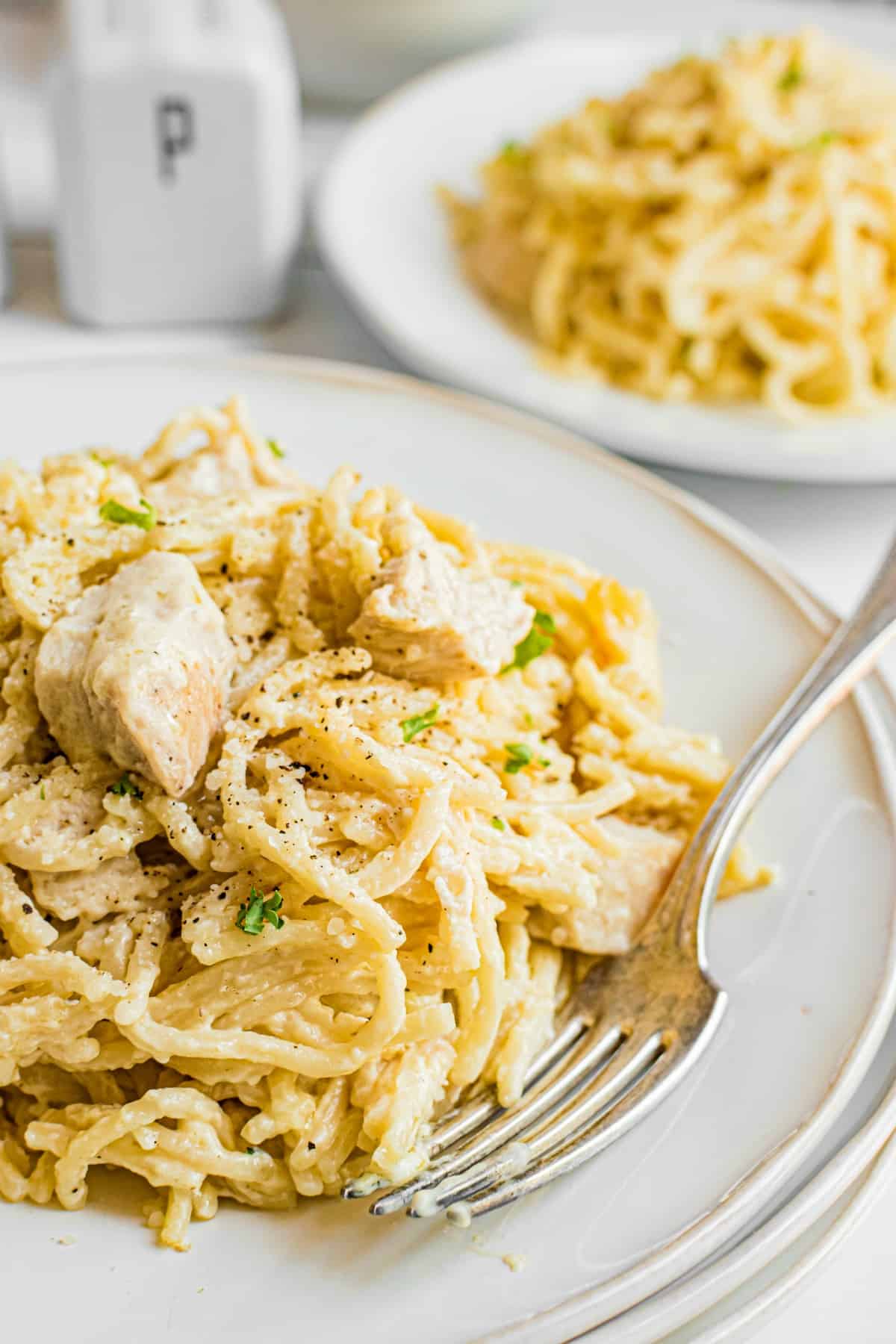 Comfort Food for Dinner
Two of my children have left the nest, and this Chicken Tetrazzini recipe is what they always request when they come home.
It's delicious comfort food, a great recipe, and easy to make ahead of time too!
This is also one of those recipes I like to keep on hand for when I want to bring a family in need a hearty meal, or a new mom a dinner! It gets rave reviews, and I even made a video tutorial to show you how to make chicken tetrazzini!
This cheesy dish needs to happen in your kitchen. It makes a big 13×9 pan, but you can split it into two dishes (2qt or 8-inch square) and share it with a neighbor or friend in need!
This dish ALWAYS gets people asking for the recipe, and once you try it, you'll understand why our family loved it!!
FAVORITE PASTA DINNERS: Penne Rosa | Pizza Stuffed Shells
How to make Chicken Tetrazzini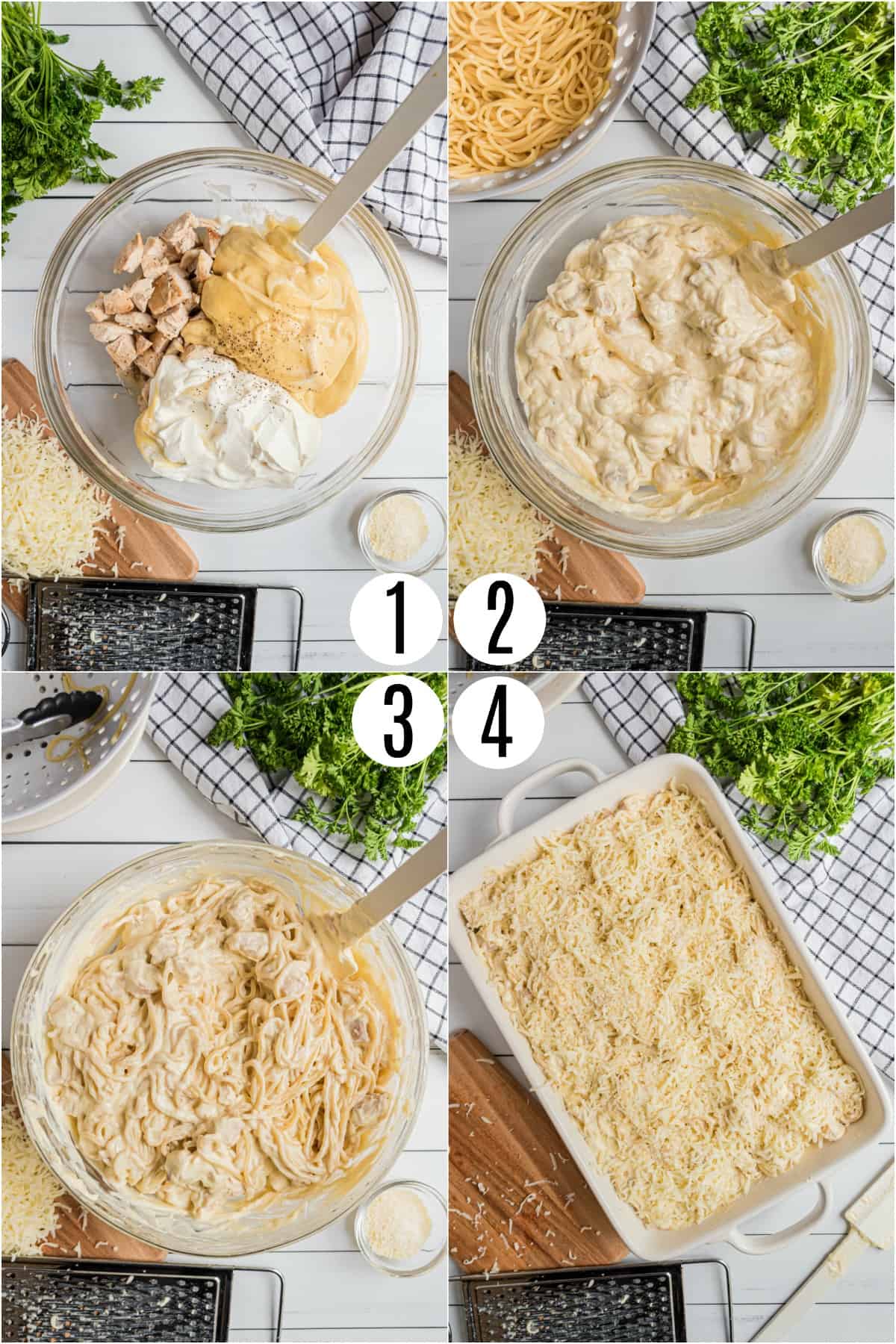 You'll want to start by baking chicken or using leftover turkey, rotisserie chicken, or leftover cooked chicken.
If I'm in a hurry, I'll boil some boneless skinless chicken breasts in a pot of water with salt and pepper to use in this cheesy dish!
Pick your favorite kind of pasta and cook it until al dente.
What is al dente pasta?
It just means that the pasta is still slightly firm. Because you will be baking this dish, you don't want your pasta too soft and mushy!
While you are cooking pasta and chicken, combine the remaining ingredients in a very large bowl. Add your hot pasta and your cooked (diced) chicken to the bowl and mix until blended.
Pour into a large 13×9 baking dish (or two smaller pans). Bake covered for about 45 minutes, then remove foil and bake uncovered for an additional 15 minutes, until bubbly and cheese is melted.
If making this in advance, refrigerate and cover until ready to heat. If cooking from cold, add bake for one hour, then uncovered for 20 minutes. ENJOY.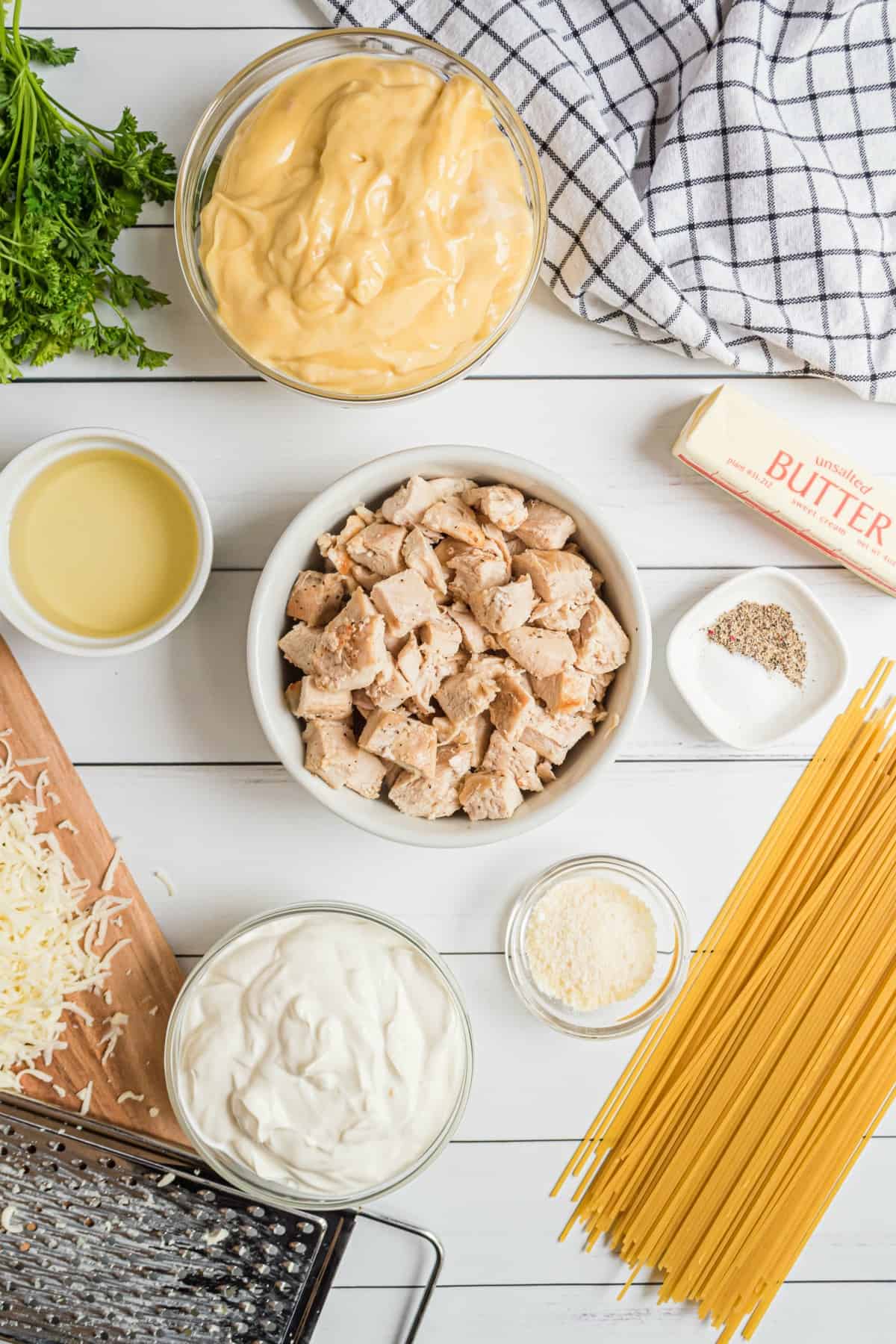 Ingredient Notes
Chicken breasts or rotisserie chicken- we love this easy shredded chicken recipe!
Unsalted butter
Sour cream– or plain greek yogurt
Dry white wine– (or chicken broth)
Salt and pepper
Parmesan cheese
Mozzarella cheese
Spaghetti noodles – can also use any other pasta of choice
onions, garlic, and mushrooms optional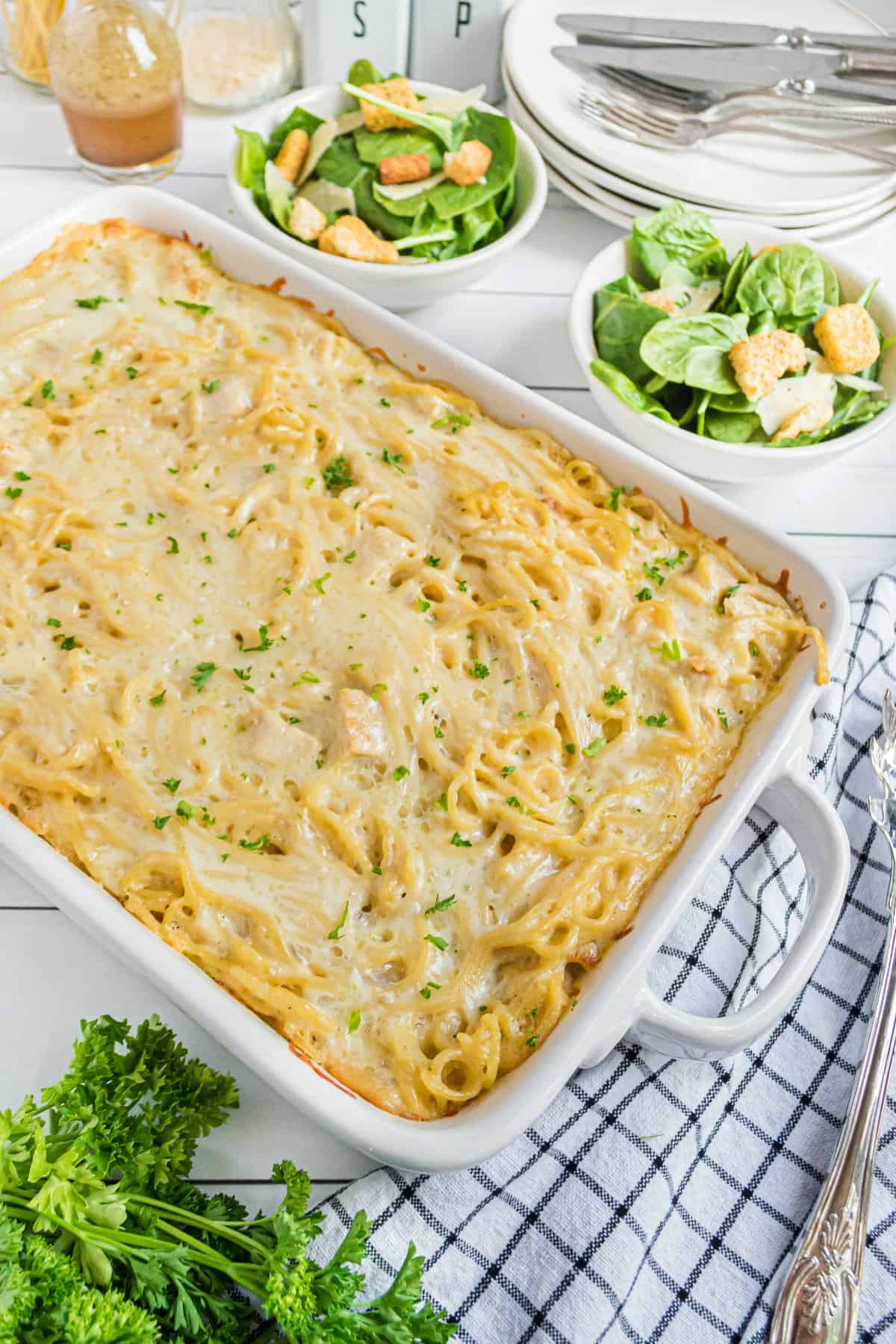 Serving Suggestions
Chicken Tetrazzini is one of those easy dinner recipes that goes great with any green salad or garlic bread!
Easy, buttery Beer Bread recipe to serve with dinner! Also great to cube into bite sized pieces and use for dips!
This delicious Spinach and Bacon Salad is a breeze to prepare! The sweet dressing with the salty bacon keeps you wanting more!
Looking for a fresh bowl of homemade applesauce for dinner tonight? This Instant Pot Applesauce recipe is super quick and easy!
Don't forget to finish the meal with a fresh batch or rice krispie treats!
Recipe FAQs
Can you freeze Chicken Tetrazzini
Yes! Assemble the chicken tetrazzini casserole in a freezer safe dish. When opting to freeze this dinner, I usually choose a foil pan for freezing. Cover with foil and freeze for up to two months.
To serve, thaw in refrigerator overnight, and bake accordingly.
Can I make tetrazzini without mushrooms?
Absolutely. Leave out the mushrooms or add in extra depending on your taste buds. You can also add in fresh cut broccoli florets!
Can Chicken Tetrazzini be made ahead of time?
Yes. Before baking, cover with foil and refrigerate for up to 24 hours.
When ready to bake, remove from fridge and add 10-15 minutes baking time.
More Easy Dinners
Slow Cooker Balsamic Chicken is hearty and the perfect comfort food on a cold or rainy night! Takes minutes to put together before you head out of the house for the day! Serve with some mashed potatoes!
Forget the canned stuff, make a batch of Homemade Spaghettios and Meatballs. Kid and adult approved!
Creamy white cheddar macaroni and cheese just like Panera. Give this Copycat Panera Mac and Cheese recipe a try. Oh and it's quick and easy on the stove top too!!
Tender, flavorful Classic Meatloaf recipe with a sweet and tangy bbq glaze. This Perfect Meatloaf is better than you remember, give it a try tonight!
Fork tender, melt in your mouth, this is the BEST Mississippi Pot Roast recipe. A Naturally low-carb dinner idea made in the slow cooker!
Thick and juicy, this crispy parmesan oven Baked Pork Chops recipe is delicious. The BEST pork chop recipe you'll ever need!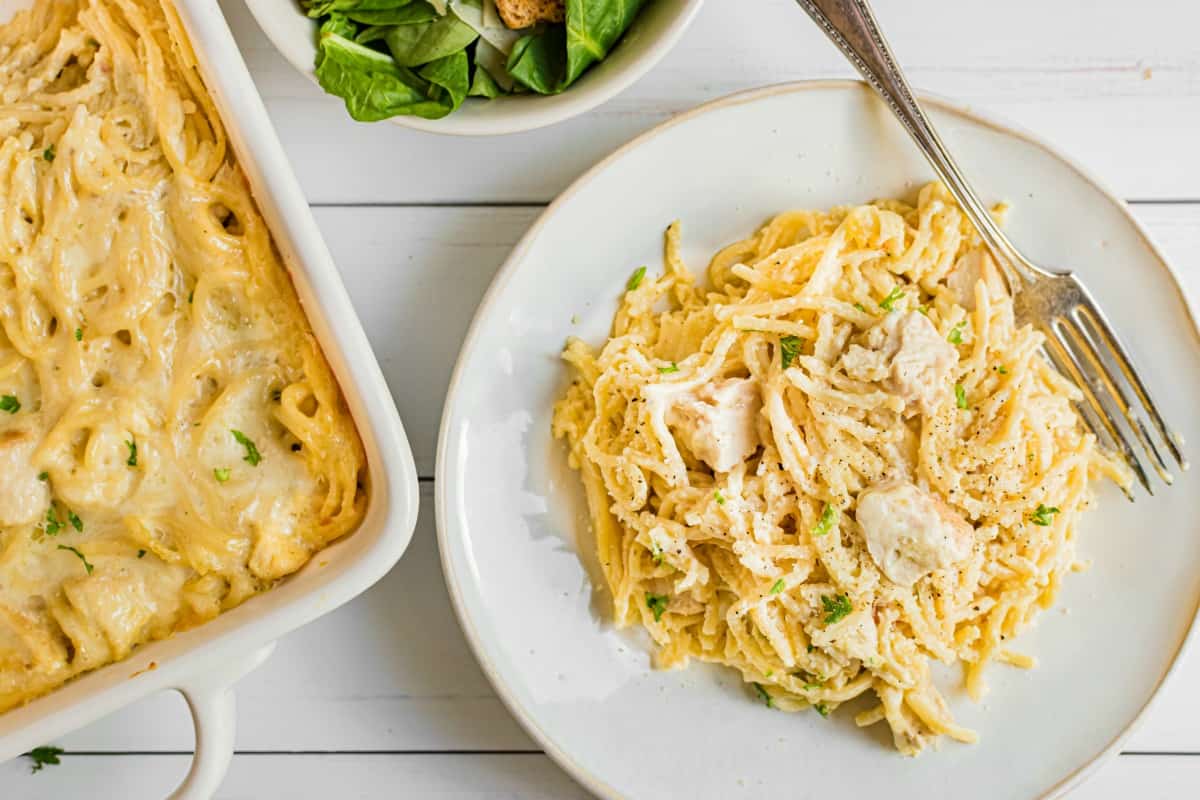 Creamy baked Chicken Tetrazzini recipe is the best weeknight dinner recipe your family will love! Easy and delicious.