All the best parts of a giant cinnamon roll and a cake come together to make Cinnamon Cinnabon Cake. Oozing with vanilla icing, this cinnamon roll cake is the ultimate in breakfast decadence.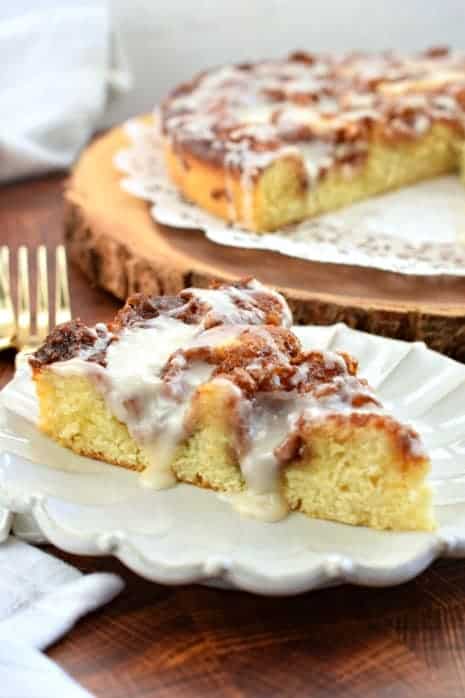 You may have gathered by the fact that I run a baking blog that I prefer homemade baked goods to store bought nine times out of ten.
It's not only the taste of fresh made baked goods I love; it's the whole process. Mixing dough or batter, playing with a recipe, filling my kitchen with delicious smells.
While I love to indulge by buying a Starbucks Scone or a from my favorite local bakeries now and then, I'm not the biggest fan of most treats from chain restaurants.
But I have one weakness when it comes to "fast food" baked goods: Cinnabons. Who can resist that alluring cinnamon aroma that stops you in your tracks when you're hurrying through the airport or mall?
Every so often, I get one of those big sticky buns for myself and savor it slowly, every last sticky bite. Heaven.
Cinnamon Roll Cake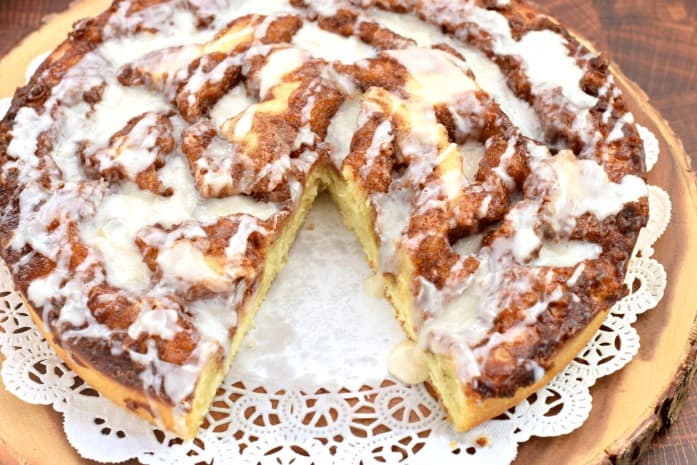 This cinnamon cake recipe was inspired by those gigantic sweet cinnamon rolls. In my book, it's a fantastic breakfast. Cinnamon rolls are categorically a breakfast food, therefore it's perfectly appropriate to have this cake for breakfast. I don't make the rules!
Can you think of a better way to start the day than with a slice of warm Cinnabon Cake and hot cup of coffee? It certainly got my day started on the right foot this morning.
Cinnabon Cake Recipe
If you're craving homemade cinnamon rolls but are short on time, Cinnabon Cake is a great alternative. There's no kneading dough, waiting for it to rise or messing with rolling and cutting the dough like with regular cinnamon rolls.
Just mix together a batter, bake, drizzle with icing and eat! From start to finish, this cake took well under an hour to be ready to eat. Unlike other cakes, you don't even have to wait for it to cool before adding the icing. The whole point of cinnamon roll frosting is that it gets a little melty!
To make the cinnamon roll cake, you start with a basic white butter cake batter topped off with a cinnamon sugar layer. Finally, the cake is completed with a generous drizzle of vanilla icing. This recipe creates TWO large cakes, perfect for sharing with the whole family!
How to Make Cinnamon Roll Cake
STEP 1. Make the cake
Preheat oven to 350 degrees F. Grease and flour two 9-inch cake pans (or use my homemade cake release). Place a piece of parchment paper circle in the bottom of the greased pans.
In a mixer, blend 3 cups of flour, sugar, salt, baking powder, milk, eggs, vanilla and 1/4 cup of melted butter. Divide batter evenly between two prepared cake pans.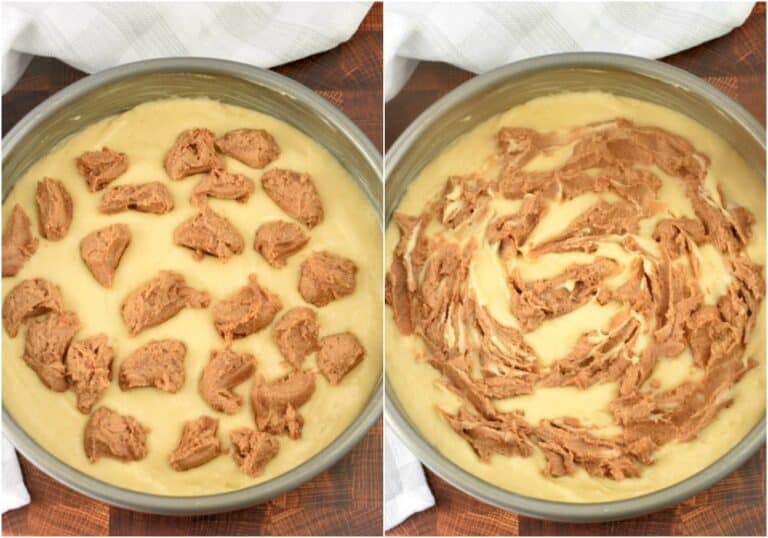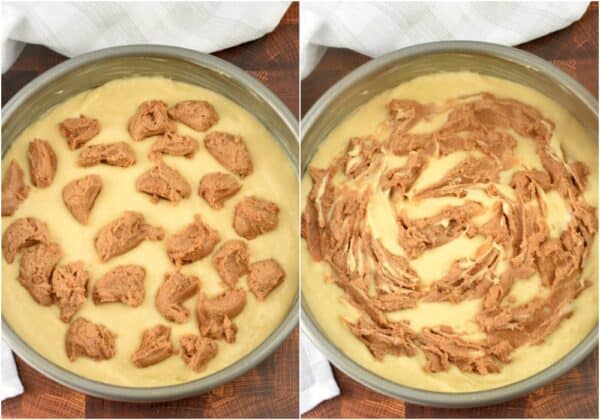 STEP 2. Make the cinnamon roll topping
In another mixing bowl, beat 3/4 cup of butter with brown sugar, 2 Tbsp flour, and cinnamon. Continue to beat until fully blended and fluffy (about 3 minutes). Using two tablespoons, drop brown sugar mixture onto cake batter. Use a knife to swirl over the cake batter.
STEP 3. Bake the cakes
Bake the cakes in an oven preheated to 350 F for 25 to 30 minutes or until a toothpick inserted in the center comes out clean. Let the cakes cool in their pans for 10 minutes, then flip them out onto serving plates.
There will be large pockets where the brown sugar mixture oozed. This is normal (and this is where the icing will fill)!
Meanwhile, prepare the frosting.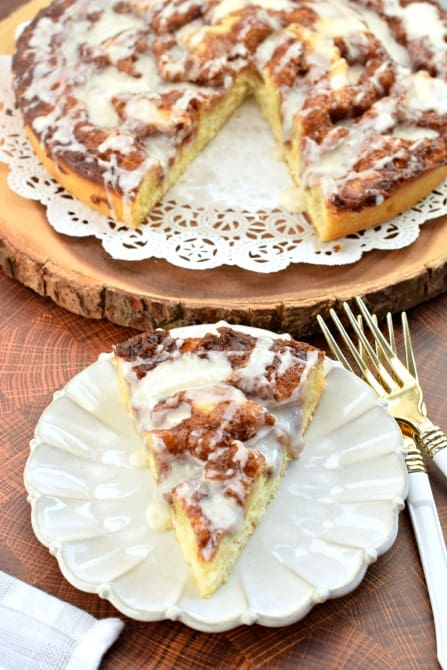 How to Make Cinnamon Roll Cake Icing
Whisk together the powdered sugar with 1/4 cup of milk and a tsp of vanilla extract. Make sure no lumps of powdered sugar remain. Pour the icing over the cakes while they're still slightly warm!
Slice, serve and enjoy!
Breakfast Cake
It's difficult to do justice to just how delicious this cake is–and how amazing it smelled while it was baking. If you love cinnamon rolls, this is bound to become your new favorite cake recipe. I served it for breakfast but I'd also be happy to have a slice of this for dessert or a snack at any time of day.
A little tip: Cinnamon Roll Cake tastes best when slightly warmed. If you have leftovers that get cool, just pop your slice of cake in the microwave for a few seconds to reheat.
I ate my cakes up super quick (with a little help from the family, I think), but you could cool these cakes and freeze them before you drizzle icing on them.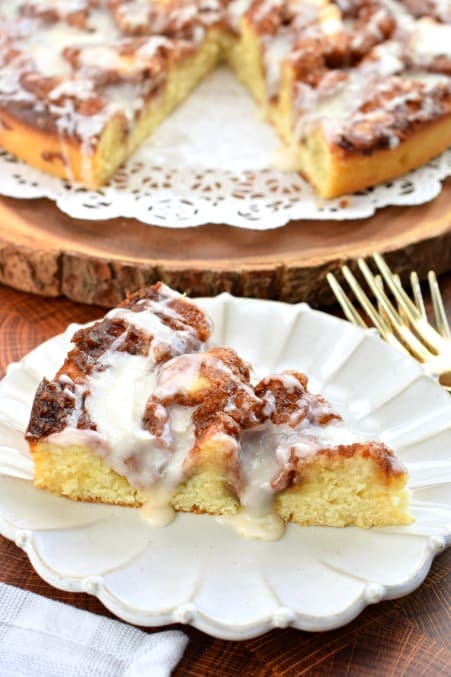 Can you Freeze Cinnamon Roll cake
Yes!
You can freeze these breakfast cakes with or without the glaze.
To freeze WITHOUT the glaze, simply cool, then slide into a large ziploc freezer bag or wrap in plastic wrap then foil. Freeze for up to 30 days. Thaw on counter overnight and add glaze.
To free WITH the glaze, allow glaze to set. Wrap in plastic wrap and foil, then freeze for 30 days. Thaw on counter overnight and enjoy.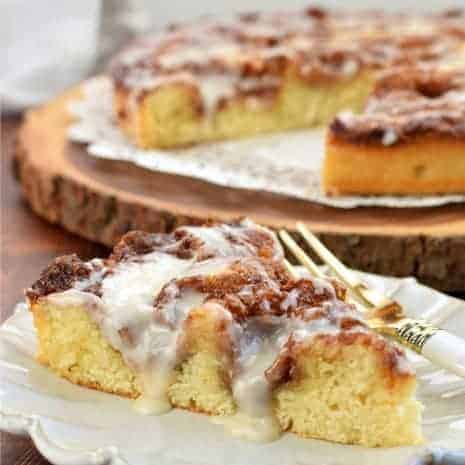 More Delicious Recipes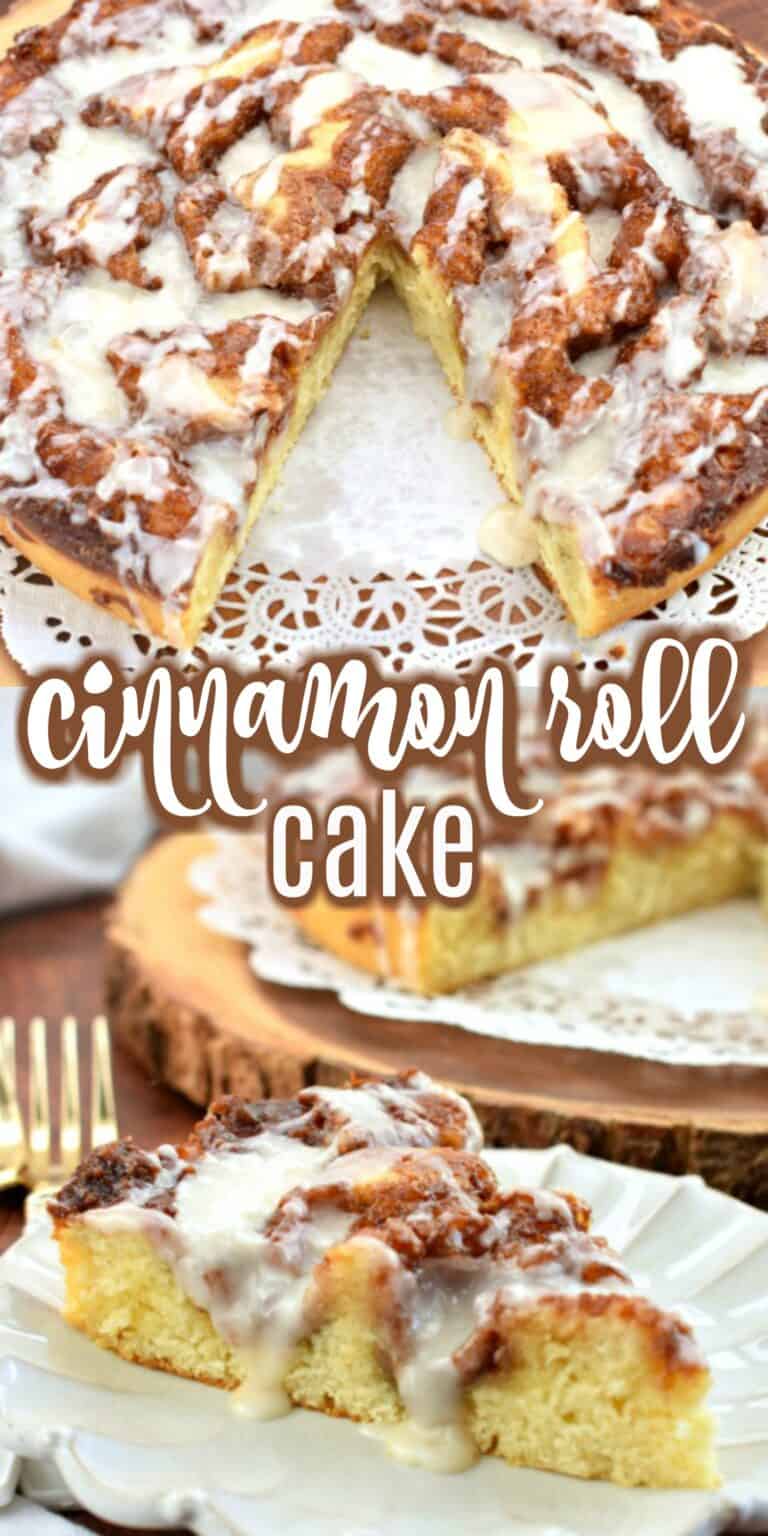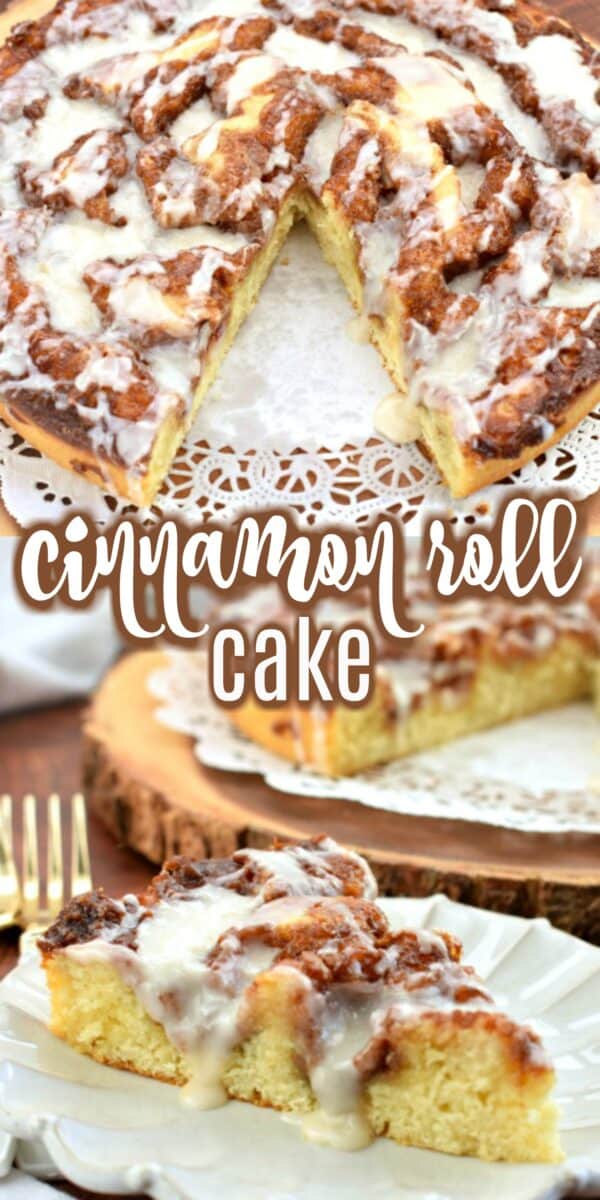 Recipe originally published April 16, 2012. Photos updated January 2020.
All the best parts of a giant cinnamon roll and a cake come together to make Cinnamon Cinnabon Cake. Oozing with vanilla icing, this cinnamon roll cake is the ultimate in breakfast decadence.