Delicious Cinnamon Swirl Zucchini Bread recipe tastes like a coffee cake with a cinnamon glaze. Two freezable loaves!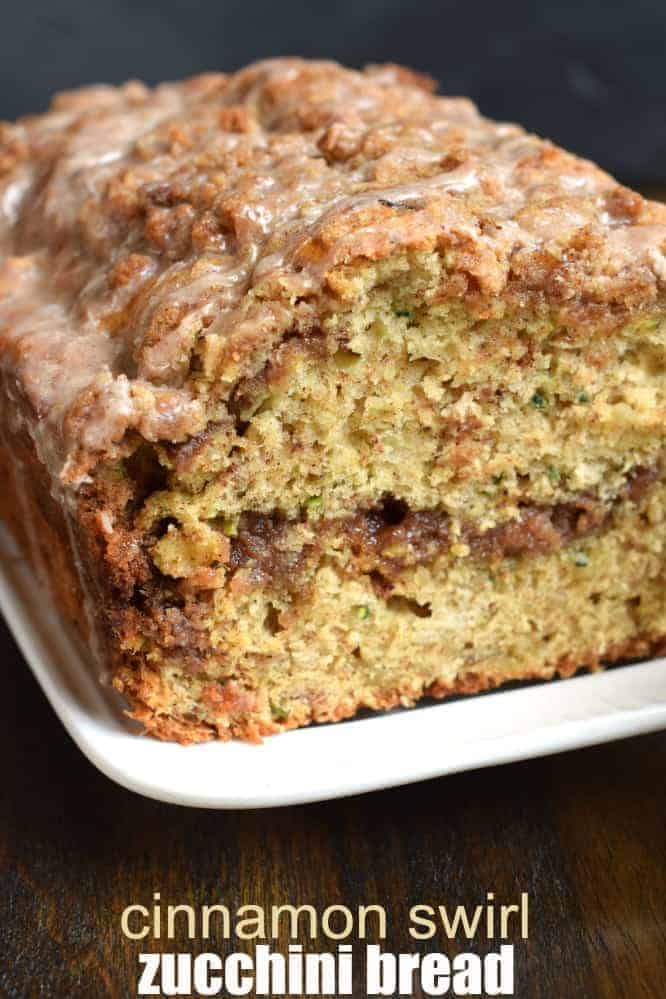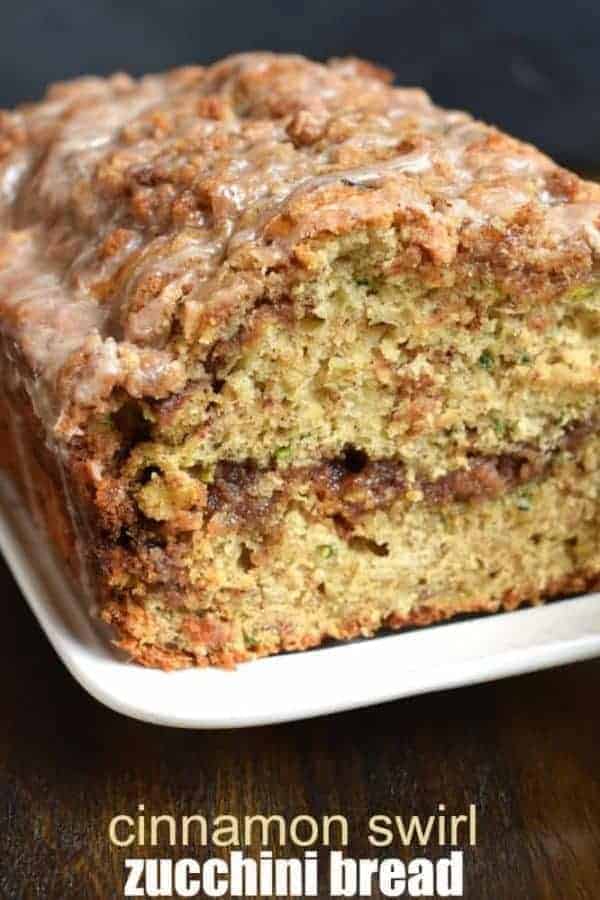 My garden is exploding with zucchini. I can't give it away fast enough. And don't even get me started on the baking I have already done.
As of right now (NOT EVEN EXAGGERATING) I have 42 loaves of zucchini bread in my freezer….of all different flavors. This year I have two new flavors to add to the mix, today's Cinnamon Swirl Zucchini Bread…and a Double Chocolate Zucchini Bread recipe.
In addition to these two delicious recipes…I've also made Banana Zucchini Bread, Lemon Zucchini Bread, and of course our favorite easy zucchini bread. Check out my zucchini recipes if you've got the same problem as me!
Oh, and did I mention I've also made some savory Zucchini Meatballs to keep in the freezer for quick dinners?
But, let's get back to today's new bread recipe!
I tossed around the idea of calling it Coffee Cake Zucchini Bread, because that is exactly what it tastes like. Complete with the brown sugar streusel and cinnamon glaze! It's my new favorite zucchini recipe!
Did you know I also have an Instant Pot Zucchini Bread? So good, and no need to heat up your kitchen!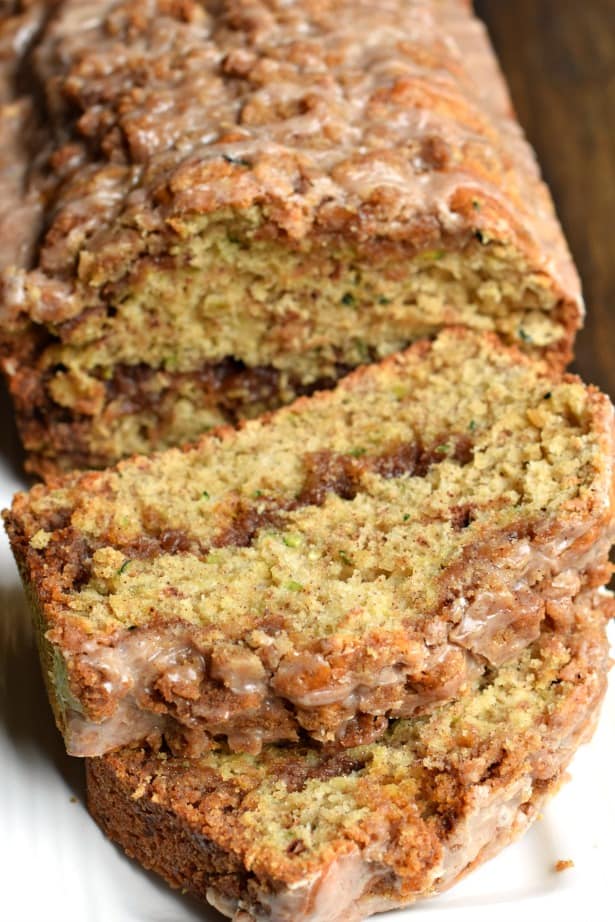 How to make Cinnamon Zucchini Bread
STEP 1: First shred your zucchini. I use a food processor to do this quickly and easily.
I like to keep the peel on my zucchini for a little extra green color…if you want to hide the zucchini, remove the peel and it will be much harder to see in the bread! If using already shredded, FROZEN zucchini, allow to thaw and then squeeze all the extra liquid out using a towel.
STEP 2: Line the bottom of TWO 9-inch loaf pans with parchment paper and spray with baking spray (or grease and flour pans). Preheat oven to 350 degrees F.
STEP 3: In a very large bowl, combine all the bread ingredients. Set aside.
STEP 4: In a small bowl, combine the flour, brown sugar, melted butter, and cinnamon for the cinnamon swirl and streusel. Set aside.
STEP 5: To assemble the bread, pour about half of the bread batter into the bottom of the loaf pans evenly (reserving the remaining half for the top). Sprinkle about half of the streusel mixture over the batter. Repeat with the bread batter, then the remaining streusel.
STEP 6: Bake bread in oven for one hour. Cool in pans for ten minutes, then remove from pans and cool on wire rack.
STEP 7: For the glaze, whisk together the powdered sugar, milk, and cinnamon. Drizzle over the bread.
Serve immediately or cool completely, then wrap in foil and freezer bag and freeze for up to six months. ENJOY!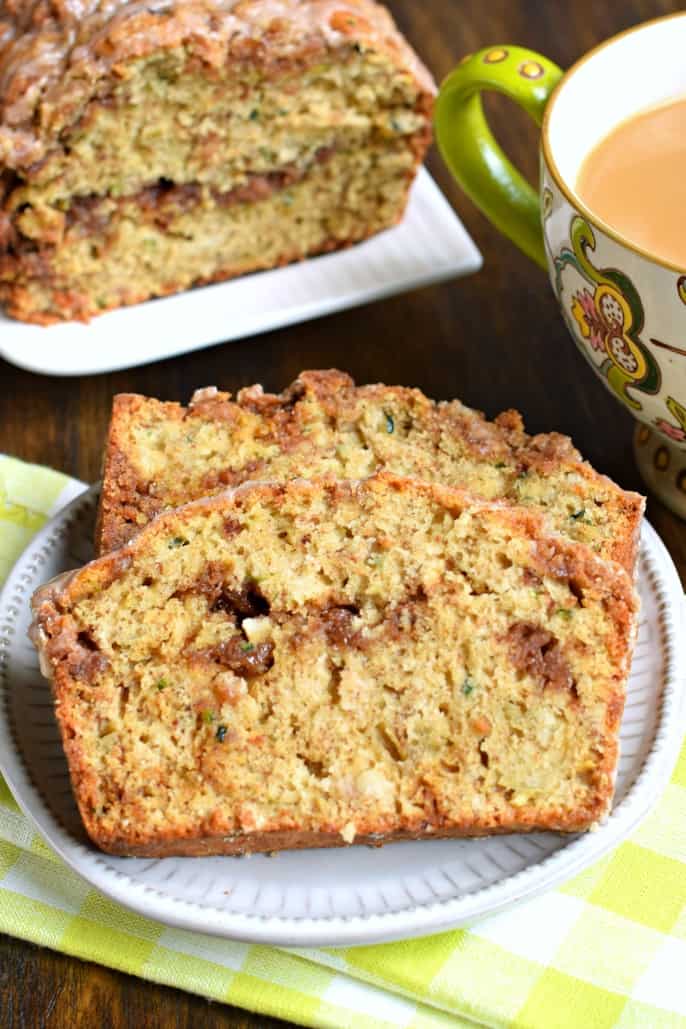 If you love coffee cake AND zucchini bread, here are some of my favorite recipes
Tender, moist Cinnamon Coffee Cake Donuts with a chunky cinnamon streusel and sweet cinnamon glaze. Baked, not fried, and perfect for a delicious Saturday morning breakfast!
Add one more zucchini bread to repertoire because this Crunchy Streusel Zucchini Bread is worth it. This bread is chock full of walnuts and zucchini and topped with a sweet brown sugar and cinnamon crumble. It's so good!!
Thick Cream Cheese Coffee Cake has a layer of cheesecake and is topped with a crunchy Cinnamon Streusel. This coffee cake NEEDS to be made for family and friends. I dare you!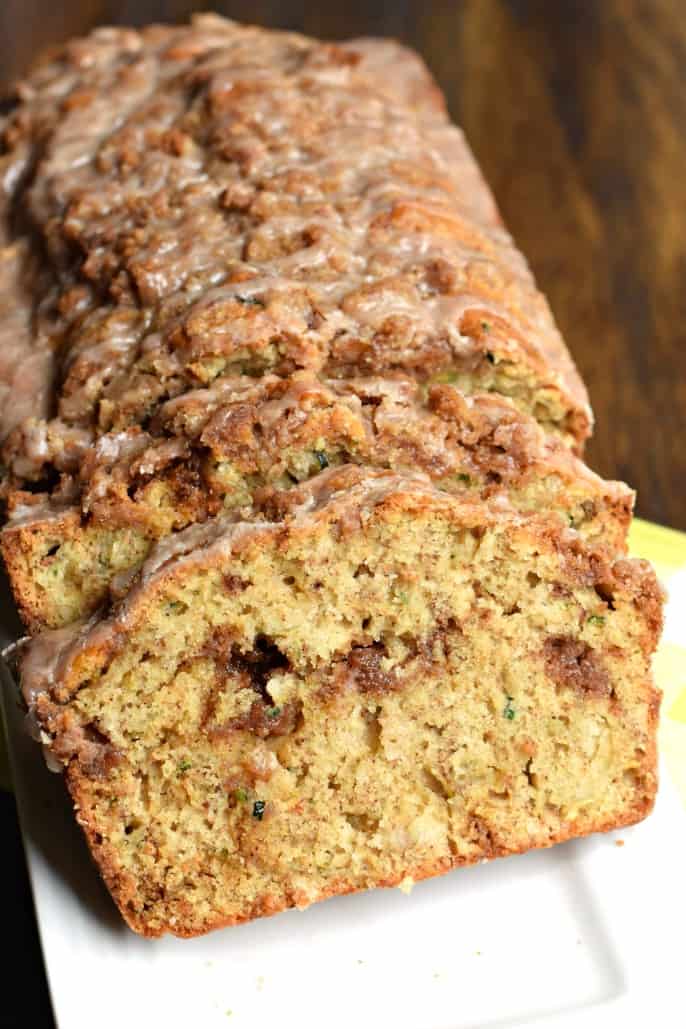 Can you freeze Zucchini Bread
Yes. I have a freezer full of all my favorite fall bread recipes. To freeze zucchini bread, wrap cooled loaf of bread in foil. Slide into a ziploc freezer bag. Label and freeze.
Thaw on counter at room temperature overnight. Slice and enjoy!