Looking for the easiest fudge recipe ever? This Easy Rocky Road Fudge is your answer! Every bite of this soft chocolate fudge is filled with chunky nuts and bits of marshmallow.
Make some Rocky Road Fudge along with a batch of Eggnog Fudge to complete your holiday treat trays! Or whip up some easy chocolate fudge with no mix-ins!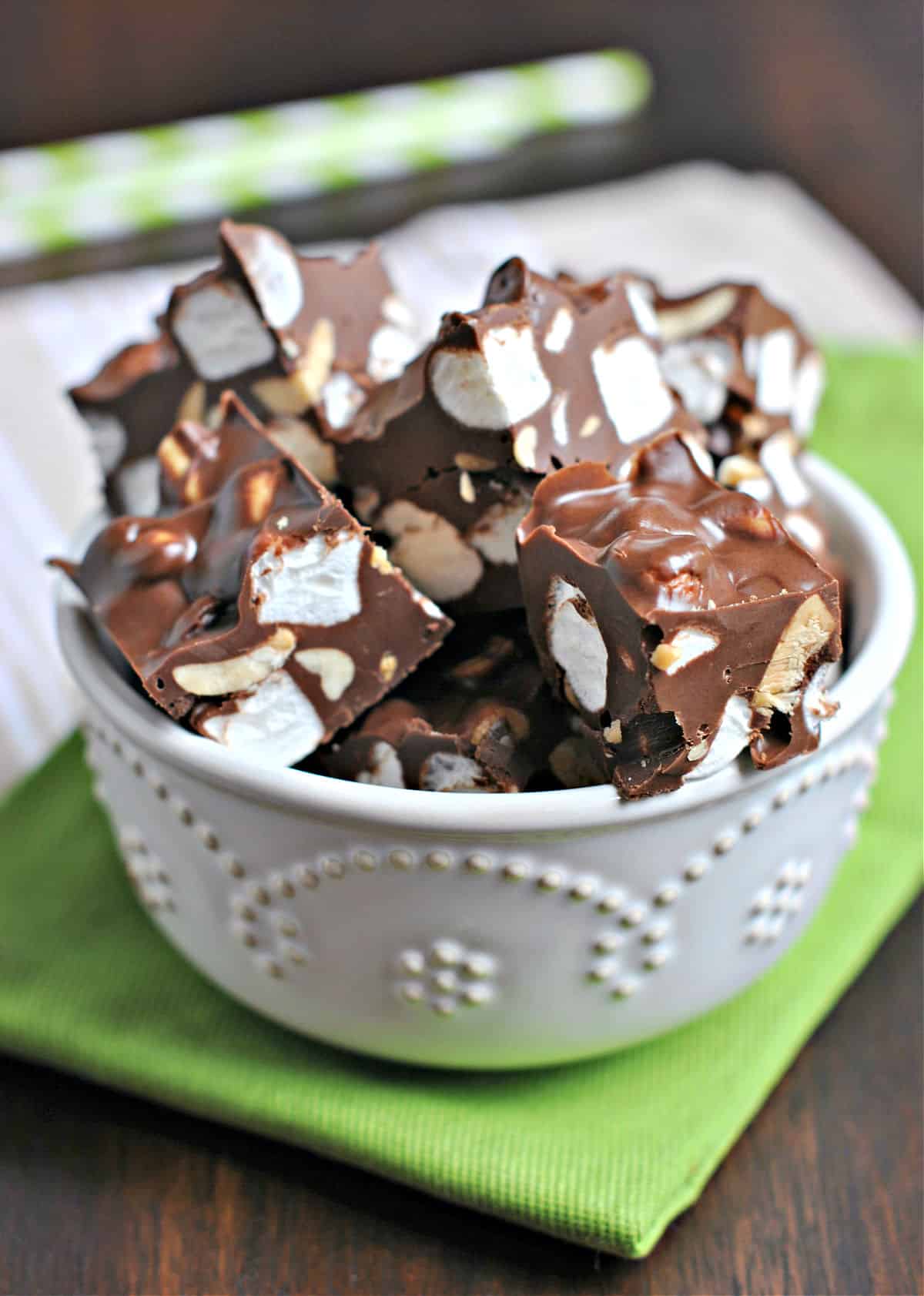 Why this Recipe is Best
Making fudge at home doesn't have to be difficult. With just a few ingredients and tips for how to make chocolate fudge, you are only steps away from a decadent dessert.
I have so many easy candy recipes on this site. But this one is EXTRA easy because you don't even have to fire up the stove. If you have a microwave and a mixing bowl, you can make Rocky Road Fudge.
No candy thermometer needed!
Two kinds of chocolate for amazing flavor.
Made in the microwave. No stove top cooking required!
Love chocolate and marshmallow? Try our marshmallow brownies next. Thick and fudgy with a layer of gooey marshmallows and chocolate frosting. Or give our mississippi mud cake recipe a try next.
Ingredient Notes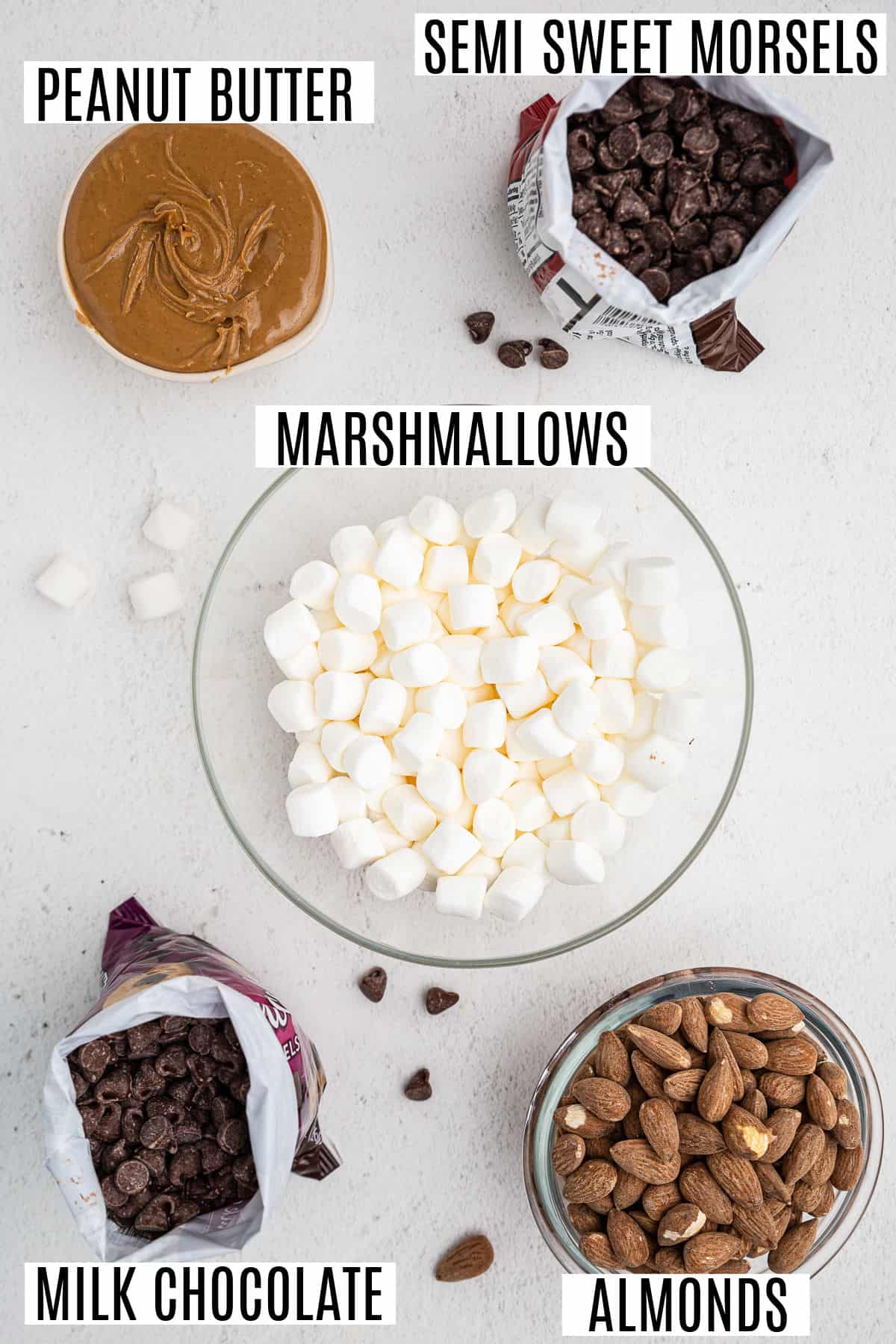 Chocolate Chips – I use both semi-sweet morsels and milk chocolate morsels. This combination creates a bold chocolate flavor with perfect sweetness.
Peanut Butter – This gives the chocolate fudge a slightly nutty flavor and gives the fudge a soft consistency as it sets. Use a regular PB, not one that needs to be refrigeratred.
Nuts – Peanuts and almonds are both delicious in Rocky Road Fudge. Use what you have on hand! A combination of both kinds of nuts would be tasty too.
Mini marshmallows – Rocky Road isn't complete without marshmallows! Miniature ones are best. Or use full sized marshmallows cut into bite sized pieces.
Easy Instructions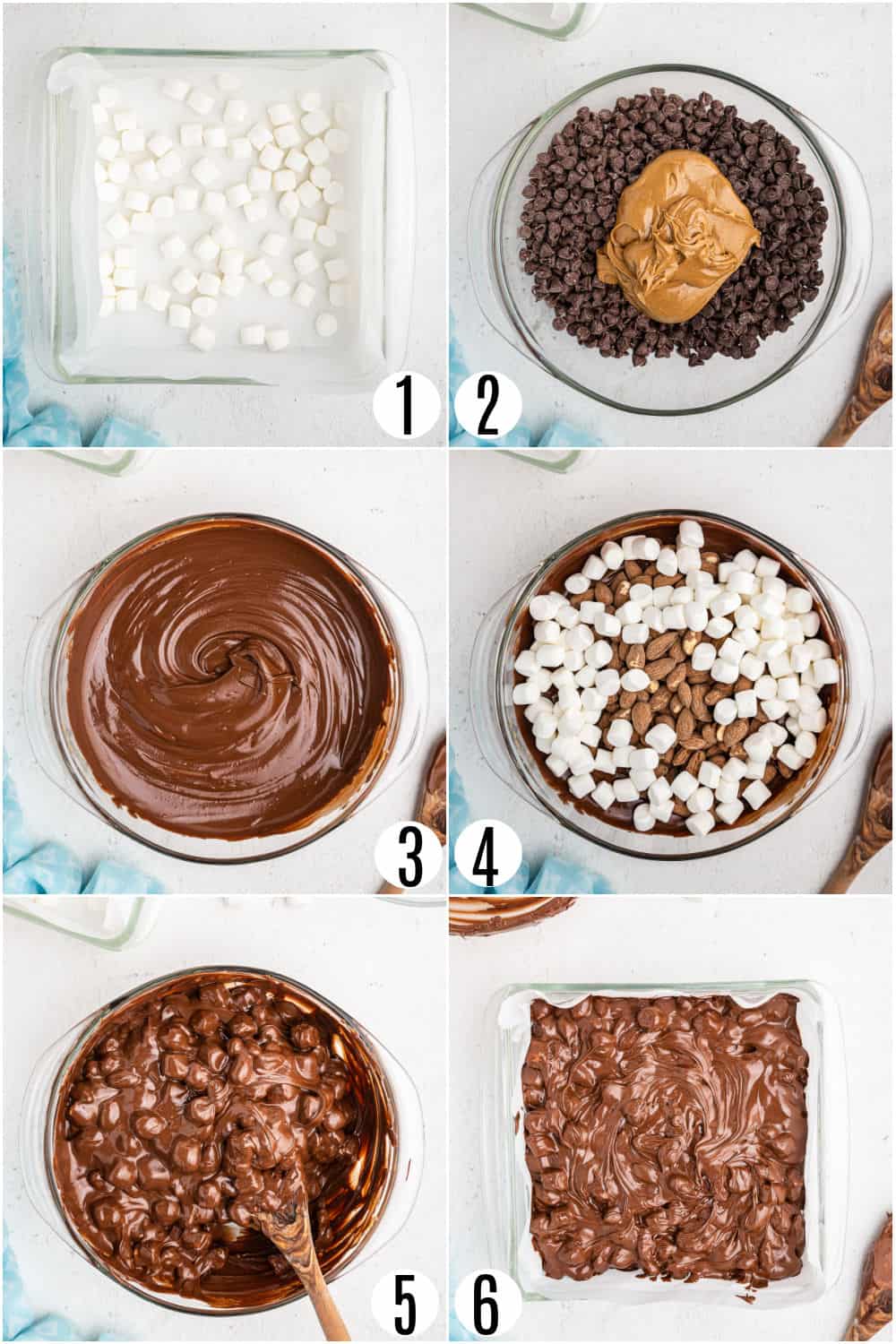 Prepare the pan: Line an 8-inch square baking dish with parchment paper. Pour 1 cup of the marshmallows into bottom of dish.
Melt chocolate: In a large microwave safe bowl, combine semi sweet and milk chocolate with peanut butter. Microwave in 30 second increments, stirring between each one, until fully melted. Continue stirring until smooth. Mine took about 60 seconds total in the microwave.
Add mix-ins: Fold in your remaining mini marshmallows and peanuts.
Set: Pour chocolate mixture over marshmallows in baking dish. Refrigerate for several hours or until firm. Cut into bite sized pieces and enjoy!
Tips and Tricks
Store Rocky Road Fudge in an airtight container at room temperature.
Keep the fudge freshest by slicing "as you go." (Only cut as many squares of fudge as you'll be serving or eating at one time.)
If you prefer a darker chocolate flavor, use more semi-sweet morsels instead of milk chocolate.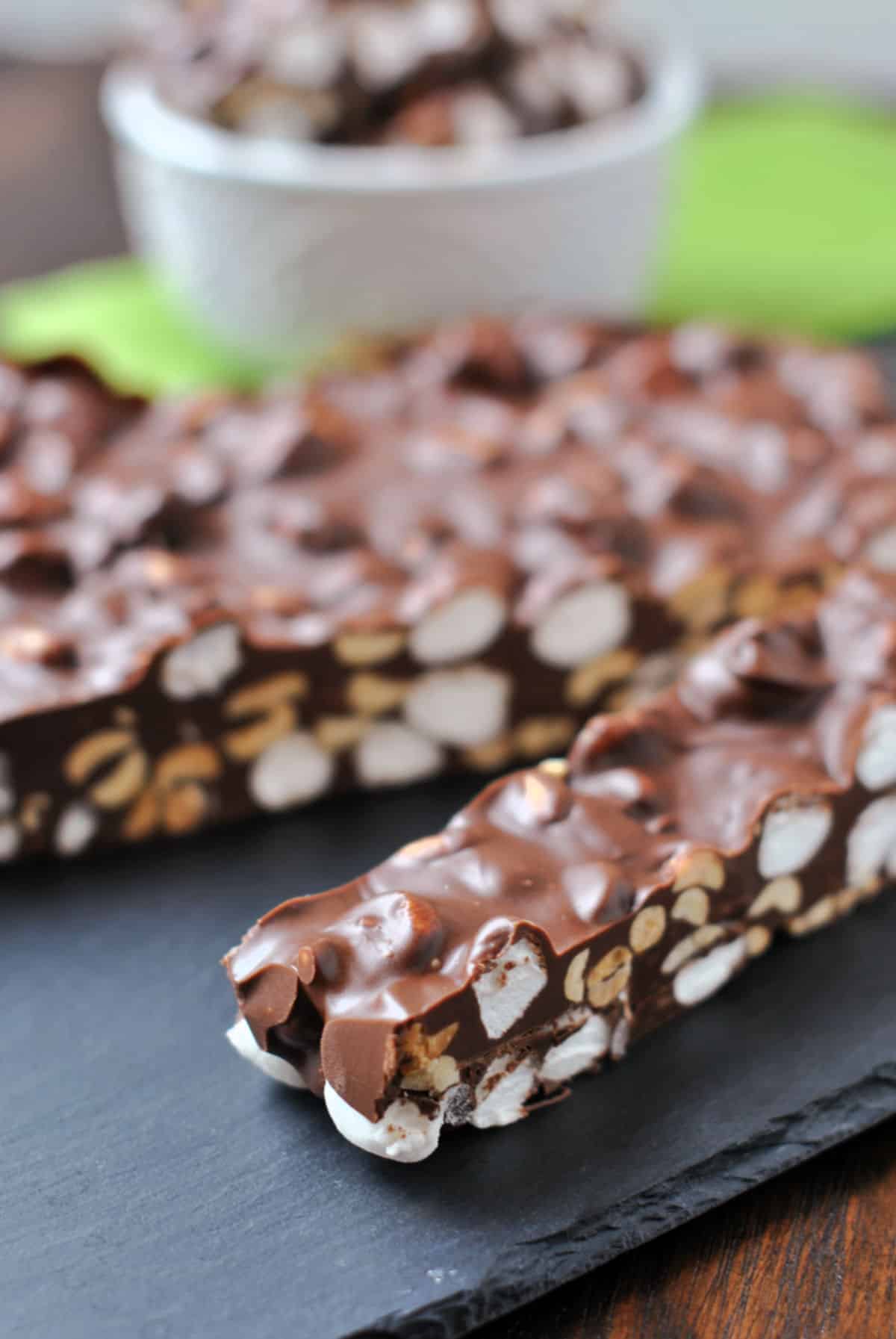 Recipe FAQs
I don't have a microwave, can Rocky Road Fudge be made on the stove top?

Yes! I would use a double boiler to melt the chocolate (or a glass bowl over a pot of simmering/boiling water). Melt your chocolate and peanut butter together, until smooth.

We're allergic to peanuts. Are there substitutions?

You can substitute Biscoff for the peanut butter in this recipe. Skip the peanuts (or substitute with a tree nut, like almonds, if you are not allergic
).

Can Rocky Road Fudge be frozen?

Definitely! Wrap the fudge tightly in plastic wrap or wax paper. Then wrap in foil and place in an airtight container or freezer safe ziploc bag. You can store for 3 months in the freezer. When ready to use, thaw at room temperature, still wrapped.
More Easy Dessert Recipes
First up, these Rocky Road Clusters. Change up the way you make today's recipe, and serve it in fun little clusters. Perfect for bake sales!
You'll love the delicious flavor combination in this sweet Cranberry Orange Fudge recipe! Perfect for Mother's Day!
When it comes to fudge, Cookies and Cream Fudge should always top the list. Packed with Oreos and flavor, you can't resist this classic treat!
Perfectly sweet, soft and nutty Easy Rocky Road Fudge is an irresistible treat! No candy thermometer or stove required.