This luscious Salted Caramel Swiss Meringue Frosting has a buttery caramel flavor and a hint of sea salt. Pipe it onto cupcakes for an elegant twist on a classic buttercream.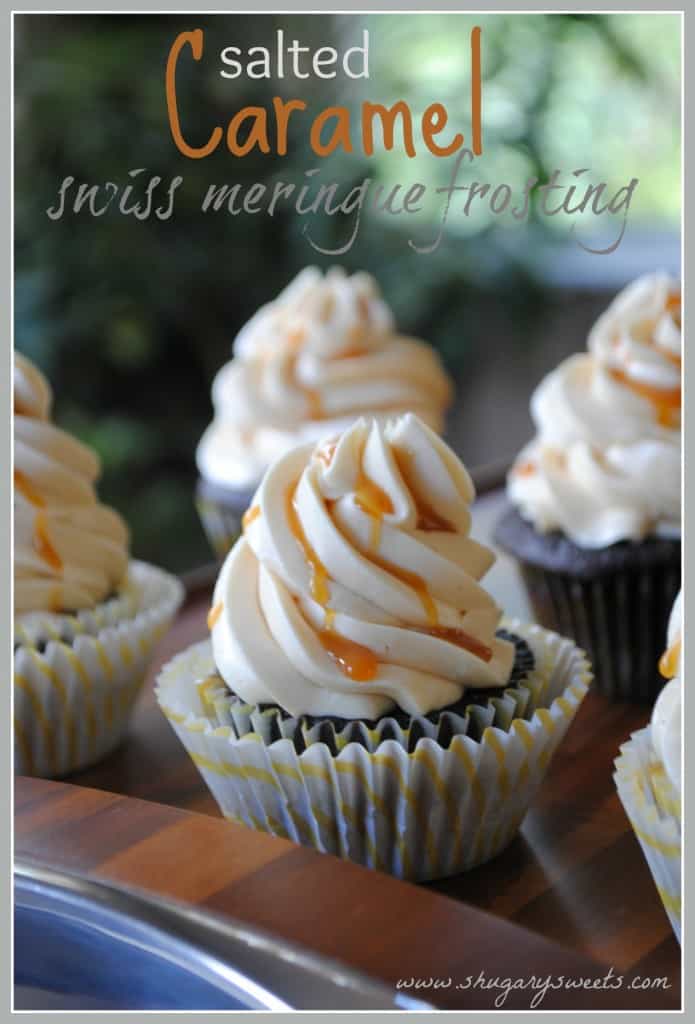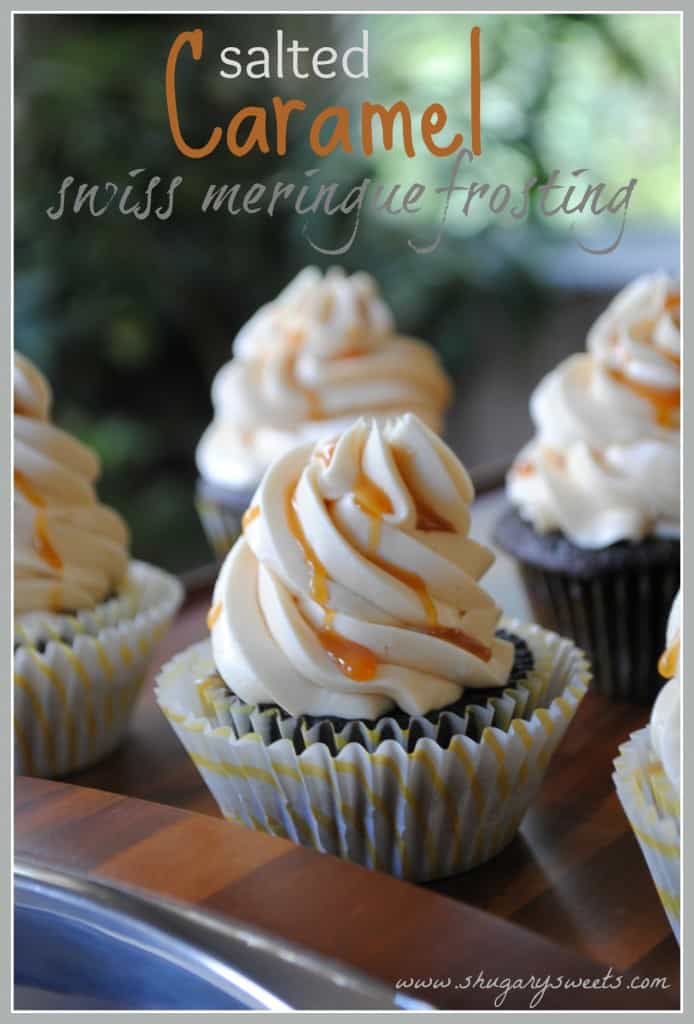 What is Swiss Meringue Frosting
A cupcake is only as good as its frosting. We can all agree on that, right?
I love frosting in all of its forms. Give me that Chocolate Buttercream and that Cream Cheese Frosting and every other iteration of butter, sugar and cream that you can swirl on top of cake!
Swiss Meringue Frosting, though, is in a category all its own. This frosting is made by heating egg whites and sugar, then whipping to form stiff meringue peaks.
Adding butter and vanilla creates a frosting that's stable but fluffy and spreadable.
Unlike many buttercreams, Swiss Meringue Frosting won't leave a sugary film in your mouth. It's just sweet enough to compliment your cupcakes without tasting syrupy.
I added caramel sauce and a sprinkle of coarse salt to create the best salted caramel frosting I've ever tasted. This frosting is the perfect topping for a batch of Chocolate Cupcakes or White Chocolate Cupcakes!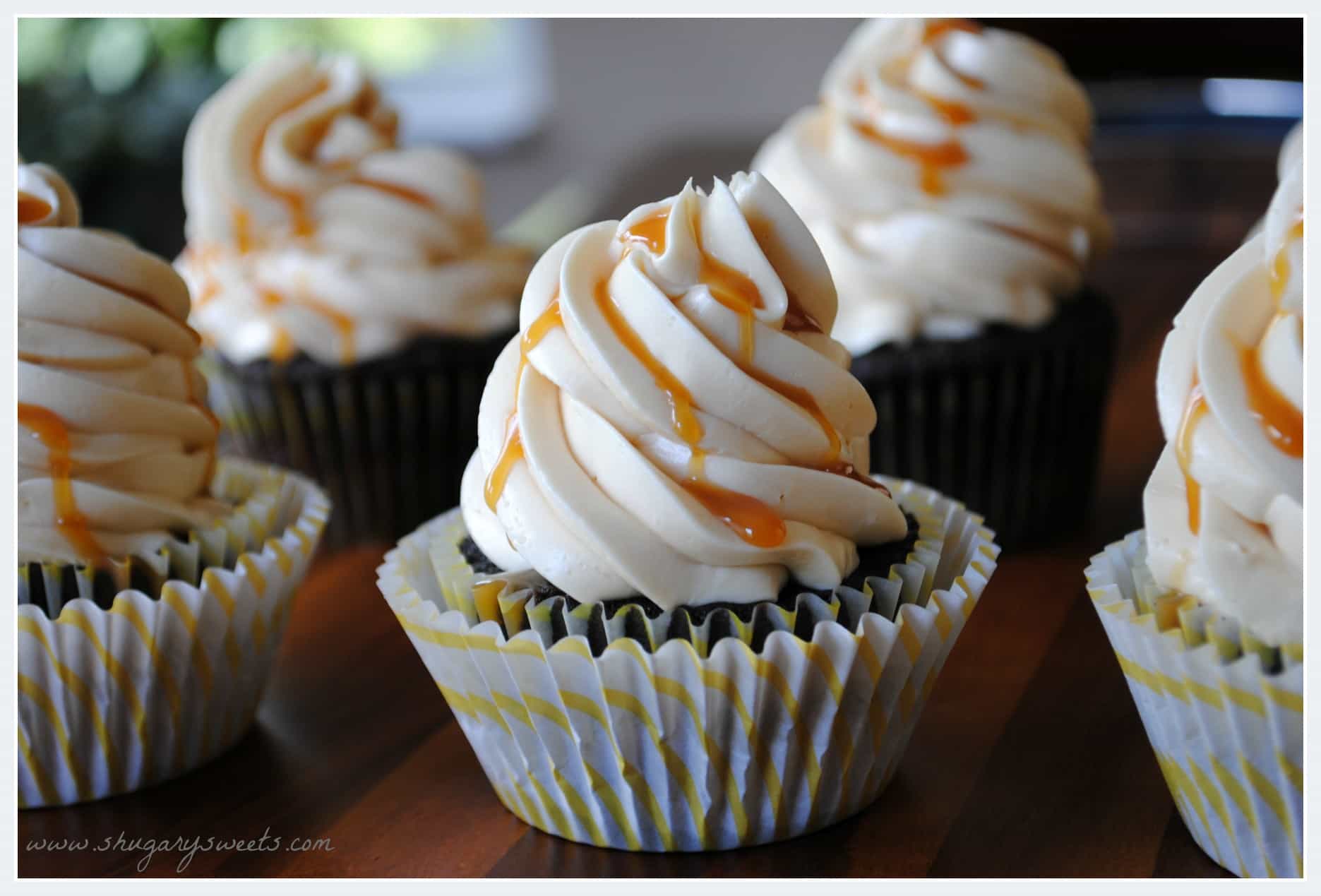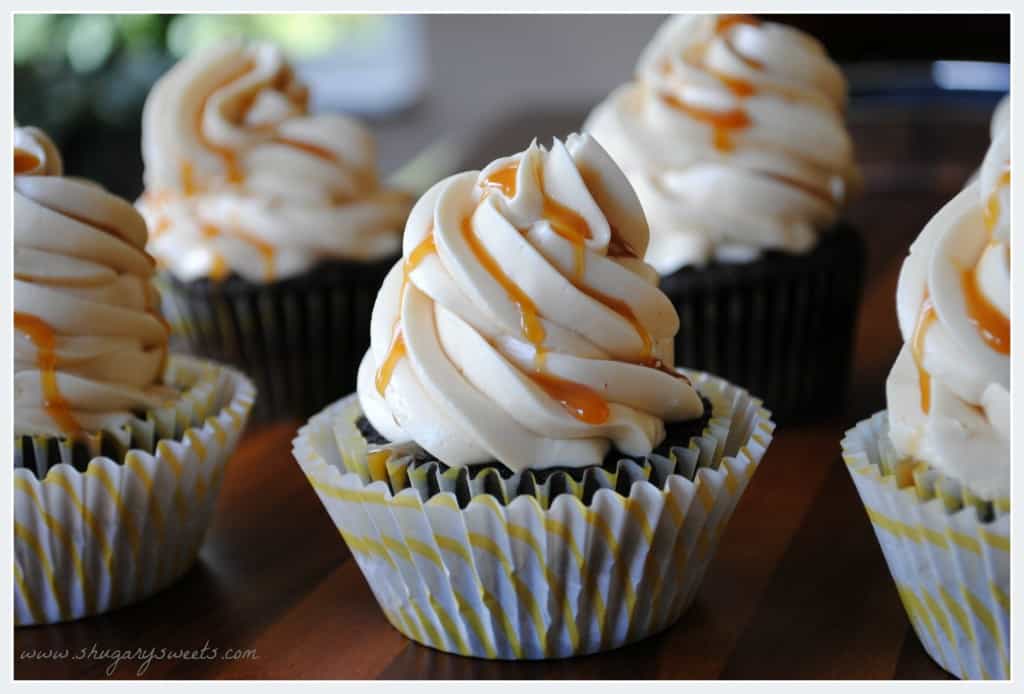 Ingredient Notes
Egg whites – You need the whites of five eggs for this recipe to give the frosting its unique meringue consistency.
Kosher salt – You can sub another coarse salt, like sea salt but not table salt, which is much finer and won't produce the same results. Ready why I always use kosher salt.
Vanilla – Make your own Vanilla Extract for optimal flavor; store bought tastes great too!
Caramel sauce – Any variety of caramel sauce you love on your ice cream is a perfect choice! My Homemade Caramel Sauce recipe works beautifully here but I usually use Hershey's ice cream topping.
Step by Step Instructions
Making swiss meringue frosting takes a little more effort than many cupcake frostings but the results are more than worth it!
STEP 1. Heat
Cover the bottom of a sauce pan with an inch of water and bring to a low boil. In a mixing bowl placed over the pot, heat egg whites and sugar, whisking until the mixture reaches 140 degrees.
STEP 2. Beat
Use an electric mixer to beat the egg whites as they cool. Keep beating until the whites are fluffy and completely cooled, then add butter, salt and vanilla. Blend in the caramel sauce.
STEP 3. Pipe
Use a frosting bag to pipe the salted caramel meringue frosting onto cooled cupcakes. If desired, drizzle the frosted cupcakes with another couple of tablespoons of caramel sauce.
I love how pretty the caramel swirls look on high mounds of frosting!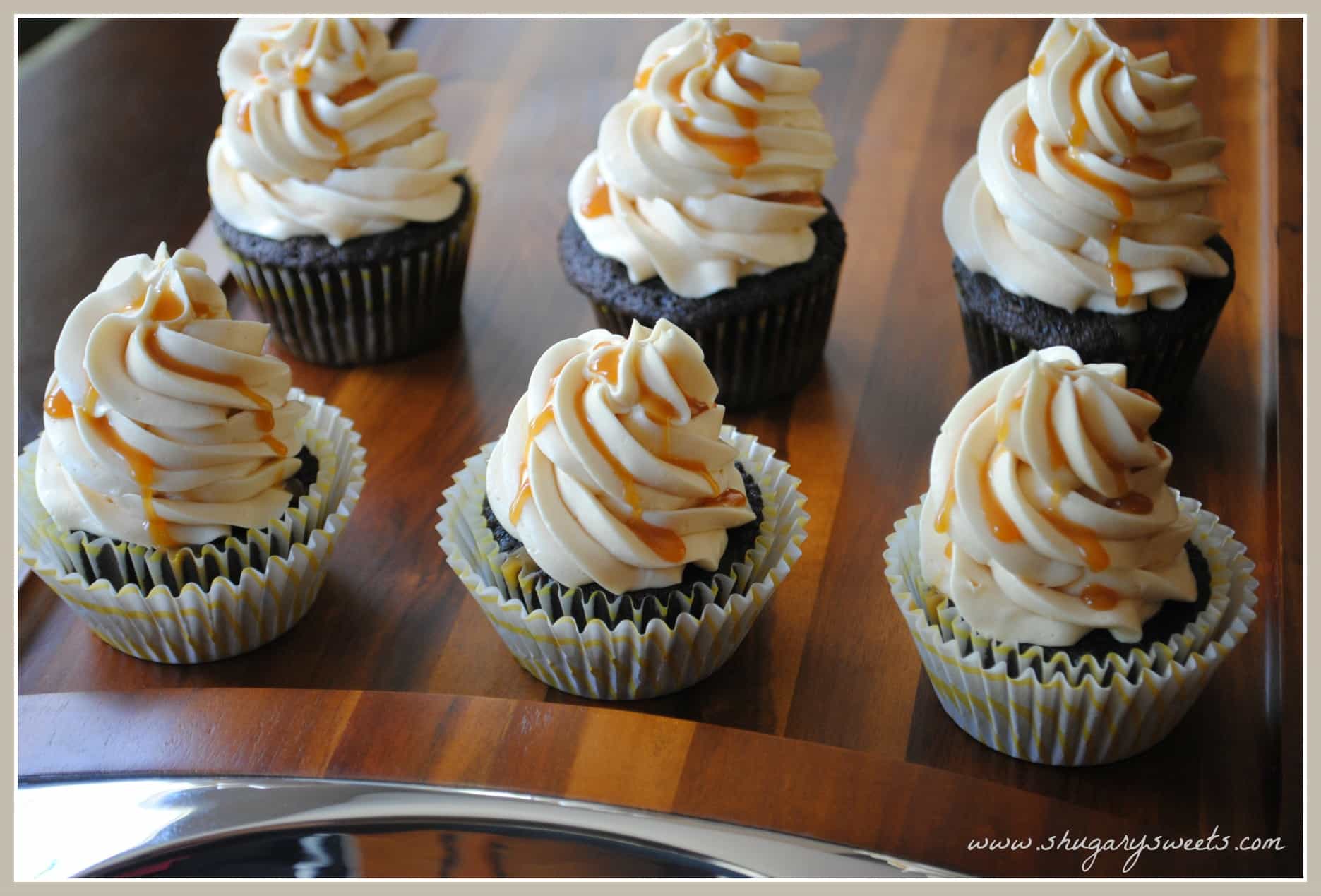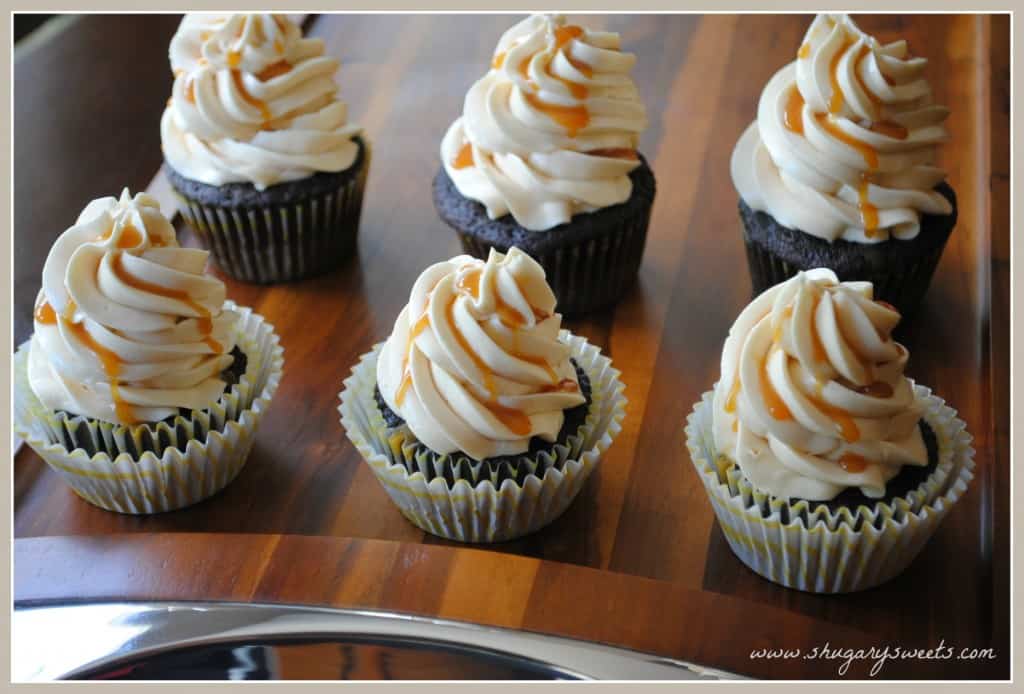 Tips & Tricks
Add the butter gradually. I add mine a tablespoon or so at a time while beating to ensure it gets thoroughly combined with the other ingredients.
This recipe makes enough frosting to pipe HIGH onto 14 – 18 cupcakes. If you prefer less frosting, you'll be able to frost two full dozen cupcakes.
Make sure the egg white and sugar mixture reaches 140 – 150 degrees before removing from the heat. I take mine off when the candy thermometer reads 145 to get the perfect meringue texture.
Keep in mind that this is NOT a super sweet topping. Swiss Meringue creates a buttery smooth icing similar to what you'd get on a bakery cake than a homemade whipped cream or buttercream frosting.
Recipe FAQs
Why is my butter curdling? How can I prevent this?
The butter may appear curdled as you add it to the egg whites, especially if the egg whites aren't yet fully cooled. This is totally normal and fine. Keep blending and eventually the butter will get fully incorporated!
To minimize curdling, make sure the egg white mixture has cooled. This should happen as you beat it until double in size.

What's the best way to store this frosting?
You can keep any leftover Swiss meringue frosting in an airtight container in the fridge. Make sure to bring any chilled frosting to room temperature before piping it onto cupcakes for best consistency and flavor.
Can I make this without a candy thermometer?
I don't recommend taking your chances and guessing at the temperature here. Egg whites need to be heated to a precise temperature to create the chemical reaction needed to get the meringue frosting's signature texture. You really need a candy thermometer here!
Swiss Meringue Buttercream blended with salted caramel is paradise in frosting form! It's time to elevate your favorite cupcakes to new heights with this luxuriously delicious frosting recipe.