Slow Cooker Pineapple Chicken Curry
I asked on facebook awhile ago about what kind of dinner recipe you wanted to see, and the overwhelming vote was for chicken! So I shared
THIS
AND
THIS
. And since you all love your chicken, I'm sharing one more chicken recipe today. This dinner was so yum. I found this recipe in Taste of Home, and with a bunch of  ingredient hacking, I made it so it suited our taste buds. Oh my.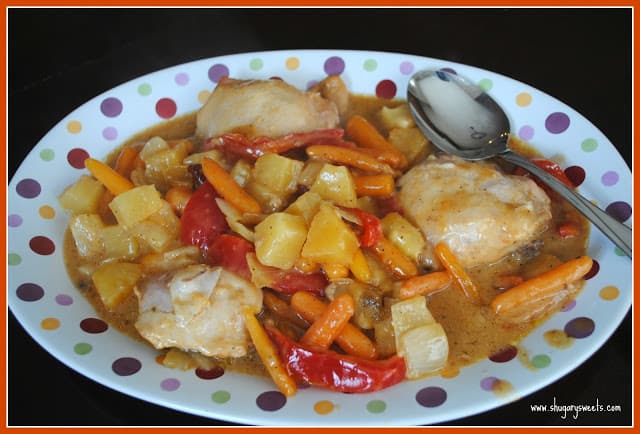 This dish cooks in the slow cooker. With spring sports in full swing (say that 10 times fast), we need dinners that can go on the table quickly. I served this with some Jasmine rice that I cooked with a little bit of coconut milk.
I think some cubed, roasted potatoes would have gone very well with this dish. There was a lot of gravy and vegetables that could have been poured over the potatoes. Yum. Enjoy!
I'm just a recent lover of curry by the way. Not the yellow spice curry, but the dish. And Thai food. This dish reminded me that I need to make some more Thai food soon!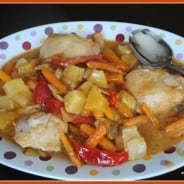 Slow Cooker Pineapple Chicken Curry
Ingredients:
6 chicken thighs (I used bone-in, but you can substitute your preference)
1 can (20oz) pineapple chunks, in juice (drained)
1/2 medium yellow onion, chopped
1 large sweet red pepper, cut into strips
4oz baby carrots
1 cup coconut milk
2 Tbsp cornstarch
2 Tbsp sugar
3 cloves garlic, pressed
1/2 tsp ground ginger
1 tsp kosher salt
1/2 tsp black pepper
1 lime, juiced
1 Tbsp red curry paste
Directions:
In small bowl, whisk the coconut milk with the cornstarch until smooth. Add sugar, garlic, ginger, salt, pepper, lime juice and red curry paste. Set aside.

In large slow cooker, place chicken on bottom.

Top with pineapples, onion, red peppers and carrots. Pour coconut mixtures over chicken and vegetables.

Cover and cook on low for about 6 hours. Serve with rice or potatoes.
*adapted from Taste of Home
MAKING THIS RECIPE? Share it with me on Instagram using the hashtag #ShugarySweets so I can see what you're cooking up in the kitchen!
**If you liked this dish, you may also enjoy…

Thai Red Curry with Squash by Eat, Live, Run
Green Curry Coconut Chicken Soup by Table for Two
Massaman Curry by Shugary Sweets